After learning we'll probably get another foot of snow this weekend (after already receiving 2+ feet of snow this month), I knew it was time to cook up a big, warm bowl of hearty comfort food.
Because there's only one member of the household who's gleeful about the very generous helping of winter we've received this year.
Calvin (the same furry creature who despises rain and baths, but the way) adores bounding and digging through the snow.
Meat-and-Potatoes-Guy cleared some spots for him to explore in the yard…
But he prefers the challenge of leaping through the uncleared piles.
The snow is 2 feet taller than his little legs, and this fact slows him down considerably.
But he doesn't let it stop him.
Laughing at his antics helps a little in dealing with this never-ending winter.
What helps a lot more…
…comfort food!
This Pasta Bolognese is definitely a warm, filling bowl of comforting deliciousness.
Even better: it's easy to prepare in 30 minutes.
And I've made it guilt-free and nutrition-packed by adding lots of yummy veggies that complement the hearty meat sauce:
Onions,
bell peppers,
and mushrooms.
Here are the key ingredients for this dish.
Begin by boiling a large pot of water.
Season with salt and add some whole wheat tagliatelle.
Or substitute: if you can't find tagliatelle, any wide pasta – such as whole wheat fettuccine, whole wheat linguine, or whole wheat pappardelle – will work.
Cook until the pasta is just cooked through and barely tender, and drain.
While the pasta is cooking, place a knife over a clove of garlic and smash down on the knife with your palm or fist.
Peel off the skin and mince up the garlic.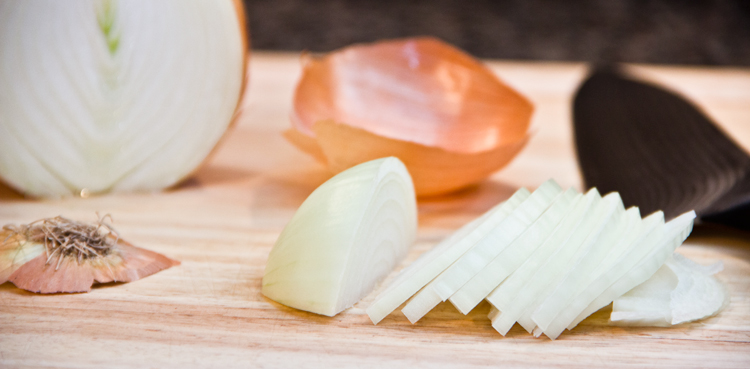 Then cut an onion in half lengthwise and peel of the skin.
Place one half flat-side-down on the cutting board and cut very thin quarter-inch slices of onion.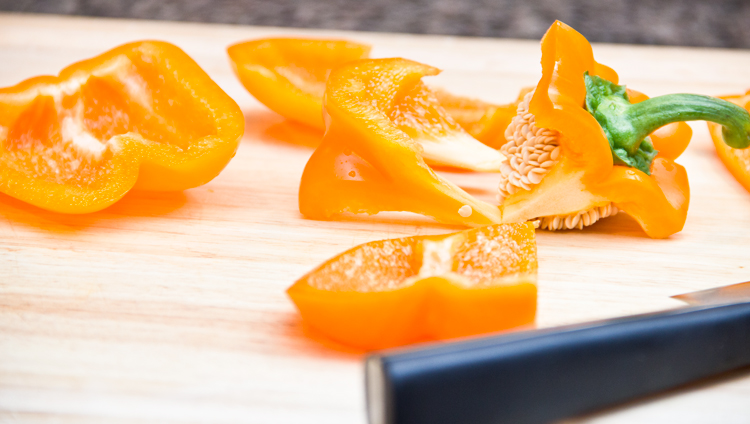 Grab a bell pepper and place it upright on the cutting board.
Slice down each side of the pepper, creating four pieces.
This makes it easy to discard the stem and seeds.
Cut thin slices of pepper.
Next, dice up some crimini mushrooms.
Dice up lots of crimini mushrooms – this is a superfood that's full of nutrients.
Crimini mushrooms have tons of antioxidants to boost immune function. They also provide anti-cancer benefits with special fatty acids that block the growth of cancer cells. As well as lots of potassium, shown to help lower blood pressure and prevent stroke.
Grab a large saute pan and heat a bit of olive oil over medium-high heat.
Cook some 95 percent lean ground beef (grass-fed beef is best) until it begins to brown on the outsides.
Add the garlic and onion and cook a minute more.
Then add the peppers and mushrooms and cook until the peppers are softened.
Season with a bit of salt and pepper. Reduce the heat to medium.
Then add a few secret ingredients that make this meat sauce taste extra flavorful and delicious: honey, tomato paste, dried oregano, and dried thyme.
No need for tons of butter or cream when you've added all these tasty herbs and seasonings.
Stir everything and then add some diced tomatoes.
Allow the mixture to simmer for a few minutes.
Then season with salt and pepper.
Stir in the cooked pasta.
And serve yourself a nice big bowl.
This is a crowd-pleasing, filling dish that's ready in about 30 minutes.
I find the sauce is so flavorful, I don't even need any cheese for this dish.
But top with a bit of shredded provolone if you'd like.
The onion, pepper, and mushroom combo makes this meat sauce really richly flavorful.
And all these veggies really bulk up the sauce too.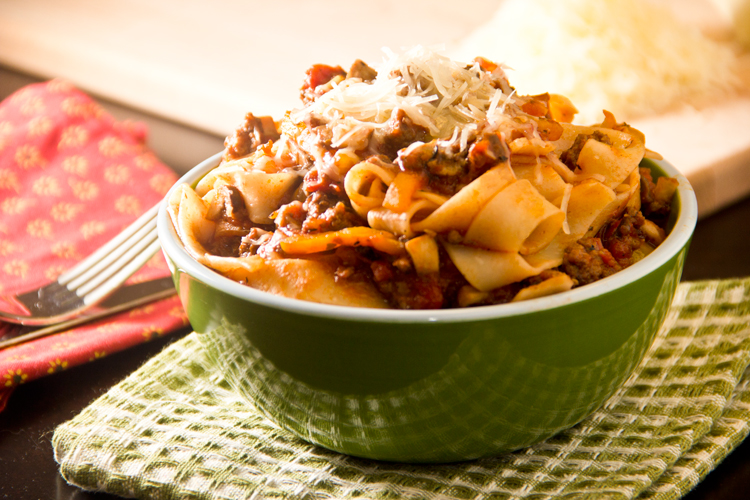 So you can help yourself to a very large, generous portion without any fear of going overboard on calories and fat.
Here is the complete, printable recipe:

Healthier Pasta Bolognese
Author:
The Scrumptious Pumpkin
Total Time: 30 minutes
Prep: 15 minutes
Cook: 15 minutes
Yield: 4 servings
Ingredients
6 ounces whole wheat tagliatelle
1 tablespoon olive oil
½ pound 95 percent lean ground beef
1 large bell pepper, thinly sliced
10 ounces crimini mushrooms, diced
1 medium onion, thinly sliced
2 cloves garlic, minced
2 tablespoons tomato paste
1 tablespoon dried thyme
1 tablespoon dried oregano
1 tablespoon honey
16 ounce container diced tomatoes
Salt and freshly ground black pepper
Freshly grated provolone, to top the pasta (optional)
Instructions
Boil a large pot of water. Salt the water and add the tagliatelle. Cook until al dente, about 10 minutes.
Meanwhile, heat the olive oil in a large sauté pan over medium-high heat. Add the ground beef and cook until outsides begin to brown, about 5 minutes. Add the garlic and onion and cook about 2 minutes more. Add the bell peppers and mushrooms and cook until peppers are softened, about 5 minutes. Season with salt and pepper. Reduce the heat to medium. Add the tomato paste, honey, thyme, and oregano and stir to combine. Add the diced tomatoes and allow the mixture to cook and simmer, about 5 minutes. Season to taste with salt and pepper. Add the cooked tagliatelle and stir to combine. Transfer to serving plates, grate a bit of provolone over the top of the pasta (optional), and serve.