I recently had the chance to join a wonderful recipe and food site called Food Fanatic.
The site has many talented contributors and new recipes posted every day, so I'm excited to be a part of it.
My first recipe featured on Food Fanatic is my Apple Cinnamon Pancakes Recipe.
This dish is a warm, hearty breakfast for a cold weekend morning.
The pancakes are healthy, made with whole wheat flour, yogurt, and low-fat milk.
And they're topped off with lots of warm cinnamon spice sweet apples (that taste like apple pie filling).
Here are all the ingredients you'll need to get started.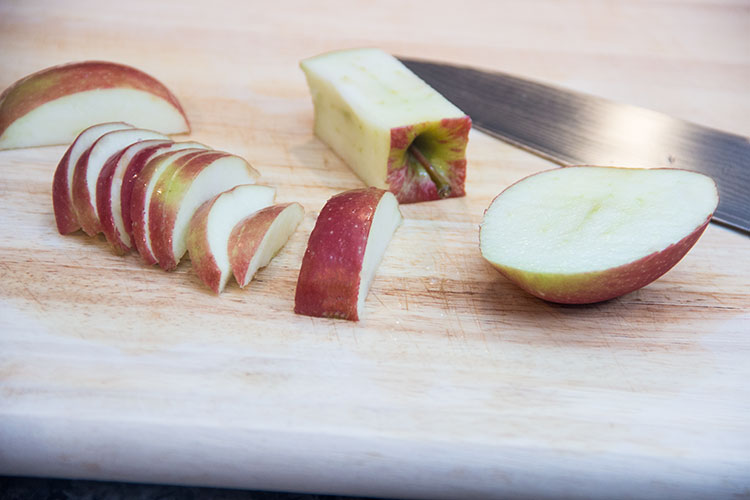 Begin with some Honeycrisp apples.
I love using the Honeycrisp variety for this recipe because they're naturally very sweet (so you won't need to add lots of sugar to the dish, like you might for a tart apple).
I pile on the apples in this recipe too, because they're so low-calorie and healthy with lots of filling fiber, immunity-boosting Vitamin C, and heart-protecting antioxidants.
Cut the apple into four pieces by slicing off each quarter around the stem and core.
Then place each quarter flat-side-down on the cutting board for stability and cut the apple into thin, half-moon slices (I don't peel off the skin of the apple because lots of the nutrition is found there).
Next, grab a mixing bowl and stir and combine some whole wheat flour, all-purpose flour, baking soda, baking powder, salt, and some flavorful spices: cinnamon, ginger, and cloves.
Grab another large mixing bowl and whisk together some low-fat milk, plain nonfat yogurt, eggs, brown sugar, and vanilla extract.
Slowly add in and stir the flour mixture into the milk mixture and stir just until everything is combined.
Then grab a large skillet and spray it thoroughly with some canola oil non-stick cooking spray.
Heat up the pan over medium heat and, when it's hot, grab a measuring cup and measure out about a quarter cup of batter.
When you notice bubbles forming in the center and the edges begin to turn golden, grab a spatula and flip.
Cook for a couple of minutes more, then add a bit more non-stick cooking spray to the pan and repeat.
Meanwhile, grab another small skillet and heat up a bit of canola oil over medium-high heat.
Toss in the sliced apples and cook until they're nicely softened.
Then turn down the heat to low and add some unsweetened apple sauce, brown sugar, vanilla extract, a pinch of salt, and the same spices you added to the pancakes: cinnamon, ginger, and cloves.
Stir until everything is well combined.
Then help yourself to a tasty stack of thick and fluffy pancakes, topped very generously with plenty of warm cinnamon spice apples.
The pancakes are thick and fluffy with a flavorful hint of cinnamon and spice.
And the fresh warm apples add all kinds of addictive, sweet apple pie flavor.
Find the complete, printable recipe for Apple Cinnamon Pancakes Recipe at Food Fanatic.