On those impossibly sticky, humid, just heavy days of July, there is one thing I crave again and again:
Light, juicy, fresh fruit salad.
And this is the one I've been loving the most lately: it's filled with tropical flavors like pineapple and kiwi and topped off with a dollop of sweet coconut cream.
The fruit is so naturally sweet and the coconut cream is so rich and full of flavor, this treat works as a dessert.
Or a side dish. Or a snack. (I like it pretty much whenever.)
The coconut cream is easy to whip together.
It's made from coconut milk and, blended with a bit of cornstarch, develops a thick, Greek yogurt-like consistency.
It has a really scrumptious hint of sweetness (from some confectioners sugar and vanilla extract) and a tangy hint of lime (from fresh lime zest).
Bonus: since this treat is made with coconut milk, it's vegan and cholesterol-free.
It's bright, healthy, fresh and delicious!
Here's the recipe for Tropical Fruit Salad with Coconut Cream (Vegan):
Tropical Fruit Salad with Coconut Cream (Vegan)
Author:
The Scrumptious Pumpkin
Nutrition Information
Serving size:

10

Calories:

171
Fat:

9g

Saturated fat:

7.8g

Carbohydrates:

23.3g

Sugar:

18g

Sodium:

7mg

Fiber:

2.2g

Protein:

1.4g

Cholesterol:

0mg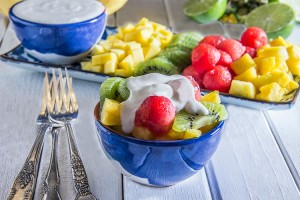 Total Time: 25 minutes (plus 6 hours inactive time)
Prep: 25 minutes
Cook: 0 minutes
Inactive: 6 hours

Yield: 10 servings

Difficulty: Easy
Ingredients
13 ounces coconut milk
¾ cup confectioners sugar
1 teaspoon freshly grated lime zest
2 tablespoons organic cornstarch
3 teaspoons pure vanilla extract
½ watermelon, rind removed and cubed
1 golden ripe pineapple, peeled, cored, and cubed
2 kiwi, peeled, halved, and sliced
1 mango, peeled and diced
Instructions
To a mixing bowl, add the coconut milk, confectioners sugar, lime zest, cornstarch, and vanilla extract. Stir until well combined, cover, and refrigerate for at least 6 hours and up to 24 hours.
In a mixing bowl or large food storage container, stir and combine watermelon, pineapple, kiwi, and mango.
Remove coconut mixture from fridge and, using an electric hand mixer set on low speed, whip until mixture reaches a smooth, creamy, Greek yogurt-like consistency, about 2-4 minutes.
Spoon fruit into serving bowl and top with a dollop of coconut cream. Serve chilled.
Storage: fruit salad should be refrigerated in a covered airtight container. Coconut cream should be refrigerated in a separate covered airtight container.
*I estimate approximate nutrition information using the
Verywell Recipe Nutrition Calculator.
You May Also Love:
https://jenelizabethsjournals.com/2013/06/13/anti-aging-avocado-berry-salad-with-mango-vinaigrette/
https://jenelizabethsjournals.com/2014/07/29/tropical-bliss-smoothie/
https://jenelizabethsjournals.com/2013/08/09/peaches-and-coconut-cream-pops/
SaveSave
SaveSave
SaveSave
SaveSaveSaveSave