Although I'll rarely be found working on a really labor-intensive and complicated recipe, I am the world's biggest fan of easy elegant recipes.
By that I mean dishes that look and taste special and seem complicated but are actually very quick and simple to put together.
Easy elegant recipes are nice to have on hand when I want to do something unique, something a little more dramatic, without any complicated work or stress about things going wrong!
This super-flavorful salad, with warm baked goat cheese and easy homemade balsamic vinaigrette, is definitely what I'd call "easy elegant."
The ripe, sweet tomatoes in this recipe are complemented with creamy, rich, warm-from-oven goat cheese that has a tasty, crispy breading.
Heavenly, for sure.
It's simple to pull off this recipe at home (only about 15 minutes of hands-on time), but the flavors taste like something from a pricey restaurant.
Get the complete, printable recipe for Easy Baked Goat Cheese Salad at Food Fanatic.
Here are the step-by-step instructions.
Begin with all of these ingredients.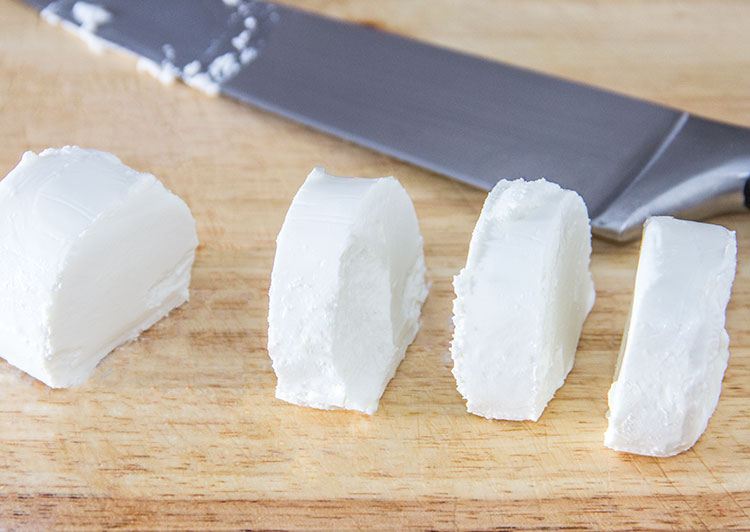 First things first: allow the goat cheese to just sit on the counter and reach room temperature, which will take about 20 minutes or so.
Allowing the goat cheese to reach room temperature is really helpful for allowing you to slice it up, without it crumbling into bits.
Then grab a very sharp knife and slice the goat cheese into four one-inch thick pieces.
The next step is the key to allowing the goat cheese to bake properly in the oven later: arrange the cheese slices in a food storage container so that no two are touching, and toss the container into the freezer for about 25 minutes.
(Putting the goat cheese into the oven while it's frozen will help it cook perfectly evenly so it will hold its shape instead of melting into a gooey mess!)
While the cheese is being chilled in the freezer, prepare the breadcrumb mixture.
Grab a small bowl and add some whole wheat Panko breadcrumbs, a bit of garlic powder, some cumin, and some paprika.
Season well with salt and pepper and stir until everything is well combined.
Also prepare an easy homemade balsamic vinaigrette.
Grab a large bowl and whisk together some balsamic vinegar, a bit of honey, and some Dijon mustard.
Season the dressing well with salt and pepper, and then slowly whisk in some olive oil until everything is well combined.
After the goat cheese has been chilled in the freezer, preheat the oven to 425°F.
Then, using a table knife, spread a very thin layer of Dijon over each cheese slice, including both top and bottom and around the sides (with just a thin layer, you won't really taste the Dijon flavor in the final dish, its purpose is to give the breadcrumb coating something to cling to).
Toss each cheese slice into the breadcrumb mixture you prepared earlier, making sure every side is coated with breadcrumbs.
Then arrange the cheese on a parchment-lined baking sheet, measure out a couple of teaspoons of olive oil, and carefully drizzle the oil all over the tops of each cheese slice.
The olive oil is the key to helping the breadcrumbs turn golden and crispy in the oven!
Next, bake the goat cheese until the breadcrumbs turn a toasty golden brown color.
While the cheese is baking, prepare the salads.
First, slice up some fresh tomatoes.
Since the tomatoes have such a starring role in this dish, I use a variety of heirloom tomatoes for lots and lots of flavor.
Then arrange some mixed greens in large serving plates and top each one with lots of sliced tomato and some salted, roasted sunflower seeds.
Grab that homemade balsamic vinaigrette and drizzle it all over each salad.
Last step: use a spatula to transfer a slice of still-warm baked goat cheese to top off each plate.
Then serve up the salads while the goat cheese is still warm from the oven!
Rich, creamy, salty goat cheese served warm with a crunchy, flavorful breading is so, so good on its own.
Pairing the baked goat cheese with fresh, tart tomatoes and homemade, slightly sweet balsamic dressing is just a bonus!
This dish works great as an appetizer or side dish or even as an entrée when you want a light, vegetarian meal.
Get the complete, printable recipe for Easy Baked Goat Cheese Salad at Food Fanatic.