This is my go-to recipe when I've had a crazy day, I'm running 30 minutes behind, and I'm starving.These chicken strips are healthy, delicious and nearly as easy to throw together as the frozen chicken tenders you find at the grocery store.Served with a couple quick sides like a tossed salad and sliced carrots, it's complete meal that's ready in 20 minutes.
Here are the key ingredients. The skinless, boneless chicken breasts unfortunately did not make it into the photo-op. Mainly because I've yet to figure out how to make chicken breasts look nice for a photo.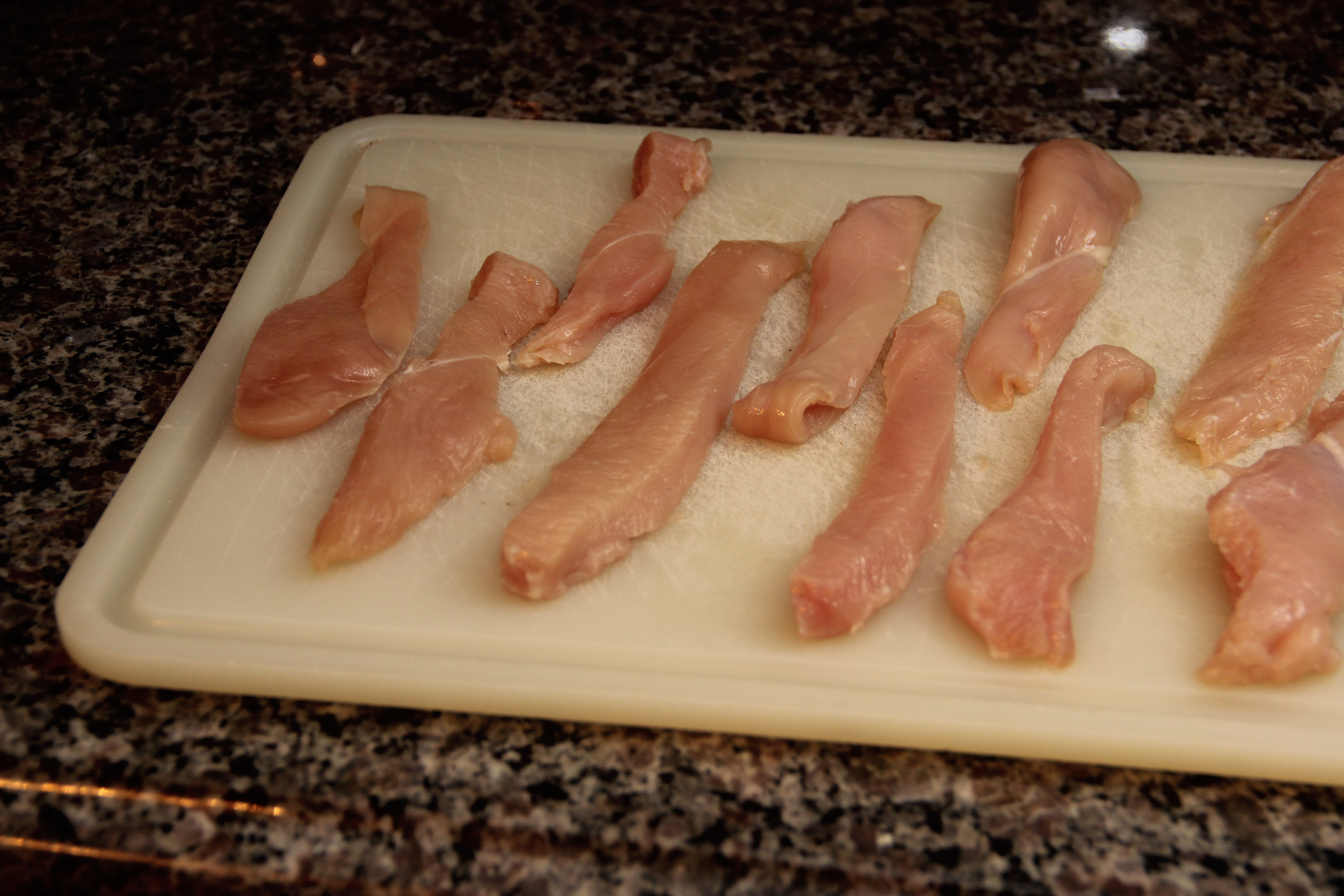 Begin by cutting the chicken breasts into thirds lengthwise so that you end up with long strips.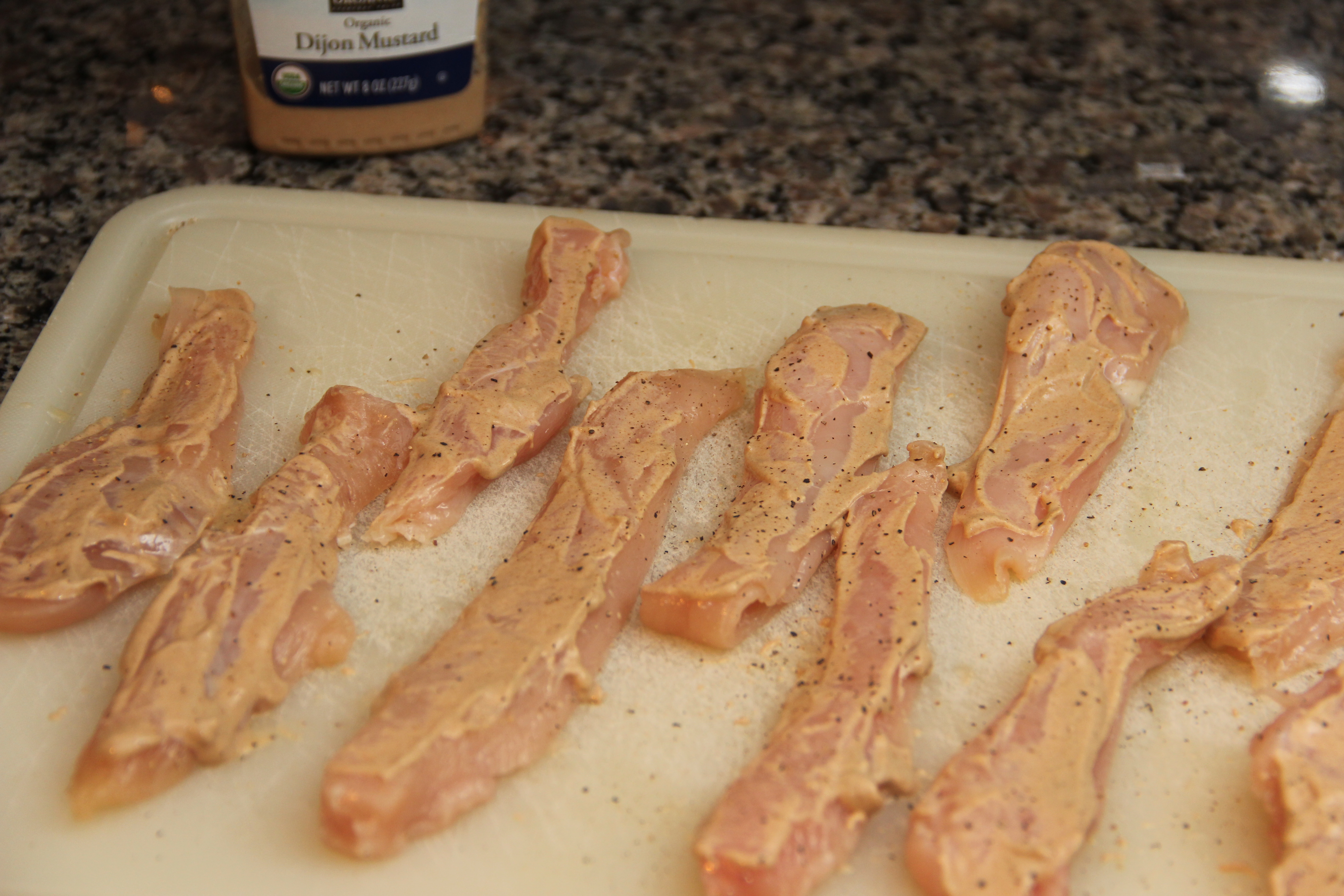 Using a knife, spread the dijon mustard over each of the chicken strips. Season with salt and pepper. Flip the chicken strips over and repeat.
Now prepare the breading.Begin by grating 1/2 cup of fresh parmesan in a large casserole dish.The secret here is to use the real thing: freshly grated Parmigiano-Reggiano. The taste of real, freshly grated parmesan is deliciously sharp and salty, and it makes a big difference in the final flavor of the chicken strips.
Next add the whole wheat panko. You can find this in just about any grocery store and it lends a delicious, really crisp texture to the chicken strips.The whole wheat variety also adds over 2 grams of fiber per serving, so it's a healthy choice.Add the dried thyme and minced garlic. Season with a bit of salt and pepper and mix everything together.
Toss the chicken strips into the breading and be sure they are well-coated on all sides using a fork, or – even better – your fingers.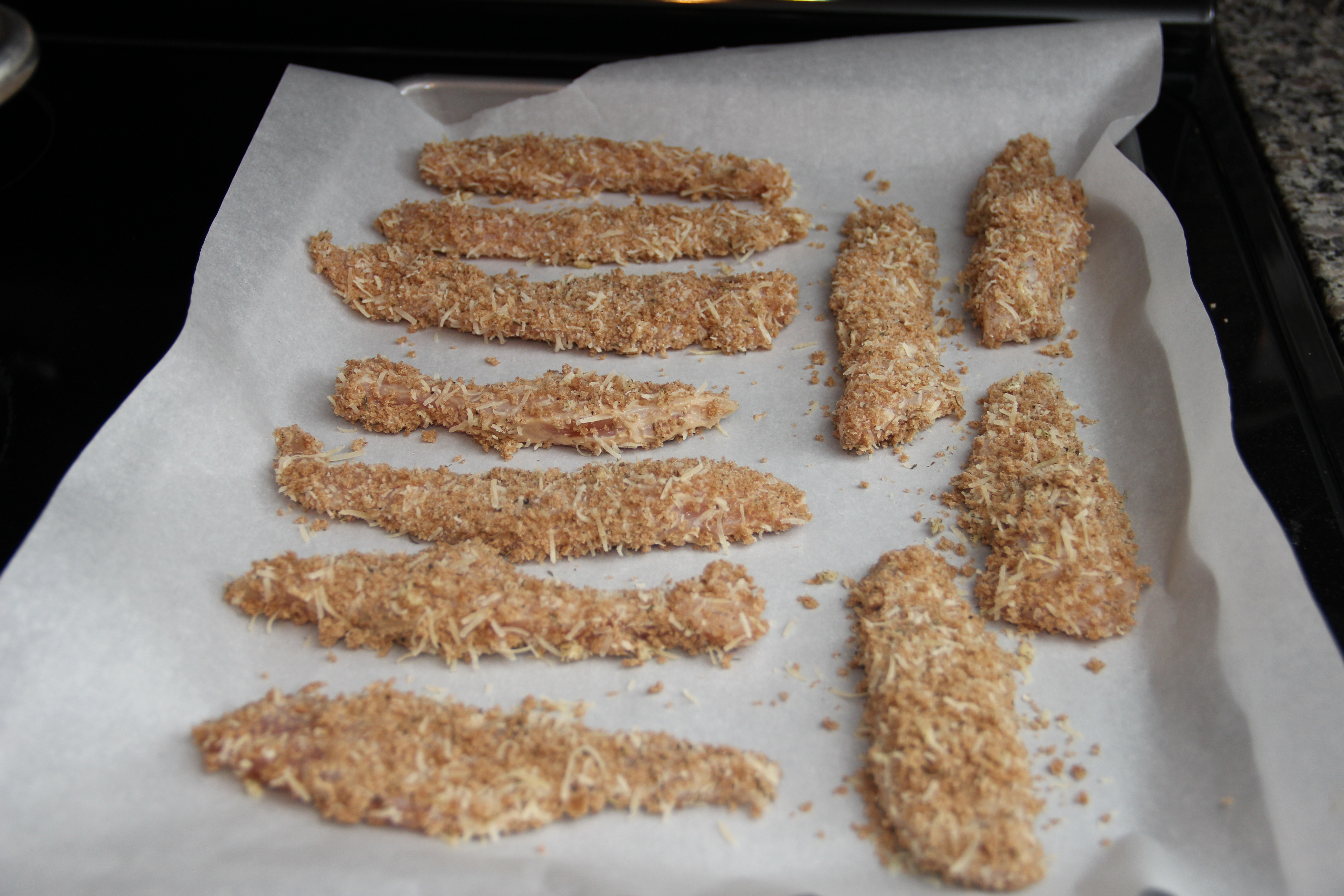 Place the breaded chicken strips on a baking sheet lined with parchment paper. The parchment is extremely helpful in ensuring that the chicken strips do not stick to the baking sheet or burn on the bottoms.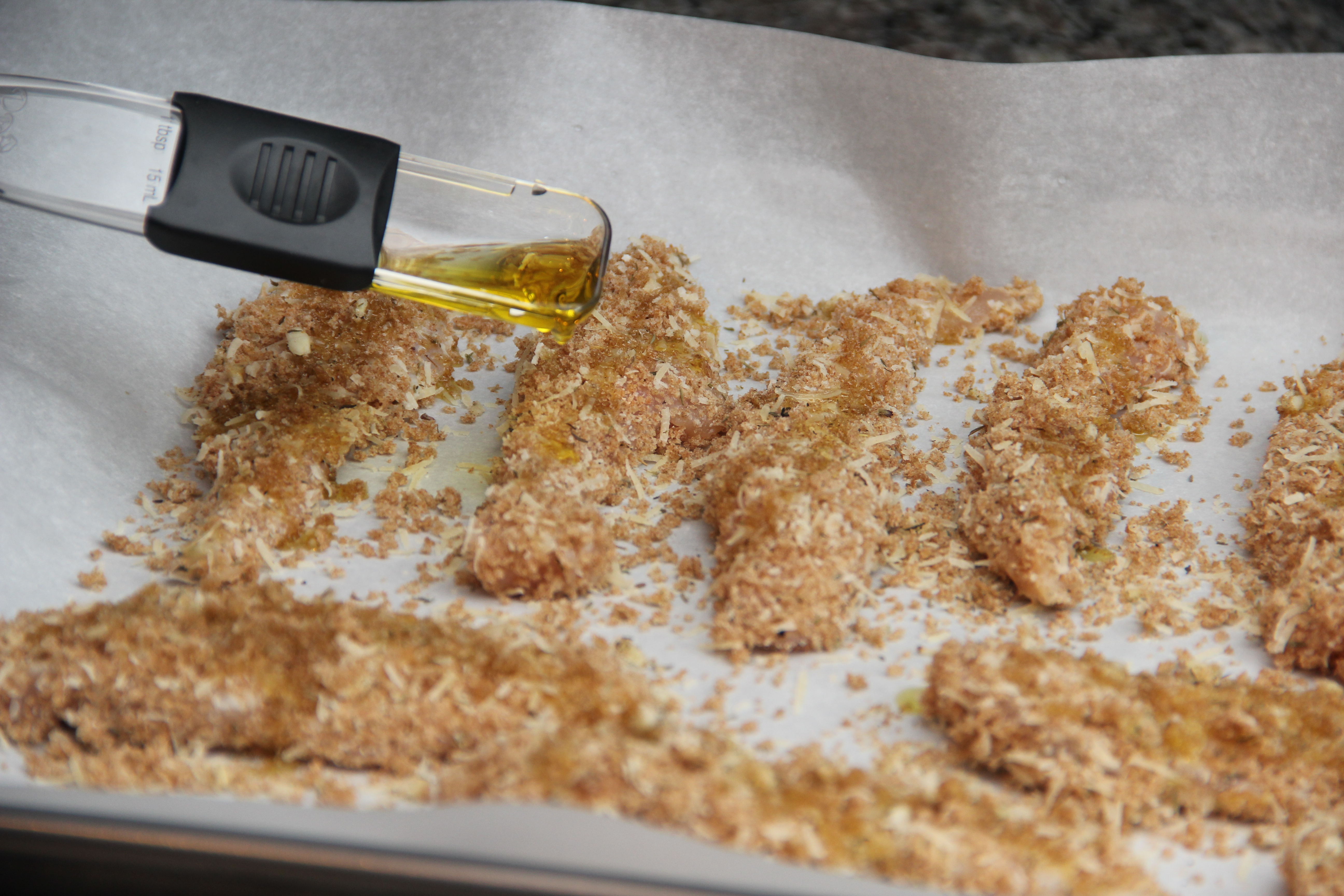 Drizzle some extra virgin olive oil over the chicken strips.This is an important step because it's the olive oil that helps the chicken brown and crisp in the oven.Extra virgin olive oil is extremely healthy but it's also very high in calories, so I just try to portion out and control how much I'm using.This tip is helpful for me: I pour the olive oil into a tablespoon and then use the tablespoon to drizzle the olive oil over the chicken. This way you know exactly how much oil you're using. And you're able to pour just a drizzle over each chicken strip whereas it tends to pour out when drizzling directly from the bottle.
Put the chicken strips into the oven, and they're ready about 12 minutes later. You'll know they're ready when they begin to turn a nice golden brown color on top.
With the hint of dijon, the hint of garlic, the parmesan, and the crispy breading, these chicken strips taste indulgent and delicious.
They're also a healthy choice you can feel good about and really easy to prepare any day of the week. How great is that?
Here is the complete printable recipe:
Crispy Parmesan and Dijon Chicken Strips
Author:
The Scrumptious Pumpkin
Total Time:  20 minutes
Prep: 8 minutes
Cook: 12 minutes
Yield: 4 servings
Ingredients
1 pound skinless, boneless chicken breasts
¼ cup dijon mustard
⅔ cup whole wheat panko (Japanese bread crumbs found in ethnic section of grocery)
1 garlic clove, minced
1 tablespoon dried thyme
½ cup fresh grated parmesan
Salt and freshly ground black pepper
2 tablespoons extra virgin olive oil
Instructions
Preheat the oven to 485 degrees F.
Cut the chicken breasts lengthwise into thin strips.  Using a small spatula, spread the dijon mustard on both sides of the chicken strips.
Combine the panko, garlic, thyme, and parmesan on a large plate. Season with salt and pepper.
Dip one chicken strip at a time in the seasoning, ensuring the chicken is thoroughly covered in seasoning on all sides.
Place strips on a large baking sheet covered with parchment paper.  Drizzle each strip lightly with olive oil.  Bake chicken in the oven for about 12-15 minutes, until panko crumbs are golden brown.