To say I'm not the biggest fan of red meat would be an understatement. To put it more into perspective: I've never been known to order anything but seafood at steak houses. Any big meat-and-potatoes fans will find this extremely strange, and I couldn't argue with you there. I am so weird. So I started making beef stew mainly because I thought my husband would really like it. And he does really enjoy it, but I've been amazed at how much I love this dish. Allowing the stew to cook for a couple of hours with tons of fresh vegetables and spices is the key. It creates such a rich, flavorful broth and the meat just falls apart with your spoon, it's so melt-in-your mouth tender. It's really, really good.
Here are the key ingredients. Items not shown include stew meat, salt, and pepper.
So to start this recipe, we should address the meat. I think stew meat is an economical choice that works well for this long and slow-cooking recipe. Grass-fed stew beef is a good choice if you can find it. Grass is what cattle were designed by nature to eat, so grazing on their most natural diet of grass is better for the animals and for the environment. Grass-fed beef is better for us too, not just because it's the more natural choice but also because it has a much high proportion of omega-3 fats, which is something most of us need more of in our diets.
Begin by browning the meat in a large stock pot. Season well with salt and pepper. You can add a bit of oil, but I didn't add any because the meat on its own is already quite fatty, so added oil isn't really necessary here. Here is the secret: allow the meat to cook until it becomes nicely browned on the outside and you see a brown crust forming on the bottom of your stock pot. That brown crust is a key to developing all the rich flavor!
Next, chop up the onion and garlic.
Add the onion and garlic to the pot and cook for a couple of minutes, until the vegetables soften.
Add the tomato paste, bay leaf, oregano, herbes de provence, paprika, allspice, and sugar.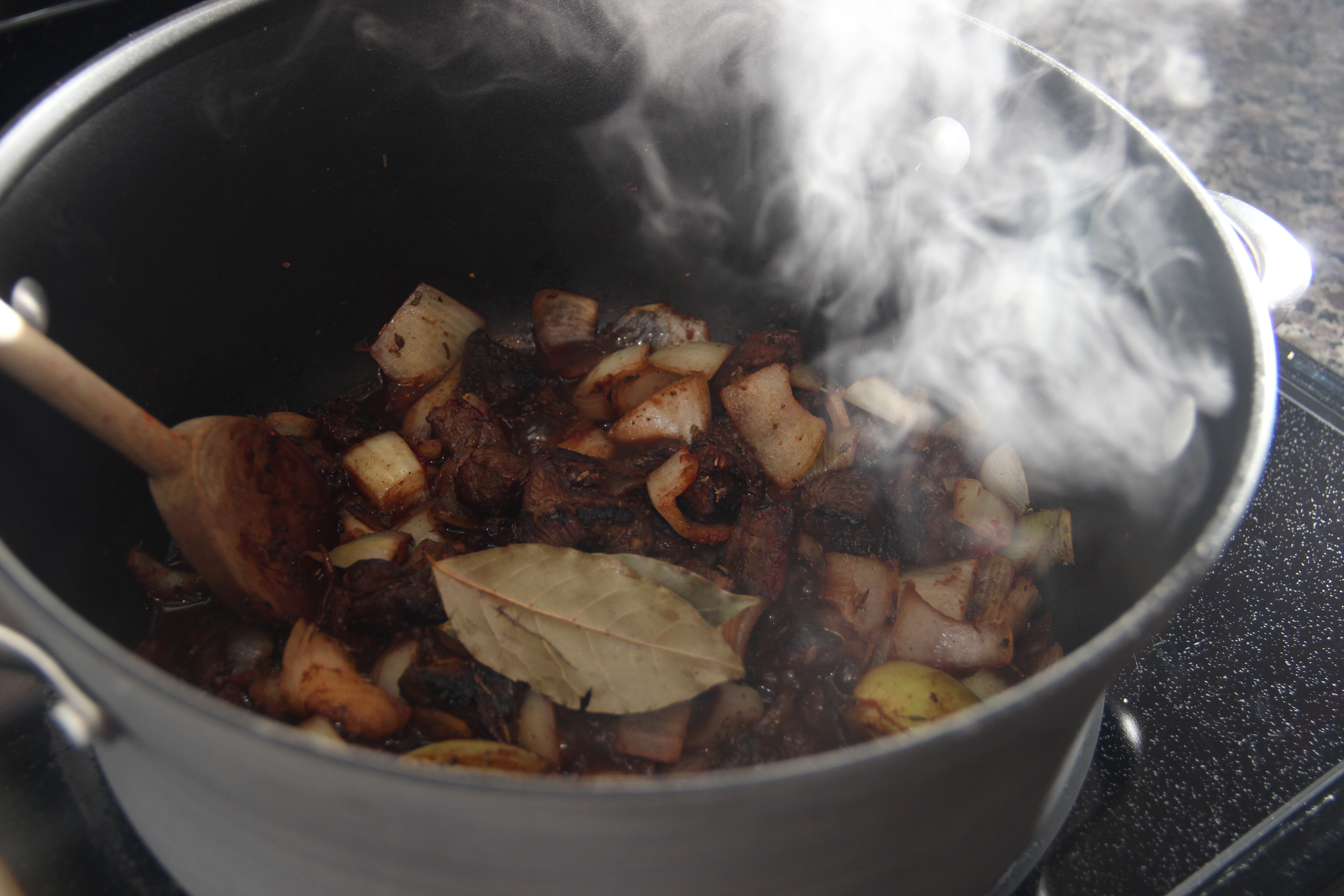 Add the red wine and allow it to simmer and cook down, for about 5-7 minutes.
Add the carton of beef broth, put a cover on the pot and allow the broth to simmer for about 1/2 an hour (or more is even better if you're having a particulary productive day and got a really early start to making your dinner!)
Next, chop up lots of vegetables. I like to use carrots, celery, mushrooms, and parsnips. One key to this healthy recipe is that it calls for a lot of vegetables. This is important because 1) they add a delicious combination of flavors and 2) they stretch one pound of meat into 6 servings – this means you're getting far more nutrients and far less fat and calories per serving than a traditional (mostly meat and potatoes) stew.
If you've never tried parsnips in your beef stew, I highly recommend them! In this stew, they're tender and sweet and the perfect compliment to the savory meat. So delicious!
Prepare them just as you would carrots with one note: if you happen to buy especially large parsnips, you may want to remove the core because it can be a bit tough and chewy.
My parsnips were medium-sized so they didn't need the core removed, but here's how just to demonstrate:
Peel the parsnip, cut off the ends, and cut them in half lengthwise. Place one half, flat-side-down on the cutting board for stability and quarter it. You'll be able to see the darker color of the core – holding each quarter, flat-side down on the cutting board for stability, cut out the core.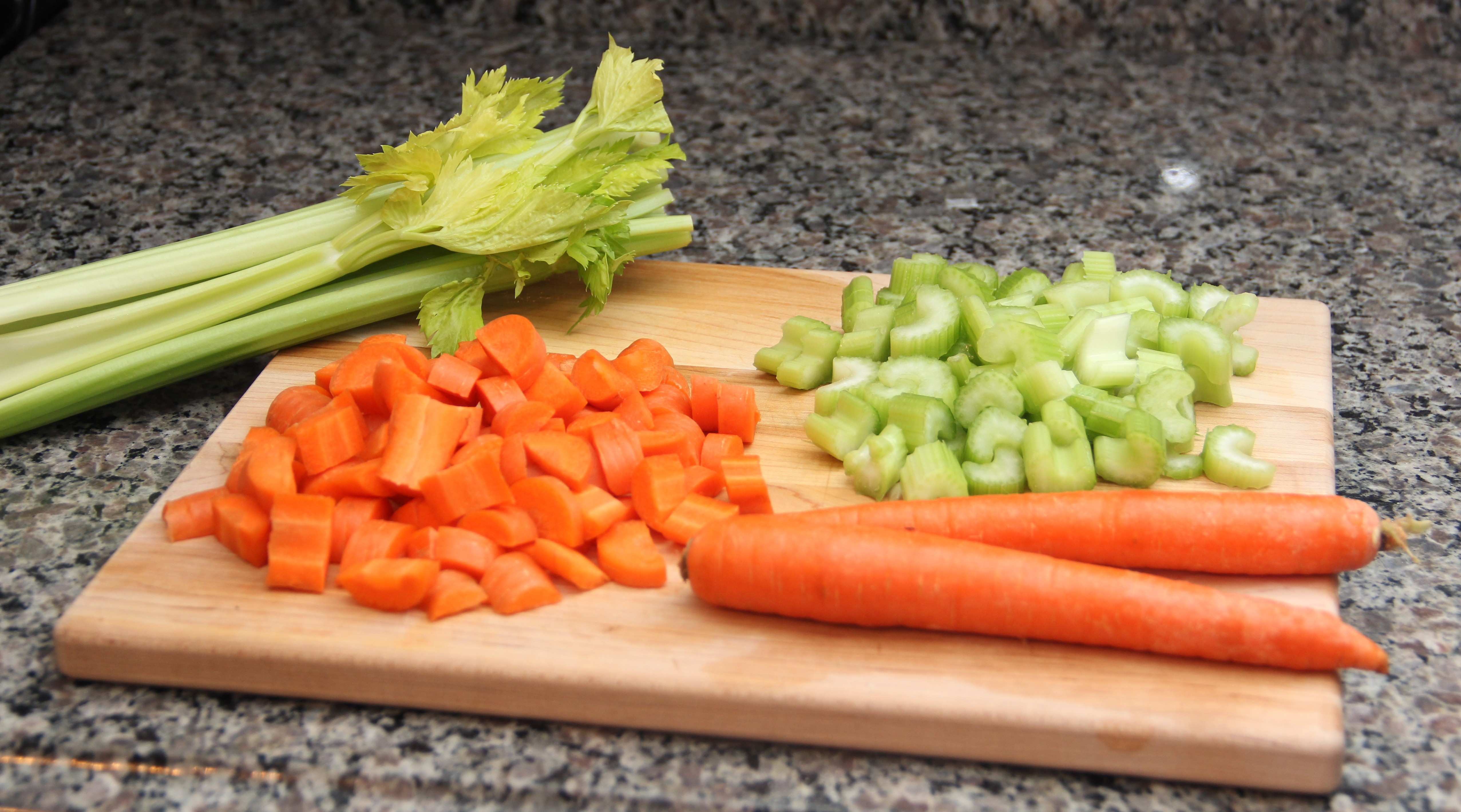 Chop up the carrots and celery. No need to take the time to finely dice these vegetables (or even peel the carrots) – big, chunky vegetables are better for this hearty stew!
Clean the mushrooms just by brushing off any dirt with a clean cloth or paper towel.
Then quarter the mushrooms.
Add everything to the pot, cover and allow it all to simmer for another half an hour. Yay, inactive time perfect for running a quick errand or, if you're like me, intending to start on your laundry but then sitting riveted by a Friends re-run you're already seen 3 times.
Chop the potatoes into large chunks (again no need to peel them) and add them to the pot.
When the potatoes are fork tender, after about 15 minutes, the stew is just about done.
If you'd like to thicken the broth a bit, use a slotted spoon to scoop about half of the potatoes into a large bowl. Mash up the potatoes, then stir them back into the stew. Allow the stew to simmer for a few minutes uncovered and the broth will thicken nicely.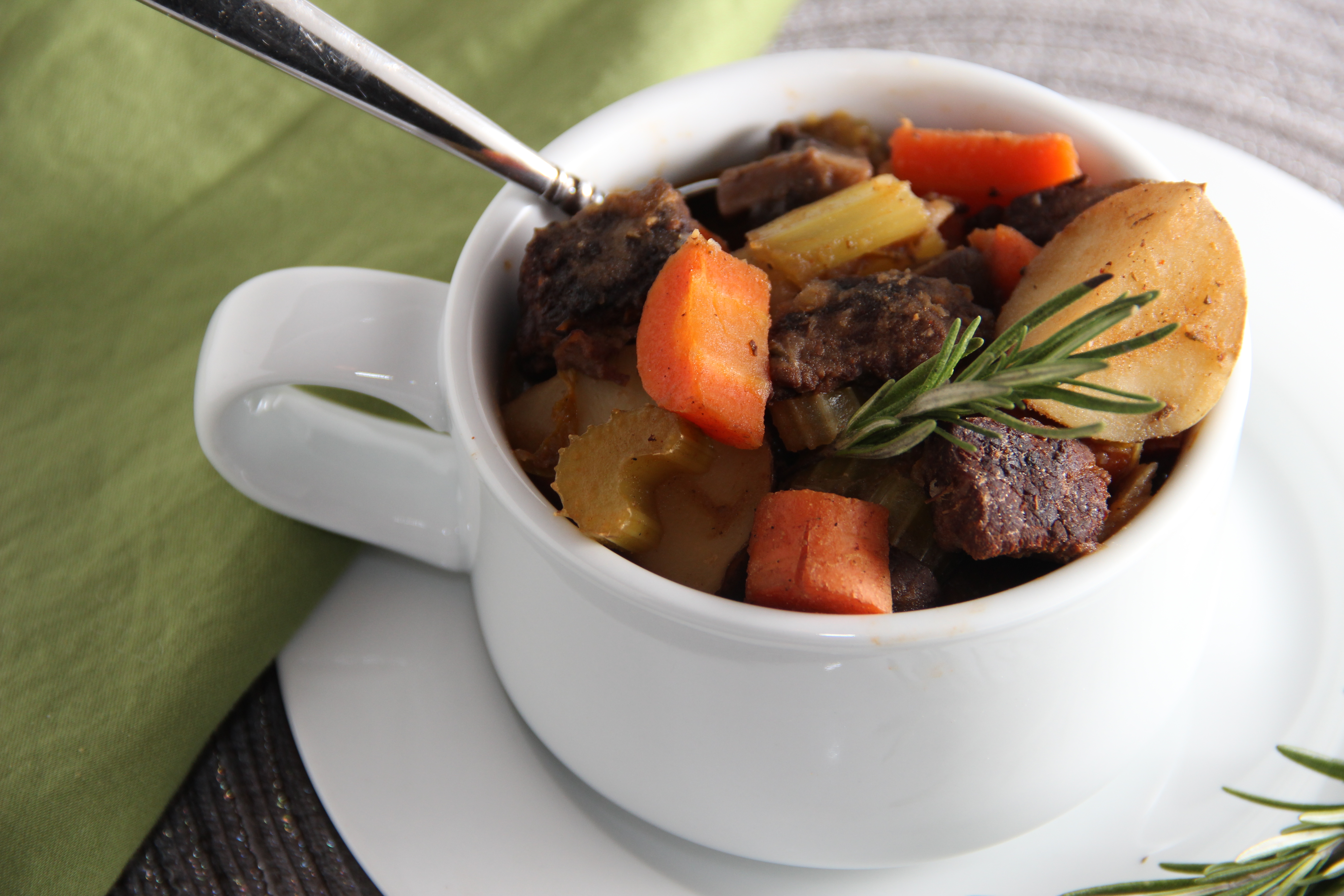 Laddle into big bowls and serve. So full of meat-and-potato goodness, you'll never think of it as a healthy, super-nutritious dish. But it is!
I think this must be what cold, snowy weekend evenings were made for. It's so filling and heart-warming. Try it this weekend and enjoy!
Here's the complete recipe:
Lightened Up Beef Stew
Total Time: 2 hours 30 minutes
Prep: 25 minutes
Cook: 2 hours
1 pound beef stew meat cut into 1-inch pieces
4 cloves garlic, minced
1 large onion, chopped
2 bay leaves
1 tablespoon dried oregano
1 tablespoon herbs de provence
1 teaspoon paprika
1/4 teaspoon allspice
1 teaspoon sugar
2 tablespoons tomato paste
1/2 cup red wine
1 32-ounce container beef broth
5 large carrots, chopped
5 small parsnips, chopped
6 ribs celery with leaves, chopped
10 ounces cremini mushrooms, chopped
3 medium russet potatoes, chopped
salt and freshly ground black pepper
Heat the stew meat over medium-high heat in a Dutch oven or other large stock pot. Season with salt and pepper and cook until the outsides brown. Add the garlic, onions, and bay leaves and cook until onion begin to soften, about 5 minutes. Add the oregano, herbs de provence, paprika, allspice, sugar, and tomato paste. Add the red wine and allow it to reduce, about 7 minutes. Add the beef broth, cover, reduce the heat to a simmer, and allow the beef to cook for 1 hour. Add the carrots, parsnips, celery, and mushrooms. Season with salt and pepper, cover, and cook another 1/2 hour. Add the potatoes and allow them to cook until fork-tender, about 20 minutes. Thicken the stew by transferring half of the potatoes to a large bowl and mashing to a puree with a potato masher. Mix the potatoes back into the stew and allow it to simmer uncovered for another 7 minutes. Season to taste. Laddle into bowls and serve.