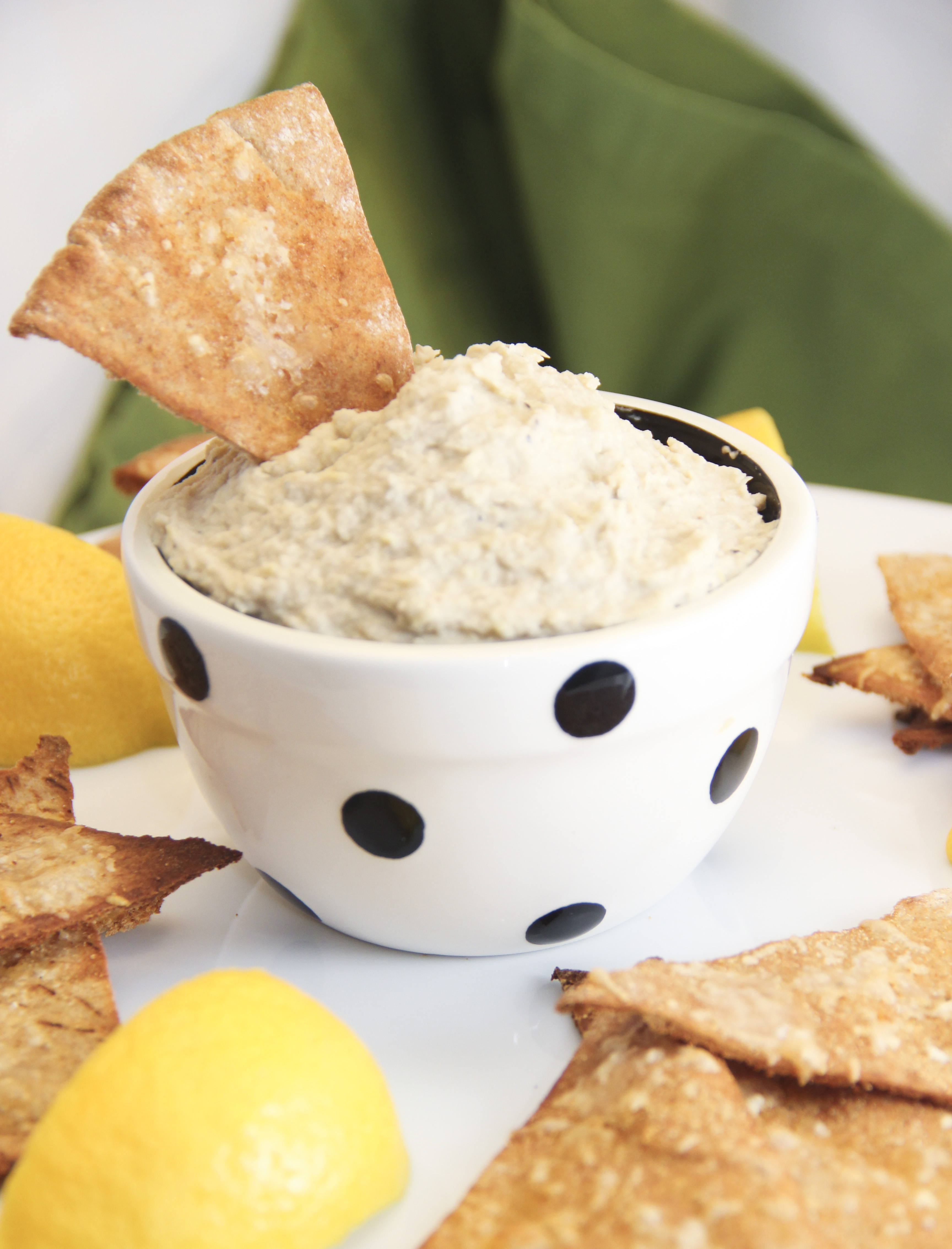 I love, love, love this hummus dip.
It's a great snack because it's full of protein and fiber to keep you feeling full.
It also tastes amazing, so if you make some and keep it in your fridge, you'll likely reach for it over unhealthier choices when it's between meals and you're starving.
I love plain old hummus, but I have to say: adding roasted artichokes adds a whole other layer of flavor that is just a perfect complement to the white beans, lemon, and garlic.
If you love artichokes, I think you might find that this hummus is even better than the original.
Pair it with chopped veggies, whole wheat crackers, or the Parmesan Pita Crisps I posted below.
Here is the healthy line-up of ingredients.
Bonus: these are all ingredients you can keep stored in your pantry (note: tahini will keep for a long time if stored in your fridge) so you're ready to whip up a batch of this hummus any time you're suddenly in desperate need of a satisfying snack.
Begin by preparing the artichokes.
Artichokes – one of my favorites to add to spring dishes – have a long, long list of good-for-you vitamins and minerals. They have extremely high levels of antioxidants and aid in digestion, lower cholesterol, and protect against colon cancer and heart disease. They're high in fiber, iron, Vitamin C (to protect your immune system) and Vitamin K (to protect your bones).
I love them. My Meat-and-Potatoes-Guy (my husband) doesn't love their flavor, so I find crafty ways such as this to sneak them into my dishes and make him realize he actually does really like artichokes…
Preheat the oven to 500 degrees F.
Begin by rinsing the artichokes really well to get rid of most of the acidic taste of the brine.
If you have frozen artichoke hearts, that would be even better for this recipe. Strangely, I couldn't find the frozen kind in my area, so I had to 'make it work' with the canned kind.
Mince up some garlic.
Toss the artichokes with some extra virgin olive oil, the minced garlic, and salt and pepper in a large mixing bowl.
Spread the artichokes out on a baking sheet.
Roast them for about 10 minutes.
You'll know they're ready when the enticing scent of roasted garlic begins wafting from your oven…
Toss the roasted artichokes into a food processor.
Healthy Tip: The artichokes add so much flavor and additional richness to this hummus, you can get away with using a lot less olive oil and tahini. This is good for weight maintenance since artichokes are fat-free and low in calories while both tahini and olive oil (although both very good for you) are high in calories.
Next add cannellini beans.
I traded out the chickpeas normally used in hummus for white beans. I just like how the delicate flavor compliments the artichokes and lemon.
Squeeze the juice from half of a lemon and add that.
Add extra virgin olive oil.
Last, add the tahini (sesame paste).
Tahini is yet another highly nutritious ingredient in this dish. It happens to be full of antioxidants, fiber, protein, and even calcium.
Simply store it in your fridge and it will keep for a long, long time.
Season with salt and pepper.
Puree until everything is well-blended, thick, and creamy.
Add about 1/4 cup of water and puree again.
Transfer to a serving bowl and enjoy.
This hummus is full of so many delicious flavors, and it's so rich and thick and satisfying.
And now my tips for being an exceedingly popular and all-around highly-adored individual:
Whip up a batch of this roasted artichoke hummus in no time
Bring it to your next party or get-together (St Patrick's Day is right around the corner!)
Don't even mention it's healthy (and that you're the one who brought 'health food' to the party)
Sit back and let the compliments and praise start rolling in!
Please see below for my Parmesan Pita Crisps to serve alongside this hummus.
Here's the recipe for Roasted Artichoke Hummus:
Roasted Artichoke Hummus
Author:
The Scrumptious Pumpkin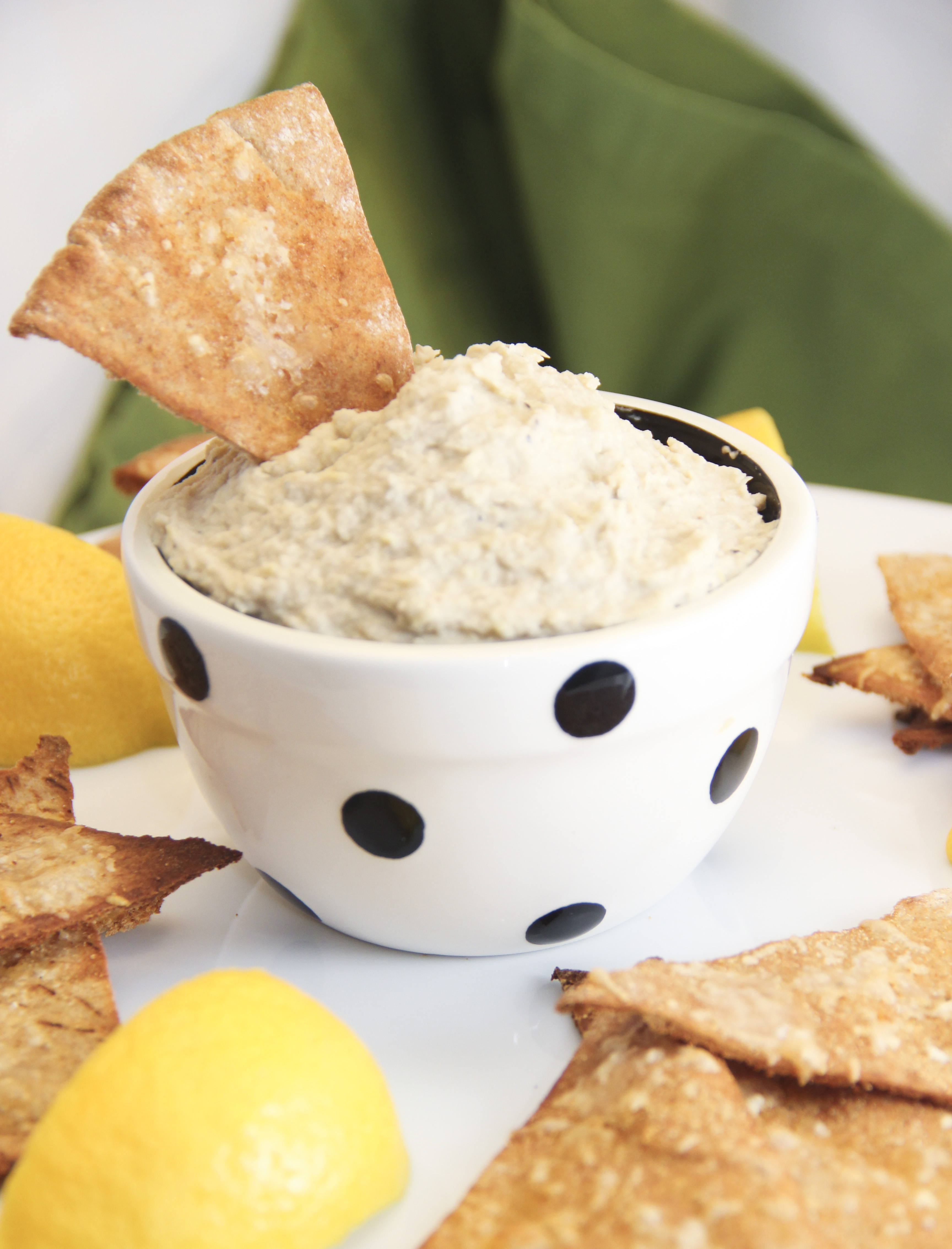 Total Time:  20 minutes
Prep: 10 minutes
Cook: 10 minutes
Yield: 4 servings (about 2 cups hummus)
Ingredients
2 cloves garlic, minced
1 12-ounce can quartered artichoke hearts thoroughly drained and rinsed
2 tablespoons plus 2 teaspoons extra virgin olive oil
1 16-ounce can cannellini beans, drained and rinsed
2 tablespoons tahini (sesame puree), stirred well
3 tablespoons freshly squeezed lemon juice
¼ cup water
Salt and freshly ground black pepper
Instructions
Preheat the oven to 400 degrees F.
Thoroughly drain and rinse the artichokes and place in a large bowl. Add the minced garlic and 2 teaspoons of olive oil and season with salt and pepper. Stir to combine ingredients.
Spread artichokes on a parchment-lined baking sheet. Roast for about 10 minutes in the oven, just until they begin to brown.
Transfer roasted artichokes to a food processor. Add the cannellini beans, the tahini, the lemon juice, and 2 tablespoons of extra virgin olive oil. Season well with salt and pepper. Blend all ingredients to a puree.
Add ¼ cup of water and blend. Add additional tablespoons of water until desired consistency is reached.
Serve with veggies, whole wheat crackers, or my Parmesan Pita Crisps