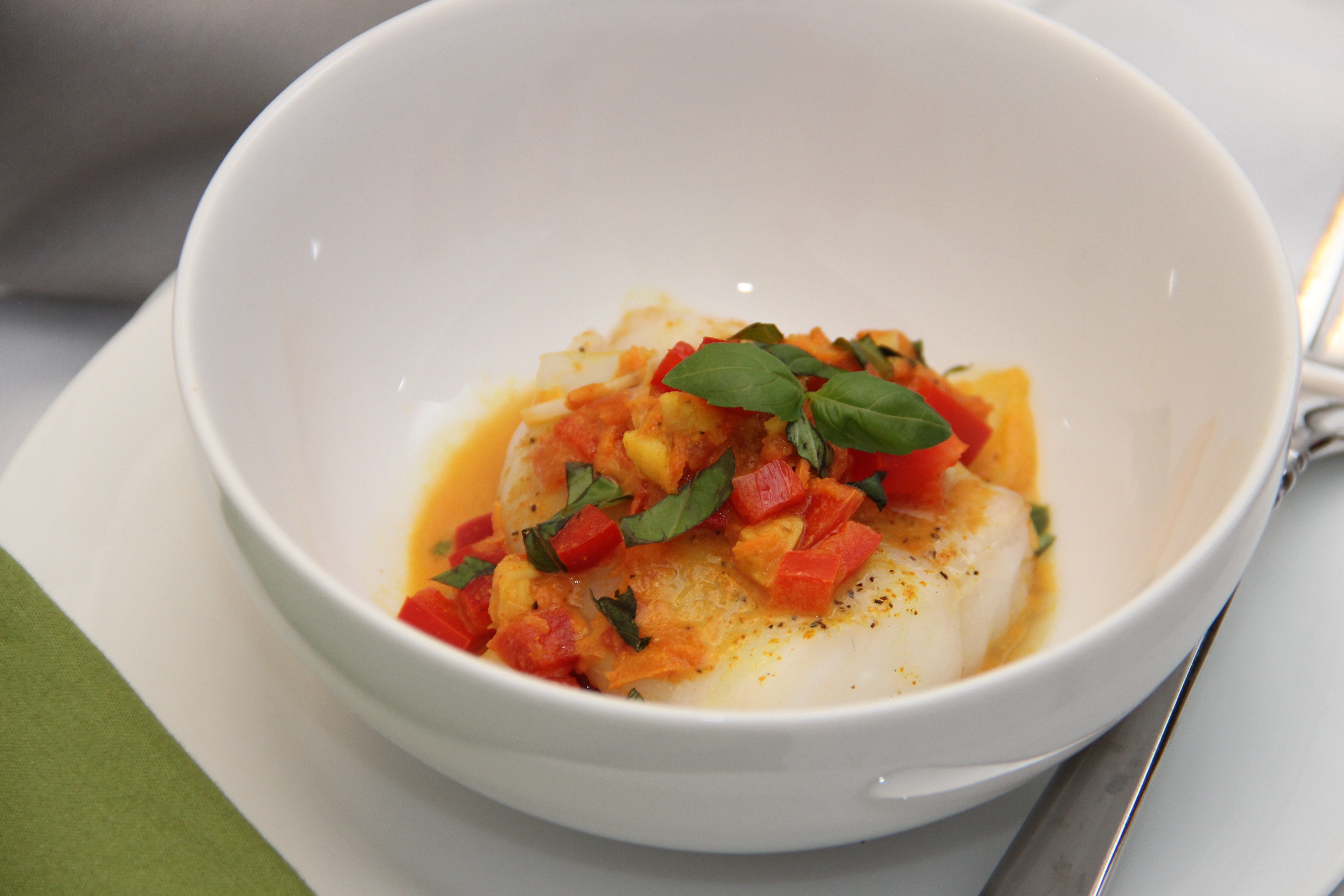 For a long time, I was intimidated by the thought of cooking Thai food at home.
Finding that ideal balance of salty, spicy, mild, and sweet flavors (typical of Thai cuisine) seemed like a recipe for disaster for someone who didn't grow up around/wasn't trained in Thai cooking.
But I kept hearing about all the significant health benefits of the various spices found in curry powder, so I decided to roll the dice and give it a shot.
I started by combining lots of easy-to-find ingredients: white fish, tons of veggies, coconut milk, and curry powder.
And the final result: success!
It turned out absolutely delicious and flavorful. And it's so easy to prepare. Basically fool-proof.
I thought the dish was delicious, but I was still kind of nervous to serve it to my Meat-and-Potatoes-Midwestern-Guy (my husband Chris). He surprised me by loving it as much as I do!
Are you ready to dive in and try it? Let's get started…
Here are the key ingredients. Clearly a super-healthy dish.
I used cod for my dish (not pictured). But any whitefish (i.e. haddock, halibut, etc.) works.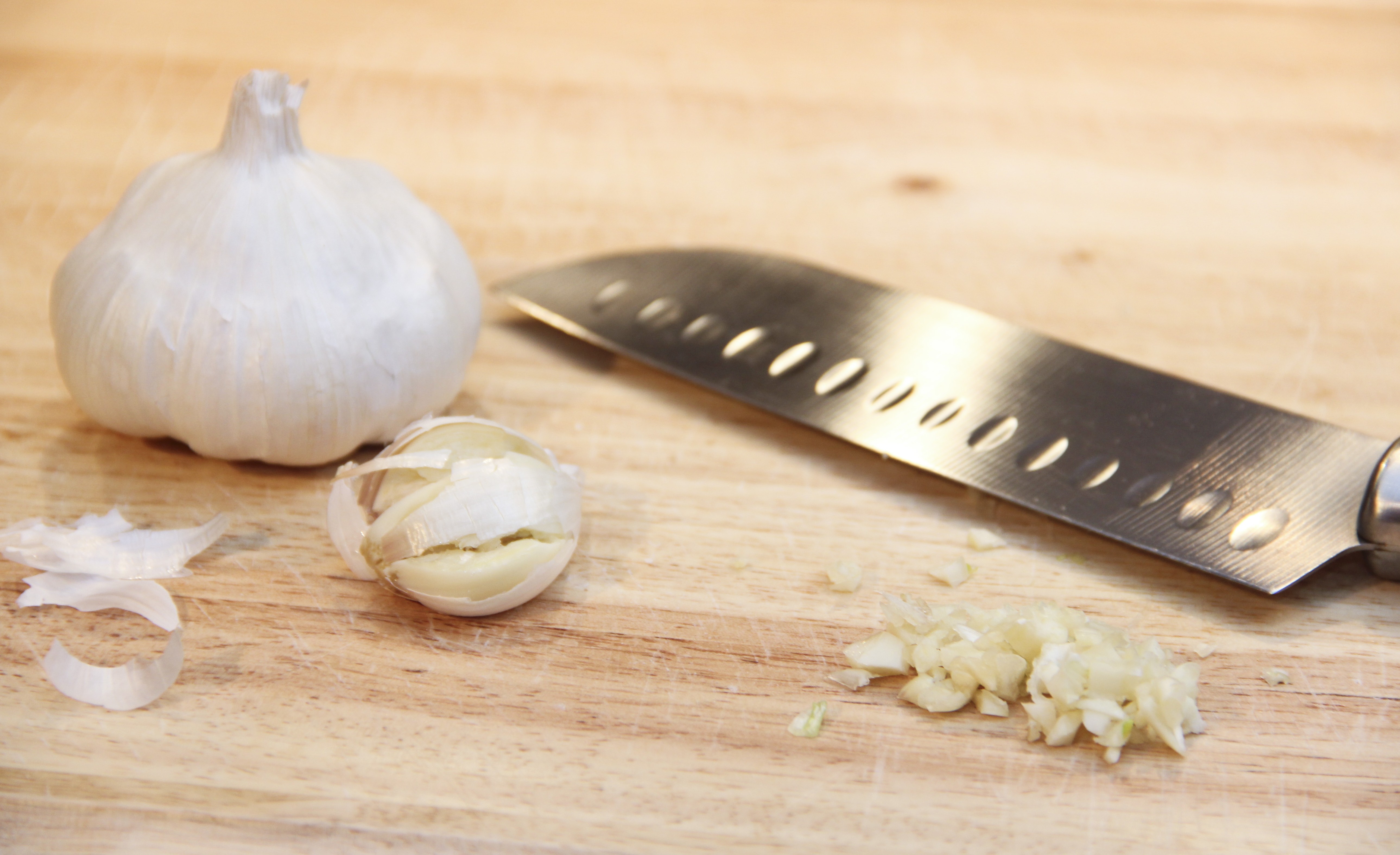 Begin by mincing some garlic and dicing an onion.
Grab a red bell pepper and set it upright on your cutting board.
Make four cuts, from top to bottom, around the stem. This creates four perfect slices of pepper, leaving out the seeds and stem.
Grab one of the quarters and cut thin strips lengthwise.
Now dice up the pepper by slicing in the opposite direction.
Shred two small carrots (or buy the shredded kind to save yourself some time).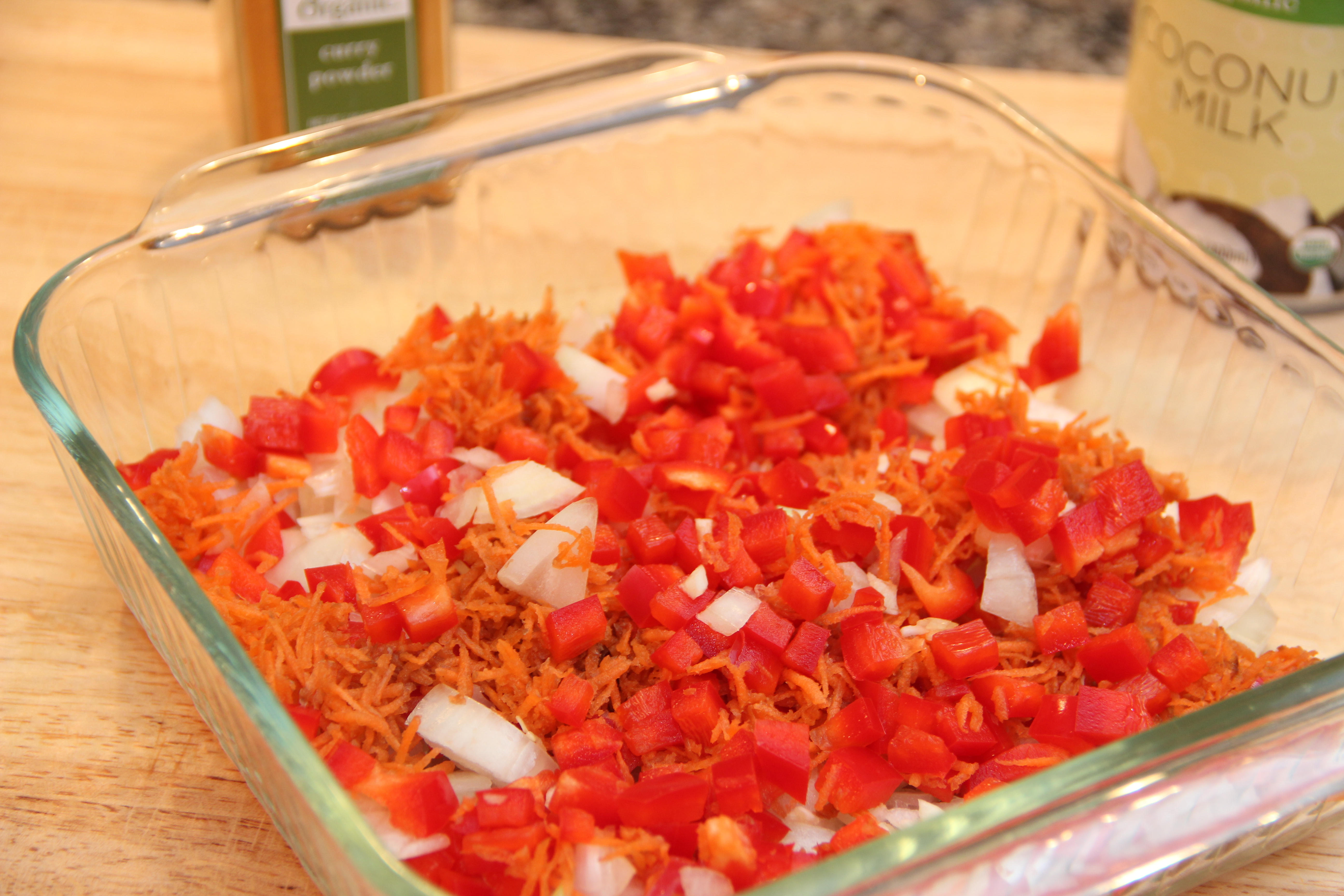 Now toss all of the veggies into a casserole dish.
Season well with salt and pepper.
Add a couple of tablespoons of canola oil.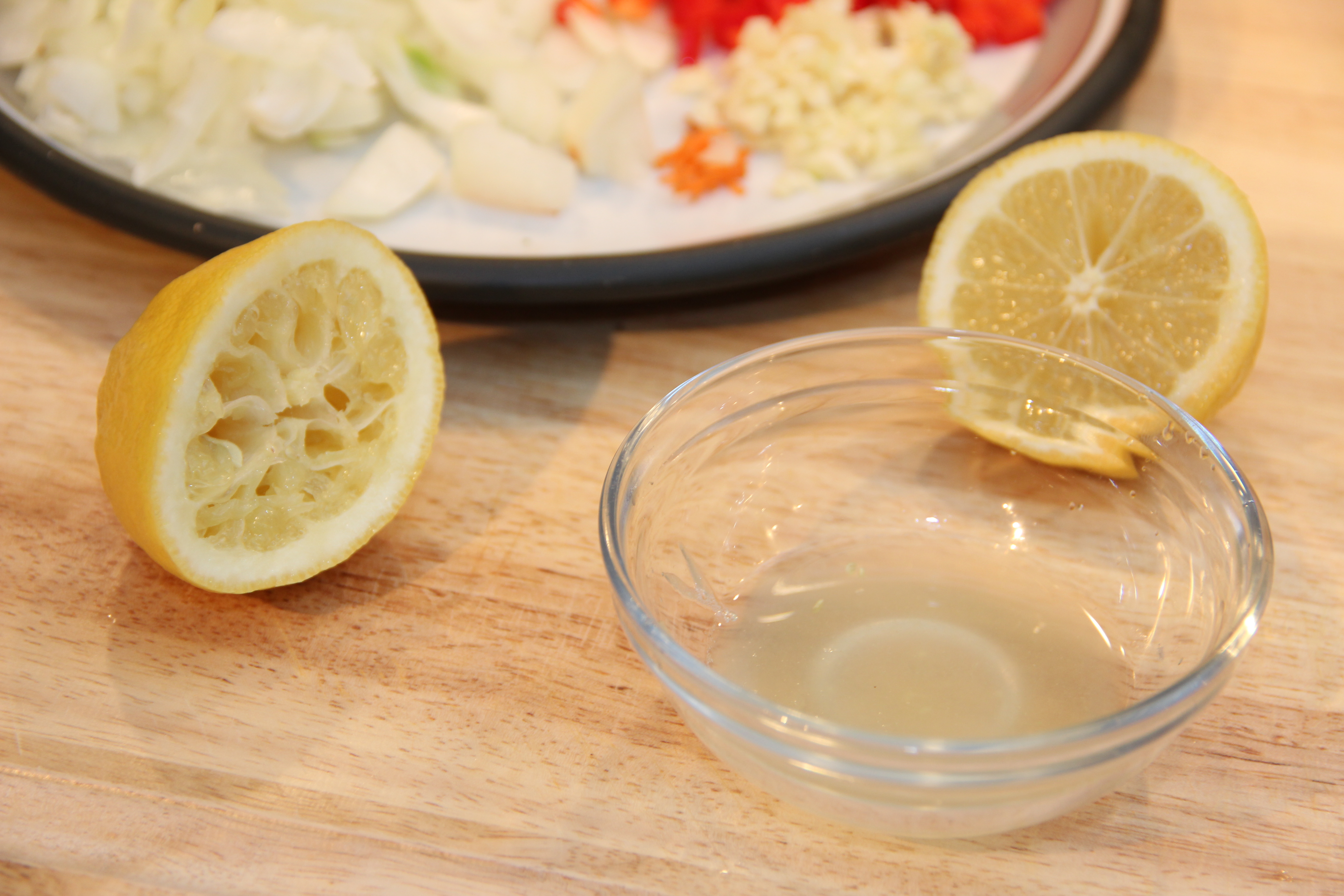 Add some freshly squeezed lemon juice.
Next up: the curry powder.
Curry powders will have different blends of spices depending upon the brand, but most contain cumin, turmeric, ginger, garlic, and red pepper. This is a blend of spices with tons of antioxidant power!
Curry powder (specifically, the turmeric found in curry powder) is a potent antioxidant and anti-inflammatory shown to help keep skin clear, firm, and youthful. It's also been shown to block several different types of cancer, including breast and skin cancer. And it's been shown to protect memory and prevent Alzheimer's.
This stuff is over-the-top good for you!
And buying prepared curry powder means you only need to add one spice to get tons of flavor.
Add the curry powder and mix everything together.
Strain some chopped tomatoes and add to the dish.
Can I just add: I love Pomi tomatoes! I like the flavor of these tomatoes and tomatoes are the only ingredient (no additives or preservatives!)
Plus, it comes in a container that is BPA-free. (Here is a quick guide to understanding BPA in canned food)
I try to keep sane about BPA by not letting it stop me from buying healthy canned items (see the coconut milk in my ingredients photo above!) but choosing better alternatives (ie. glass containers, cardboard cartons, frozen items over canned) when they're available.
Next, add some coconut milk.
Stir everything together.
Cut the fish into four even portions. (You see only three here because I used less fish than the recipe calls for).
Season well with salt and pepper and drizzle about a teaspoon of canola oil over the fish. Add a pinch of curry powder to the fish as well.
Nestle the fish into the veggies. When everything's snug and cozy, cover the dish with aluminum foil and bake in the oven for about 25 minutes or so.
While it's baking, prep the basil.
Grab several basil leaves and pile them one on top of the next.
Roll them up lengthwise.
Now chop thin strips of the basil.
Unravel to reveal the lovely ribbons of basil you've created (look at you, an old pro in the kitchen)!
Remove from the oven and transfer the fish, veggies and sauce to serving plates. Top each with fresh basil.
The colors and presentation of this dish are gorgeous.
The sauce is a vivid burnt orange. Combined with the red pepper and basil, it looks beautiful on the plate.
Or at least it can look beautiful. After I shot these photos, I proceeded to heap each portion with tons of sauce and veggies, and Chris and I dug in. No longer photo-worthy, but so delicious!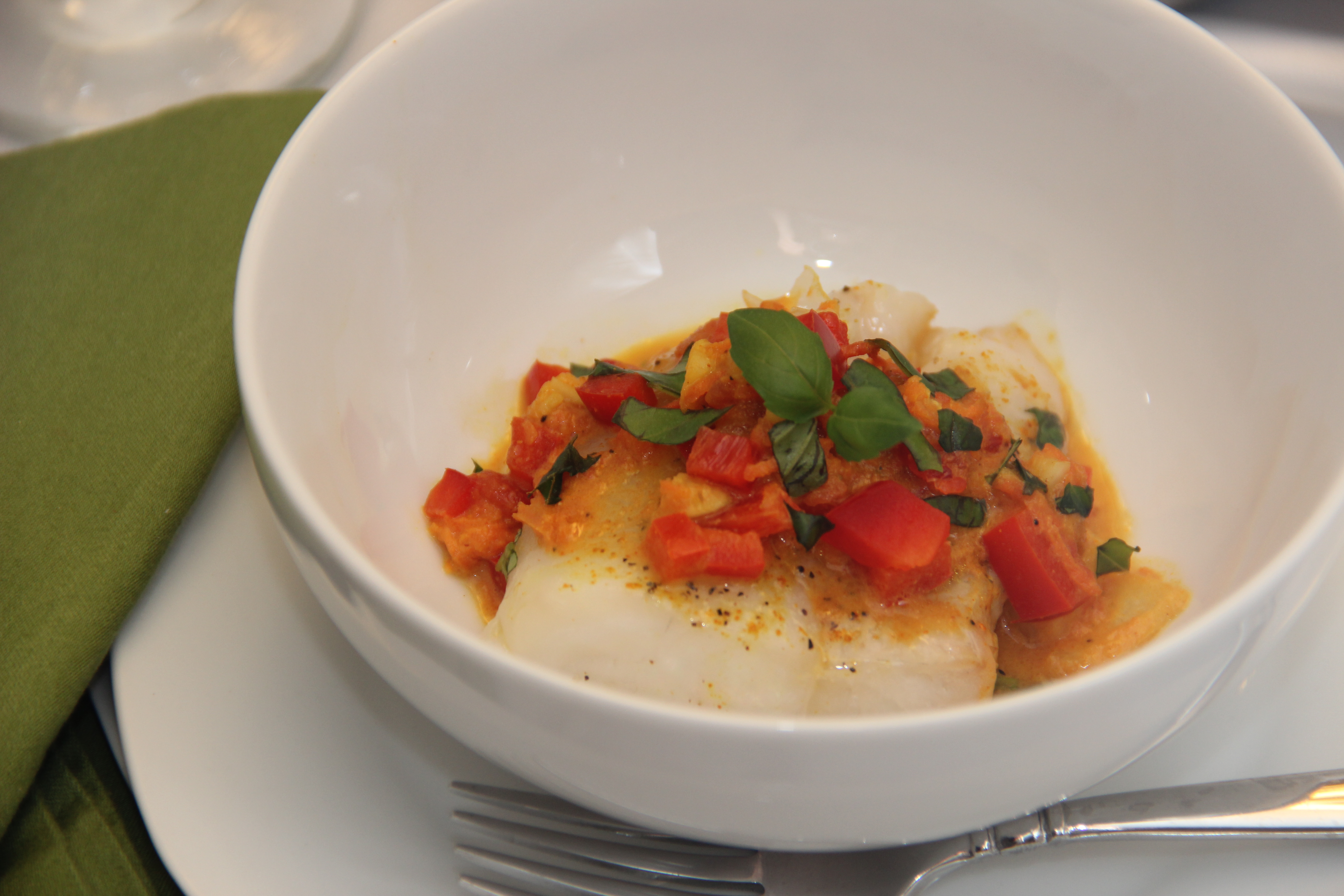 It's slightly sweet from the coconut milk.
Slightly spicy from the curry.
There is a delicious crunch from the red bell pepper.
And a hint of freshness from the basil.
Really healthy can be really delicious!
Here is the complete recipe:
White Fish with Thai Curry Sauce
Prep: 20 minutes
Cook: 25 minutes
2 cloves garlic
1 small onion
1 red bell pepper
2 small carrots
2 tablespoons canola oil
1 1/2 tablespoons curry powder
1 tablespoon freshly squeezed lemon juice
1/2 cup coconut milk
1 cup chopped tomatoes, drained
1 1/2 pounds cod (or other white fish such as haddock or halibut)
3 tablespoons fresh basil, chopped
Salt and freshly ground pepper
Preheat the oven to 400 degrees F.
Mince the garlic and place in a large casserole dish. Dice the onion and the bell pepper and add to the casserole dish. Grate the carrots and add the shredded carrots to the dish. Add the canola oil and season with salt and pepper. Add the curry powder and the lemon juice. Stir to combine ingredients. Add the coconut milk and drained tomatoes and stir again to combine. Cut fish fillets into four equal portions. Arrange fish over vegetables. Drizzle canola oil over the fish. Season with salt and pepper. Sprinkle a pinch of curry powder over fish. Cover with aluminum foil and bake in the oven for about 25 – 30 minutes, or until fish is no longer transparent and cooked through. Transfer fish fillets to serving plates and top generously with vegetables and sauce. Top each plate with plenty of fresh basil and serve.