Three Things.
First thing: potatoes au gratin, as with nearly all things smothered in butter and cheese, is pretty much pure pleasure wrapped up into a casserole dish.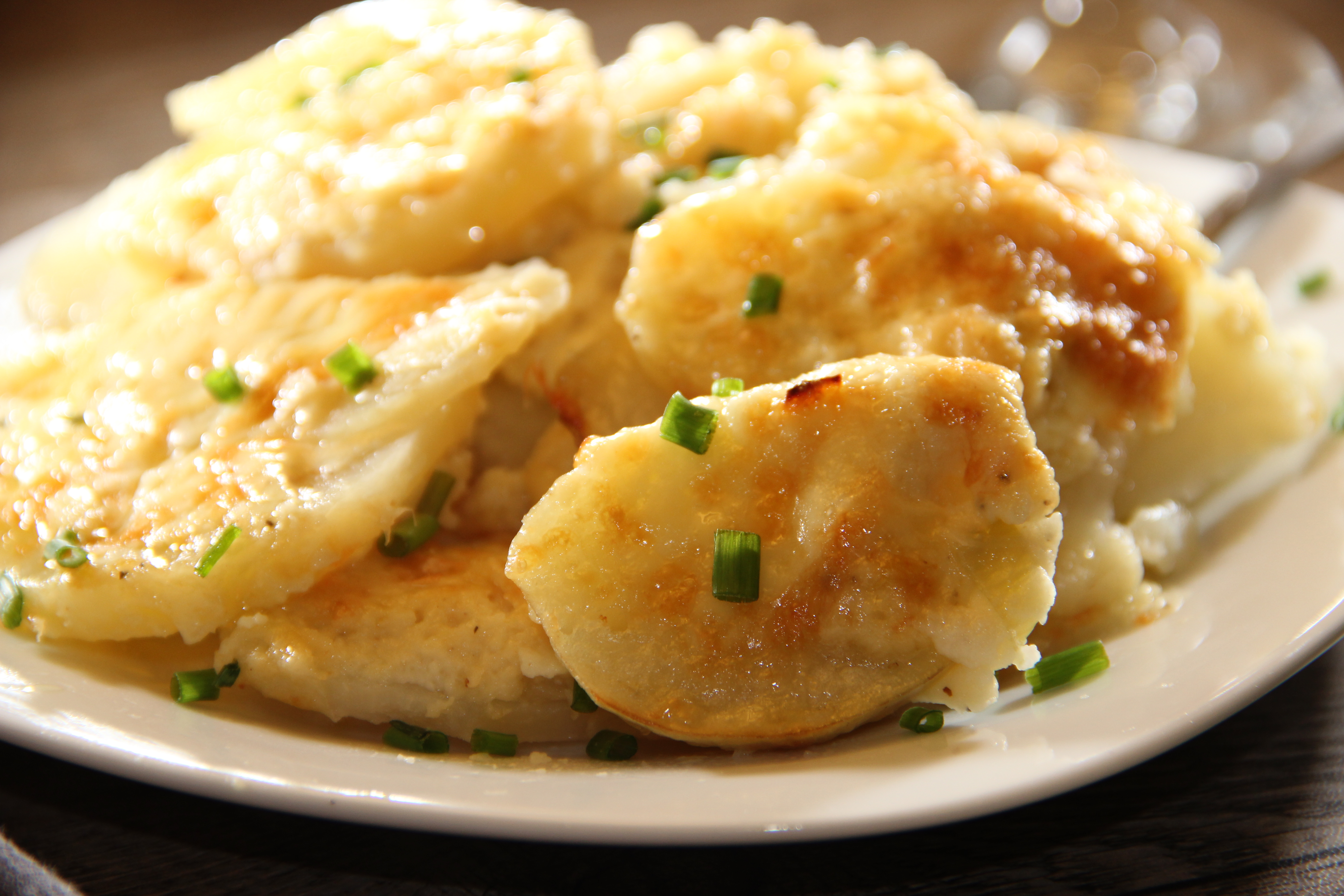 Second thing: France, originator of potatoes au gratin, is also pure pleasure wrapped up into…
…breathtaking countryside gardens…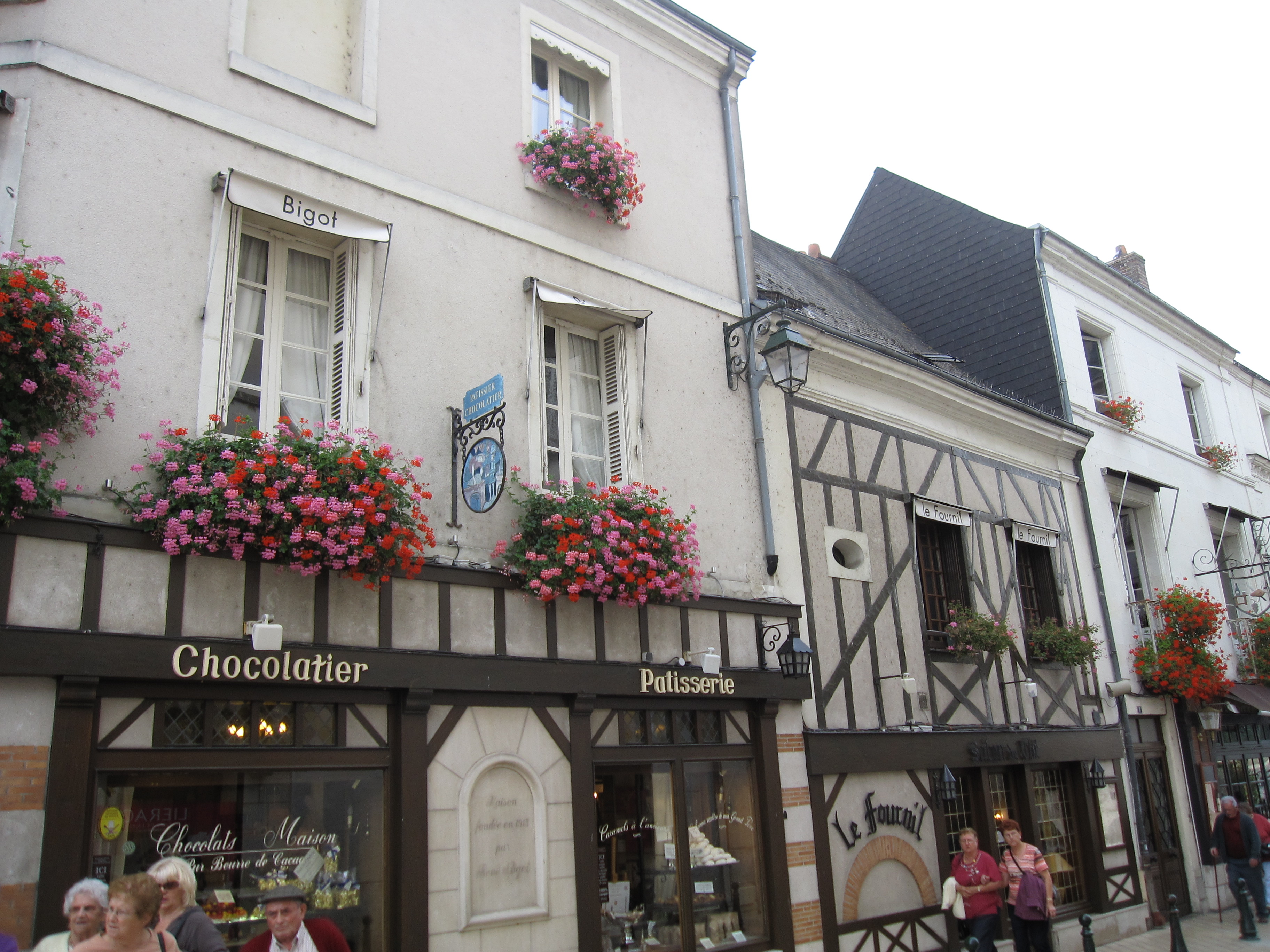 …picturesque medieval towns that are a fairytale backdrop sprung to life…
…and Paris. Somehow even more romantic under thunderous skies.
When I was in Paris a couple of years ago, I could duck out of the rain and into any café or patisserie – anywhere – and know that something warm, flaky, buttery, and unbelievably heavenly was waiting.
Third thing: I want to live in France.
But since that's not happening any time soon, I can travel back there by recreating French-style dishes at home.
This is my Scrumptious Pumpkin (read: lighter) version of Potatoes Au Gratin. A new take on the classic dish, healthy enough to serve to your family any day of the week.
Care to escape with me?
Here are all the ingredients you'll need.
You'll also need a bit of milk, but I seem to have left it out of the photo. Where was my head? I have no idea. Off in a French café, no doubt.
Preheat the oven to 485 degrees F.
Then begin by preparing the leek – just one is needed in this recipe.
Cut off the roots and the green leaves.
Thinly slice the white/pale green stalk.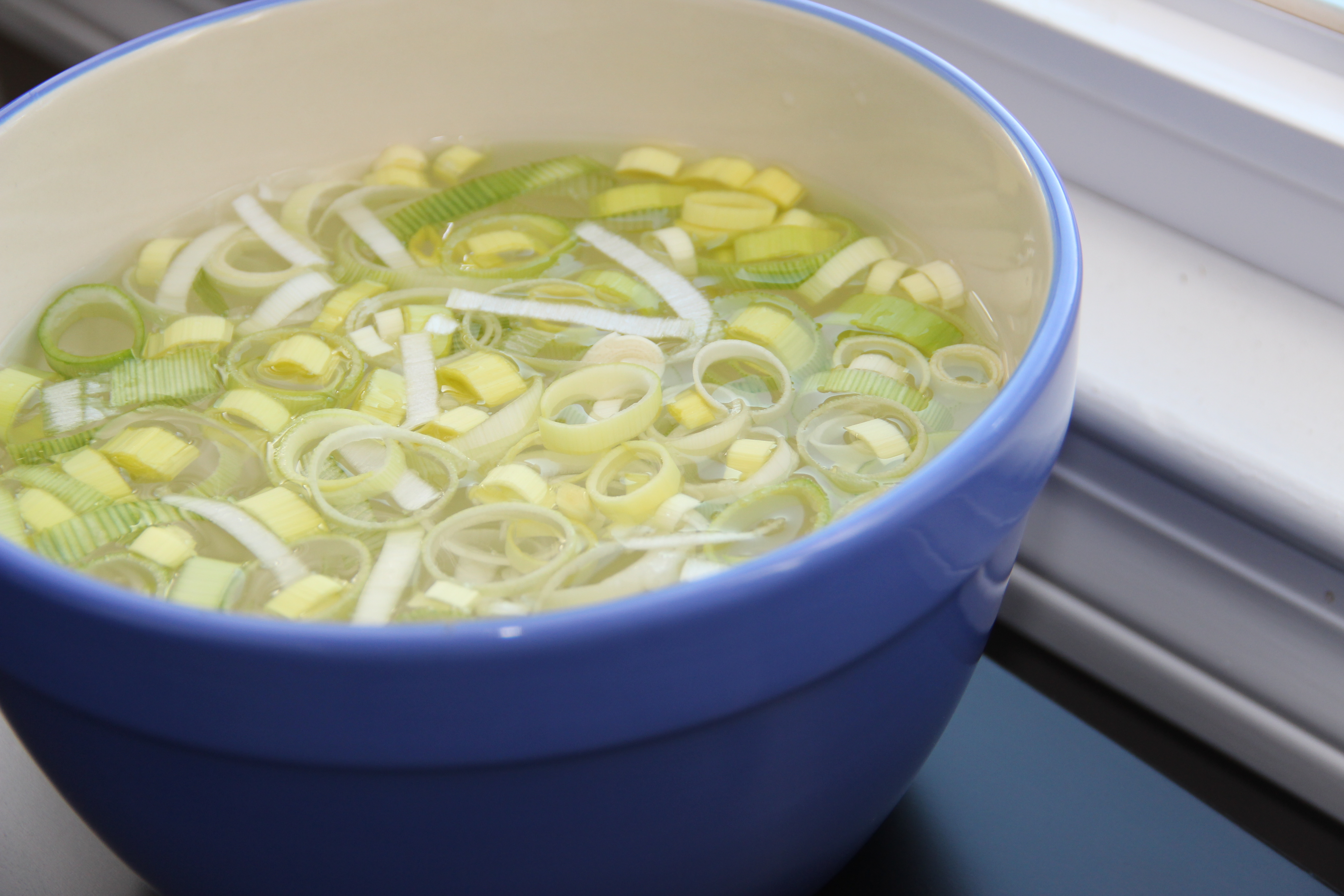 Separate the layers and swirl in a large bowl of water. Set them aside for a few minutes to allow any dirt to rinse away.
If you haven't tried cooking with leeks yet, here's why you should:
They taste wonderful. They have a very light, delicate onion-y taste that compliments savory foods (like potatoes) perfectly.
And they're very good for you. Leeks have a lot of vitamin C (a strong antioxidant), calcium (to keep your bones and teeth healthy), and fiber (to help prevent cancer and heart disease).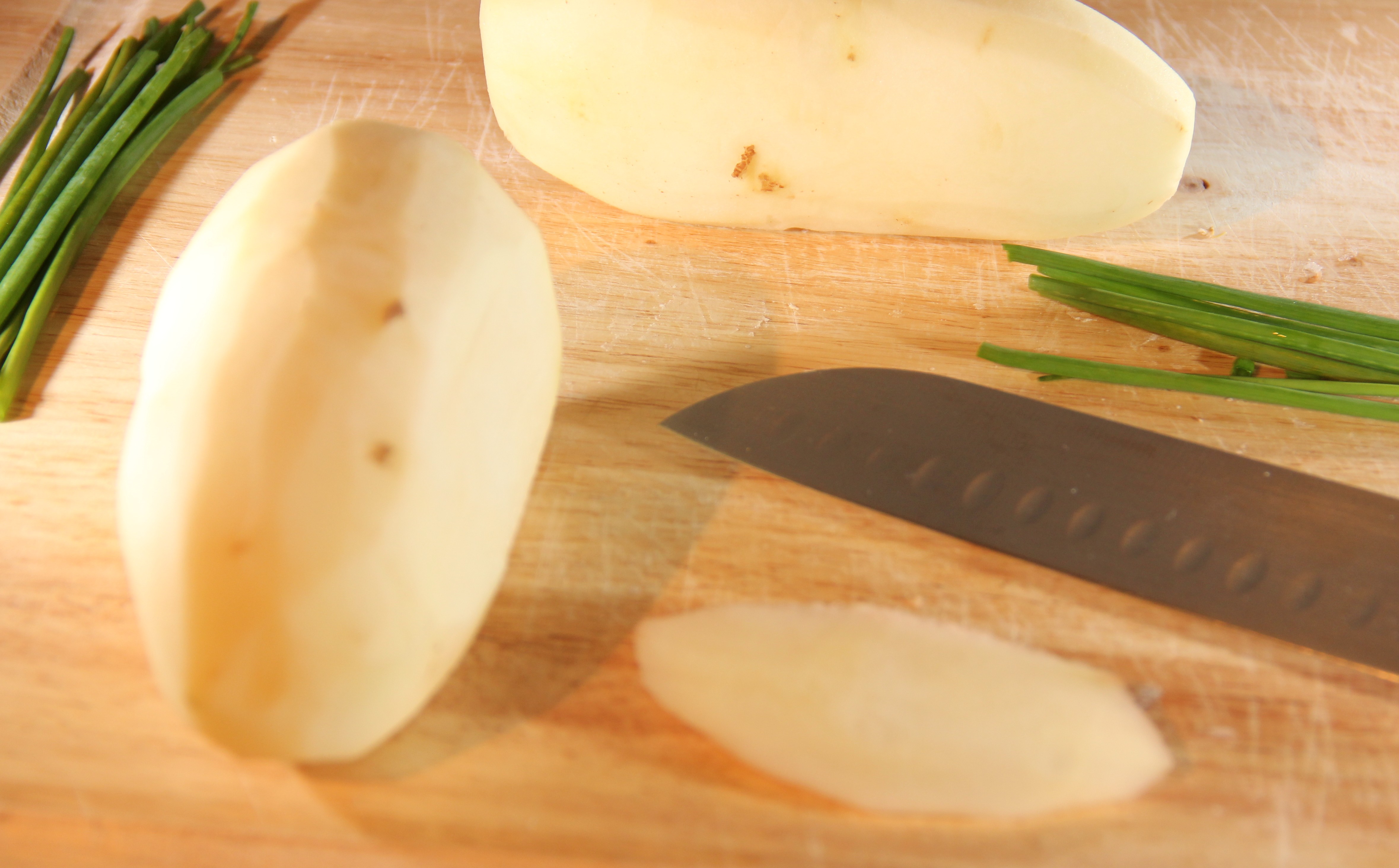 Next, grab some potatoes and slice a notch from the bottom of your first potato.
Now you have a flat surface to set on your cutting board for stability.
Cut thin slices, aiming to keep the slices as evenly sized as possible.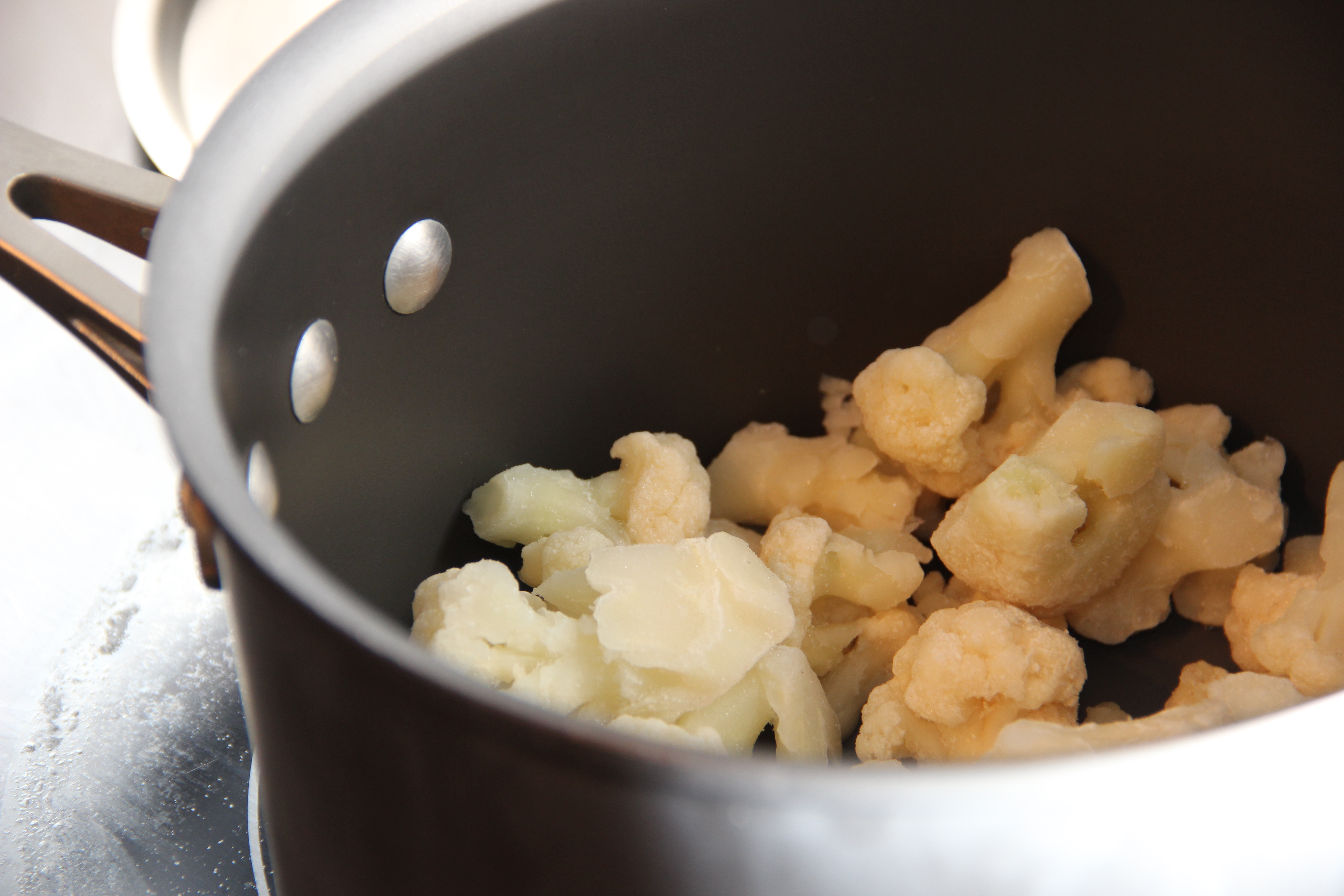 Next, heat up some frozen cauliflower in a sauce pan over medium heat.
If you're an organized person, I guess you'd like to thaw the cauliflower first.
I'm just guessing since that's not really how I run my kitchen. Someday, I'll post some photos of the disaster zone that is my kitchen at the end of a testing-a-new-recipe evening.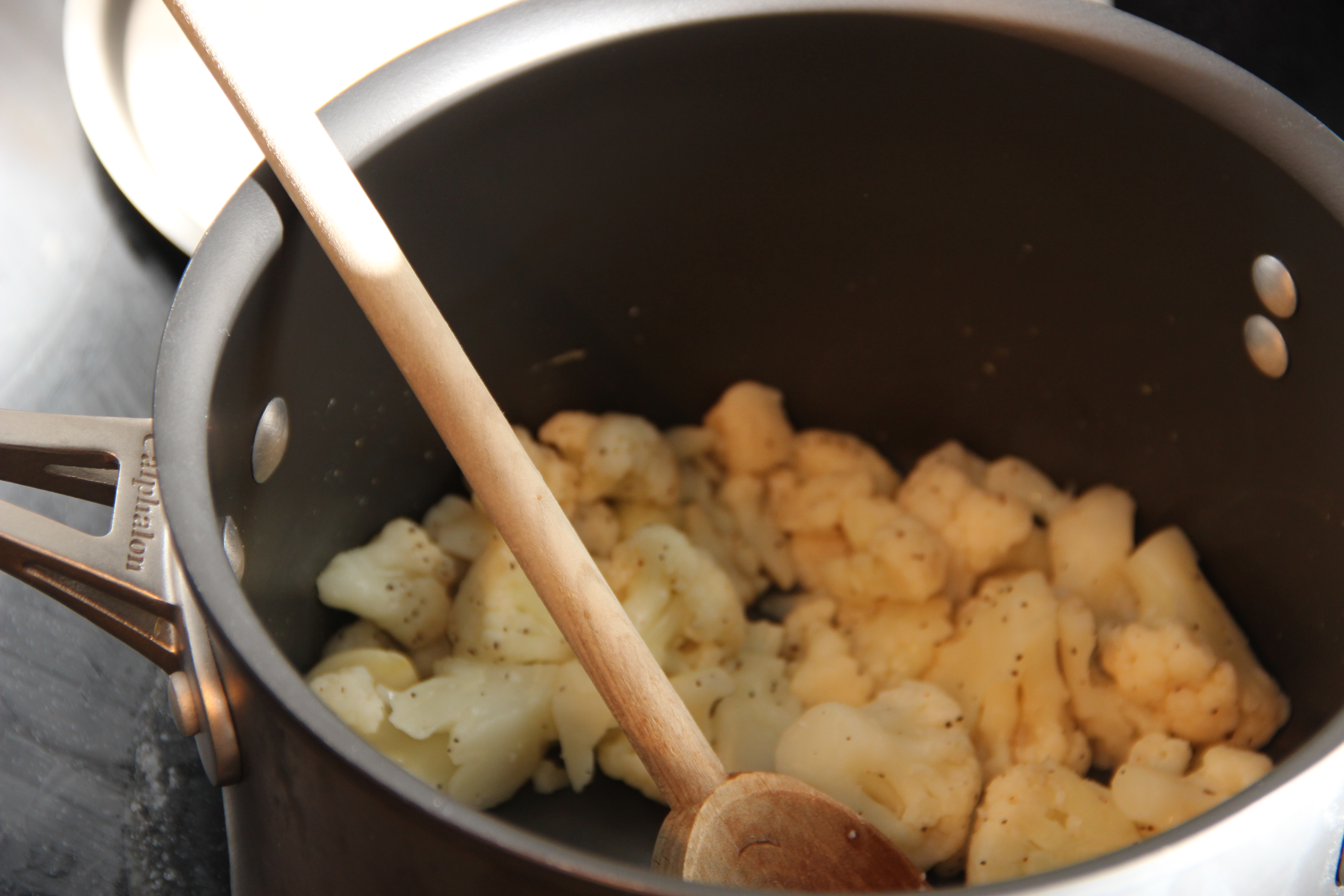 Add two whole cloves of garlic.
You'll purée the whole mixture later, so no need to waste time chopping!
Season well with salt and pepper.
Cook until the cauliflower softens.
While that's cooking, grate some sharp cheddar cheese.
I did leave the butter out of this recipe, but Au Gratin Potatoes are nothing without the cheese!
Turn off the heat and use a hand blender to purée the cauliflower and garlic (you could also transfer to a food processor to purée if you don't have an immersion blender).
And you've just created a really thick sauce base that's also really healthy!
A traditional sauce thickener, like melted butter and flour, has tons of calories and saturated fat.
This cauliflower version: no fat and very low calories.
Plus, you're getting tons of nutrients. Cauliflower is a superfood full of powerful antioxidants shown to protect against cancer.
Add some low-fat milk and a pinch of nutmeg.
And stir everything together.
Set aside about 1/2 cup of the grated cheddar, and add the rest to the pan.
Stir again – it's extremely thick! (It will melt down later in the oven.)
Grab a casserole dish and place a third of the potatoes along the bottom.
Top with a third of the leeks.
Season with salt and pepper.
Arrange heaping spoonfuls of the sauce (about a third of it) over the potatoes and leeks.
Repeat this process twice.
Sprinkle a bit of cheddar all over the top.
Cover with aluminum foil and bake.
In the meantime, chop up the chives with some kitchen shears. Or a knife would work if you don't have kitchen shears.
After about 35-37 minutes, remove the foil and pierce the potatoes in the center with a fork.
If they're tender and easily pierced, you're ready to sprinkle the remaining 1/4 cup of cheddar over the top. Then put the potatoes under the broiler (uncovered this time).
If not, cover them again with the foil and pop back in the oven for several more minutes.
About 3 minutes after you place the dish under the broiler, your Potatoes Au Gratin will have a bubbling, golden crust!
Sprinkle the chives all over the top and serve.
This dish is very filling and tasty.
Each bite has just a hint of cauliflower flavor, a perfect complement to the savory potatoes and leeks.
And there's a lot of satisfying cheesy goodness in every bite too.
Try this, and in no time you'll be digging into a warm plate of Potatoes Au Gratin – guilt-free!
Here is the complete printable recipe:

Healthier Potatoes Au Gratin
Author:
The Scrumptious Pumpkin
Total Time:  1 hour
Prep: 20 minutes
Cook: 40 minutes
Yield: 4 servings
Ingredients
3 medium russet potatoes
1 large leek, white and pale green parts only, thinly sliced
2 cloves garlic
10-ounce bag frozen cauliflower
¼ cup 1 percent milk
¼ teaspoon nutmeg
1¼ cup freshly grated sharp cheddar cheese
2 tablespoons chives, chopped
Salt and freshly ground black pepper
Instructions
Preheat the oven to 485 degrees F.
Swirl the sliced leeks in a large bowl of water and set aside.
Cut the potatoes into ⅛-inch-thick rounds.
Heat a large saucepan over medium heat. Add the frozen cauliflower and the garlic. Season with salt and pepper. Cook until cauliflower softens, about 5-7 minutes.
Turn off the heat. Puree the cauliflower and garlic with an immersion hand blender (or a food processor).
Add the milk and nutmeg and stir to combine.  Add ¾ cup of the grated cheddar.
Arrange one-third of the sliced potatoes along the bottom of a casserole dish. Add one-third of the leeks. Season with salt and pepper. Using heaping spoonfuls, arrange one-third of the cauliflower-cheddar mixture over the potatoes and leeks.
Repeat this process twice.
Sprinkle ¼ cup of grated cheddar over the top.
Cover the dish with aluminum foil and place in the oven. Cook for about 35 minutes.
Test the potatoes in the center of the dish to see if all are fully cooked and easily pierced with a fork. If not: continue baking for another several minutes.
When they are fork tender: remove the foil, sprinkle the remaining ¼ cup of cheddar over the top, and place under the broiler.
Remove from the oven when the top is bubbling and golden, after about 3 minutes.  Top with fresh chopped chives, and serve.