It's really strange sometimes, what you remember.
Or at least, it's strange what I remember.
Several years ago, my husband and I decided to spend a long weekend visiting Washington DC.
My husband picked a nice steakhouse for one dinner (I call him my 'meat-and-potatoes-guy' for a reason).
There was live entertainment – someone playing the piano – which I kind of loved because you rarely see that anywhere.
Tables were filled with older men with white hair, in suits – clearly politicking (this was DC).
And I had the most delicious green beans.
I don't remember anything else about the food, just the green beans.
They were cooked in a richly flavored tomato-herb sauce and absolutely the best green beans ever.
I created my own version at home – oven-roasting the tomatoes with some herbs and garlic really makes all the difference in my sauce.
And I thought I should post the recipe now, since green beans are coming into season and it's still cool enough to want to turn on the oven.
I don't often think about foods I ate six years ago (I swear!), but those green beans with that rich tomato-herb sauce were amazing-tasting enough to be memorable.
Here are all the main players for today. This recipe is quick and simple!
Begin by preheating the oven to 400 degrees F.
Mince a few cloves of garlic.
Next up: fresh oregano!
I used to think of oregano as useful only for adding delicious (nearly) calorie-free flavor to my dishes.
But I've learned it's also full of antioxidants and vitamins. Fresh oregano is packed full of anti-aging vitamins (Vitamin K and Vitamin E), and studies have shown oregano to have 4 times more antioxidants than blueberries! Definitely a superfood to consider adding to any dish.
Grab a few sprigs of oregano and pull the leaves from the stems.
Pile up the oregano leaves and chop them up.
Place a fine mesh strainer over a large mixing bowl and strain some chopped tomatoes.
Use a spoon to stir the tomatoes around and force all the liquid through the strainer and into the bowl.
When you're left with just the chopped tomatoes, spread them out on a parchment-lined baking sheet.
Set aside the bowl of tomato juices for later.
Arrange half of the minced garlic over the chopped tomatoes.
Then sprinkle on half the oregano.
Season well with salt and pepper.
And drizzle some extra virgin olive oil over everything.
Then place the tomatoes in the oven to roast.
Next, prepare the green beans.
Green beans are never at the top of the list of the most nutritious foods, but they actually have been shown to have strong anti-aging benefits. Green beans are full of antioxidants that protect your eyesight and your heart and keep your skin and bones healthy.
Grab a small pile of fresh, rinsed green beans, line them up, and chop the ends off both ends of the green beans.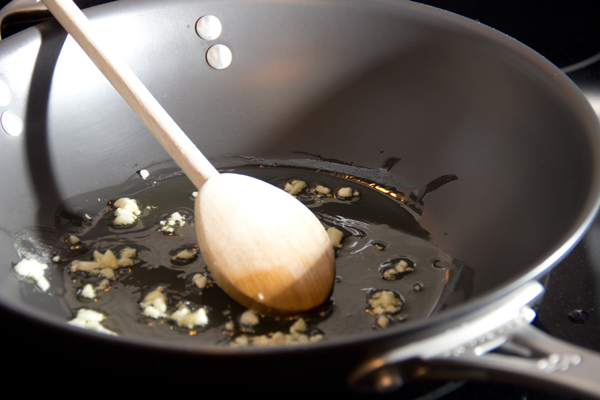 Heat some extra virgin olive oil in a sauté pan over medium heat.
Saute the rest of the garlic for a few minutes, until it's softened.
Now it's time to add some of the reserved tomato juices you set aside earlier.
Also add the green beans and the rest of the oregano.
Cover and let the beans simmer for a few minutes, until they're tender but still a bit crisp.
Transfer the beans to a serving platter and top with the roasted tomatoes.
The fresh, crisp sautéed green beans taste so amazing with oven roasted tomato, garlic, and herb sauce.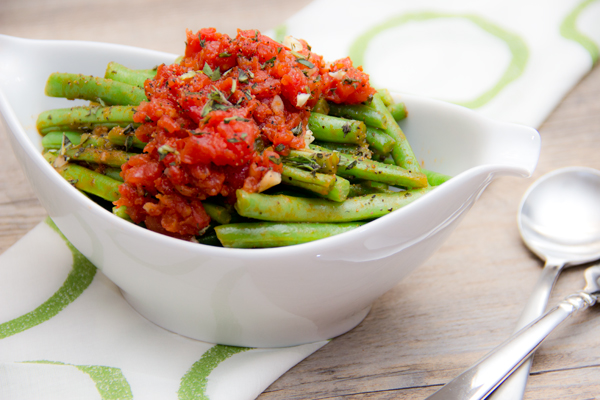 Try this recipe when you'd like the side dish to be the star of the show – it may be the most memorable part of the meal!
Here is the complete recipe:
Sautéed Green Beans with Roasted Tomato Sauce
Prep: 15 minutes
Cook: 10 minutes
16-ounce container chopped tomatoes
4 cloves garlic, minced
2 tablespoons oregano, chopped
1 pound fresh green beans
Salt and freshly ground black pepper
Preheat oven to 400 degrees F.
Strain the chopped tomatoes over a bowl and set juices aside. Line a baking sheet with parchment paper and spread drained tomatoes over baking sheet. Drizzle 1 tablespoon olive oil over the tomatoes. Add half of the garlic and half the oregano and season well with salt and pepper. Roast in the oven for about 10 minutes. Meanwhile, heat 1 tablespoon of olive oil in a sauté pan over medium heat. Add the rest of the garlic and cook until softened, about 2 minutes. Add the green beans, the remaining oregano, and about 1/2 cup of the reserved tomato juices. Season well with salt and pepper, and cover. Allow the green beans to simmer for about 5 minutes, until they are tender but still crisp. Transfer beans to a serving plate. Top with the roasted tomatoes, and serve.