If you're anything like me, come spring, you think a lot about cooking artichokes.
But you don't seem to get around to actually doing it very often.
Because they're kind of complicated.
They're so much more work than, say, asparagus.
If you love artichokes but lack the ambition to cook with them, here's a solution: baby artichokes!
Aside from being adorable (they're mini!), they're actually easy to work with.
I'm happy to cook with artichokes any time after discovering these babies (sorry. pun only sort of intended.)
I love artichoke dip, so I decided to try out a dish that combined artichoke dip flavors with macaroni and cheese.
This dish tastes a little like an artichoke dip.
And a little like macaroni and cheese.
But not a whole lot like either one. It's its own unique dish.
It's very hearty and delicious with all the cheesy macaroni.
But what really comes through in each bite is the smooth, sweet flavor of the artichokes.
If you love artichokes and want a simple recipe to cook with them, this one is for you!
Here is everything you'll need to get started.
Begin by boiling a large pot of water.
Salt the water and add some whole wheat macaroni.
Cook until it's al dente, or just cooked through.
In the meantime, prepare the baby artichokes.
Fill a large bowl with a couple of cups of water and the juice from one lemon.
Next, chop off the stem of the artichokes.
Then pull off the outer leaves, layer by layer, until you arrive at the very pale green center.
You'll see a bit more of the stem – chop that off as well.
This is your artichoke heart, ready to eat!
Immediately place it in the bowl of lemon water.
The artichoke heart will begin to turn brown immediately, so the quicker you get it into the acidic water, the greener it will remain!
Don't they look delicious already?
Artichokes are extremely healthy, so they're worth the few extra minutes of work! Artichokes are very low in calories, yet they have a ton of fiber to keep you feeling full. Surprisingly, they rank as one of the top sources of antioxidants among all fresh vegetables!
After you've finished with the artichokes, roughly chop some garlic and a small onion.
No need to worry about perfectly mincing the garlic or dicing the onion – it will all be pureed later.
Grate some fresh Monterey Jack cheese and some fresh Parmesan and set aside for later.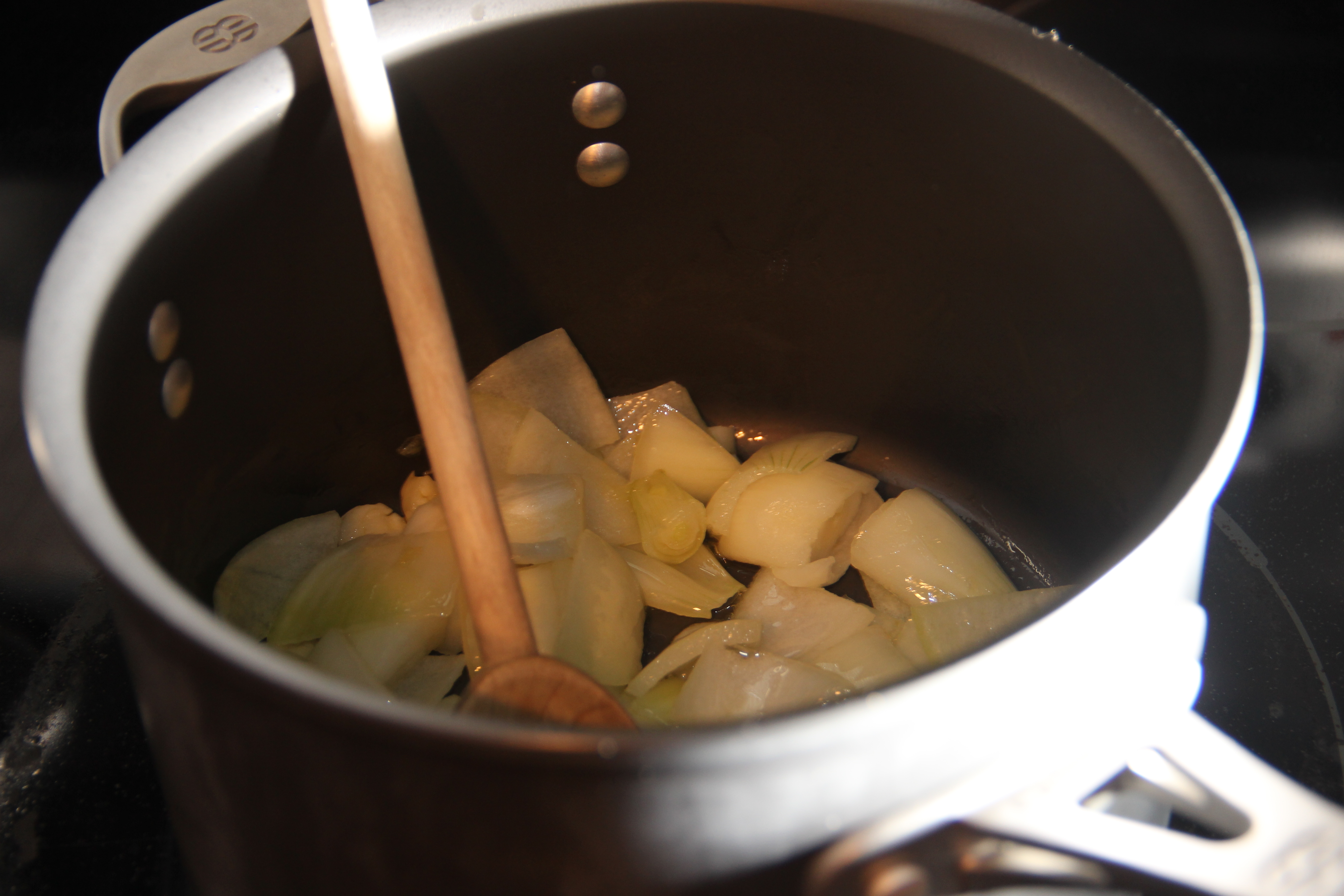 Heat some extra virgin olive oil in a large saucepan.
Saute the garlic and onion until they're soft.
Add the artichoke hearts and season well with salt and pepper.
When the artichokes are nicely softened, reduce the heat to low.
Use an immersion hand blender to purée all the veggies into a thick sauce. (Or transfer to a food processor to puree.)
If you feel like you can only eat a tiny portion of a comfort food like mac and cheese, why not add some delicious veggies (like the onion and artichokes here) to the sauce?
With so few calories and so many nutrients, you can help yourself to a much larger portion!
Next add some low-fat milk, Neufchâtel low-fat cream cheese, and a bit of ground nutmeg.
Stir everything together and turn off the heat.
Add the grated Monterey Jack cheese and the Parmesan to the pot, and stir until the cheese has melted into the sauce.
Season with salt and pepper.
Pour the cooked macaroni into the pot and stir everything up.
Pour the artichoke mac into a large casserole dish.
Grab a bowl and mix together some whole wheat Panko bread crumbs with a bit of Parmesan and a bit of extra virgin olive oil.
Arrange the bread crumbs over the macaroni.
Bake in the oven until the crumbs turn crisp and golden.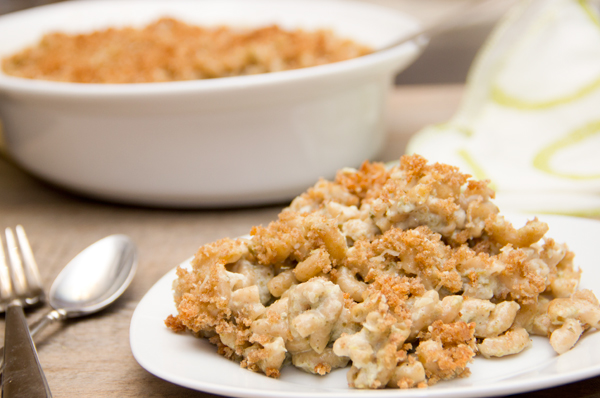 This artichoke dip mac and cheese is very unique.
There's lots of savory, rich melted cheese.
Along with the strong flavor of the velvety, sweet artichokes.
And a wonderful crunch from the parmesan-panko breadcrumbs to compliment the soft, creamy macaroni.
Aren't baby artichokes wonderful?
Here is the complete recipe:
Artichoke Dip Mac and Cheese
Prep: 25 minutes
Cook: 25 minutes
1 lemon
9 baby artichokes
1 pound whole wheat elbow macaroni
1 tablespoon plus 1 teaspoon extra virgin olive oil
1 small onion, roughly chopped
3 cloves garlic, roughly chopped
1/2 cup Neufchatel lowfat cream cheese
1/2 cup 1 percent milk
1/4 teaspoon ground nutmeg
1 2/3 cups freshly grated Monterey Jack cheese
1/3 cup plus 2 tablespoons freshly grated Parmesan
1/4 cup whole wheat Panko breadcrumbs
Salt and freshly ground black pepper
Fill a mixing bowl with water and the juice from one lemon. Cut the stem from an artichoke and pull off the green leaves. Continue removing layers of leaves until you reach the layer that is very pale green in color. Cut off any remaining stem. Place the artichoke heart immediately into the lemon water to help prevent it from turning brown.
Boil a large pot of water. Salt the water and add the macaroni. Cook until al dente, about 8 minutes.
Preheat oven to 425 degrees F.
Heat 1 tablespoon of olive oil in a large saucepan over medium heat. Saute the garlic and onions until softened, about 5 minutes. Add the baby artichoke hearts and season with salt and pepper. Cook for a few minutes more, until artichokes are also softened. Turn the heat to low. Puree the vegetables using an immersion hand blender (or pour into a food processor, puree, and then pour back into the saucepan). Add the Neufchatel, milk, and nutmeg. Stir to combine. Turn off the heat. Add the Monterey Jack cheese and 1/3 cup of the Parmesan. Stir until all the cheese has melted into the artichoke mixture. Season with salt and pepper to taste. Stir in the cooked macaroni. Pour into a large casserole dish.
In a bowl, combine the Panko crumbs, 2 tablespoons Parmesan, and 1 teaspoon olive oil. Sprinkle the breadcrumb mixture over the artichoke macaroni. Bake for about 15 minutes, or until breadcrumbs turn golden and crisp. Serve.