Memorial Day always sneaks up on me.
Maybe because New England weather is often still chilly and rainy and decidedly not summer-like in late May.
But every year, I'm shocked when I realize: Memorial Day is only a week away!
Meaning the official start of summer is nearly here.
I usually panic slightly because here it is, almost summer, and I have no summer plans whatsoever.
But mostly it's always the best kind of 'finding a $20 bill in your back pocket' surprise.
Because I definitely have a Top 4 List for Embracing the New Season:
1) New summer uniform: store away the heavy black boots and slip on the breezy flip-flops.
2) New work schedule: the best benefit my company offers is called 'summer hours.' We work extra hours Monday-Thursday so we can take Fridays off and enjoy long weekends throughout the summer months. Every office should do this, all year long, in my opinion!
3) New way of life: lazy evenings outside that stretch on endlessly because the sun won't set until 8:30pm.
4) New method of cooking: fire up the grill!
I like to grill, but I pretty much always lack the forethought to whip together those grilling marinades that need to be prepared 24 hours ahead of time.
That's why I love this chicken.
You can cook it up on the grill and it's ready to eat in 20 minutes.
I always have the ingredients on hand, so I know this will be my go-to recipe this summer.
And it does the trick, transforming chicken breasts from blah to slightly savory, slightly sweet, richly flavorful, and tender.
Here are the only ingredients you'll need (plus skinless, boneless chicken breasts and salt and pepper, of course) – so easy!
Begin by preparing some fresh thyme.
Grab a thyme sprig and hold it at the tip.
Slide your other hand down the sprig, pulling off all the leaves along the way.
Then add some Dijon mustard, organic honey and the thyme leaves to a bowl and whisk.
Slowly whisk in some extra virgin olive oil.
Season well with salt and pepper.
Prepare your grill for medium heat.
Next, season your organic, pastured chicken with salt and pepper and place on the hot grill.
One of the keys to keeping your chicken moist and tender: once you've set it on the grill, don't touch it.
(Don't keep flipping it, don't move it around on the grill, and definitely don't press down on it with your tongs or spatula).
After about 6 minutes, flip the chicken.
Allow the second side to cook for about 6 minutes more, again without touching it.
When the chicken is just cooked through (if you're not sure, you can test it for a reading of 165 degrees F with a meat thermometer), brush on the honey dijon sauce.
A couple of reasons you want to remove chicken from the heat as soon as it's cooked through:
To quickly sum it up, it's okay to grill meat once in a while in the summer, just follow some key tips to healthy grilling:
1) remove any excess fat from the meat before cooking
2) don't allow the food to cook so long that it becomes blackened and charred
3) if you notice any blackened or charred pieces when you're eating, just remove and discard.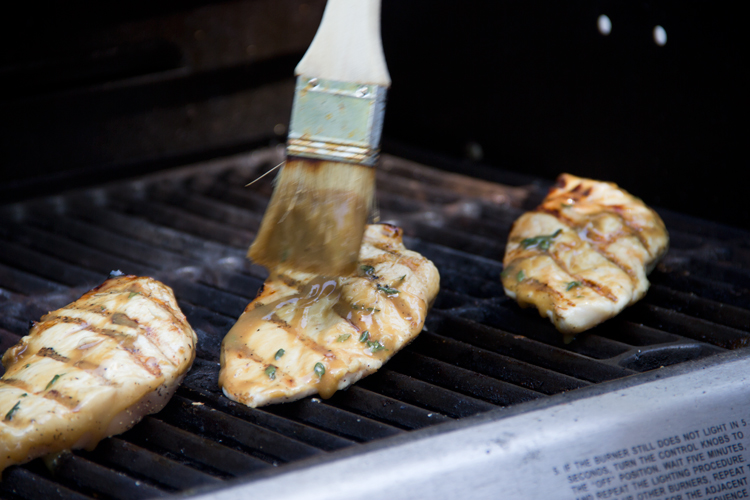 Flip the chicken and brush the remaining sauce on the second side.
Transfer the chicken to a platter, cover, and allow it to rest for about 5 minutes.
Allowing it to rest for a few minutes keeps it nice and moist and tender when you serve it.
Then serve!
The savory Dijon mustard mixed with the sweet honey combined with the fresh thyme is so richly flavorful.
Who knew grilled chicken could taste this amazing in under 20 minutes flat?
Perfect for Memorial Day Weekend or any lazy, laid-back, warm evening, all summer long!
Here's the recipe for 20-Minute Honey Dijon Grilled Chicken:


20-Minute Honey Dijon Grilled Chicken
Author:
The Scrumptious Pumpkin
Nutrition Information
Serving size:

4

Calories:

265
Fat:

10g

Saturated fat:

2.4g

Carbohydrates:

19.1g

Sugar:

17.5g

Sodium:

219mg

Fiber:

1.1g

Protein:

26.2g

Cholesterol:

66mg
Recipe type:
Healthy Chicken Dish
Total Time: 20 minutes
Prep: 3 minutes
Cook: 12 minutes
Inactive: 5 minutes
Yield: 4 servings
Ingredients
1 pound organic pastured skinless, boneless chicken breasts, fat trimmed
¼ cup organic honey
¼ cup Dijon mustard
2 tablespoons fresh thyme leaves, chopped
1½ tablespoons extra virgin olive oil
Salt and freshly ground black pepper
Instructions
Prepare the grill to medium heat.
In a mixing bowl, whisk together the honey, dijon, and chopped thyme. Slowly whisk in the olive oil, and season with salt and pepper.
Season the chicken with salt and pepper and place on the hot grill. Allow the first side to cook for about 6 minutes, and allow it to cook without pressing down or moving the chicken. Flip to the other side and allow it to cook about 6 minutes more.
When the chicken is just cooked through, brush on the honey dijon sauce. Flip the chicken and brush on the remaining sauce.
Remove the chicken from the grill and allow it to rest about 5 minutes, covered. Serve.