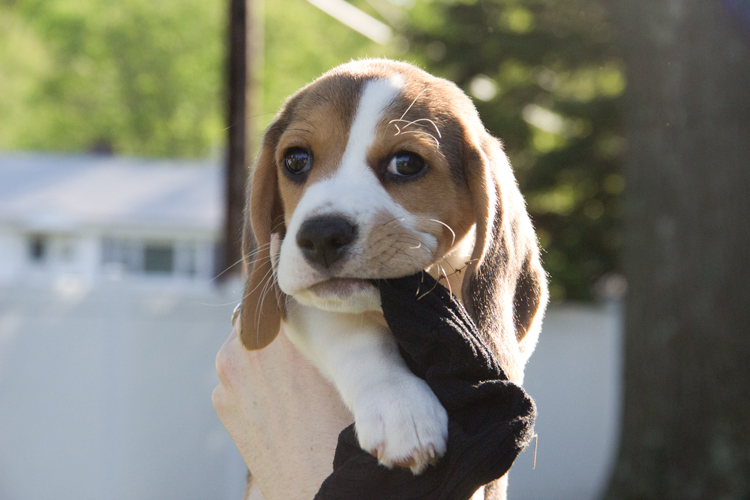 I haven't spent as much time photographing my recipes lately.
Mainly because I've become obsessed with a four-pound, furry muse.
Who happens to occupy all my free time.
So today I bring you: a typical day in the life of my 10-week-old puppy.
Along with a recipe for homemade dog treats that puppy Calvin loves.
(Scroll to the end of the post to get the complete recipe for healthy, homemade cheddar dog biscuits.)
We've finally received some sunny weather, and Calvin has been loving it.
If he had his own way, he'd spend his entire morning, afternoon, and evening roaming our yard.
Calvin's first and foremost rule in life: he must always have something in his mouth, every moment he's awake.
This could be anything, so long as it's something my husband Chris and I don't want him to have.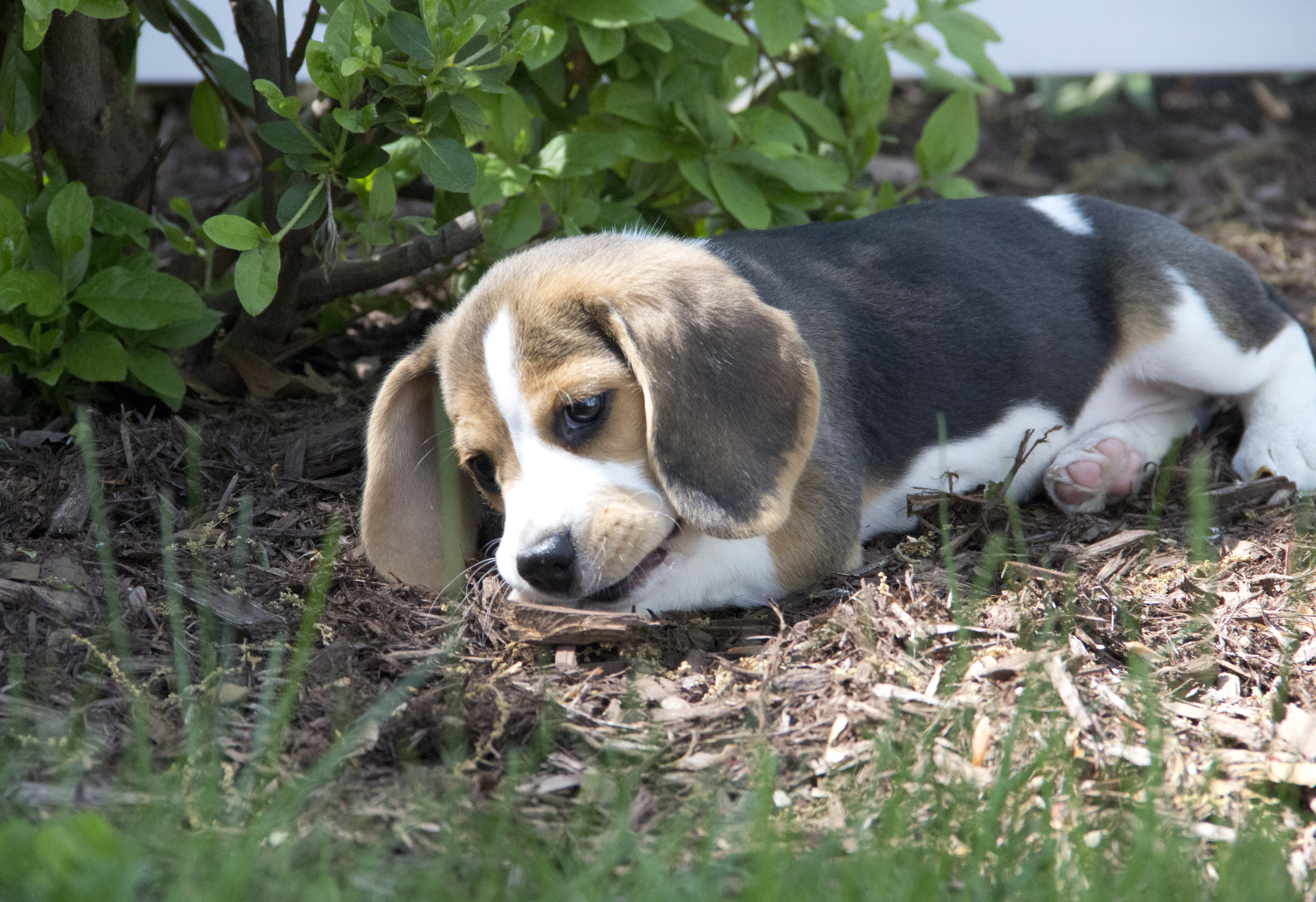 He especially loves to chew all the following things that we especially don't want him to have: leaves, plants, grass, and (as shown) wood chips.
Once in a great while, Calvin takes a rare, introspective moment to sit and ponder the great mysteries of life.
But don't let this sweet face fool you…
Six seconds later, Calvin is on the loose, sprinting so fast my camera can barely catch him.
I've learned that this look means, "I may be doing something bad, but I don't care. I'll get away with it. Someway. Somehow."
In this case, Calvin stole the hair tie I dropped on the ground.
My husband tried to win it back for me.
But Calvin commits himself to every game of tug-of-war with the devotion of a top athlete training for an olympic event.
Calvin throws all four pounds of his furry self (he must think he weighs 400 pounds), gives 120 percent and Does.Not.Ever.Give.Up.
Naturally, Calvin wins the tug-of-war.
My husband likes to scoop Calvin up and let the tiny pup see what things look like from his 6'3 height.
Calvin loves the view.
It gives him the perfect opportunity to really survey the scene and determine what to chew on or dig through or destroy next.
At the end of a long day, Calvin sometimes gets a bath, which he hates more than any cat.
Here, he desperately tries to escape from the tub: Pure Puppy Panic!
But all is forgiven quickly. At night, before bed, Calvin is allowed on our old couch in the basement rec room.
He likes to dive into the throw pillows, which are all bigger than him.
It must feel like a never-ending obstacle course to Calvin, making his way through those pillows.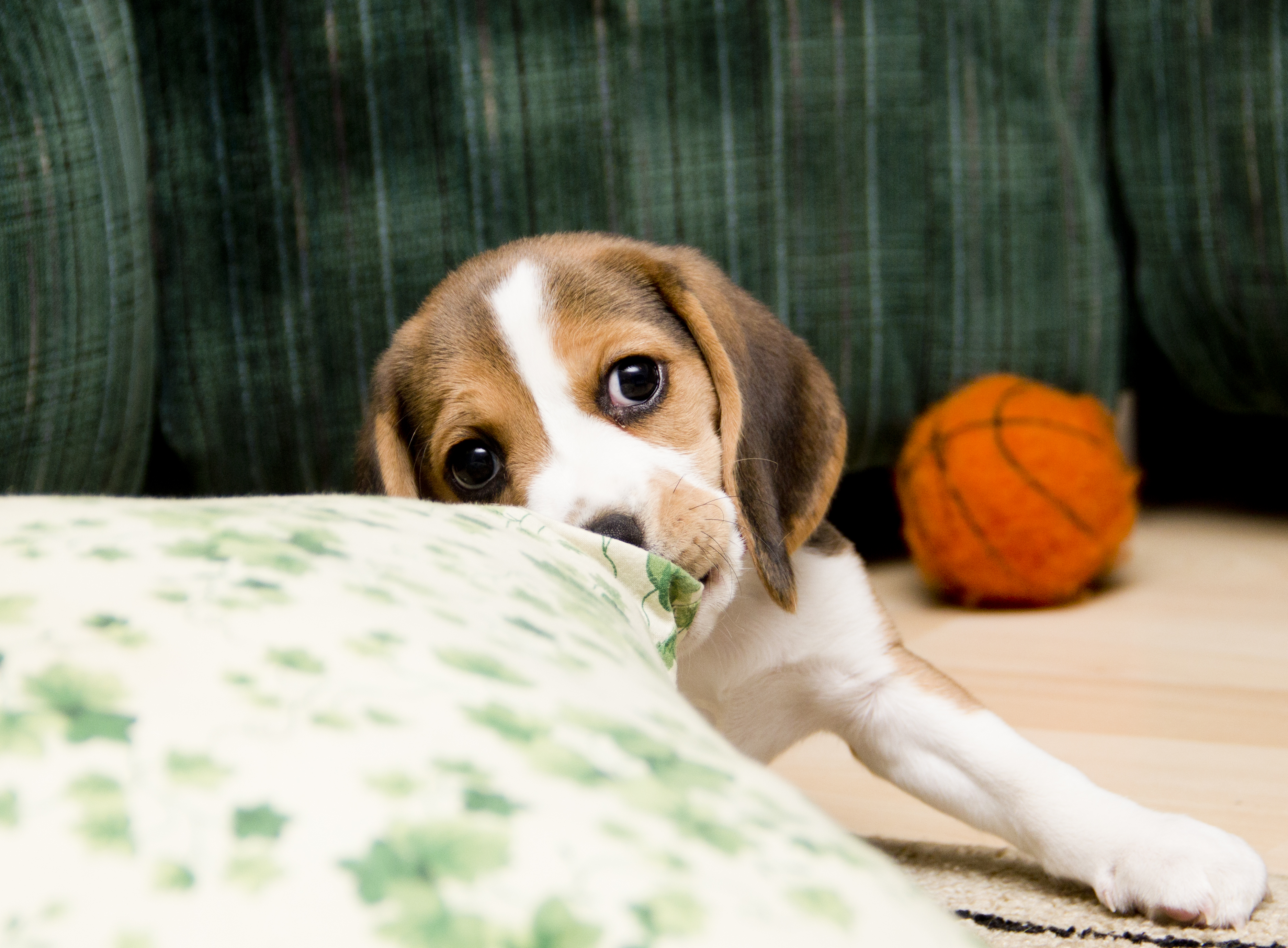 Naturally, he prefers chewing the pilllow to chewing on his own toy (the orange ball in the background that he's completely ignoring.)
Finally, Calvin falls asleep.
Sometimes he'll bark quietly or flutter his paws while he sleeps.
And Chris and I know he's dreaming about what havoc he can wreak tomorrow.
As much as Calvin exhausts me on a daily basis, who could resist baking homemade treats for this cutie?
The latest recipe I tried out, from the book Beagle: Smart Owner's Guide, is a cheddar and applesauce biscuit.
I found these adorable dog treat cookie cutters at the website GoodDogExpress.com.
Calvin adores these treats so much, he will 'sit' or 'heel' for any length of time, just for the smallest bite.
These treats are healthy and easy to make, with just four ingredients.
Your dog will love you for making them!
Here is the complete printable recipe:

Cheddar and Applesauce Homemade Dog Biscuits
Author:
The Scrumptious Pumpkin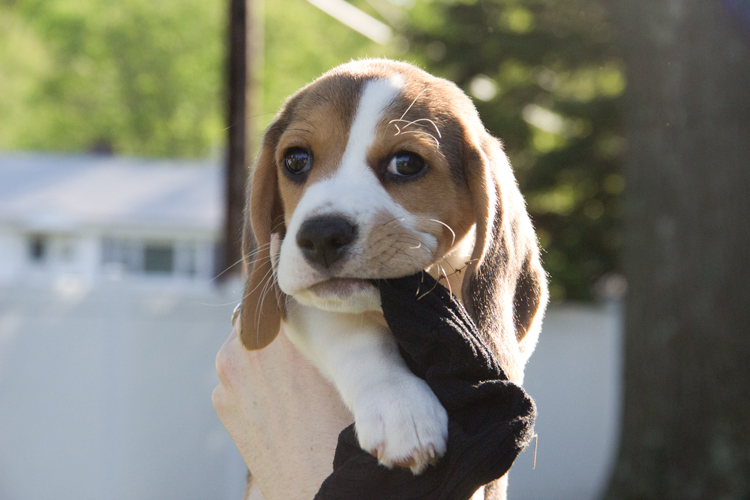 Total Time:  25 minutes
Prep: 15 minutes
Cook: 10 minutes
Yield: 30 treats
Ingredients
¾ cups whole wheat flour (or rye flour or brown rice flour)
½ cup cheddar cheese, grated
3 tablespoons all-natural applesauce
2 tablespoons water
Instructions
Preheat oven to 350 degrees F.
Combine all ingredients in a large mixing bowl.
Knead dough on a lightly floured surface and roll out to about half an inch thick. Cut treats with a cookie cutter and place on a parchment-lined baking sheet. Bake for about 10 minutes, or until treats are firm to the touch.
Before freezing or storing, allow cookies to cool and harden, about 50 minutes.
Adapted from the book Beagle: Smart Owner's Guide
Always consult your veterinarian before introducing any new ingredients into your pet's diet.
Get More Recipes for Homemade Dog Treats and See More of Calvin's Adventures.
SaveSave