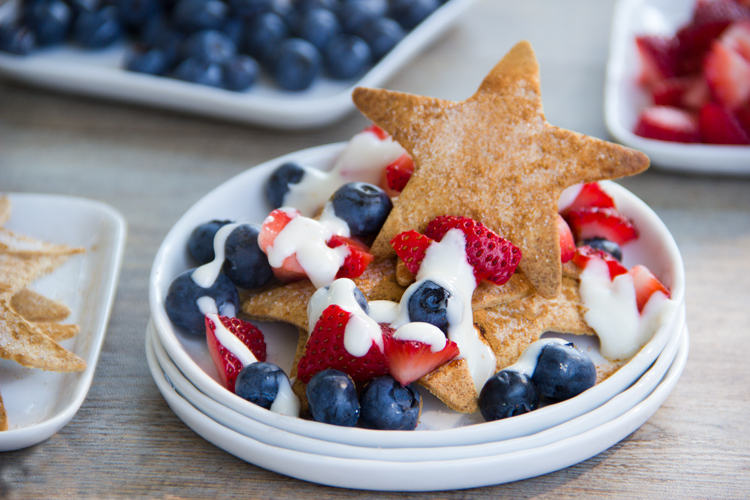 Independence Day was one of my favorite holidays as a kid.
If my family didn't spend the day at the beach (on the coast of Maine), we went to my aunt's house for a huge family cookout with lots of fresh seafood.
For me, the holiday meant lots of swimming, running around barefoot, laughing with friends and family, and eating tons of fresh summer dishes.
So I wanted to create a dessert as light, easy, and carefree as all those holiday traditions.
These dessert nachos are patriotic with all the red, white, and blue ingredients (you can even cut the sweet nacho chips into star shapes).
They're quick and simple to prepare (with minimal baking because it's just too hot for that!)
They also taste really sweet, summer-y, and wonderful.
I think the only thing better than Fresh Summer Berries is Fresh Summer Berries served with sweet cinnamon crisps, smothered in coconut cream.
Here are the step-by-step instructions for Red, White, and Blue Dessert Nachos with Fresh Berries and Cream:
To begin, grab a whole wheat tortilla and a star-shaped cookie cutter.
Place the cookie cutter at the outermost edge of the tortilla for the first "chip."
Arrange the next star as close as possible, almost interlocking the first, to use as much of the tortilla (with as little waste) as possible.
If you don't have a star-shaped cookie cutter (or if you hate to see the leftover scraps of tortilla go to waste), just use a sharp knife and cutting board to cut the tortillas into small triangles instead.
Arrange a layer of tortilla chips on a parchment-lined baking sheet.
In order to get the chips as crisp as possible, they shouldn't overlap.
Portion out about a tablespoon of organic canola oil and use a brush to coat each chip with some oil.
Then place them under the broiler for about 5 minutes.
Watch them carefully (they burn fast!) and when you see the chips just begin to turn golden, remove them from the oven.
Immediately sprinkle some cinnamon and sugar over each one. If you do this immediately, the cinnamon and sugar will oh-so-deliciously melt a little into the crisps.
Cinnamon, by the way, is really healthy and a smart choice to add flavor to desserts.
It's super-concentrated with antioxidants (1 teaspoon of cinnamon has the same antioxidant level as half a cup of blueberries!) It's also great to combine with sweets because it's been proven to help regulate blood sugar levels, meaning it may help prevent or help control diabetes.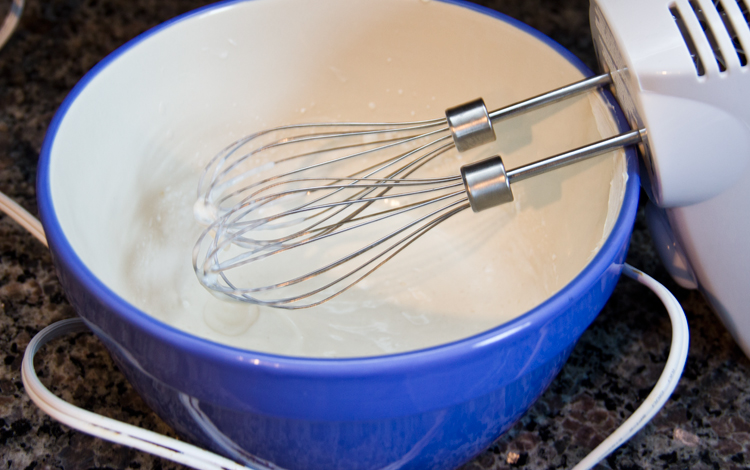 Next, prepare the coconut cream. Place some Neufchâtel low-fat cream cheese, coconut milk, vanilla extract, and sugar in a large mixing bowl.
Use a hand mixer to blend for about 2 minutes, or until all the lumps are worked out and the mixture is smooth and creamy.
Note: to reach the ideal consistency for this Coconut Cream, use coconut milk that is fresh from the can and at room temperature. (Refrigerated coconut milk will have solidified significantly. Still delicious, just very thick and tough to drizzle over the dessert nachos).
What I love about this recipe: it's quick and easy and so sweetly delicious. It's creamy with a really rich hint of coconut.
Now that I've discovered it, I plan to use it in a hundred of my dessert recipes going forward…
Grab some fresh strawberries. Chop off the stems and quarter the berries.
Then cut each quarter in half again.
Set out bowls of the sweet cinnamon chips, coconut cream, diced strawberries, and some fresh blueberries.
Then allow everyone to dig in, building their own red, white, and blue desserts.
Fresh, ripe summer blueberries and strawberries are such a sweet treat on their own.
But the crisp, sweet cinnamon tortilla chips and the creamy, rich coconut cream take them to a whole other level of summer heaven.
This one is really, really delicious. Enjoy!
Here is the complete, printable recipe for Red, White, and Blue Dessert Nachos with Fresh Berries and Cream:
Red, White, and Blue Dessert Nachos (With Fresh Berries and Coconut Cream)
Author:
The Scrumptious Pumpkin
Nutrition Information
Serving size:

8

Calories:

373
Fat:

20.5g

Saturated fat:

9.5g

Carbohydrates:

42.8g

Sugar:

18.6g

Sodium:

237mg

Fiber:

6g

Protein:

6.2g

Cholesterol:

31mg
Recipe type:
Clean Eating Dessert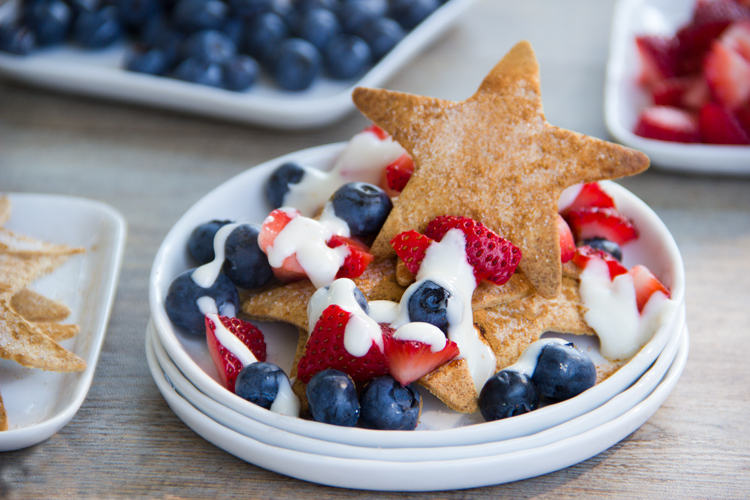 Total Time: 25 minutes
Prep: 15 minutes
Cook: 10 minutes
Yield: 8 servings
Ingredients
8 organic 100% whole wheat flour tortillas
1 tablespoon organic canola oil
1½ tablespoons plus ⅓ cup organic cane sugar
1½ tablespoons cinnamon
8 ounces organic Neufchâtel low-fat cream cheese
½ cup coconut milk
2 teaspoons vanilla extract
16 ounces organic strawberries, stems removed and diced
10 ounces organic blueberries
Instructions
To prepare the Cinnamon Tortilla Chips:
Preheat oven broiler.
Use a star-shaped cookie cutter to cut star "chips" from each tortilla. Or just use a knife to cut tortillas into small triangles.
Place one layer of chips (they should not overlap) on a parchment-lined baking sheet. Brush each chip with canola oil.
Toast under the broiler for about 5 minutes. When chips turn lightly golden, remove from the oven.
Immediately sprinkle cinnamon and 1½ tablespoons sugar over each chip.
To prepare the Coconut Cream:
In a large mixing bowl, add the Neufchâtel, coconut milk, vanilla extract, and ⅓ cup sugar. Use a hand mixer to blend for about two minutes, or until the mixture is smooth and creamy.
To assemble the Dessert Nachos:
Place several Cinnamon Tortilla Chips on a serving plate. Top with plenty of fresh blueberries and diced strawberries. Drizzle the Coconut Cream all over the top.