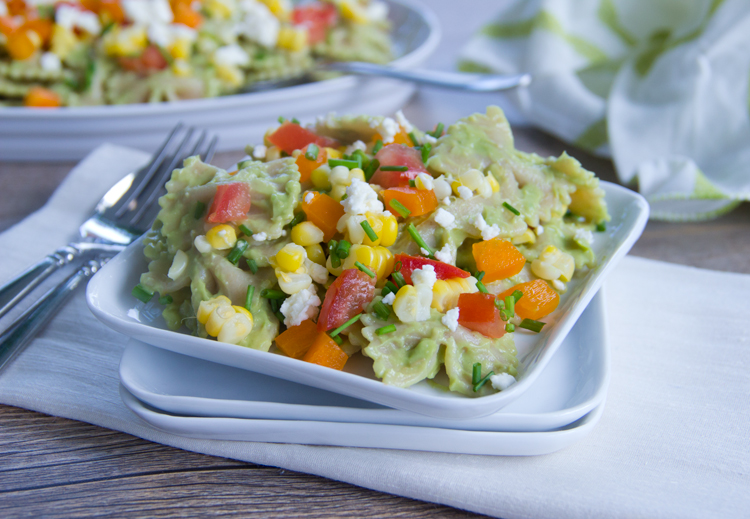 I met my husband Chris for lunch last week in Boston.
We went to a bistro/cafe, full of gorgeous glass display cases overflowing with delicious pasta and fruit salads, and serving made-to-order sandwiches on freshly baked bread.
The place was packed.
Every table was occupied with summer tourists on family vacations and office workers on lunch break.
The line was out the door.
So Chris and I had plenty of time to study the menu…
And we discovered the genius idea of dressing a fresh pasta salad with creamy avocado purée.
This tasty homemade version features lots of crisp seasonal summer veggies (what's better than sweet corn from the cob in summer?) and savory chives and feta cheese for lots of flavor.
The pasta salad is dressed with nothing more than fresh avocado purée with lemon, which is rich, creamy, and full of flavor.
It's so simple yet really deliciously flavorful.
Here are the step-by-step instructions for Corn, Feta, and Chive Pasta Salad with Avocado Dressing:
Here are all the ingredients you'll need.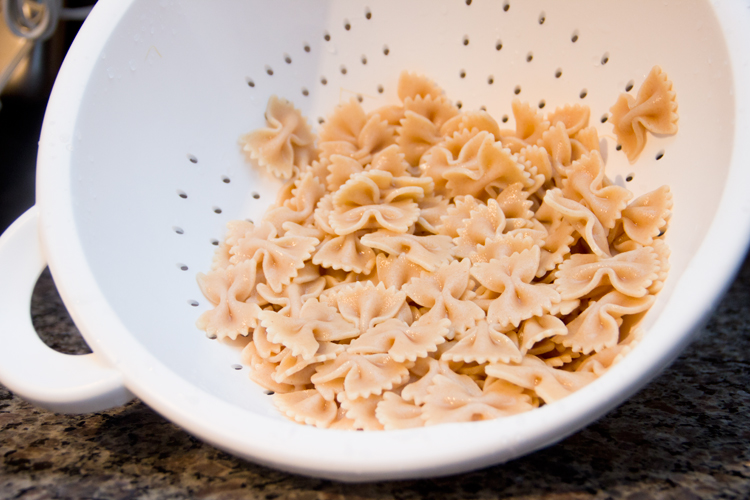 Begin by boiling a large pot of water and salting the water.
Add some whole wheat bow-tie pasta and cook until it's just al dente, about 7 minutes.
Drain the pasta and allow it to cool to room temperature.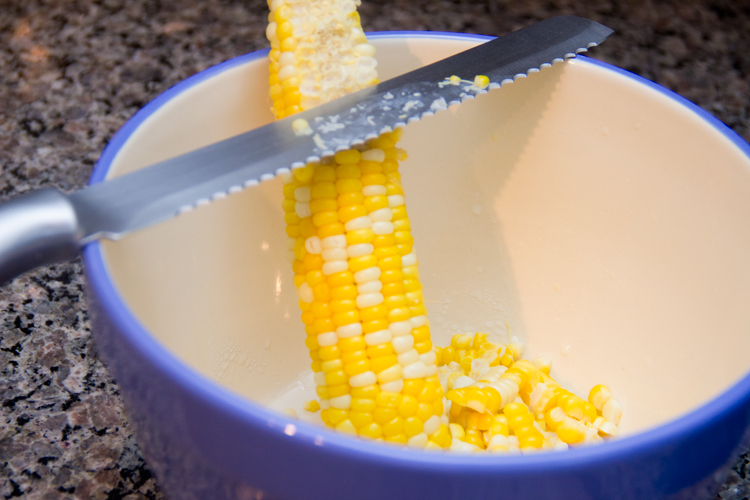 Next, add the husked corn to the still-boiling salted water and boil until the corn is cooked through.
After it's cooled for a few minutes, set a corn cob upright in a large mixing bowl.
Then run a small pairing or serrated knife down the corn cob, cutting all the kernels so they fall into the bowl.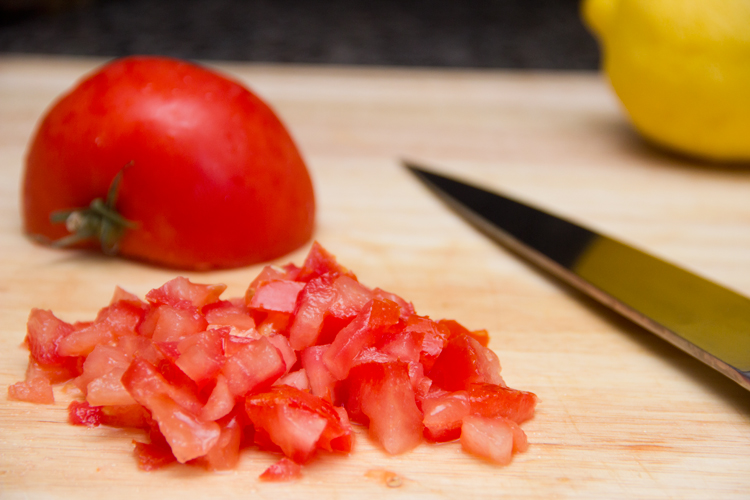 In the meantime, while the corn and pasta are boiling and cooling, begin chopping some of the other veggies.
Dice up a tomato…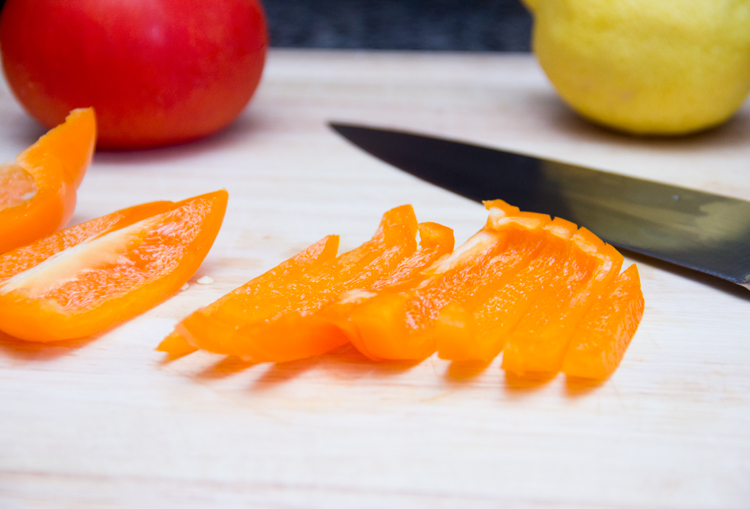 … and dice up an orange bell pepper too.
Cut the pepper in half and remove all the seeds.
Cut the pepper into thin slices lengthwise.
Then run your knife back through in the opposite direction, dicing up the pepper.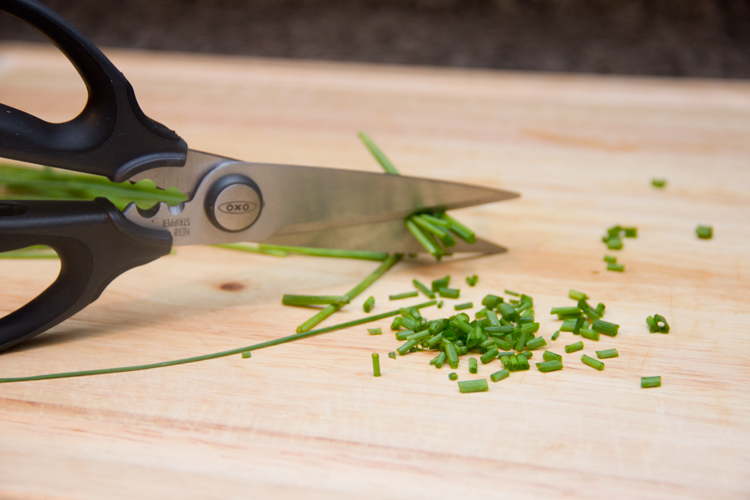 Chop up some chives.
Kitchen shears make the job easy, but a sharp knife will work too.
Cut an avocado in half lengthwise and remove the pit.
Then scoop out all the avocado meat and place in a food processor.
Squeeze out all the juice from a lemon and add that to the food pro as well.
Season with some salt and pepper.
And pulse until you have a smooth, creamy mixture.
Pretty Important Note: This is the only down side to a completely fresh and all-natural dressing for the pasta salad. Even when you've added lemon juice to the avocado and even when you've covered and stored the pasta salad in the fridge, the avocado will begin to turn brown, sometimes within just a couple of hours. So the avocado dressing really should be prepared immediately before serving.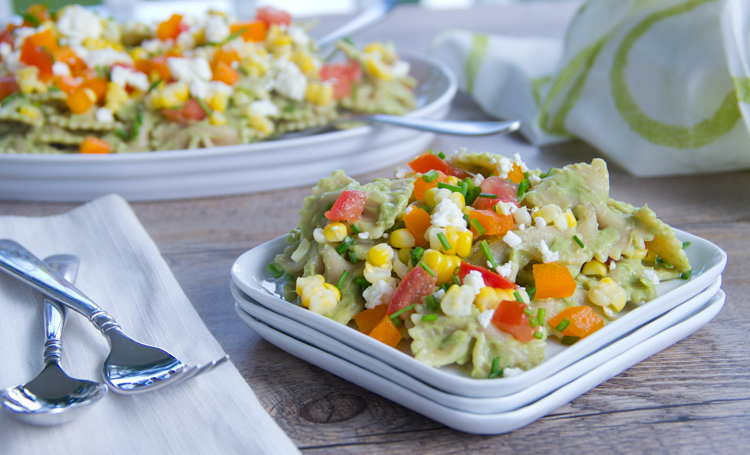 Grab a large bowl and mix together the pasta and the avocado dressing.
Add in all the veggies, the chopped chives, and some crumbled feta. Stir one last time and you're ready to serve.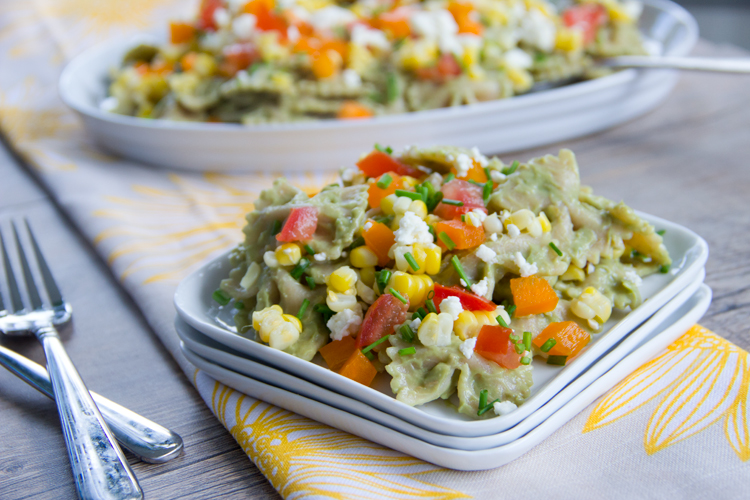 This is one of my favorites for summer.
I love pasta salad in general.
But this one, so fresh and summer-y and bursting with flavor, is especially memorable. It's really creamy from the avocado, with bursts of cheesy flavor from the salty feta. There's a hint of citrus from the lemon and a delicate, slight onion-y burst of flavor from the chives.
This pasta salad is so much healthier than the mayo- and cheese-smothered versions sold at grocery store delis. But it tastes just as creamy and richly flavorful as any of those.
Here is the complete, printable recipe for Corn, Feta, and Chive Pasta Salad with Avocado Dressing:
Corn, Feta, and Chive Pasta Salad with Avocado Dressing
Author:
The Scrumptious Pumpkin
Nutrition Information
Serving size:

6

Calories:

219
Fat:

8.6g

Saturated fat:

2g

Carbohydrates:

30.3g

Sugar:

2.4g

Sodium:

53mg

Fiber:

3.5g

Protein:

7.3g

Cholesterol:

3mg
Recipe type:
Clean Eating: Vegetarian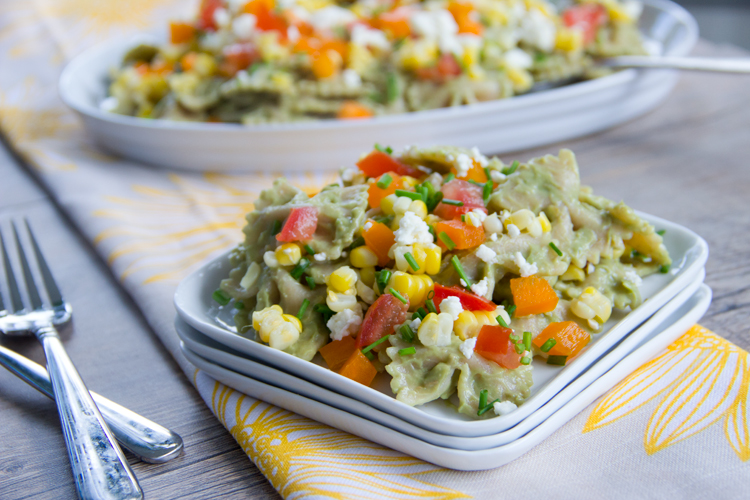 Total Time: 25 minutes
Prep: 15 minutes
Cook: 10 minutes

Yield: 6 servings

Level: Easy
Ingredients
3 ears fresh corn, shucked
1 tomato, diced
½ orange bell pepper, diced
¼ cup fresh lemon juice squeezed from 1 lemon
1 avocado
2 tablespoons chives, chopped
2 tablespoons crumbled feta cheese
6 ounces whole wheat farfalle (bow-tie pasta)
Instructions
Boil a large pot of water. Salt the water and add the farfalle. Cook until just al dente, about 7 minutes. Drain the pasta and allow it to cool to room temperature.
Add the corn to the boiling water and boil until corn is cooked through, about 5-7 minutes. Remove corn from pot and allow it to cool. Place first ear of corn upright in a large bowl and run a serrated or pairing knife down each side, cutting off all the kernels. Add the diced tomato and the diced bell pepper and season with salt and pepper. Stir to combine.
Scoop the avocado meat into a food processor. Add the fresh lemon juice and season with salt and pepper. Pulse until the avocado is completely smooth and creamy. Stir and combine the cooled pasta and the avocado dressing in a large bowl. Add the corn mixture, the chopped chives, and the crumbled feta. Stir again to combine, and serve.