My husband Chris and I have become addicted to a Mexican restaurant about 10 minutes from our house. We go mainly for one reason: the fresh, homemade guacamole.
Along with it comes, of course, a huge basket of fried tortilla chips. We never intend to finish off the full basket between the two of us.
But somehow. I always end up feeling too full for my entrée, peering down at an empty tortilla chip basket (save for those abandoned, too-small-for-dipping, broken-off bits clinging to the napkin at the bottom).
Guacamole just seems to do that to us. That rich creamy dip combined with those crunchy, salty chips: the combo is just too irresistible.
This is exactly why, up until this summer, I never really made it at home. I saved the calorie overload for rarer, eating-out occasions.
But then I came up with this recipe for Guacamole Chicken Lettuce Wraps and now we've been eating tons of homemade guacamole at home all summer.
Here's how it's healthier: you mix in some healthy and filling grilled chicken, adding a delicious and healthy complement to the rich avocado. You serve it over lettuce leaves for that satisfying crunch without the calories. And you only need one baked tortilla chip per lettuce wrap to get that delicious guac-and-chip flavor, greatly controlling your portion of high calorie tortilla chips.
This recipe is so easy too. It's become one of my favorites for summer.
Here are the key ingredients for today.
Begin by dicing a jalapeño pepper. Chop off the ends. Cut the pepper in half and then into quarters, lengthwise.
Use your knife to cut out all the seeds inside.
Cut the pepper into long strips lengthwise and then run your knife in the opposite direction, dicing up the pepper.
Place your knife flat over a clove of garlic and press down hard, smashing the clove.
Once smashed, the skin is easy to pull off.
Mince up the garlic clove.
Use your knife to cut some cilantro leaves from the stems. Then pile up the cilantro leaves and run your knife through the pile in every direction, chopping the cilantro.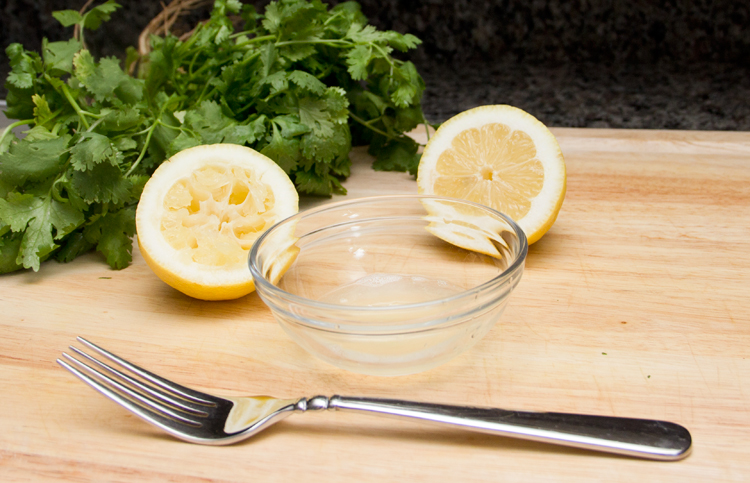 Cut a lemon in half and squeeze out all the juice. If you're having trouble squeezing out all the juice, just grab a fork to press into the lemon and help you along.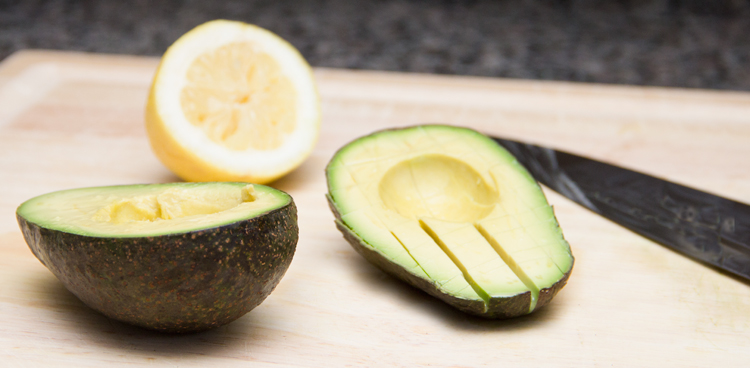 Cut an avocado in half lengthwise and scoop out the pit. Then cut a grid pattern into the avocado. And use a spoon to scoop out all the diced avocado and put it in a mixing bowl.
Add the fresh lemon juice and then smash up the diced avocado with a fork.
Stir in the diced jalapeño, minced garlic, and chopped cilantro.
Add a bit of cumin and some salt and pepper.
Finally, add chicken.
You can use leftover chicken you've already stored in the fridge. Or pick up a pre-cooked rotisserie chicken at the deli.
I just season some skinless, boneless chicken breasts with salt and pepper and throw them on the grill.
Then just cube the cooked chicken.
And stir it in to the guacamole.
Separate the leaves of a head of Boston lettuce.
Then scoop a couple of tablespoons of Guacamole Chicken Salad into each leaf.
And crumble a baked tortilla chip over each one.
This dish is really rich and satisfying and flavorful.
Chicken with avocado is one of those perfect flavor match-ups. I think they were made for each other.
And the yummy crunch from the lettuce and the salty tortilla chips is so perfect with the rich and creamy guacamole chicken.
So there you have it: the perfect Guiltless Guacamole dish.
Here is the complete printable recipe:

Guacamole Chicken Lettuce Wraps
Author:
The Scrumptious Pumpkin
Total Time: 27 minutes
Prep: 15 minutes
Cook: 12 minutes
Yield: 4 servings
Ingredients
1 pound skinless, boneless chicken breasts
2 ripe avocados, pits removed, peeled, and diced
¼ cup freshly squeezed lemon juice
½ clove garlic, finely minced
½ jalapeño pepper, finely diced
1 tablespoon cilantro, chopped
½ teaspoon cumin
1 head Boston lettuce, leaves separated
20 baked whole grain tortilla chips
Salt and freshly ground black pepper
Instructions
Prepare the grill for medium heat.
Season the chicken breasts with salt and pepper and cook for about 6 minutes. Flip the chicken and cook the second side for about 6 minutes more, or until chicken is cooked through.
Allow chicken to rest for 5 minutes.
Cut the chicken into bite-sized cubes.
Place the avocado and lemon juice into a large mixing bowl. Use a fork to mash the avocado until it reaches a creamy consistency. Add the jalapeno, garlic, cilantro, and cumin. Season well with salt and pepper. Stir to combine.  Mix in the cubed chicken.
Place 1-2 tablespoons of the guacamole chicken in the center of a Boston lettuce leaf. Crumble one tortilla chip over the top. Repeat until all the guacamole chicken mixture is used. Serve immediately.