I don't think I've ever mentioned Germany in a post before, which is odd because, of the places I've traveled, Germany is one of my favorites.
Here are a few things I adored about this country:
1.) Touring the Alps region will leave permanent imprints on your memory and heart. The exaggerated, extravagant, over-the-top natural beauty of this country stretches for miles in all directions – in front of you, behind you, and towering above you (notice the peaks rising far higher than the clouds for a better idea of the super-sized scale of the mountains).
2.) While touring the country, odds are good that you'll stumble upon a medieval town, complete with hand-laid cobblestone streets, so endearingly quaint and colorful, it looks and feels like stepping into an illustration from a children's fairytale.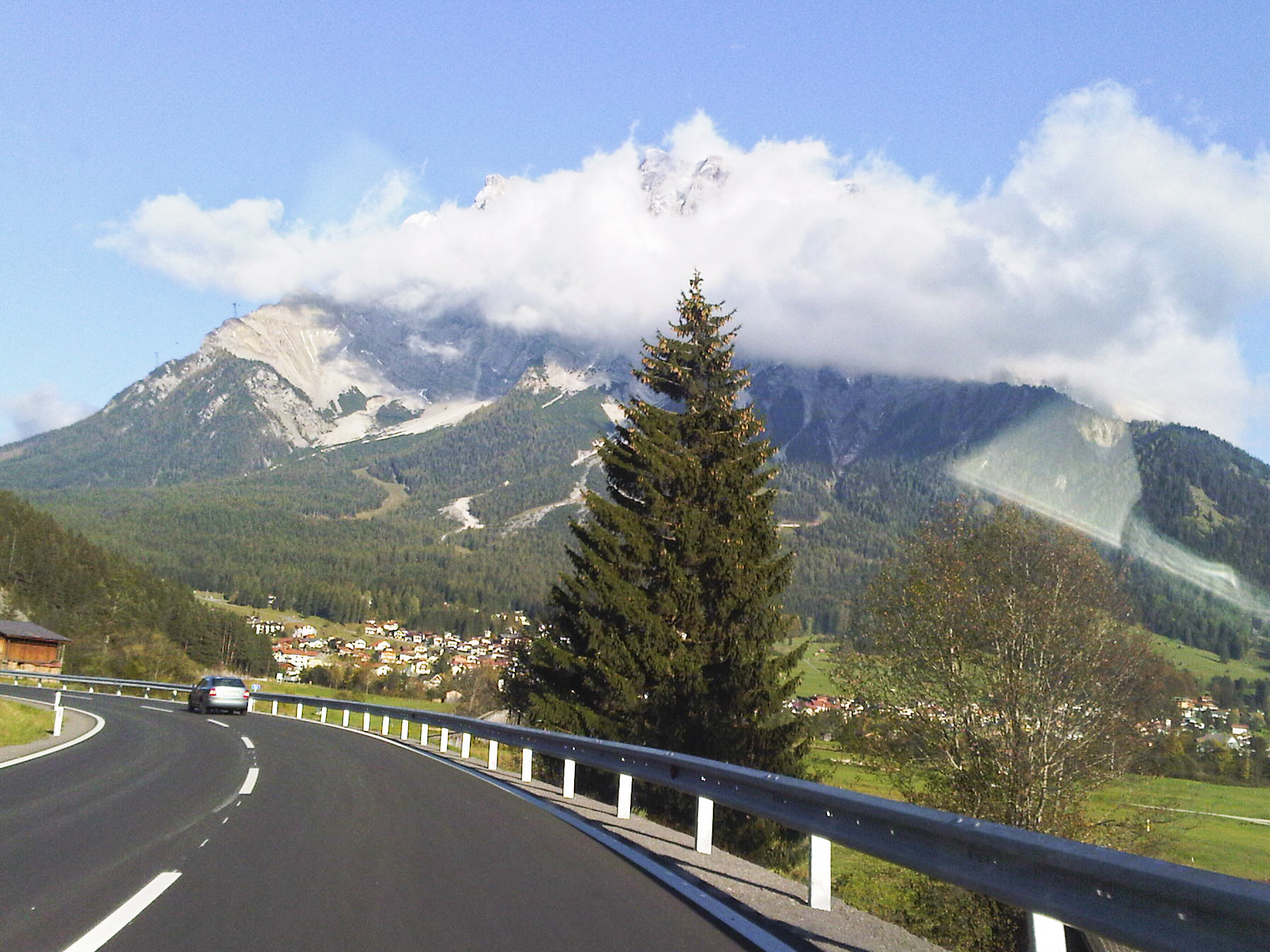 3.) The autobahns (the German highways). Germans know how to drive, and here's how: if you're not doing 90 mph on the highway, you had better get yourself out of the left lane. Also, when you rent a car in Germany, you get a BMW for the price of a small Honda in America. To sum it up: it's a lot of fun to drive in Germany.
4.) The food is incredible! I visited in early October, and after a long, chilly, windy day filled with walking, it was wonderful to stop into a warm café – complete with fireplace, cozy low ceilings, and flowering plants decorating every nook – for some creamy pumpkin soup and chicken schnitzel (lightly breaded and fried chicken) with potato and chive salad.
Germany has amazing sweets and pastries too. (This photo was snapped at a favorite bakery in Munich).
So this indulgent recipe for Black Forest waffles (based on the chocolate and cherry Black Forest cake that originated in Germany) is my ode to Germany.
I created this recipe for my husband for his birthday breakfast, since chocolate and cherry is his favorite dessert combo.
It's such an indulgent breakfast, it's perfect for a birthday.
Or any time you want to do something special for breakfast.
It could even pass as a dessert.
But here's the best part: it has so many healthy ingredients – like whole wheat flour, low-fat yogurt, and cherries – that it's also guilt-free!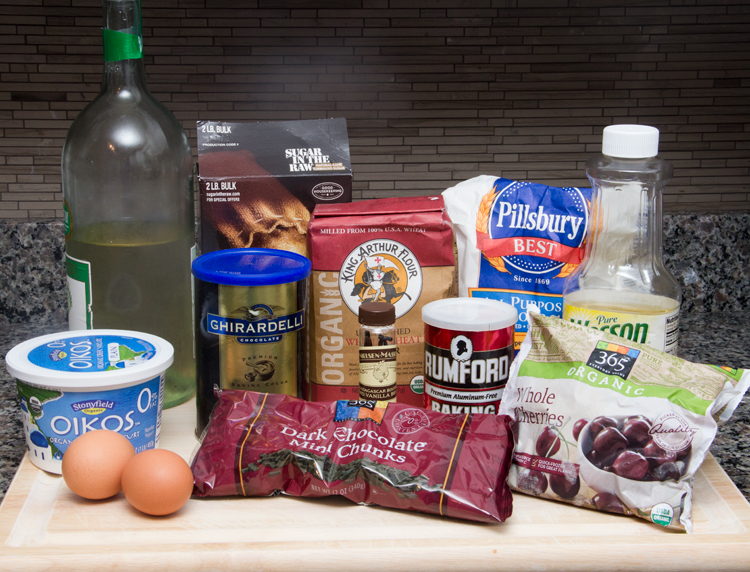 Here are all of the key ingredients you'll need to make your own Black Forest waffles.
Using a small saucepan, boil some white wine and some water.
Grab a fresh vanilla bean and cut it in half lengthwise.
Toss both halves into the to the pot, and allow everything to simmer for a few minutes.
Next, add some sugar and stir until it's completely dissolved into the liquid.
Finally, add a bag or two of frozen cherries to the pot and adjust the heat to low, bringing everything to a light simmer.
I've been trying to add more cherries to my diet since I learned they're a superfood with very high antioxidant levels. These antioxidants are anti-aging and they help boost the immune system and prevent cancer. Cherries also contain lots of potassium (to help maintain healthy blood pressure). And they're very low in calories with lots of fiber (helps you feel full and aids in weight loss).
So I usually add an extra side dish of cherries in addition to topping the waffles with them!
While your cherries are simmering away, begin whipping up your waffle batter.
Add the following dry ingredients to one large mixing bowl: all-purpose flour, whole wheat flour, cocoa powder, baking soda, baking powder, salt, and sugar.
Stir to combine.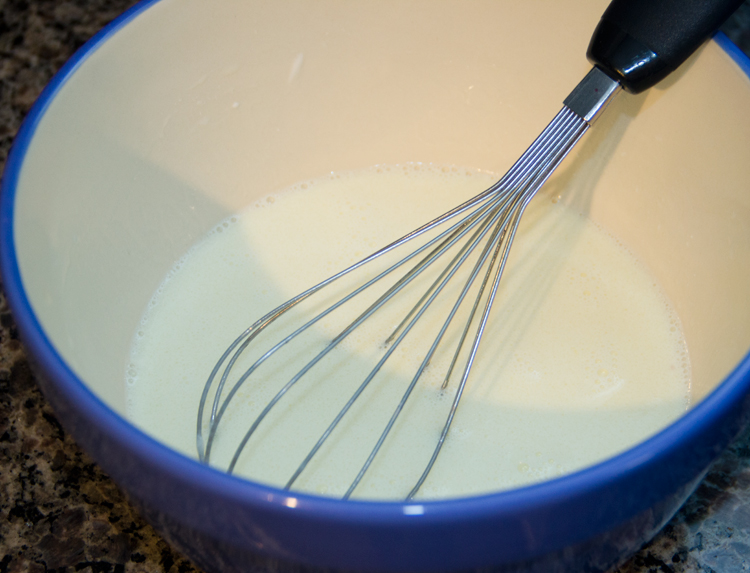 Add the following ingredients to a second large bowl: eggs, milk, plain low-fat Greek yogurt, and some canola oil.
Use a whisk to stir everything together.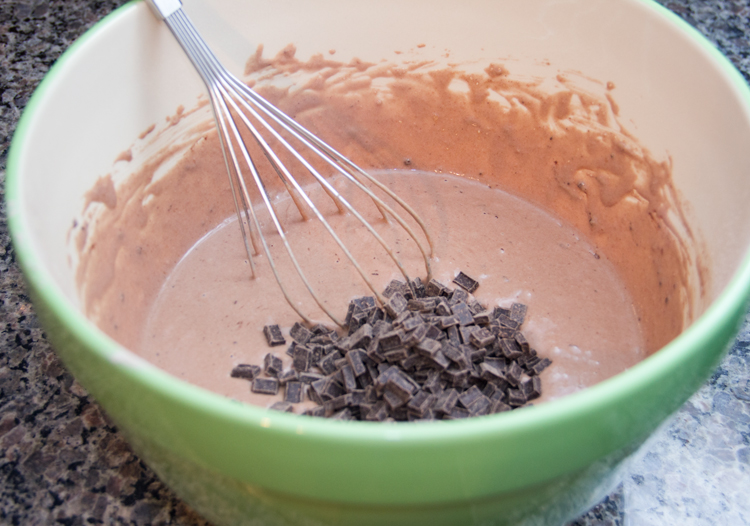 Slowly add the wet ingredients to the dry and whisk again.
Last, the most important ingredient: dark chocolate shavings!
Slowly stir the dark chocolate shavings (or dark chocolate chips) into the batter.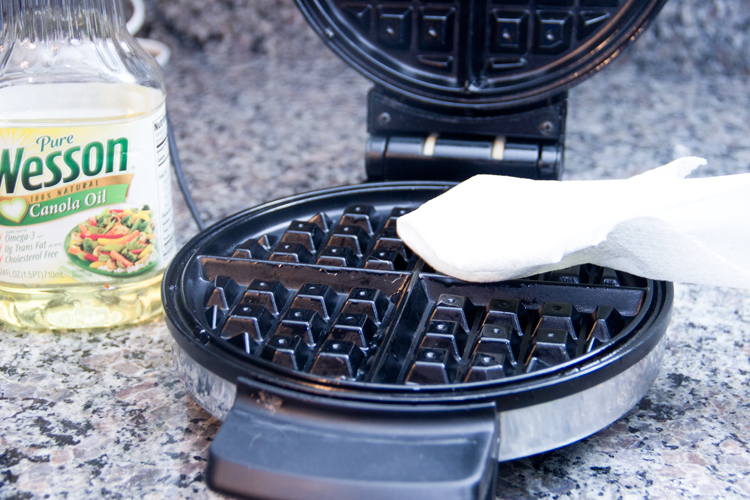 Prepare the waffles according to the directions for your waffle iron.
Here's one tip: before cooking your waffles in your waffle iron, be sure to coat the iron with just a bit of canola oil. Pour a small amount of canola oil onto a towel and coat the iron with a light coat of oil (before you turn the iron on!) Or just spray the iron with some non-stick cooking spray.
This is important because as the chocolate shavings melt, they can stick to the waffle iron, making it hard to remove them from the iron when they're finished.
One other tip: use a measuring cup (1 cup) to ladle the batter onto the waffle iron. This way, you'll have a good idea how much more or less batter to add on your second try if you discover you've added too much or too little batter the first time (you should find instructions with your waffle iron that include a suggested batter amount – about 3/4 of a cup is just about perfect for my iron.)
Last tip (I promise!): you can keep waffles warm (so everyone can sit down to eat at once, after all the waffles have been cooked) by placing them on a baking sheet in an oven preheated to about 250 degrees F.
When your waffles are cooked, top with plenty of poached cherries, and drizzle some of the poaching liquid all over the waffles in place of maple syrup.
This is one rich, decadent breakfast treat!
The cherries are slightly tart and slightly sweet from the poaching liquid.
And the chocolatey waffles have rich, sweet, melted dark chocolate in every bite.
Make these for a special brunch, or for a birthday breakfast feast.
Or anytime you're craving something a little sweet and sinful for breakfast!
Here is the complete recipe:
Black Forest Waffles (Double Chocolate Waffles with Poached Cherries)
Prep: 15 minutes
Cook: 30 minutes (30 minutes to cook 6 waffles individually)
Yield: 6 servings (6 belgian waffles)
For the Poached Cherries:
1/2 cup water
1/2 cup dry white wine
1 vanilla bean, split lengthwise
1/2 cup sugar
2 pounds frozen cherries
For the Double Chocolate Waffles:
1 cup whole wheat flour
1 cup all-purpose flour
1/4 cup cocoa powder
2 tablespoons sugar
1 teaspoon baking powder
1 teaspoon baking soda
1/2 teaspoon salt
1 cup plain low-fat Greek yogurt
2 eggs
1 1/2 cups 1 percent milk
2 tablespoons canola oil
1 cup dark chocolate shavings
For the Poached Cherries:
Place the water, white wine, and both halves of the vanilla bean in a saucepan over medium-high heat. Bring to a boil and then reduce heat to a simmer. After 5 minutes, add the sugar to the simmering liquid. Stir until sugar is dissolved. Add the frozen cherries and continue to simmer for 7 minutes more. Remove the vanilla bean before serving.
For the Double Chocolate Waffles:
While the cherries simmer, heat a waffle iron according to product instructions.
In a large mixing bowl, stir and combine the dry ingredients: whole wheat flour, all-purpose flour, cocoa powder, sugar, baking powder, baking soda, and salt.
In another bowl, whisk together the wet ingredients: yogurt, eggs, milk, and canola oil.
Pour the wet ingredients into the dry, and whisk until everything is well combined. Add the chocolate shavings and fold them into the batter.
Using a towel, coat the waffle iron with a thin layer of canola oil. Or spray the iron with a non-stick cooking spray.
Use a measuring cup to ladle the correct amount of batter onto the waffle iron. Close the iron top and cook until the outsides of the waffle are crisp and easy to remove from the iron. Repeat until all batter is used. Keep waffles warm during the cooking process by placing them on a baking sheet in an oven warmed to 200 degrees F.
Top each waffle with plenty of poached cherries. Drizzle the poaching liquid over the waffles in place of maple syrup. Serve.