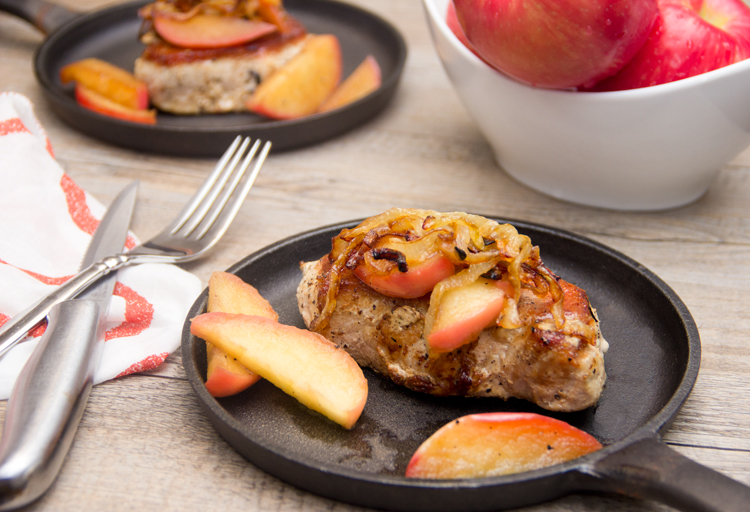 Things have been crazy at work, and here's how my days have been lately: work frantically throughout the day to complete a long to-do list of urgent projects, only to go back to my voicemail to find I have 10 new projects waiting. Spend an hour commuting home (it takes that long to travel the 12 miles (yes, 12 miles in an hour!) from office to home in traffic). Arrive home ready for nothing more than a nap, only to be greeted by puppy Calvin, who is bursting with energy and ready to run, fetch, and play for several hours – he does not tire easily.
So I've definitely been neglecting my blog. And I've missed everything – posting new recipes, reading comments, and checking out all the food blogs I normally follow. But I'm hoping the craziness has begun to slow down so I can find more free time to devote to my blog.
While I've been away, I have continued to cook most nights and develop tons of new recipes (meat-and-potatoes-guy and I won't miss a meal, no matter how crazy things get!). I just need to get them all photographed and posted. I have my fingers crossed that I'll be able to get back to at least one post a week now that fall is in full swing.
So this dish is one of meat-and-potatoes-guy's favorite recipes that I've come up with this fall.
It's great because it's hearty, filling, and full of flavor. It tastes like something you might order in a restaurant.
But it has only 5 key ingredients so it's simple to make at home, any night of the week.
Here are all the key ingredients you'll need to make this dish. Couldn't be simpler!
Begin by adding some olive oil to a large sauté pan and heat the pan to medium heat.
While the pan is warming, grab an onion and chop off the end.
Cut the onion in half, lengthwise.
Then peel off the very outer layer to remove the skin.
Place the onion on your cutting board flat-side-down for stability.
Then carefully cut thin, quarter-inch slices. As much as you can, try to keep the slices the same size. This helps them cook more evenly.
Then cook the onion in the sauté pan. Be sure to stir often to keep the onions from sticking too much to the bottom of the pan.
Saute the onions for about 20-25 minutes, or until they turn golden brown.
If you notice the onions sticking a lot to the bottom of the pan, reduce the heat a bit and add a couple tablespoons of apple cider to deglaze the pan.
Season the onions with just a dash of salt.
Use a pair of tongs to remove all the caramelized onions from the pan and set them aside in a covered container.
Caramelized onions are pretty much fool-proof – "burning" them is the whole idea.
They just take a little time, but it's so with it. They add such rich, yummy flavor to your dish.
Next, add a bit more olive oil to the pan and adjust the heat to medium-high.
Remove the fat from some pork loin chops – with all the flavor in this dish, you really won't miss the fat at all.
Season the chops with salt and pepper.
Arrange the pork chops in the pan so they are not overlapping and allow them to cook, untouched, for about 6 minutes.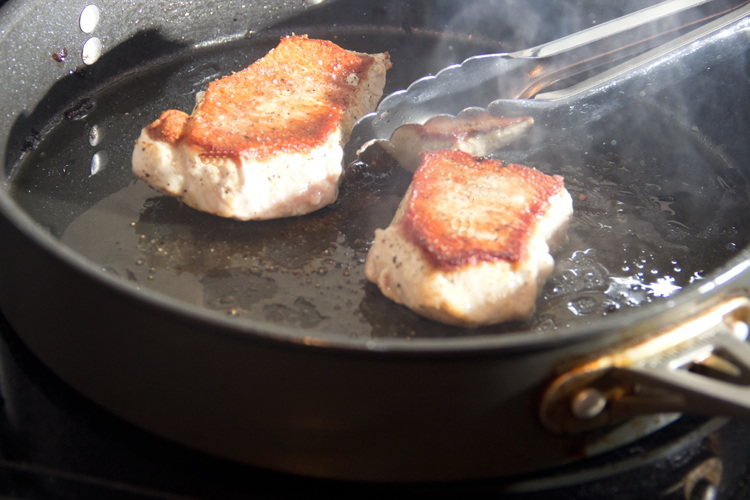 The key is to place them flat in the pan and then leave them alone completely – you'll get a nice golden sear on the outside of the pork chop. This keeps the outside deliciously crisp and flavorful, while the inside remains juicy.
Flip the chops and cook them on the other side for about 6 minutes more.
Then place the cooked chops on a plate or platter, cover, and set aside.
Reduce the heat to medium and add just a bit more olive oil, and on to my favorite part: the apples.
I like to cook this recipe with a generous portion of apples and here's why: apples provide tons of filling and healthy fiber for very few calories (there are only about 80 calories in a medium apple). Apples are also full of vitamin C, to help your immune system stay strong (just in time for flu season!).
And the fresh, fall Honeycrisp apples I used in this recipe are naturally sweet and so delicious. I like Honeycrisp in this dish because they're slightly sweet (perfect with the apple cider and maple syrup you'll add to the sauce). They also remain a little crisp, even after sautéing, and that crispness is the perfect complement to the juicy, tender pork.
I don't remove the skin of the apples before cooking, because a lot nutrients are located within and directly under the skin.
Just be sure to buy organic apples or wash your apples very thoroughly, because apples tend to be high in pesticides.
Place the apple on a cutting board, stem facing upward.
Slice down through the apple on each side of the core so you're left with four quarters of apple. Discard the core.
Then cut each quarter into half-inch slices.
Saute the apple slices for about 3 minutes, just until they begin to soften.
Season the apples with just a dash of salt and pepper.
Pour a couple of tablespoons of 100% pure maple syrup over the apples.
Then add some apple cider and allow it to simmer for a couple of minutes.
At this point the pork has rested for several minutes (the resting is important for keeping the chops tender and juicy).
Plate each chop and top with a nice, big, generous portion of apples.
Drizzle some of the cider sauce over everything.
Top with plenty of caramelized onions.
There are a whole lot of flavors happening in this dish – tartness from the apples, sweetness from the maple syrup and the cider, savory richness from the juicy pork, and tons of smoky flavor from the slow-cooked onions.
It's a filling, hearty dish that looks and tastes impressive enough for company.
But with only five key ingredients, it's easy enough to throw together on a weeknight.
So perfect for a chilly fall evening!
Here is the complete recipe:
Apple Cider-Maple Pork Chops with Caramelized Onions
Prep: 5 minutes
Cook: 45 minutes
4 tablespoons olive oil
1 medium onion, peeled
4 half-inch-thick pork loin chops, fat trimmed
3 Honeycrisp apples, cored and cut into 1/2-inch slices
2 tablespoons 100% pure maple syrup
1/2 cup fresh apple cider
Salt and freshly ground black pepper
Heat 2 tablespoons of olive oil in a large sauté pan over medium heat. As the pan is heating, cut the onion into thin slices. Saute the onions slowly, stirring often, for about 25 minutes. The onions are ready when they have turned a deep golden brown. If the onions begin to stick to the pan, add a tablespoon or two of apple cider to deglaze the bottom of the pan. Season the onions lightly with salt and, using tongs, transfer the caramelized onions to a dish, cover, and set aside.
Add another tablespoon of olive oil to the sauté pan and adjust the heat to medium-high. Season the pork chops with salt and pepper and place them flat on the pan (not overlapping), allowing them to cook, untouched, for about 6 minutes. Flip the pork chops and cook the second side, untouched, for about 5-6 minutes more. Place the pork chops on a plate, cover, and allow them to rest for about 7 minutes.
While the pork rests, add the remaining 1 tablespoon of olive oil to the sauté pan and adjust the heat to medium-low. Cook the sliced apples over medium-low heat for about 4 minutes, or until they begin to slightly soften. Add the maple syrup and season the apples with salt and pepper. Add the apple cider, stir, and allow the cider to simmer for about 3 minutes.
Place the pork chops on serving plates, and cover each with a generous portion of apples with their sauce. Top each with plenty of caramelized onions.