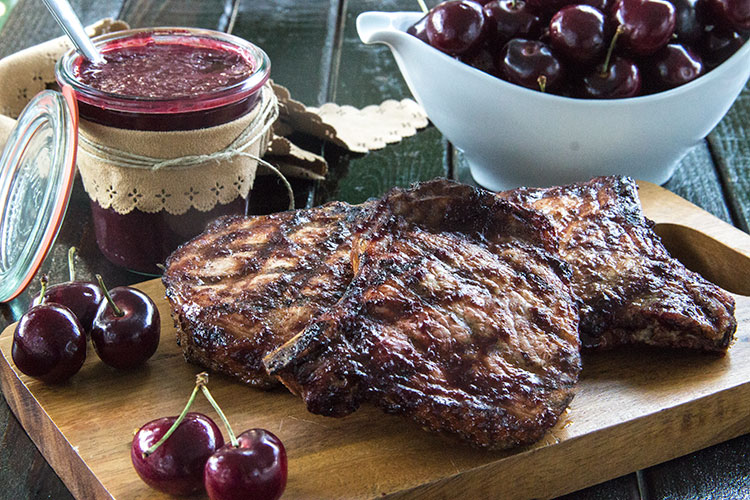 In the past, when I wanted to throw together a quick summer dinner, I'd rely on grilled meat with a packaged, processed barbecue sauce.
But this summer, I've learned that it's possible to prepare a homemade barbecue sauce in about the time it takes for Meat-and-Potatoes-Guy to heat up the grill and cook up some pork chops.
Start to finish, my addictive, slightly sweet, slightly smoky Cherry Barbecue Sauce takes less than 15 minutes to prepare.

I love that (unlike the packaged and processed sauce) I know all of the ingredients that go into this homemade sauce (no corn syrup or artificial colors or preservatives are required in the homemade kind!).
And the sauce is full of healthy whole foods like real onion and garlic and sweet and tart cherries.
Plus, Homemade Anything always tastes better.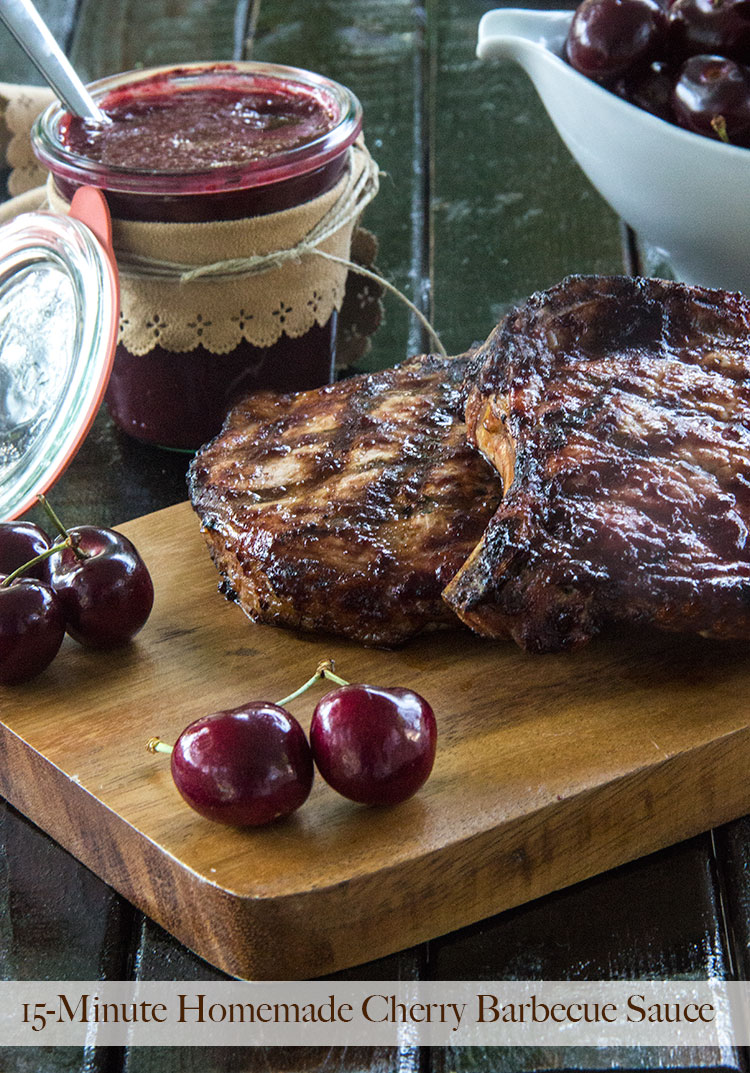 I guess I shouldn't say always – I've had my share of recipe experiments gone very, very wrong.
But mostly though, that extra time, labor and love never fails to shine through.
Here are the step-by-step instructions for 15-Minute Cherry Barbecue Sauce:
Begin by grabbing a small onion and chopping off the root end.
Cut the onion in half lengthwise and peel off the skin.
Place one half flat-side-down on the cutting board for stability.
Cut slices of onion lengthwise, then run your knife in the other direction, chopping it up (just a rough chop will do, since the onion will be pureed later).
Next, grab a clove of garlic and place your knife flat over it. Then press down on your knife with your palm or fist, smashing up the garlic.
This makes it easy to peel off the skin (no need to take the time to mince up the garlic clove, it will be pureed in the sauce later).
Heat some olive oil in a saucepan over medium heat.
Then cook the onion and garlic clove until they're softened.
Add a generous helping of frozen cherries (just thaw them in a the microwave for a minute first), and cook a few minutes more.
Unlike the processed and packaged kind (which tends to rely on fructose corn syrup), this barbecue sauce gets a lot of its flavor and sweetness from healthy cherries.
Cherries are very high in antioxidants and studies have shown that, because of their high water content, a diet rich in cherries can help improve metabolism and burn fat more effectively.
Next, add 100 percent pure maple syrup.
The best kind is the all-natural kind. The kind where the only ingredient listed on the label is "maple syrup."
Also add some tomato paste, Dijon mustard, white wine vinegar, chili powder and cumin.
Stir and allow the sauce to simmer for a few minutes more.
Season to your liking with a bit of salt.
Then remove the pan from the heat.
Use an immersion hand blender to puree the sauce.
Or transfer the sauce to a blender or food processor to puree.
When the sauce is smooth and thick, your work is complete.
I like to brush some of the cherry barbecue sauce onto the chicken or pork in the last few minutes of grilling.
Then brush on puh-lenty more immediately after the meat is cooked and removed from the grill.
Homemade, flavorful, sweet and tangy Cherry Barbecue Sauce, ready in no time at all.
It's chock full of healthy stuff, so feel free to pile it on!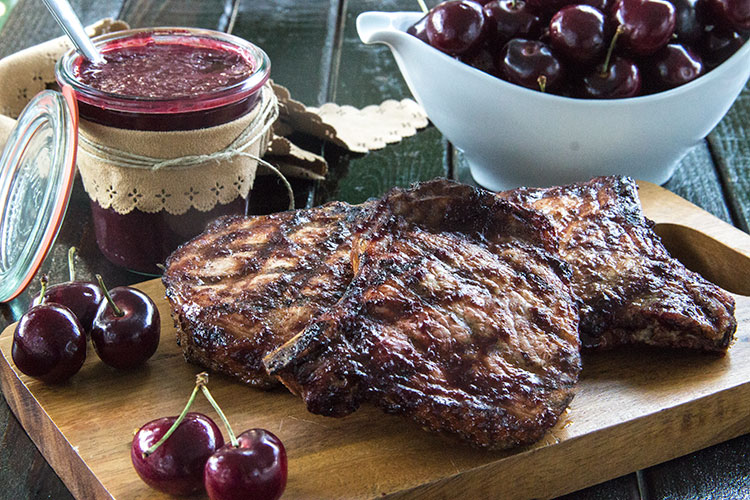 This sauce is tangy and a bit sweet, with a slight kick from the mustard and spices.
And the distinctive flavor of sweet cherries makes it unique and special.

Just 15 minutes to transform dinner from 'Same-Old' to something healthier, fresher, more unique, and so must tastier!
Here is the complete, printable recipe for 15-Minute Cherry Barbecue Sauce:
15-Minute Homemade Cherry Barbecue Sauce (for Grilled Chicken or Pork)
Author:
The Scrumptious Pumpkin
Nutrition Information
Serving size:

8

Calories:

75
Fat:

5.6g

Saturated fat:

.8g

Carbohydrates:

7g

Sugar:

5.3g

Sodium:

29mg

Fiber:

.8g

Protein:

.6g

Cholesterol:

0mg
Recipe type:
Clean Eating Grilling
Total Time: 15 minutes
Prep: 8 minutes
Cook: 7 minutes
Servings: 8 (makes enough sauce for about 8 pork chops or 8 chicken breasts)
Ingredients
3 tablespoons olive oil
½ small onion, roughly chopped
1 clove garlic
1½ cups frozen cherries, thawed
1 tablespoon Dijon mustard
1 tablespoon tomato paste
1½ tablespoons 100 percent pure maple syrup
2 teaspoons white wine vinegar
1 teaspoon chili powder
½ teaspoon cumin
Salt
Instructions
Heat the olive oil in a saucepan over medium heat. Cook the onion and garlic for about 3 minutes, or until softened. Add the cherries and cook until they're heated through, about 2 minutes more. Add the Dijon, tomato paste, maple, vinegar, chili powder, and cumin. Stir to combine. Allow sauce to simmer, stirring often, for about 3 minutes. Season to taste with salt.
Remove saucepan from heat and use an immersion hand blender to puree mixture to a smooth and thick sauce (or transfer mixture to a food processor or blender to puree).
Brush barbecue sauce over chicken or pork at the end of grilling. After removing the meat from the grill, top with additional sauce.