I'm loving this fresh berry and avocado salad lately.
It's super nutritious but also tastes heavenly, with rich and creamy avocado, plus fresh and tart summer berries, plus crunchy pine nuts, plus sweet and velvety homemade mango vinaigrette.
And as I type the recipe, I'm realizing just how very much I love this combo of flavors.
Because I'm noticing it's almost a replica of one of my favorite smoothies, my Shine Smoothie (Avocado-Mango-Berry Smoothie), in a summer salad form.
I seem to be obsessed with that Avocado-Mango-Berry Combo.
It's that yummy blend of creamy, tart, and sweet that steals my heart …
… what's not to love?
This avocado salad is also jam-packed with healthy whole foods shown to help skin stay soft, smooth, clear, and youthful looking:
Avocado – packed with biotin, a vitamin that prevents brittle hair and nails and dry skin
Blackberries and Raspberries – loaded with the fiber, vitamins, and antioxidants that are crucial for helping the body to age well
Spinach – full of folate, which helps skin maintain and repair DNA
Pine Nuts – packed with Vitamin E, known for speeding up healthy skin cell regeneration
Mango – full of beta-carotene, an antioxidant that gives skin a rosy glow and combats the skin-damaging effects of the sun
Honey – contains polyphenols (strong antioxidants that destroy the free radicals that damage healthy skin cells)
Olive Oil Oil – full of the heart-healthy kind of fat (monounsaturated fat) that is required to help the body absorb all the nutrients and vitamins found in this salad (in other words, a bit of healthy fat in salad dressing is healthier than a fat-free dressing)
Here are the step-by-step instructions for this Summer Berry Avocado Salad with Mango Vinaigrette:
Begin by toasting the pine nuts.
Preheat the oven to 375 degrees F.
Arrange the pine nuts so they're not overlapping on a parchment-lined baking sheet.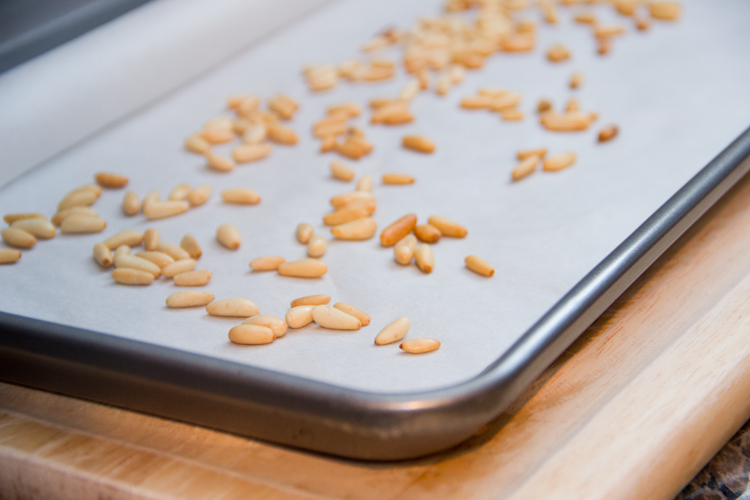 Bake for about 5-7 minutes, or until the pine nuts are lightly toasted and golden.
Keep a close eye on them – they burn quickly!
Substitution: toasted almonds, walnuts, or sunflower seeds also work well in this salad.
Meanwhile, prepare the homemade Mango Vinaigrette.
Toss some frozen chopped mango into a food processor or blender (thaw the mango for a minute or two in the microwave first).
Then add some white wine vinegar, some honey, some canola oil, and a bit of water.
Puree until you have a thick, smooth, velvety dressing.
Next, grab an avocado and cut it in half lengthwise. You'll feel a large pit in the center, just cut around it.
Twist the two sides you've cut in opposite directions to pull apart the two halves.
Then use a spoon to scoop out the pit.
Cut thin slices of avocado.
And then use the spoon to scoop the avocado from the skin.
Optional: Avocados brown quickly after they're removed from the skin. If you're worried about how it looks and you'd like to keep the avocado green and fresh, immediately drizzle some fresh lemon juice all over the avocado.
Arrange some baby spinach on serving plates, then add plenty of avocado slices.
Next, add handfuls of fresh blackberries and raspberries.
Substitution: any fresh berries, such as strawberries or blueberries, taste great in this salad.
Drizzle Mango Vinaigrette all over the top, and sprinkle on some of the toasted pine nuts.
Dive into a nice big serving of fresh summer avocado salad, knowing you're also helping yourself to a bowlful of vitamins and antioxidants.
The taste is fresh, summery, and lightly sweet.
The avocado is rich and filling, complemented by the crunchy, slightly salty flavor of the pine nuts.
And there's a bonus side effect to indulging in this combo often: gorgeous, glowing skin!

Here is the complete, printable recipe for Summer Berry Avocado Salad with Mango Vinaigrette:
Summer Berry Avocado Salad with Mango Vinaigrette
Author:
The Scrumptious Pumpkin
Nutrition Information
Serving size:

4

Calories:

347
Fat:

25.4g

Saturated fat:

3.8g

Carbohydrates:

31g

Sugar:

16.4g

Sodium:

61mg

Fiber:

12.4g

Protein:

5.8g

Cholesterol:

0mg
Recipe type:
Clean Eating Salad Recipe
Total Time: 12 minutes
Prep: 7 minutes
Cook: 5 minutes
Yield: 4 main course servings
Ingredients
For the Avocado Berry Salad:
¼ cup pine nuts
10 ounces organic baby spinach
8 ounces organic blackberries
8 ounces organic raspberries
1 large avocado, halved, peeled, pitted, and thinly sliced
Mango Vinaigrette
For the Mango Vinaigrette:
½ cup frozen chopped mango, thawed
1½ tablespoons organic raw honey
2½ tablespoons extra virgin olive oil
2 teaspoons white wine vinegar
1 tablespoon water
Instructions
Preheat the oven to 375 degrees F. Arrange the pine nuts on a parchment-lined baking sheet and toast in the oven for about 5-7 minutes, or until the pine nuts are lightly golden – watch carefully, as they burn quickly.
In a food processor or blender, add the chopped mango, honey, canola oil, vinegar, and water. Puree until vinaigrette is smooth and creamy.
Arrange the spinach, berries, and avocado on serving plates. Drizzle Mango Vinaigrette over the salad. Top with toasted pine nuts.