I believe this will be my fifth recipe involving quinoa.
So I guess it's fair to say I'm infatuated with this "health food."
However.
Looking over the statistics for my site, my quinoa recipes are also some of my most popular recipes.
I'm not alone with my infatuation.
Quinoa seems to be an American obsession at the moment.
And why not? It's as tasty and easy to make as pasta (faster than rice) and it's really nutritious.
This recipe is really tasty too, with lots of healthy mediterranean ingredients like tomatoes, artichokes, olive oil, and pine nuts.
For dinner I serve this dish warm, as a side with grilled chicken or fish.
Or (with the quinoa and olive oil and pine nuts), it's hearty and filling enough to have alone as a light lunch.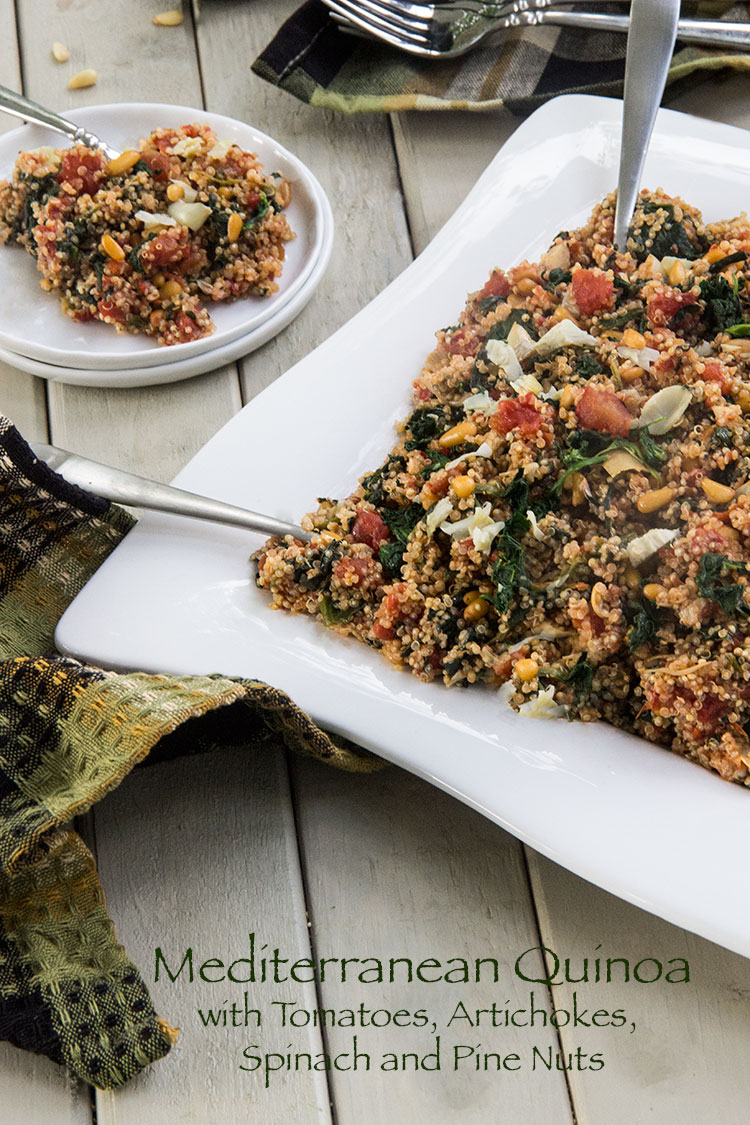 The recipe makes a lot (about six servings), but it holds up well as leftovers.
And with all the nutritious ingredients, I feel like I'm doing something very healthy for myself too!
Here's the recipe for Mediterranean Tomato Quinoa with Spinach and Artichokes:
Mediterranean Tomato Quinoa with Spinach and Artichokes
Author:
The Scrumptious Pumpkin
Nutrition Information
Serving size:

6

Calories:

300
Fat:

14.9g

Saturated fat:

1.7g

Carbohydrates:

31.5g

Sugar:

2.4g

Sodium:

36mg

Fiber:

4.9g

Protein:

8.5g

Cholesterol:

0mg
Recipe type:
Healthy Vegan
Total Time: 30 minutes
Prep: 15 minutes
Cook: 15 minutes
Yield: 6 servings
Ingredients
1½ cups quinoa
⅓ cup pine nuts
8 ounces (about ½ bag) frozen chopped spinach
3 tablespoons extra virgin olive oil
3 cloves garlic, minced
7 ounces (about ½ can) quartered artichoke hearts, drained, thoroughly rinsed, and diced
16-ounce container chopped tomatoes, drained
Salt and freshly ground black pepper
Instructions
Bring three cups of water to a boil in a saucepan, and season with salt. Add the quinoa and reduce to a simmer. Cover and cook until the water is absorbed, about 10-12 minutes. The quinoa is cooked when the spiral germ becomes visible around the grains.
Meanwhile, preheat the oven to 375 degrees F.
Arrange the pine nuts on a parchment-lined baking sheet and toast in the oven for about 5 minutes, or until they become light golden. Watch carefully, they burn quickly!
Place the frozen spinach in a heat-safe container and microwave until thawed. Transfer thawed spinach to a fine mesh strainer. Arrange strainer over a large mixing bowl and squeeze spinach, wringing dry, until all excess water is drained from the spinach.
Heat the olive oil in a sauté pan over medium heat. Add the garlic and cook until softened, about 2 minutes. Add the spinach, artichokes, and tomatoes and simmer until heated through, about 5 minutes. Season with salt and pepper.
Turn off the heat and add and combine the cooked quinoa and toasted pine nuts. Serve.
*I estimate approximate nutrition information using the
Verywell Recipe Nutrition Calculator
.
Other Recipes You May Enjoy:
https://jenelizabethsjournals.com/2014/09/03/southwest-chipotle-quinoa-and-black-beans/
https://jenelizabethsjournals.com/2014/09/18/farmers-market-quinoa-salad-with-avocado/
https://jenelizabethsjournals.com/2014/04/30/spring-quinoa-with-asparagus-and-parmesan/
https://jenelizabethsjournals.com/2013/07/29/greek-tomato-feta-quinoa-salad/
SaveSave
SaveSaveSaveSaveSaveSave