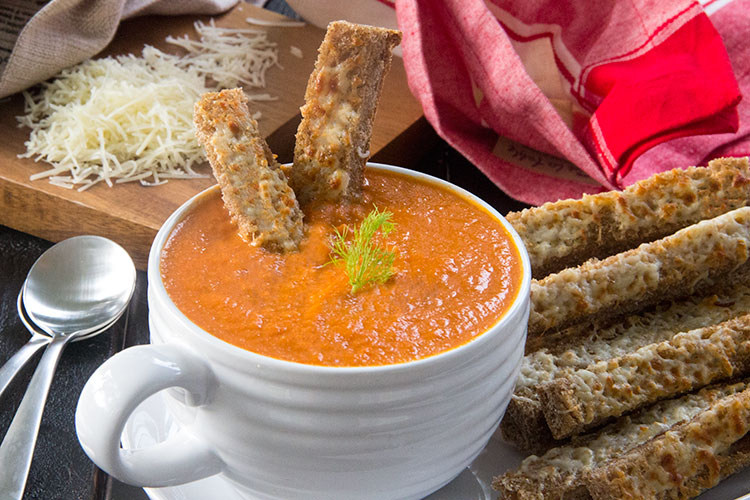 The time has finally arrived for my first soup of the season.
We've had a few dark, damp, chilly days recently, which calls for one thing.
It's something I look forward to as the seasons change:
A nice big pot of homemade soup simmering away in the kitchen, warming the house and filling it with the yummy scents of cold-weather comfort food.
This "creamy" tomato soup doesn't actually have any cream in it at all.
Instead, it gets its thick consistency and rich flavor from a variety of tasty puréed veggies.
And, for a little twist on tomato soup's classic comfort food soul mate (grilled cheese, of course!), I add some toasted three-cheese breadsticks.
Which are perfect for dipping!
And here, as promised, are a few more photos from my trip.
These photos are from the gorgeous town of Banff, nestled within the Canadian Rockies.
It's one of the most picturesque towns I've ever seen.
Just strolling down the pretty streets, you'll see 360-degree breathtaking mountain views surrounding the town.
This is the Fairmont Banff Springs Hotel, which Meat-and-Potatoes-Guy and I stayed in while we were in Banff.
We learned from a tour of the hotel that it's been around for 125 years and holds something like 800 guest rooms, so I guess it's likely that a majority of tourists to Banff stay here.
The hotel is quite impressive though, it looks like a castle.
Fairmont Banff Springs is so expansive, I had to drive a small distance to get this shot of the hotel!
The only thing more majestic than the hotel: the dreamlike landscape surrounding it!
This photo was taken from our hotel room at sunrise.
Banff is really one of the most beautiful spots I've ever visited, so more photos to come…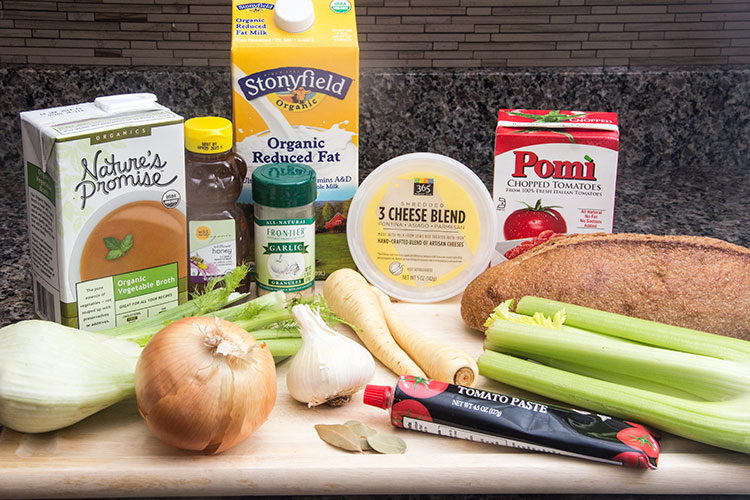 But back to the soup…
Here are all the ingredients you'll need.
Begin by mincing up a couple of garlic cloves…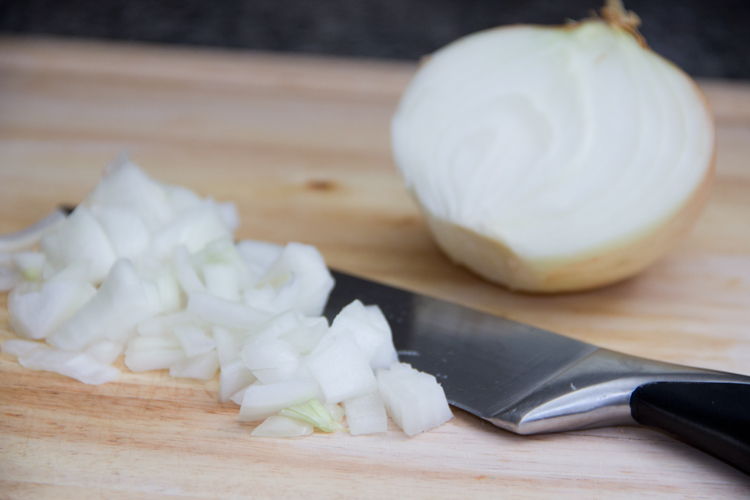 …And chopping an onion.
No need to take the time to carefully, precisely dice the onion (or any of the veggies), though.
A quick, rough chop is all that's needed, because everything will be puréed later.
Grab a few ribs of celery, remove the ends,
and roughly chop up the celery.
Then grab a few small parsnips and chop those up as well.
If you haven't worked with parsnips before, they look like white carrots.
They taste similar to a carrot too, although they're a bit sweeter.
You prepare them like carrots as well, by peeling them, removing both ends, and chopping them up.
I have small parsnips here, so I don't even bother to peel them, it's not necessary. Just thoroughly rinse them first.
Substitute: If you don't have parsnips, carrots work just fine (they'll tint the soup more of an orange shade).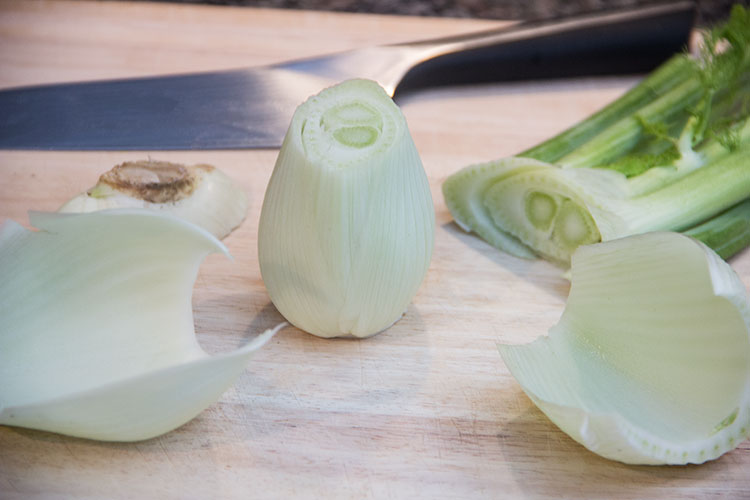 Next, grab a small bulb of fennel.
Here's what it looks like if you've never worked with fennel before.
To prepare it, just chop off the root end as well as the stems. (Save the soft fronds to use as a garnish for the soup or for another recipe.)
Then chop the bulb in half, peel off the outermost layer of the fennel bulb and discard that.
Remove the tough core that you'll see at the bottom, then roughly chop up one half of the fennel bulb.
The fennel adds a crisp, sweet hint of flavor to the soup, which is a nice balance to the acidic tomatoes.
Fennel is also full of nutrients – – it's very high in Vitamin C (needed to produce and repair skin collagen), potassium (proven to help lower cholesterol), and fiber (which slows digestion and quells hunger).
Next, heat up a bit of olive oil in a large stockpot over medium-high heat.
Cook the garlic and onion for just a couple of minutes, until they begin to soften.
Then add the celery, parsnips, and fennel.
Also add a bay leaf and season with salt and pepper.
Cook until the veggies are softened.
Next, add a bit of tomato paste.
And some honey, which you won't actually taste in the soup.
It just helps balance out all the acidity in the tomatoes.
Pour some vegetable broth and some chopped tomatoes into the pot and bring that to a simmer.
Taste the soup and season as needed with salt and pepper.
Then turn off the heat and stir in a bit of low-fat milk.
Next, purée the soup.
I love using an immersion hand blender for this (so easy to wash and saves so many dishes!), but a food processor or blender work just as well.
While the soup is cooking away, prepare the Three-Cheese Breadsticks.
Grab a few slices of whole wheat bread.
Very thin slices of bread work best for this recipe, because they'll toast nicely in the oven.
Thick slices of bread won't crisp up as well.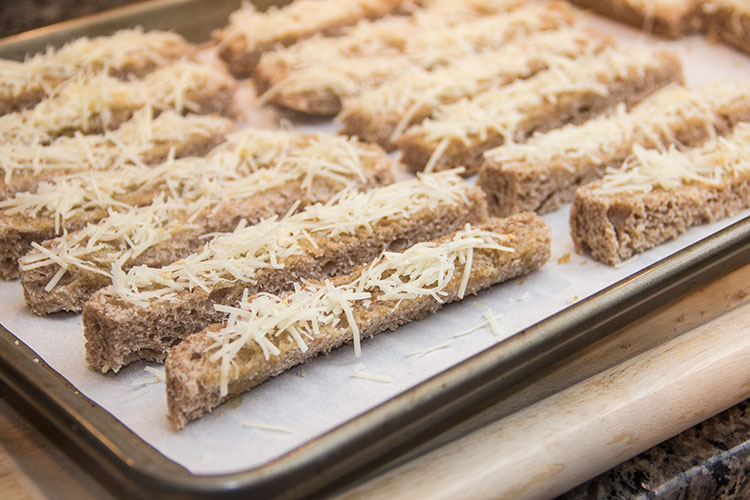 Cut the bread into strips and arrange the breadsticks on a parchment-lined baking sheet so no two are overlapping.
Grab a bit of olive oil and brush the oil over the top of each breadstick.
Toss a bit of garlic powder over each breadstick.
Then add some grated cheese.
I use a shredded 3-cheese blend for this recipe, which includes parmesan, asiago, and fontina cheeses.
It's very flavorful and a delicious complement to the tomato soup.
Place the breadsticks under the broiler and cook until the cheese becomes crisp and golden.
Then serve yourself a nice big bowl!
Because of the tasty variety of veggies, this tomato soup has lots of flavor and a rich, thick consistency (not to mention tons of nutrition).
And the crisp, cheesy breadsticks are the ideal complement, perfect for dipping.
A healthy twist on a comfort food classic!
Here is the complete, printable recipe:

Skinny Creamy Tomato Soup with Three-Cheese Breadsticks
Author:
The Scrumptious Pumpkin
Nutrition Information
Serving size:

4

Calories:

329
Fat:

17.4g

Saturated fat:

5.5g

Carbohydrates:

31g

Sugar:

13.1g

Sodium:

705mg

Fiber:

5g

Protein:

16.6g

Cholesterol:

19mg
Recipe type:
Healthy Soups, Salads, and Sandwiches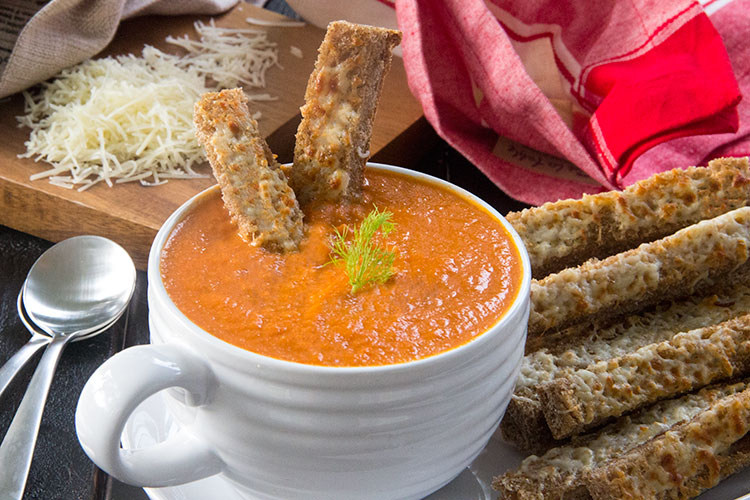 Total Time: 50 minutes
Prep: 30 minutes
Cook: 20 minutes
Yield: 4 servings
Ingredients
For the Creamy Tomato Soup:
1½ tablespoons olive oil
2 cloves garlic, roughly chopped
1 medium onion, roughly chopped
3 ribs celery, roughly chopped
3 small parsnips, roughly chopped
½ small bulb fennel, roughly chopped
1 bay leaf
2 tablespoons tomato paste
1 tablespoon honey
3 cups vegetable broth
1 26-ounce container chopped tomatoes
1 cup 1 percent milk
Salt and freshly ground black pepper
For the Three-Cheese Breadsticks:
4 quarter-inch thick slices whole wheat bread, cut into strips
1½ tablespoons olive oil
1½ teaspoons garlic powder
3 tablespoons parmesan, grated
3 tablespoons provolone (or fontina), grated
3 tablespoons asiago, grated
Instructions
Heat 1½ tablespoons olive oil in a large stockpot over medium-high heat. Sauté the garlic and onion until softened, about 2 minutes. Add the celery, parsnips, and fennel. Season with salt and pepper, and add the bay leaf. Cook until veggies are softened, about 6-8 minutes. Stir in the tomato paste and honey, then add the vegetable broth and chopped tomatoes. Bring the liquid to a boil, then simmer for about 5 minutes. Season to taste with salt and pepper.
Turn off the heat and stir in the milk. Using an immersion hand blender, purée the soup (or transfer soup to a food processor or blender to purée).
Meanwhile, prepare the breadsticks. Arrange the strips of bread on a parchment-lined baking sheet so that no two are overlapping. Using a basting brush, brush olive oil over the top of each breadstick. Add some garlic powder and grated cheese to the top of each breadstick. Cook the breadsticks under the broiler until cheese becomes crisp and golden, about 4-6 minutes. Serve.