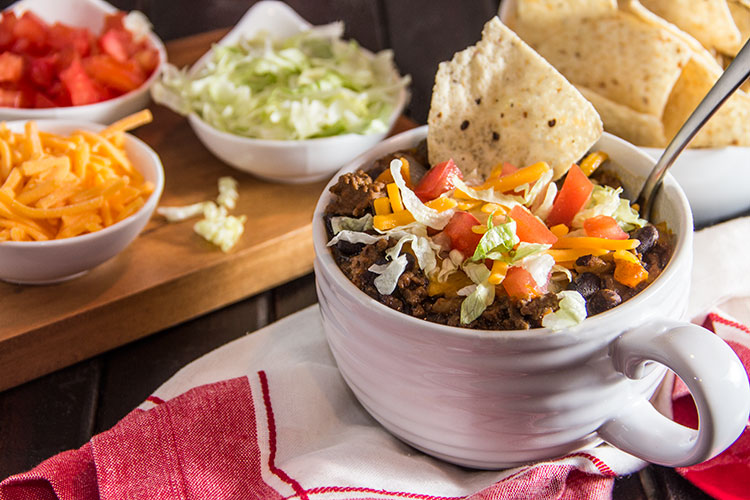 Last weekend, Meat-and-Potatoes-Guy and I returned to a Tex-Mex restaurant we hadn't been to in ages.
I thought I remembered that the restaurant was a very popular spot.
My memory served me correctly.
We could hardly squeeze our way to the hostess stand, the place was so packed.
We added our name to the list…
then waited and waited…
through several rounds of saying, "Five minutes more and then we'll give up and just go somewhere else…"
…And then onto "we said we wouldn't wait this long, but wouldn't it be a shame to go somewhere else when our name was the very next one on the list?"
But finally.
Our name was called, then we received our food, and then we agreed: in this case, the wait was so worth it!
It inspired me to try out more Mexican cooking at home – – the restaurant was jam-packed for a reason: the spicy, rich flavors are unbeatable.
So this recipe is my twist on a Mexican favorite in America, the classic beef taco.
It's a modern, healthy and whole taco chili!
This dish takes about 30 minutes to make, and it tastes just like a yummy Mexican taco.
But this chili version is a cold-weather bowl of comfort food that also happens to pack in lots of nutrition at the same time (lots of calcium, vitamin A, Vitamin C, iron, protein, fiber, and potassium).
Here are the key ingredients you'll need for this chili.
I buy shredded lettuce and shredded cheddar cheese, just to save some time with the chopping and grating.
And here are the spices you'll need to flavor the dish.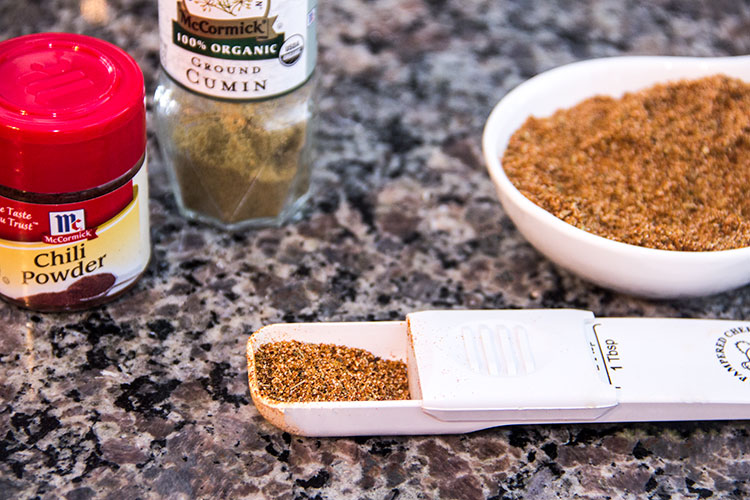 Begin by mixing up the Homemade Taco Seasoning: toss some cumin, oregano, garlic powder, paprika, and chili powder into a bowl.
Then stir it all up until the spices are well combined.
Quick Side Note: this blend gives the chili a taco flavor, so it's not spicy. If you want to add some heat to the dish, you'll need to add jalapeños or chipotles in adobo later on.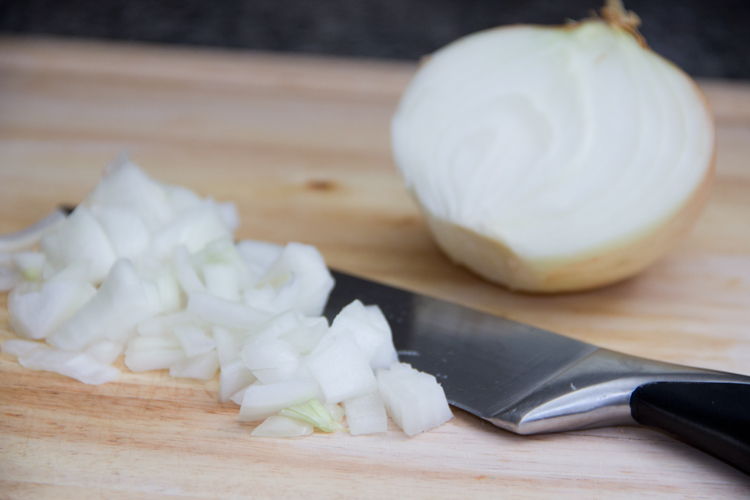 Next, chop the root end off of an onion and slice it in half lengthwise.
Then place each half flat-side-down on the cutting board and chop it up.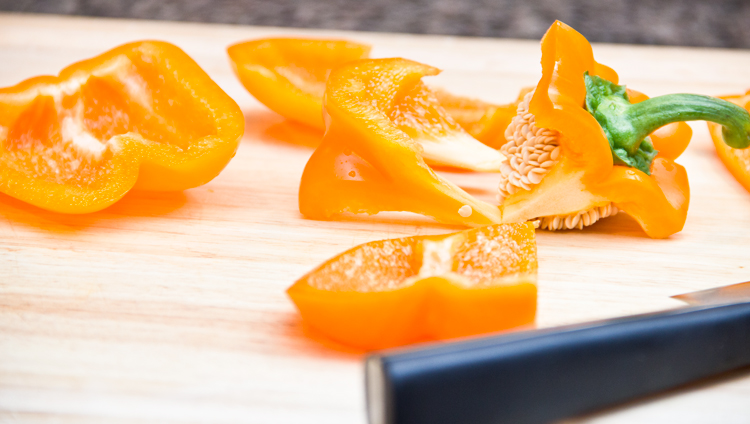 Hold a bell pepper upright on the cutting board and slice down along each side of the stem, quartering the pepper (this makes it easy to discard the stem and seeds all at once)…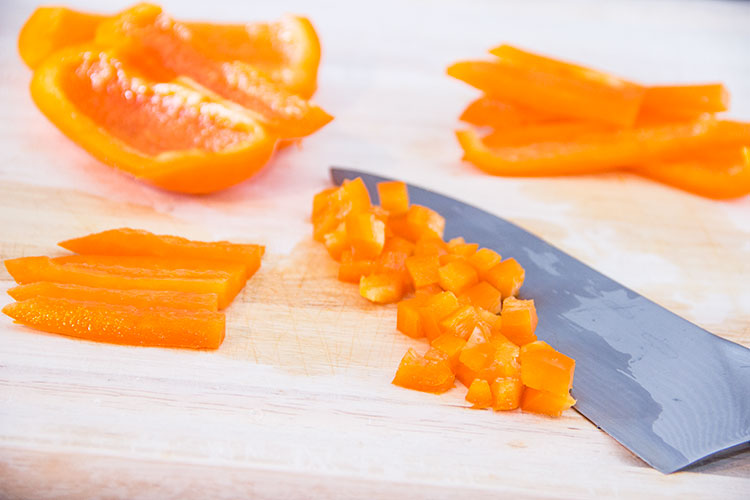 …and dice up each quarter.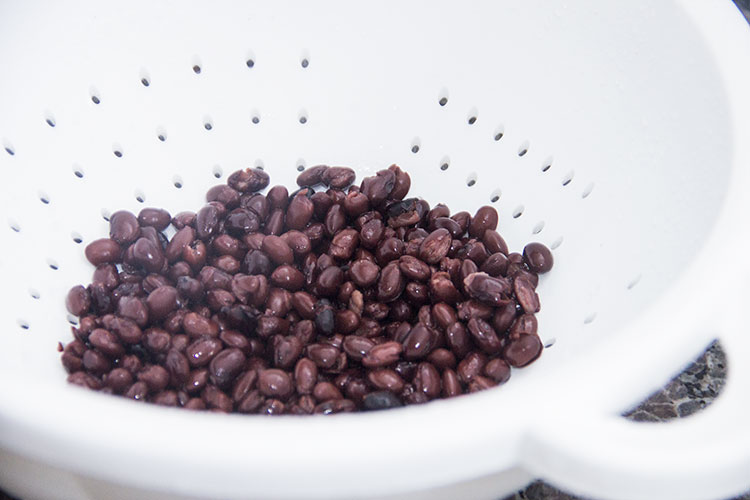 Open up a couple of cans of black beans, toss them into a colander, and rinse them thoroughly.
Then grab a large stock pot, turn up the heat to medium-high, and add some ground beef.
Here's my goal these days:
I always try to buy 100% grass-fed beef (or "100% pasture-raised beef" is another term that means the same thing).
Why?
Because if the meat is not labeled "100% grass-fed," it means the cows are being fed corn instead of the diet they were designed by Mother Nature to eat, which is grass.
While grass-fed cattle are able to graze outdoors, corn-fed cattle are generally crowded indoors and receive a feed that has been genetically modified and treated with antibiotics and pesticides.
It's a miserable existence and tragic treatment for the animals, but it's not good for the people eating the meat either.
You've probably heard in the news about how people today really need more omega-3s in their diet – you might even be taking supplements!
Grass-fed beef is naturally higher in omega-3s (as compared to the corn-fed kind).
With grass-fed beef, you're also skipping pesticide- and herbicide-filled GMO's (genetically engineered corn) ingested by the corn-fed cattle.
When we treat our cattle humanely, it's not just the animals that benefit.
We're rewarded too, with more nutritious, less chemically laden meat!
Grass-fed beef is generally more expensive though, but I stretch out the serving size in the recipe (so that half a pound of meat feeds four) by adding black beans and other veggies to the mix.
(Bonus: these additions pile on so many extra nutrients and add flavor too!)
Break up the meat using a wooden spoon, and add the diced onion and bell pepper.
Season with salt and pepper.
Cook and stir for several minutes, or until the meat is browned and the veggies are softened.
Quick Side Note: If you'd like to add some spiciness to the chili, this is the time to add a chipotle in adobo or a jalapeño to the pan.
Reduce the heat to medium.
Add the black beans and Homemade Taco Seasoning, and stir it all up.
Add some organic beef broth and allow the chili to simmer over medium heat, until you notice the liquid reducing down.
Season with a bit of salt and pepper.
While the chili simmers away, dice up a couple of tomatoes.
Then scoop the chili into bowls.
Top with some shredded cheddar cheese, which should meeelt right into the warm chili…
…then add some fresh, crisp shredded lettuce and diced tomato and top it all off with a few crushed organic tortilla chips.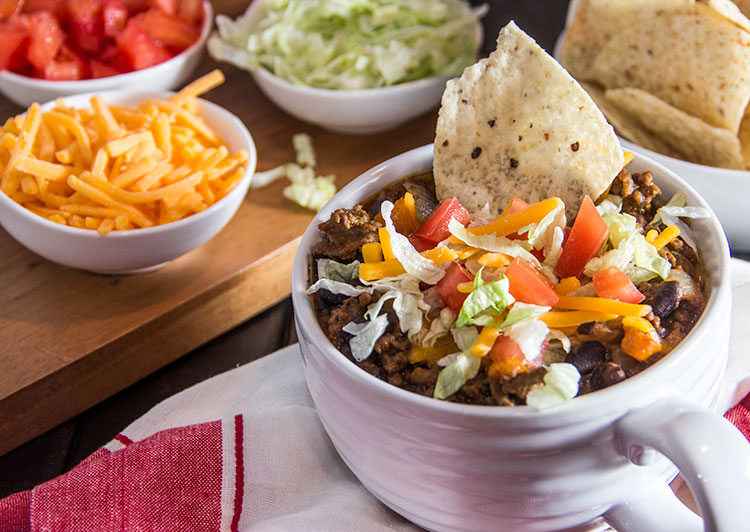 This dish tastes just like a beef taco, but it's the healthy, whole comfort-food-for-a-wintry-day version.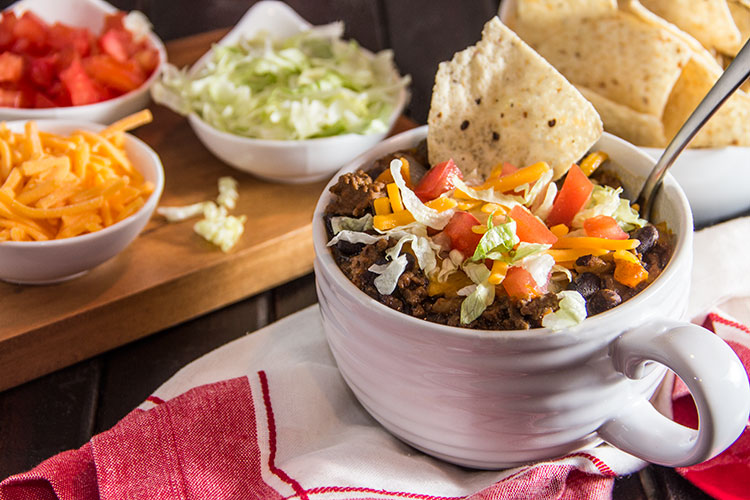 I should mention that there is One Rule that goes along with this chili:
You must never, ever skimp on (or skip altogether!) any of the toppings.
Because every topping, each so humble on its own, is necessary for that overall irresistible Taco Flavor we're going for in this recipe:
Melty cheddar for gooey cheesiness…
Lettuce and tomato for a bit of freshness…
And, of course, tortilla chips for that oh-so-important crunch!
Agreed?
Here is the complete, printable recipe:

Skinny Taco Chili
Author:
The Scrumptious Pumpkin
Nutrition Information
Serving size:

8

Calories:

382
Fat:

8.9g

Saturated fat:

3.6g

Trans fat:

0g

Carbohydrates:

37g

Sugar:

5g

Sodium:

724mg

Fiber:

10.1g

Protein:

37.5g

Cholesterol:

59mg
Recipe type:
Healthy Beef Recipe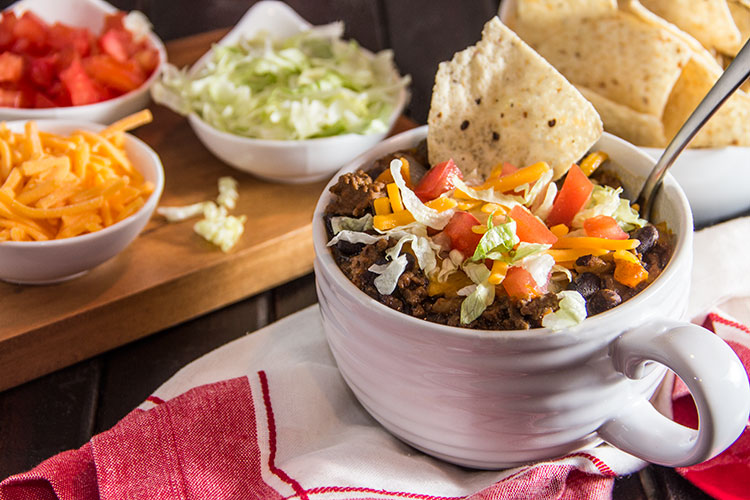 Total Time: 30 minutes
Prep: 10 minutes
Cook: 20 minutes
Yield: 8 servings
Ingredients
For the Homemade Taco Seasoning:
2 tablespoons cumin
1½ tablespoons dried oregano
1½ tablespoons garlic powder
1 tablespoon paprika
2½ teaspoons chili powder
For the Skinny Taco Chili:
1 pound 100% grass-fed (or pasture raised) ground beef
1 onion, diced
1 yellow or orange bell pepper, diced
2 16-ounce cans black beans, drained and rinsed
Homemade Taco Seasoning (see recipe above)
1½ cups organic beef broth
2⅔ cups shredded sharp cheddar
2 tomatoes, diced
8 ounces shredded lettuce
6 ounces organic tortilla chips
Salt and freshly ground black pepper
Instructions
For the Homemade Taco Seasoning:
Add the cumin, oregano, garlic powder, paprika, and chili powder to a bowl and stir until well combined.
For the Skinny Taco Chili:
Heat a large stock pot over medium-high heat and add the ground beef.
Break up the meat using a wooden spoon, and add the diced onion and bell pepper. Season with salt and pepper. Cook for about 7 minutes, or until the meat is browned and the veggies are softened.
Reduce the heat to medium. Add the black beans and Homemade Taco Seasoning, and stir to combine. Add the beef broth and allow the chili to simmer, about 12 minutes. Season to taste with salt and pepper. Transfer chili to large serving bowls and layer on first shredded cheddar, then diced tomato and shredded lettuce, and finally crushed tortilla chips.
* Note: 93% lean ground beef was used for the Nutrition Information