I tried and tried, many times, to make a healthy, whole oven "fried" chicken.
And I always came up short in the past, mainly because the chicken tasted too bland and dry after baking.
Until, I think, I finally got it right in this recipe.
Along with adding some yummy herbs and spices to the breading (like ground sage and paprika), I finally discovered The Really Major Key to making oven baked chicken taste delicious…
…which is adding a layer of Honey-Dijon under the breading.
It keeps the chicken really tender but also adds a lot of tangy-sweet flavor.
This chicken is also really easy to throw together, and you're free to whip up some sides (mashed potatoes and sweet corn, anyone?) while it bakes away in the oven.
(For the complete, printable recipe, scroll down to the bottom of the page.)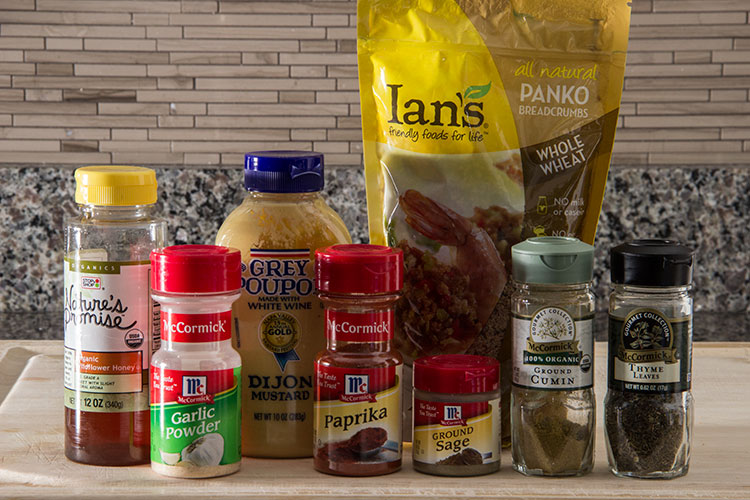 Here are the ingredients you'll need to make your oven "fried" chicken.
Begin by preheating the oven to 450 degrees F.
Then grab a nice big casserole dish and add some whole wheat bread crumbs, garlic powder, dried thyme, ground sage, cumin, and paprika.
And stir it all up.
Here's a label I've been looking for these days when I buy packaged items like the bread crumbs in this recipe: the Non GMO Project label.
I've been aware of GMOs for a while (they were introduced to our food supply in the U.S. in the mid-90's), but I've only recently really started to look into the research on genetically engineered foods, also called "genetically modified organisms" (or GMO's).
What exactly are these "genetically modified organisms" that we're eating every day?
It sounds complicated (it is very complicated) but, it's actually really simple to sum up and understand the basic concepts:
1) Big chemical corporations either insert a pesticide protein into the crop seed (corn, for example) so that the pesticide is now a part of the genetic makeup of the corn we eat (or the "corn syrup," "cornstarch," "maltodextrin," etc., etc. in our packaged foods)
2) or they alter the crops to withstand high levels of herbicides that would – without the genetic engineering – kill the crop (which has, obviously, led to a huge increase in the use of herbicides in our country over the past several years).
All those pesticides and herbicides were enough to make me very wary, but then I learned this: in recent years, the amount of GMOs in our food supply has exploded – GMOs are now in about 75 percent of the foods we eat in the U.S.
How can that be?
Because the three main crops that are genetically modified in our country (corn, soy, and sugar beet) are used in almost every kind of packaged product we buy and every fast food meal we eat (cereals, cooking oils, cookies, crackers, breads, frozen meals, you name it!)
Of course, genetically modified crops aren't supportive to the natural environment long-term, so how is it possible they're safe for people to eat?
No one knows if they are safe because independent science can't even prove what the true long-term health effects may be.
Here's the deal there:
Because our government allows the chemical corporations who manufacture these genetically modified seeds to patent and "own" the seeds, the chem corps haven't allowed any truly independent, peer-reviewed scientific studies to happen (these corporations fund their own GMO studies "proving," of course, the "safety" of their own products, and they could and would sue any scientists who tried to do truly independent research).
Which introduces my biggest question: what may these chemical corporations potentially know and what info may they potentially be hiding, that they so staunchly block independent research?
If you feel concerned, there's good news – – which brings me back around to the Non GMO Project label.
This is a non-profit third-party organization that verifies and labels packaged foods that don't contain GMOs. It's really gaining in popularity and I've noticed the label popping up on more and more foods.
So if you're concerned about eating GMOs or if you want to show your support for companies committed to not using GMOs, look for this label (the 'USDA Organic' label on foods also means that the food is non-GMO).
Next up: grab a small bowl, add some Dijon mustard and some honey, and stir it up.
Then grab a couple of large bone-in chicken breast halves.
(Or substitute four small skinless, boneless chicken breasts)
Remove the skin and any visible fat (or your butcher can do this for you when you buy the chicken).
And spread the honey mustard mixture all over the top of each piece of chicken.
Then toss the chicken into the casserole dish, and coat each piece with the bread crumb mixture.
Season the chicken with salt and pepper.
Put the cover on the casserole dish (or wrap some foil over the top of the dish) and let the oven do the work from there!
After about 25 minutes, take the chicken out of the oven and remove the lid or foil.
Drizzle some olive oil over the top of each piece of chicken, then place the dish back in the oven to cook a bit longer, uncovered this time around.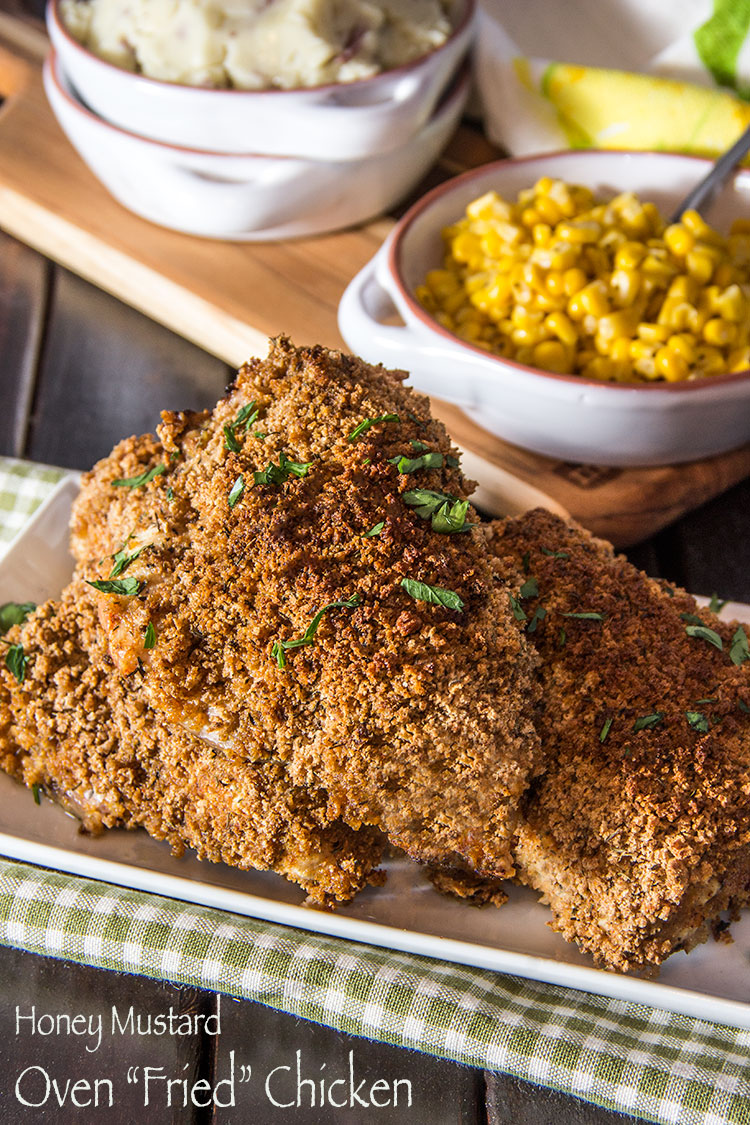 The oil will help the breading turn a toasty, very irresistible-looking, golden-brown.
Serve it up with a couple of tasty sides, and enjoy a scrumptious oven "fried" chicken dinner!
I think you'll agree – the Honey-Dijon layer under the breading is the secret weapon for tender, richly flavored baked chicken!
Here is the complete, printable recipe:

Honey Dijon Oven "Fried" Chicken
Author:
The Scrumptious Pumpkin
Nutrition Information
Serving size:

4

Calories:

192
Fat:

3.3g

Carbohydrates:

9.6g

Sugar:

4.1g

Sodium:

293mg

Fiber:

.8g

Protein:

28.4g

Cholesterol:

74mg
Recipe type:
Healthy Chicken Dish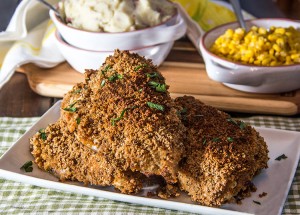 Total Time: 50 minutes
Prep: 10 minutes
Cook: 40 minutes
Yield: 4 servings
Ingredients
2 large organic bone-in chicken breast halves, skin and fat removed
2 tablespoons Dijon mustard
2½ teaspoons organic honey
½ cup whole wheat Panko bread crumbs (or regular bread crumbs)
1 teaspoon garlic powder
1 teaspoon dried thyme
1 teaspoon ground sage
1 teaspoon cumin
½ teaspoon paprika
1 tablespoon olive oil
Salt and freshly ground black pepper
Instructions
Preheat oven to 450 degrees F.
In a large casserole dish, add the bread crumbs, garlic powder, thyme, sage, cumin, and paprika. Stir until well combined.
Add the Dijon and honey to a small bowl and stir until well combined.
Using a table knife or small spatula, spread the honey mustard mixture all over the top of each piece of chicken.
Place the chicken in the casserole dish, coating each piece with the breadcrumb mixture. Season the chicken with salt and pepper.
Cover the casserole dish with foil and bake for about 25 minutes.
Remove from the oven and discard the foil. Drizzle some olive oil over the top of each piece of chicken, then place back in the oven, uncovered.
Cook about 15 minutes more, or until the chicken is cooked through and the breading is toasted and golden. Serve.