I'm not sure if Chicken Broccoli Stir Fry has ever actually existed in authentic Chinese cuisine.
One thing I do know for sure: of all the American Chinese take-out I've tasted, in all of the American Chinese restaurants I've visited, Chicken Broccoli Stir Fry is always on the menu.
It's an American favorite, a sure thing, a guaranteed delicious selection.
So it was only a matter of time before I had to come up with a homemade, healthy, whole Chicken Broccoli Stir Fry.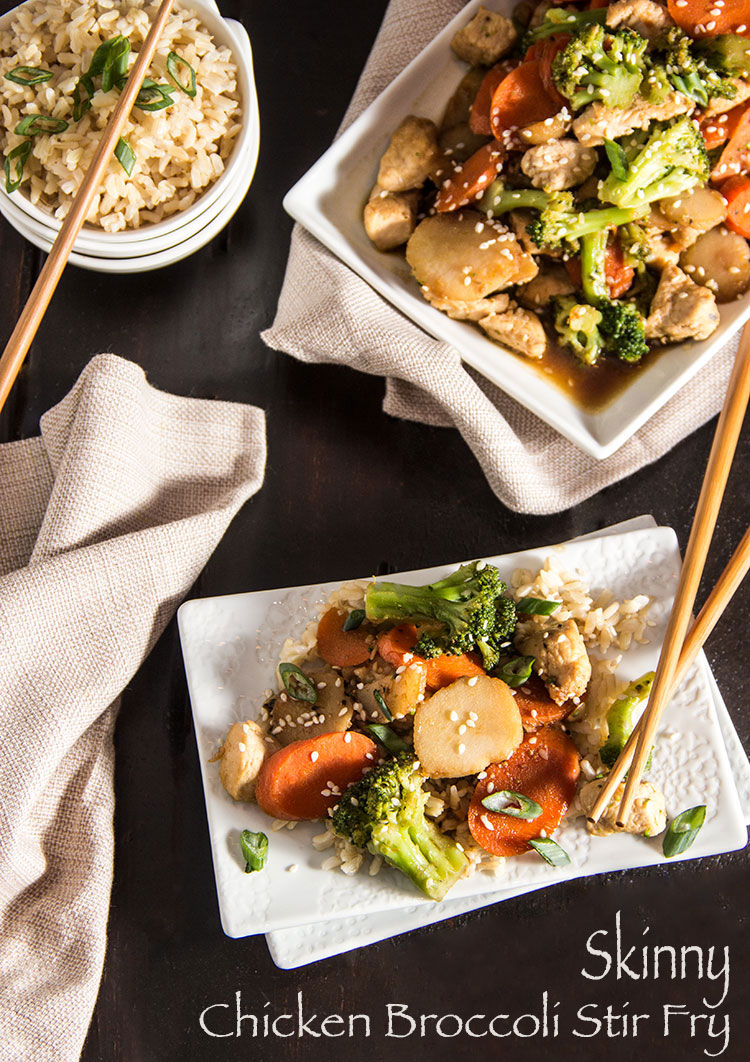 One great thing about this dish is that, since I'm making it at home, I select all of the ingredients so I know it's healthy.
The second great thing for someone such as myself (who likes to keep things as simple as possible in the kitchen): it's also a complete meal that you can throw together in under 30 minutes.
The sauce in this recipe is quite liquidy, which I like, so I leave it alone.
But if you prefer that classic, rich Chinese American take-out sauce, you can add one more step and stir in a bit of organic corn starch to thicken it up.
Serve the stir fry over brown rice (all the better to soak up lots of the yummy sauce!)
You can even chop up some fresh scallions (green onions) to sprinkle over the top if you'd like.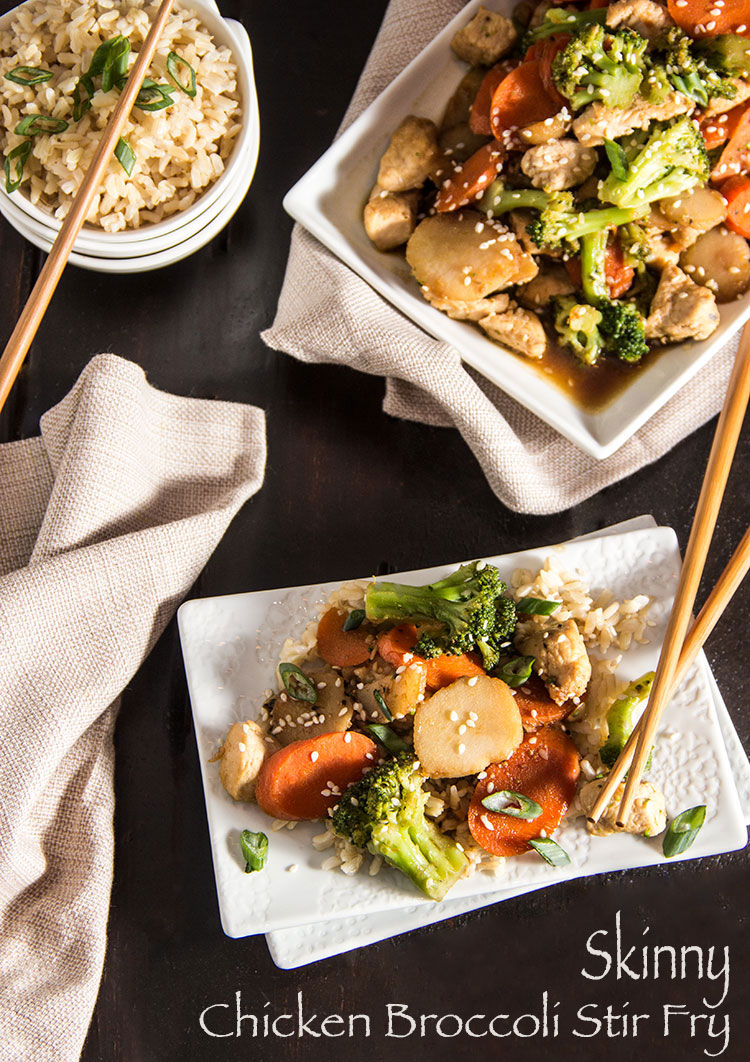 This dish is as addictive as the takeout kind, with all those craveable stir-fry flavors – richness from the sesame, saltiness from the soy, a hint of sweetness from the honey, crispness from the water chestnuts, and a bit of spice from the ginger.
It's also a sneaky way to completely enjoy eating a variety of healthy veggies like carrots, broccoli, and garlic.
The best part: this healthy, whole recipe takes just about the same amount of time as calling in a take-out order and driving out to pick it up!
Here's the recipe for Skinny Chicken Broccoli Stir Fry:
Skinny Chicken Broccoli Stir Fry
Author:
The Scrumptious Pumpkin
Nutrition Information
Serving size:

4

Calories:

377
Fat:

13.4g

Saturated fat:

2.4g

Carbohydrates:

40.2g

Sugar:

13.4g

Sodium:

758mg

Fiber:

4g

Protein:

16.6g

Cholesterol:

33mg
Recipe type:
Healthy Chicken Dish
Total Time: 25 minutes
Prep: 10 minutes
Cook: 15 minutes
Yield: 4 servings
Difficulty: Easy
Ingredients
3 tablespoons sesame oil
2 organic grass-fed (or pastured) skinless, boneless chicken breasts, cubed
2 cloves garlic, minced
3 small carrots, thinly sliced
15 ounces frozen chopped broccoli florets, thawed
8 ounces sliced water chestnuts, drained and thoroughly rinsed
½ cup dry white wine
2 tablespoons organic honey
2 teaspoons sesame seeds
2 teaspoons ground ginger
3 tablespoons USDA certified organic soy sauce
½ teaspoon organic corn starch (optional)
3 tablespoons scallions, chopped (optional)
Instructions
Heat ½ tablespoon sesame oil in a wok or large sauté pan over medium heat. Add the cubed chicken and cook until lightly browned and cooked through, about 5-7 minutes. Transfer chicken to a bowl, cover, and set aside.
Add 2½ tablespoons sesame oil to the pan, along with the garlic and carrots. Cook until carrots begin to soften, about 3-4 minutes. Add the thawed broccoli florets and drained water chestnuts, along with the white wine. Stir and cook until wine reduces by about half, about 3-4 minutes.
Add honey, sesame seeds, ground ginger, and soy sauce. Add the cooked chicken back in, and stir until well combined. If desired, add corn starch to thicken sauce (optional). Serve stir-fry over brown rice or quinoa. Top with fresh, chopped scallions (optional).
*I estimate approximate nutrition information at
Verywell
.
You May Also Enjoy:
https://jenelizabethsjournals.com/2015/02/18/noodle-bowl/
https://jenelizabethsjournals.com/2017/05/03/sesame-ginger-salmon-avocado-bowls/
https://jenelizabethsjournals.com/2014/06/30/easy-homemade-teriyaki-chicken/
SaveSave
SaveSave
SaveSave
SaveSaveSaveSaveSaveSave