For your bucket list journey to Montreal in Quebec, Canada. The top 8 most essential, incredible things to do in Montreal for memories that last a lifetime.
It's mid-May, Friday, and the first really warm day of spring. Upbeat, live music echoes down cobblestone streets. All of the cafés that line the sidewalks have set up tables outside, filled with laughing patrons enjoying cool drinks under umbrellas. Shops have filled window boxes with vibrant spring flowers. I grab my husband's hand as we wander down the street. I feel like I've been transported to Paris – a friendlier, miniature version of Paris – but this is Montreal, Quebec. The lightheartedness is so heavy in the air here, it's impossible not to smile.
Here Are The Top 7 Things to Do in Montreal:
Top Things to Do in Montreal #1: Old Montreal
Old Montreal is the part of the city I loved the most. With cobblestone streets lined with gas lamps, some roads reserved for pedestrians only, you'll want to just stroll and wander. Photographers will love the beautifully restored historic buildings, some dating back to the 1600's. And there are plenty of shops and restaurants to discover. Directly across from Old Montreal, you'll find the Old Port (Vieux Port de Montreal) and the Saint Lawrence River beyond. It's full of green space, parks, and perfect for a relaxing picnic beside the water.
Top Things to Do in Montreal #2: Montreal Museum of Archaeology and History
While you're in Old Montreal, stop at the Montreal Museum of Archaeology (Pointe-a-Calliere). This museum is really worth seeing because it actually contains an archaeological dig site now on permanent display within the museum. There are also exhibits from every period of the city's growth, including the original Montreal constructed in 1642. There's also an 18-minute show with a sweeping 270-degree screen that provides an entertaining history of Montreal. The theatre is really unique -it overlooks the archaeological site.
Top Things to Do in Montreal #3: Notre Dame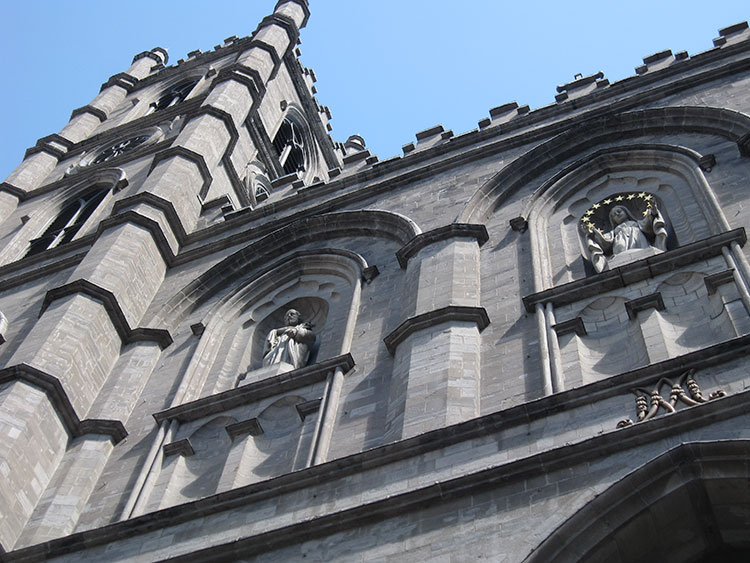 Another must-see in Old Montreal is Notre-Dame Basilica. The interior is really quite spectacular. Picture intricate wooden sculptures towering toward the cathedral ceilings, lit from behind in dramatic shades of gold and bright blue. Plus stained glass windows, a towering organ, and a gothic-style ceiling painted with stars.
Truly stunning!
Top Things to Do in Montreal #4: Jardin Nelson
I'll always remember lunch at Jardin Nelson in Old Montreal. The architecture is lovely, with preserved brick and stone walls and an open ceiling to allow plenty of sunlight and a view of the sky. Every empty space is filled with potted flowers and there's a stage with ongoing live music. I'm pretty sure the savory crepes I had for lunch were very tasty, but it's the experience that's so memorable here.
Top Things to Do in Montreal #5: Botanical Gardens
I said Old Montreal was my favorite part of the city, but the Montreal Botanical Garden may top it. With nearly 30 unique thematic gardens, this attraction is expansive and stunning. From a rose garden to a tropical rainforest greenhouse, there is so much in bloom from spring through fall. I especially loved the calm and serene Japanese tea garden and the graceful and elegant Chinese garden with Ming Dynasty buildings.
Top Things to Do in Montreal #6: Montreal Olympic Park
Across from the Botanical Gardens, the site of the 1976 Olympic Games, and the Montreal Tower in Olympic Park is really something to see. The tower truly seems to scrape the sky. (It's the tallest "inclined" tower in the world.) And its design, made to lean Pisa-style, is really unique. You can ride to the peak for a panoramic view of Montreal and beyond.
Top Things to Do in Montreal #7: Bonaparte
In a city as romantic as Montreal, Bonaparte (located in Old Montreal) is perfect for a special night out. The stonework, stained glass, and fireplaces make the interior dining rooms really graceful and romantic. And Chris and I both loved dinner, full of rich sauces, flavored oils, and plenty of fresh seafood. The menu features Montreal's classic French cuisine, with a focus on highlighting local ingredients.
Top Things to Do in Montreal #8: Montreal Museum of Fine Arts
The Montreal Art Museum is surprisingly enormous. If you wanted to see all of the collections, you could really wander the beautiful, sweeping halls for hours. The museum has an impressive collection of international art – from the middle ages to the renaissance, to Dali, Picasso, and Rodin. There's also a fascinating collection of Quebec and Canadian art.