For your bucket list journey to Vancouver. The top 9 most essential, incredible things to do in Vancouver for memories that last a lifetime.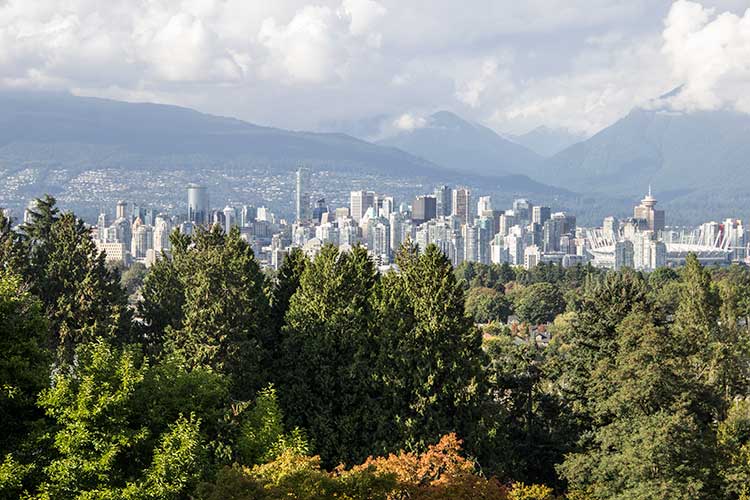 If you're anything like me, here's what happens when you arrive in Vancouver for the first time. You're:
Awed by the expansiveness of this (very clean) city.
Overwhelmed by the variety of amazing food (from pacific rim to fresh seafood to asian) available here.
Impressed by the sheer number of stunning parks and green spaces decorating the city (including right on the waterfront).
And you start daydreaming – – what would it take to transform this trip into a permanent living situation?
Here are the top 9 things to do in Vancouver:
Top Things to Do In Vancouver #1: Queen Elizabeth Park
There are so many gardens and parks in Vancouver, but this was the hands-down favorite for my husband Chris and I. This Vancouver park offers a dazzling array of brightly colored flowers.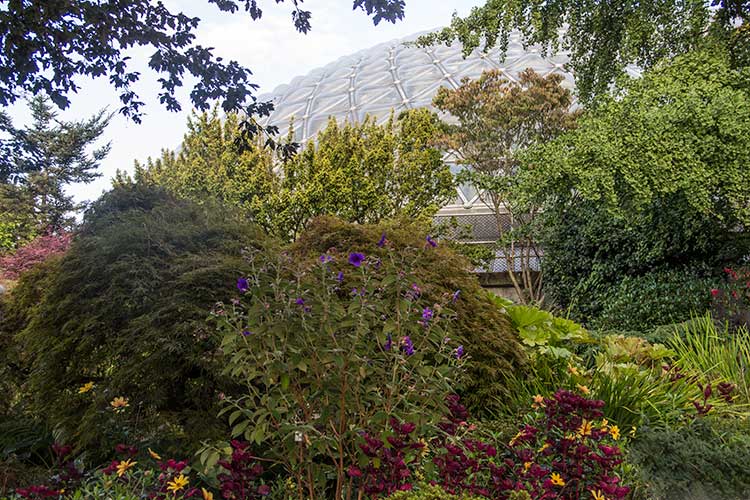 As well as a conservatory filled with tropical plants and birds. And, as the highest point in Vancouver, Queen Elizabeth is also the place to find a lookout with stunning views of the city and mountains beyond.
Top Things to Do In Vancouver #2: Rosewood Hotel Georgia
Chris and I agreed this was a very memorable hotel with an ideal location in downtown Vancouver. The Rosewood has an elegant, old-world atmosphere (the gorgeous building hails from the Roaring Twenties). Yet it's also crisp, clean, and newly renovated. We stayed in a basic room at the Rosewood (no view), and loved it. It had an inviting and luxurious feel, decorated in shades of modern gray. The marble bathroom was spacious, with a huge walk-in glass shower. This one was worth the splurge!
Top Things to Do In Vancouver #3: Bacchus Restaurant & Lounge
Another worthwhile splurge for a romantic night out, this restaurant is a part of the Wedgwood Hotel & Spa. Experience has taught me that restaurant hotels are normally generic with less-than-memorable food. But Bacchus is definitely the exception to that rule! What I fondly remember: a dimly lit dining room that's inviting yet luxurious feeling, with live piano for an elegant old-world feel. And the most richly flavorful mushroom risotto!
Top Things to Do In Vancouver #4: Teahouse in Stanley Park
This cute little spot is family friendly, reasonably priced, and the perfect breakfast or brunch spot before an outing to Stanley Park. With stunning views of the ocean beyond the park and floor-to-ceiling windows, this 'teahouse' offered a memorable experience that was even better than the thick, buttery waffles Chris and I enjoyed. Our waiter was really friendly and told us about the many breath-taking sunsets he had witnessed from right beyond the restaurant windows. So Chris and I made a plan…
Top Things to Do In Vancouver #5: Stanley Park
We returned to Stanley Park on a clear, late afternoon to see if we could catch this incredible sunset we'd heard so much about. Before I go on about that sunset, let me just say that to call Stanley Park 'expansive' is almost an understatement. There are forest trails, bike paths along the bay, sandy beaches, even an aquarium. Every city should have such an incredible park for city dwellers to escape from the noise and concrete. And, so smartly designed, Stanley Park is located right on the water to make the most of the gorgeous scenery of water, mountains, and city skyline!
Be sure to stay at Stanley Park until the sun goes down. Chris and I grabbed a seat on a park bench just outside of the Teahouse I mentioned above and watched the sky melt into vivid hues of orange and pink over a siren boat-filled bay.
Top Things to Do In Vancouver #6: Museum of Anthropology
Step into the sweeping atrium of this gorgeously designed museum, gaze up at towering totem poles, and you'll know why I included this destination in my top 9. This museum, dedicated to the artwork of the Northwest Coast First Nations people, is so unique and really a must-see. Filled with ceramics, weaponry, basketry, and sculpture, some of my favorite collections included the fascinating carved masks and vivid, intricately designed moccasins and beadwork.
Top Things to Do In Vancouver #7: Granville Island
Chris and I didn't originally have Granville Island on our itinerary. We were worried it might be a tourist trap. But a few locals highly recommended it, so we did spend an afternoon at Granville. And it was a highlight of our trip to Vancouver! Granville offers many beautiful, unique shops with work by local artisans. Chris and I did more shopping here than anywhere on our trip, finding a unique art print and a couple of beautiful ceramic vases. We had a tasty seafood lunch at a table overlooking False Creek and the city beyond. There's also a huge indoor public food market where you can pick up ice cream or sandwiches for a picnic lunch on the waterfront courtyard.
Top Things to Do In Vancouver #8: Grouse Mountain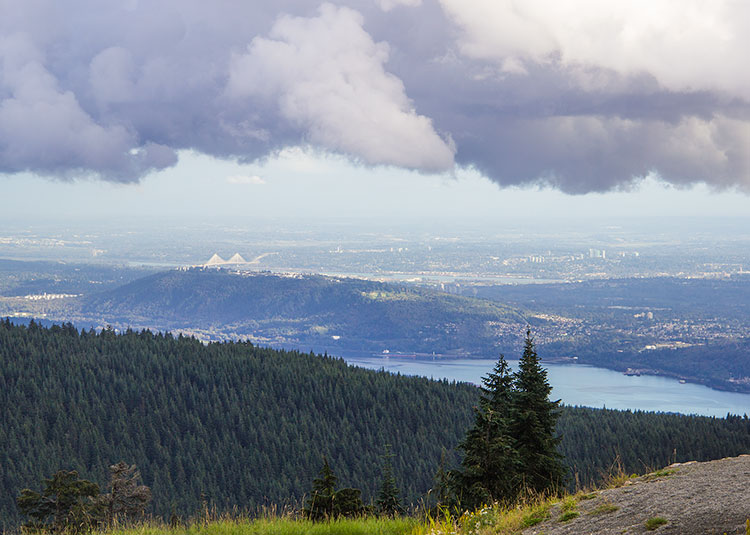 To reach the peak of Vancouver's Grouse Mountain, you'll take a glass-enclosed gondola "Sky-Ride" that's so packed with tourists, it feels more like a city subway. The only other option – for the really adventurous – is to hike to the top. It's all worth it for the expansive feeling of freedom and the crisp, cool air at the top of the mountain. The panoramic views of ocean, mountains, and city skyline are a photographer's dream.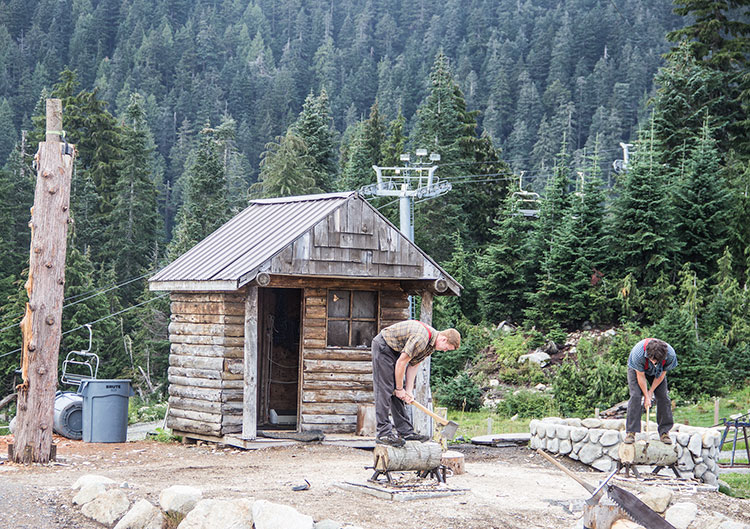 There are also hiking trails, zip lining, and a lumber jack show that's fun and worth the stop.
Top Things to Do In Vancouver #9: Blue Water Cafe
This modern, glamorous-feeling restaurant is very popular for a reason. Blue Water Cafe offers a variety of fresh, locally sourced seafood dishes. During dinner, I had to glance around the restaurant to see if the ultra fresh sushi seemed outrageously oversized to anyone else (I had no choice but to cut mine in half!) But every dish was beautifully presented and incredibly flavorful.