Easy to make in about 20 minutes, this richly flavorful vegetarian pasta dish features Greek-inspired ingredients like tomatoes, olives, pine nuts, and feta cheese.
Since becoming a new mom to baby Trevor, this pasta with tomatoes and feta has become like an old, trusted friend.
It's very reliable.
I cook it basically every week.
Here is why:
This easy pasta with tomatoes is ready in about 20 minutes.
To understand why 'easy' is the name of the game these days, let me briefly describe Trevor's Baby Bedtime Ritual:
1.) First, feeding.
Trevor prefers leisurely meals, so this is never accomplished quickly.
And half of the oatmeal always finds its way to baby's hands, then his clothes, then his high chair.
Then my shirt.
2.) Next, neighborhood walk.
This always starts with baby in the stroller and ends with Chris or me carrying him when he fusses.
Note: carrying 17.5 pounds on your walk is an excellent, heart-pounding, sweat-inducing workout.
Other note: what must the neighbors think of the sweaty Mom and Baby with oatmeal all over their clothes?
3.) Then bath.
(Usually requires high energy, with maximum laughter and splashing.)
4.) Last, into the crib for bed
(Usually plenty of fussing and a few tears.)
(I'm not yet ready to reveal whether the tears are Trevor's or mine.)
After it all, I have precisely 20 minutes worth of energy left (and not a minute more) to prepare dinner.
This dish is healthy comfort food.
Please review Baby's Bedtime Ritual above, and you'll know why I am desperate for something really delicious and really comforting at the end of the day. This pasta is guaranteed full of flavor and is as comforting as a big, warm hug.
The bonus is that this pasta dish – bulked up with plenty of fresh tomatoes and arugula – is full of nutrition and only about 325 calories for a big, generously-sized serving.
Here's how to make this Easy Greek Pasta with Tomatoes and Feta:
Begin with these key ingredients.
I like whole wheat spaghetti for this recipe, but any type of pasta will work.
Toast Some Pine Nuts
Toast while the pasta water is boiling to save time. Just cook them at a low temperature (350 degrees F) and watch them carefully because they burn so quickly!
Prepare the Cherry Tomatoes
It's important to chop the tomatoes in half because you'll want them to release their juices while cooking. It creates a rich, flavorful sauce.
Prepare the Sauce
Cook the tomatoes in olive oil along with some minced garlic. Let the tomatoes lightly simmer at medium heat until you see that they've 'burst' and combined with the olive oil to to create a thick sauce. This will take about 10 minutes or so.
Add the Remaining Ingredients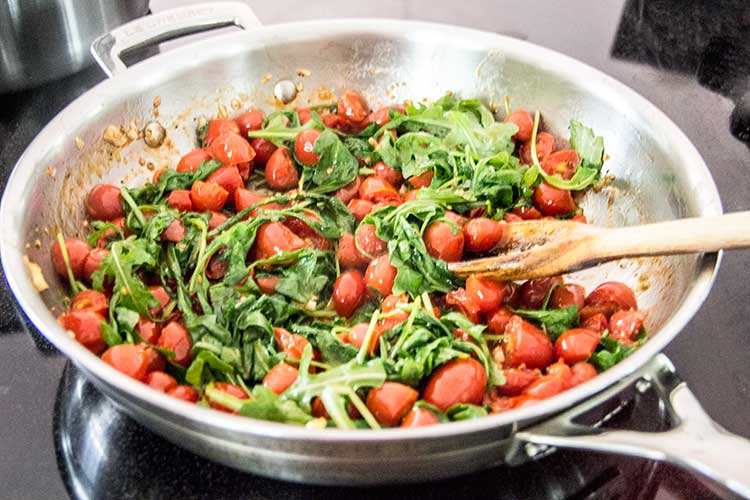 Stir in some baby arugula and cook until it's wilted. I prefer baby arugula in this recipe because it's small and delicate in flavor. So there's no need to chop it up. Just toss it right in.
Finally, stir in the cooked pasta and toasted pine nuts. Also add feta and some black olives (the olives are an optional ingredient). Then be sure to season with salt and pepper for maximum flavor.
This is my go-to recipe these days because it is always – no fail – guaranteed delicious and wonderfully comforting. A complete, homemade meal in 20 minutes. I need many more of these in my life!
Here's the complete recipe for Easy Greek Pasta with Tomatoes and Feta:
Easy Greek: Pasta with Tomatoes and Feta
Author:
The Scrumptious Pumpkin
Nutrition Information
Serving size:

4

Calories:

324
Fat:

23.4g

Saturated fat:

4.6g

Carbohydrates:

25.5g

Sugar:

6.4g

Sodium:

271mg

Fiber:

5.6g

Protein:

8.3g

Cholesterol:

13mg
Cuisine:
Vegetarian Pasta Dish
Total Time: 20 minutes
Prep: 5 minutes
Cook: 15 minutes

Yield: 4 servings

Level: Easy
Ingredients
8 ounces whole wheat spaghetti
¼ cup pine nuts
¼ cup olive oil
2 cloves garlic, minced
1 quart cherry tomatoes, sliced in half
2 ounces baby arugula
⅓ cup pitted kalamata olives, thoroughly rinsed and drained (optional)
2 ounces organic feta cheese, crumbled
Instructions
Preheat the oven to 350 degrees F. Arrange the pine nuts on a parchment-lined baking sheet and toast in the oven for about 5-7 minutes, or until the pine nuts are lightly golden – watch carefully, as they burn quickly. Set aside.
Meanwhile, boil a large pot of water. Salt the water and add the spaghetti. Cook until just al dente, about 7-9 minutes.
While the pasta cooks, heat olive oil over medium heat. Add the garlic and tomatoes and season well with salt and pepper. When tomatoes have softened and released their juices to create a sauce, after about 9-10 minutes, add the arugula. Stir and cook until wilted, about 2 minutes. Transfer the cooked and drained pasta to the pan. Add the toasted pine nuts, olives, and feta. Stir until well combined, and season to taste with salt and pepper. Serve.