The easiest 30-minute recipe for chocolate chip pumpkin muffins. Moist with delicious cinnamon-spice flavor, these mini muffins are healthy and only 114 calories each!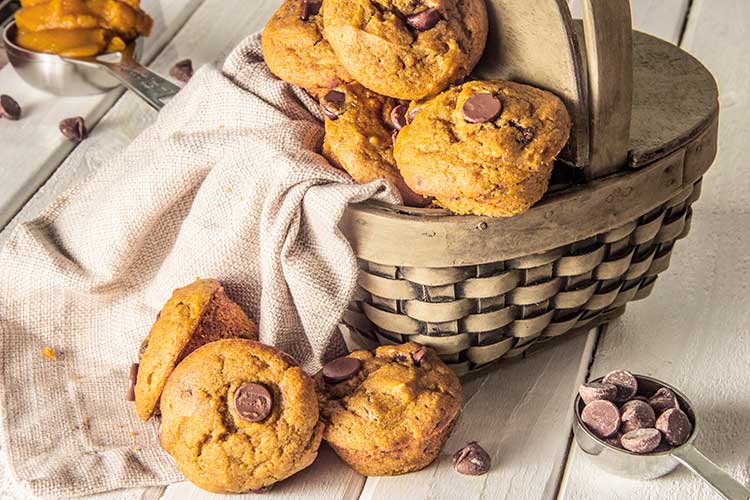 I've been loving these mini chocolate chip pumpkin muffins so much this fall. There is nothing like the moist texture and sweet, cinnamon-spice flavor of homemade pumpkin muffins. And the way it fills your home with that heaven-sent aroma of freshly baked pumpkin and gooey chocolate!
But so many pumpkin muffin recipes are time-consuming and a lot of work.
This mini pumpkin muffin recipe is my favorite solution. The recipe makes a delicious batch of 24 mini pumpkin muffins, warm and ready to eat in about half an hour.
There's one other bonus of pumpkin muffin minis.
They're a delicious indulgence of sweet pumpkin and chocolate, for only 114 calories each.
Plus, they're made with heart-healthy olive oil, high fiber whole wheat flour, and vitamin A-filled pumpkin. It's nice to enjoy such a rich fall treat and feel healthy at the same time!
Here's how to prepare the recipe:
Begin With These Wet Ingredients for Mini Chocolate Chip Muffins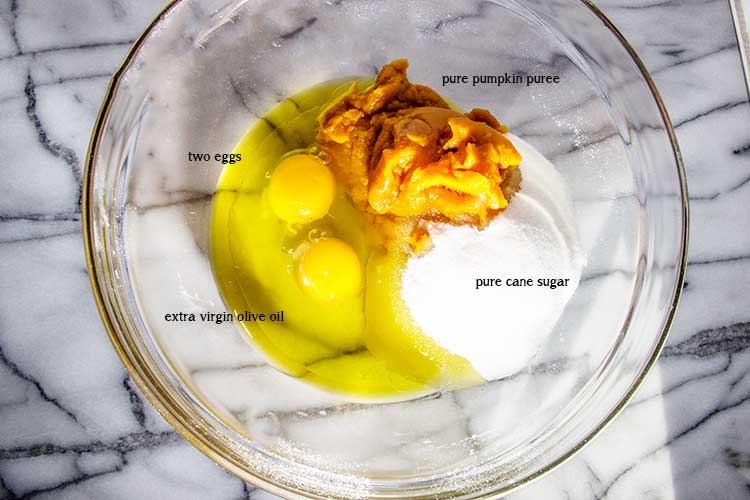 Grab a large bowl and add two organic, pastured eggs.
Also add extra virgin olive oil, pure pumpkin puree, and cane sugar.
Then whisk it all up until well combined.
Combine the Dry Ingredients in a Separate Bowl
Stir and combine some all-purpose flour, whole wheat flour, baking powder, and salt.
Also add some cinnamon, ground ginger, and allspice for plenty of fall flavor.
Then slowly add the dry ingredients to the large bowl containing the egg mixture.
When it's all well combined, toss in some chocolate chips.
Use dark chocolate, semi-sweet, or milk chocolate chips – whatever you love the most.
This pumpkin muffin recipe is not too sweet, so I love using milk chocolate chips.
Transfer the Batter to a Mini Muffin Pan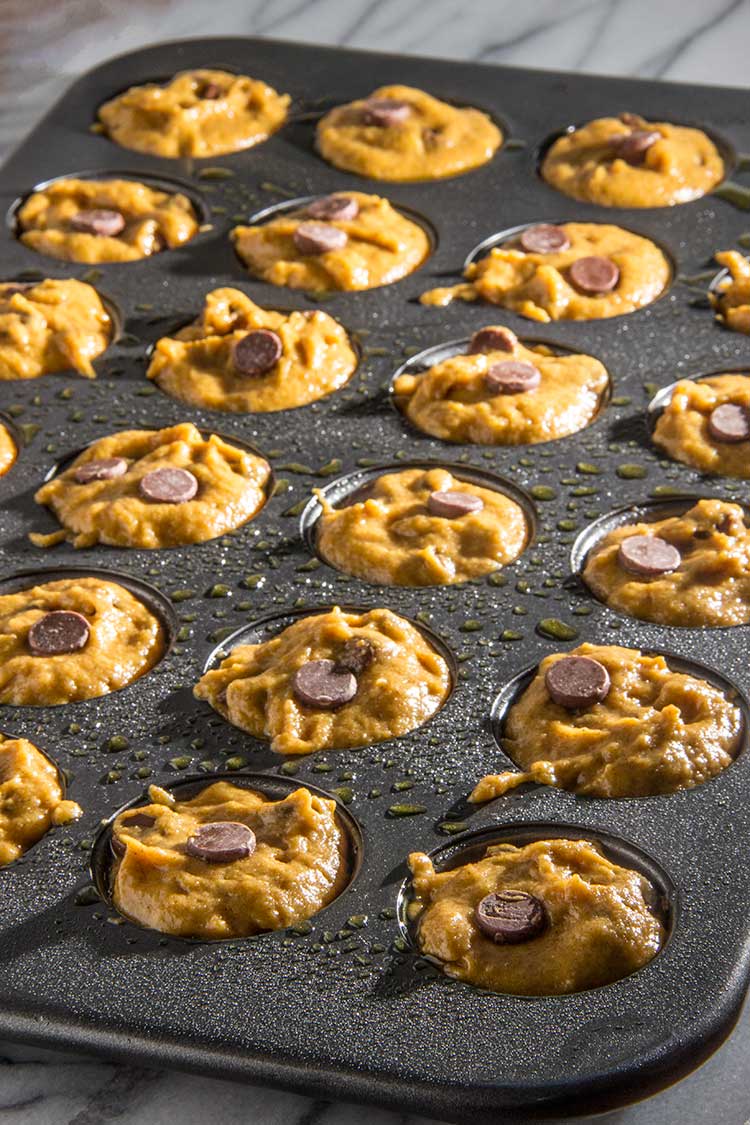 Grab a mini muffin pan and spray it with some organic olive oil cooking spray.
Then fill each muffin cup to the brim.
Since they're mini, these muffins will be warm and ready to eat in about 18 minutes or so…
This is one of my new favorite recipes for fall. Warm, richly flavored pumpkin muffins with gooey chocolate. A house filled with the inviting, homemade aroma of pumpkin, cinnamon, and spice. All for only half an hour of effort (no one will ever guess)!
Here is the complete recipe for Mini Chocolate Chip Pumpkin Muffins:
Mini Chocolate Chip Pumpkin Muffins
Author:
The Scrumptious Pumpkin
Nutrition Information
Serving size:

24

Calories:

114
Fat:

5.3g

Saturated fat:

2g

Carbohydrates:

15.6g

Sugar:

9.6g

Sodium:

62mg

Fiber:

.8g

Protein:

1.8g

Cholesterol:

15mg
Recipe type:
Healthy Snack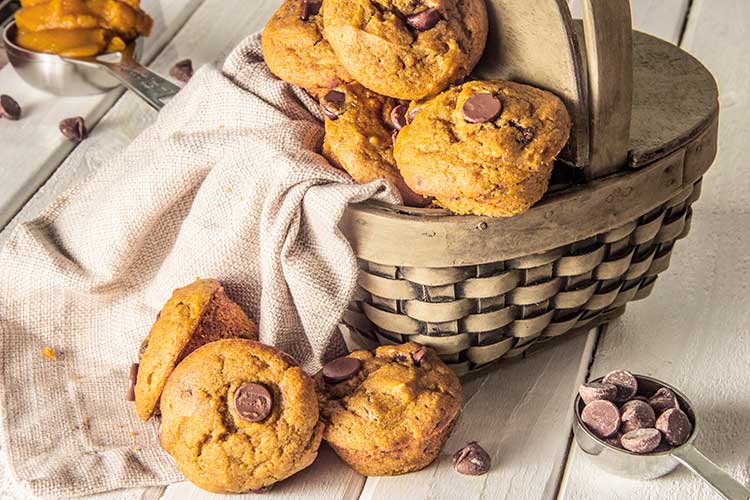 Total Time: 30 minutes
Prep: 12 minutes
Cook: 18 minutes

Yield: 24 mini muffins

Level: Easy
Ingredients
⅓ cup extra virgin olive oil
2 organic pastured eggs
1 cup pure pumpkin puree
⅔ cup pure granulated cane sugar
½ cup unbleached all-purpose flour
⅔ cup 100% whole wheat flour
2 teaspoon aluminum-free baking powder
2 teaspoons ground cinnamon
¾ teaspoon ground ginger
¼ teaspoon allspice
½ teaspoon salt
1 cup milk chocolate chips
organic olive oil cooking spray
Instructions
Preheat oven to 350 degrees F.
In a large bowl, whisk the wet ingredients until well combined: olive oil, eggs, pumpkin, and sugar.
In a separate bowl, stir and combine the dry ingredients: all-purpose flour, whole wheat flour, baking powder, cinnamon, ginger, allspice, and salt.
Slowly add the dry ingredients to the wet ingredients, stirring just until well combined. Stir in the chocolate chips.
Spray a mini muffin tin with cooking spray.
Fill each muffin cup with batter, filling to the brim.
Bake for about 18 minutes, or until a toothpick inserted into the center of each muffin comes out clean, without batter clinging to it.
*Nutrition information calculated at
Calorie Count
.