What happens when you mix creamy spinach and artichoke dip with classic macaroni and cheese? A healthy comfort food recipe that's unique and full of flavor!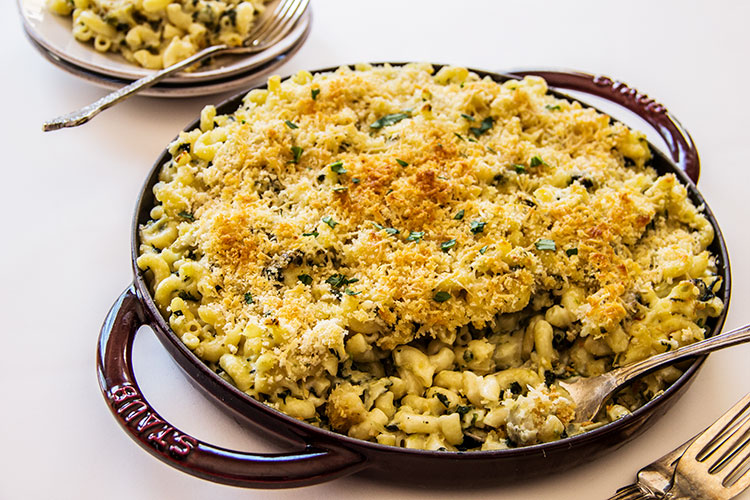 I'm a forever devoted fan of creamy spinach and artichoke dip.
I always order it when I see it on restaurant menus.
I posted one of my favorite spinach and artichoke dips a long time ago, and I still go back to this site and pull up the recipe to make it all the time.
Warm, rich, creamy, cheesy, flavorful.
What's not to love about that combo?
It's a classic for a reason.
So of course this had to happen in my kitchen eventually:
Spinach and Artichoke Mac and Cheese!

This one is healthy comfort food for sure, and it's so delicious.
For this version of macaroni and cheese, I use plenty of creamy mascarpone and lots of savory, salty white cheddar.
If you can't find mascarpone, full-fat ricotta is the best substitute.
But use mascarpone if you can find it!
It has a creamy, distinct, savory-but-yet-slightly-sweet flavor that is so tasty in this recipe!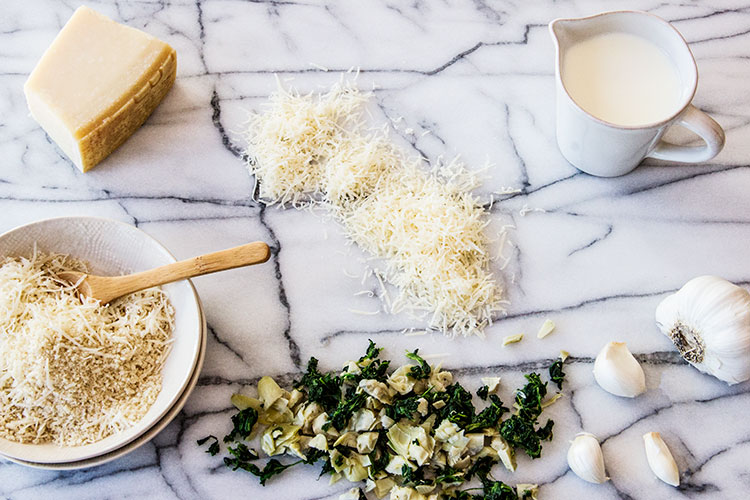 Plain old macaroni and cheese can be boring and bland.
But the fresh garlic, spinach, and artichokes in this recipe add lots of layers of flavor.
Plus healthy nutrition: this is a version of mac and cheese with added fiber and vitamin A (and about 370 calories per serving).
I love this spinach and artichoke mac and cheese.
It's just one more way to enjoy one of my favorite combos.
Here's the recipe for Creamy Spinach and Artichoke Mac and Cheese:
Creamy Spinach and Artichoke Mac and Cheese
Author:
The Scrumptious Pumpkin
Nutrition Information
Serving size:

8

Calories:

372
Fat:

13.1g

Saturated fat:

6.2g

Carbohydrates:

46.6g

Sugar:

1.4g

Sodium:

296mg

Fiber:

65.6g

Protein:

20.2g

Cholesterol:

28mg
What happens when you mix creamy spinach and artichoke dip with classic macaroni and cheese? A healthy comfort food recipe that's unique and full of flavor!

Total Time: 40 minutes
Prep: 15 minutes
Cook: 25 minutes

Yield: 8 servings

Level: Easy
Ingredients
14 ounces whole wheat macaroni
1½ cups frozen chopped spinach
1 tablespoon plus 1 tablespoon olive oil
2 cloves garlic
⅔ cup jarred artichoke hearts, rinsed, drained, and finely chopped
¼ teaspoon crushed red pepper flakes
1 cup mascarpone
½ cup organic 2% milk
1½ cups organic shredded sharp white cheddar
½ cup whole wheat panko breadcrumbs
⅓ cup freshly grated parmesan
Sea salt
Instructions
Preheat oven to 425 degrees F.
Boil a large pot of water. Salt the water and add the pasta. Cook, according to package instructions, until nearly al dente. Drain and pour into a large casserole dish (about 9" X 12").
Meanwhile, measure 1½ cups of frozen chopped spinach, and place the frozen spinach in a heat-safe bowl. Microwave until thawed. When cool enough to handle, transfer thawed spinach to a fine mesh strainer. Arrange the strainer over a large mixing bowl and squeeze spinach, wringing dry, until all excess water is drained from the spinach. Set aside.
Heat 1 tablespoon olive oil and garlic in a skillet over medium heat. Cook, stirring frequently, until softened, about 2-4 minutes. Add the chopped artichokes, spinach, and red pepper flakes. Season well with salt and stir until well combined. Cook until heated through, about 1-2 minutes more. Pour the spinach and artichoke mixture into the casserole dish.
Reduce the heat to low. Add the mascarpone and milk to the skillet and stir until mascarpone and milk are well combined and melted into a thick sauce. Add the cheddar and season well with salt. Turn off the heat and stir until cheese has completely melted into the sauce.
Pour the cheese sauce into the casserole dish. Stir until all ingredients are well combined and the pasta is evenly coated with cheese sauce.
Add the panko, parmesan, and 1 tablespoon olive oil to a bowl and stir until well combined. Arrange the breadcrumbs over the top of the casserole dish.
Bake until the breadcrumbs are golden and the cheese sauce begins to bubble, about 10 minutes. Serve.
I estimate nutrition info by entering my recipes at
Very Well
.
Check out more Delicious Pasta Recipes
Check out more Healthy Comfort Food Recipes
JOIN THE FREE CLEAN EATING CHALLENGE TO START YOUR NEW, HEALTHY LIFESTYLE!
What happens when you sign up for free:
Three easy, delicious, seasonal, clean eating recipes are delivered straight to your inbox each Friday, so you're set to plan your meals for the following week.
All recipes include step-by-step photo instructions, plus options to print or save recipes and add recipe ingredients to a mobile shopping list.
Get ready for more energy and a fit, healthy body with your new clean eating lifestyle!