Now that we're in the swing of the holiday season, the timing seemed perfect for a healthier update to one of my all-time favorite classic appetizers: creamy spinach dip!
The vibrant green of the spinach and the deep red of the sun-dried tomatoes in this yummy dip are so festive for the holidays.
Even better: this dip is quick and easy to make in advance and store in the fridge.
Just heat it in the oven for about 20 minutes when you're ready to serve.
Double the recipe, and it's also perfect for a holiday party crowd.
I call my lightened up spinach dip a "healthier" version because, instead of the more commonly used creamy ingredients like mayo, cream cheese and sour cream, I use two secret ingredients that add just as much flavor and rich creaminess, but are lower in calories and saturated fat.
(This dip has about 120 calories per serving!)
Another bonus?
Who knew such a tasty, indulgent-tasting creamy dip could be so nutritious?
Because of the variety of healthy ingredients hidden in this recipe (like spinach, artichokes, and sun-dried tomatoes), this dip is filled with skin-smoothing vitamin A, immunity-boosting vitamin C, detoxifying selenium, and fat-burning calcium.
Here is the complete printable recipe:

Healthier Creamy Spinach-Artichoke Dip
Author:
The Scrumptious Pumpkin
Nutrition Information
Serving size:

8

Calories:

121
Fat:

6g

Saturated fat:

3.8g

Carbohydrates:

5.5g

Sugar:

1.2g

Sodium:

469mg

Fiber:

1.3g

Protein:

11g

Cholesterol:

20mg
Recipe type:
Clean, whole snack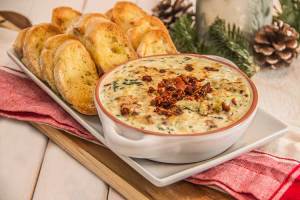 Total Time: 35 minutes
Hands-On Time: 15 minutes
Cook Time: 20 minutes

Yield: 8 servings (each serving is about ⅓ cup)

Level: Easy
Ingredients
1 heaping cup frozen chopped spinach
1 cup low fat cottage cheese
⅔ cup mascarpone
⅔ cup parmesan, freshly grated
1 cup quartered artichoke hearts, drained, rinsed, patted dry, and chopped
3 tablespoons peperoncini, drained, rinsed, patted dry, and chopped
½ teaspoon garlic powder
3 tablespoons sun-dried tomatoes, drained, rinsed, and chopped
Salt and freshly ground black pepper
Instructions
Preheat oven to 350 degrees F.
Measure out 1 heaping cup of frozen chopped spinach, and place the frozen spinach in a heat-safe container. Microwave until thawed. When cool enough to handle, transfer thawed spinach to a fine mesh strainer. Arrange the strainer over a large mixing bowl and squeeze spinach, wringing dry, until all excess water is drained from the spinach.
Add the thawed and drained spinach to a mixing bowl, along with the cottage cheese, mascarpone, ½ cup parmesan, artichokes, peperoncini, and garlic powder. Season with a pinch of salt and pepper. Stir until all ingredients are well combined. Carefully fold in 2½ tablespoons sun-dried tomatoes.
Transfer mixture to a small baking dish. Smooth so that dip is evenly distributed in dish, with an even, flat surface. Top with remaining parmesan.
Cook about until mixture is hot and begins to bubble around the edges, about 17-19 minutes.
To add a golden crust to the top: turn on the broiler and cook until top is golden, about 2 minutes. Watch dip carefully, it burns very quickly!
Top dip with remaining chopped sun-dried tomatoes. Serve warm with tortilla chips or baguette that has been thinly sliced, topped with olive oil, salt, pepper, and garlic powder, and toasted under the broiler.
For the step-by-step instructions…
…Begin with these ingredients.
And preheat the oven to 350 degrees F.
Grab a bag of frozen chopped spinach and measure out one heaping cup, then pour it into a heat-safe container.
Microwave the spinach for a couple of minutes, until it's thawed.
Then place a fine mesh strainer
over a mixing bowl
and add the thawed spinach.
When it's cool enough to handle, use both hands to really squeeze the spinach, wringing it completely dry.
All of the excess water should drain from the spinach into the mixing bowl below, to be tossed out.
Wringing the spinach dry is an important key step to ensure that the dip is not watery in the end!
Next, grab a jar of quartered artichoke hearts.
Measure out about one cup of artichokes and rinse and drain them thoroughly (this is important because jarred items like this one can add a strong salty/acidic flavor if not drained and rinsed).
Then pile the artichokes on a cutting board and run your knife through in every direction, dicing them up.
Then grab a jar of peperoncini (these peppers will add the slightest hint of spiciness to the dip) and follow the same process, rinsing and draining, then dicing them up.
And then follow the process one last time with a jar of sun-dried tomatoes, rinsing, draining, and dicing up the sun-dried tomatoes.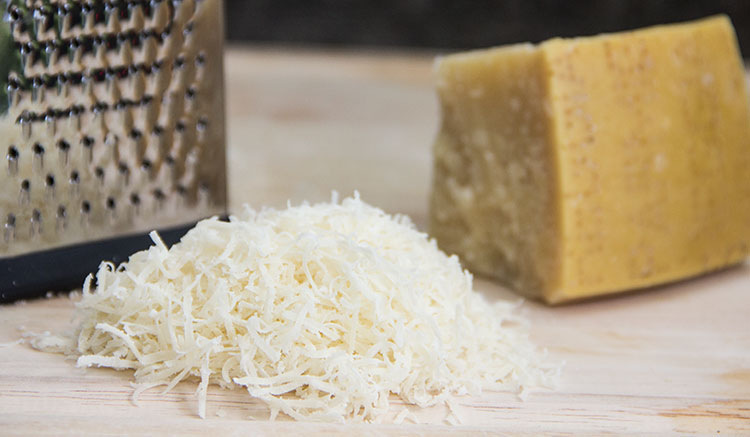 Next, grab a block of real parmesan and use a cheese grater
to shred it.
The freshly grated parmesan is a key ingredient for adding tons of rich flavor to the dip!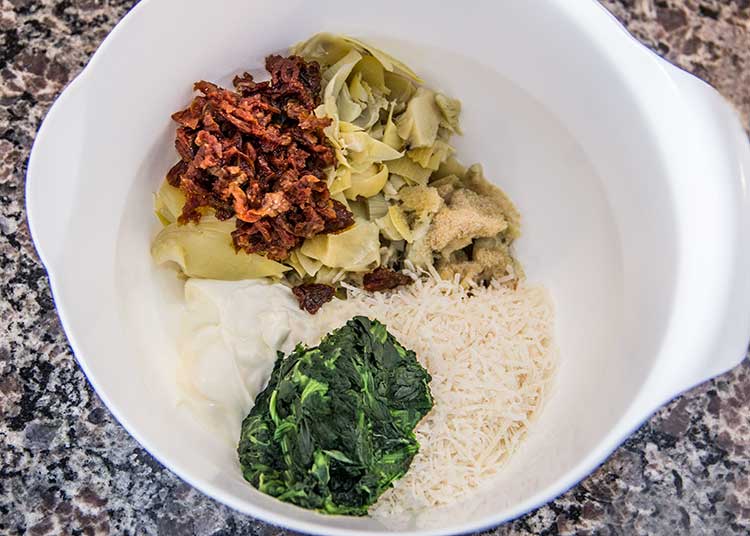 Next, grab a fresh mixing bowl
and toss in the drained spinach, along with the diced artichokes, peperoncini and most of the grated parmesan (set aside a small handful to top off the dip later).
Add a bit of garlic powder, and season with a just a pinch of salt and pepper for added flavor.
Then add the two secret ingredients: low-fat cottage cheese and mascarpone.
If you're not a big fan of cottage cheese on its own: not to worry, you won't actually taste this ingredient in the final dip.
It's just perfect for adding lots of richness and creaminess without the high levels of calories and saturated fat found in other classic spinach dip ingredients (like mayo, cream cheese, or sour cream).
Mascarpone, an Italian cream, is another favorite of mine.
It's also lower in calories and fat than cream cheese or sour cream, but it adds the most delicious rich flavor.
And it has the perfect creamy texture that's not too heavy or thick, making it easy to stir.
Add both the cottage cheese and mascarpone to the other ingredients, and stir until everything is well combined.
Then set aside a couple of teaspoons of the  sun-dried tomatoes, and carefully stir in the rest.
Next, pour the mixture into a small baking dish
.
Use a spoon or spatula to smooth it out so that the dip has an even, flat surface.
Top off the dip with the remaining parmesan you set aside earlier.
Then toss it into the oven to cook until it begins to bubble around the edges.
To add a golden crust, turn on the broiler and cook until the top is lightly browned.
Watch the dip carefully during this step, it burns very quickly (as I have learned the hard way!)
Then top the dip with the remaining diced sun-dried tomatoes for a bit of delicious-looking festive color.
And serve it warm with tortilla chips.
Or, even better, I like to slice a baguette and arrange the slices on a baking sheet.
Brush a bit of olive oil on each piece, then sprinkle each slice with a bit of salt, pepper, and garlic powder.
This is all that is needed for plenty of tasty flavor!
Toast the baguette under the broiler (again, watching carefully!) until it's golden brown.
It looks elegant served alongside the creamy dip and, served toasty and warm, it's the perfect crunchy pairing.
This dip is so rich and full of flavor, it's kind of addictive.
Which is okay.
Because – tough to believe – this indulgent-tasting snack is nutritious and low in calories too!