So Trevor's second Halloween turned out quite eery and spooky (very fitting)!
It all started when we got a big storm with winds so strong they knocked down trees all up and down our street.
It looked like a hurricane had whipped through, and we lost power for about 60 hours in total (!) This power outage just so happened to include Halloween day and night.
So our entire street was plunged into complete darkness – literally – for trick-or-treating.
It was kind of a bummer because I thought maybe we'd walk to a few of the neighbors homes this year so Trevor could show off his costume…
After watching Star Wars as a kid, I always thought Ewoks were the cutest things ever.
Until I saw a baby Ewok!!
Trevor wasn't so sure about his costume at first though.
He burst into tears when we first put it on him.
But he calmed down quickly and then he didn't seem to mind at all.
But back to the darkest Halloween…
By nightfall, the power had been out for so long, our house was getting cold, our phones were almost dead, and we couldn't cook any food.
So here's how we spent our Halloween evening:
Having shakes and fries at a burger place in town!
We spent the rest of the evening huddled in blankets at home, watching Sesame Street on the Kindle by candlelight.
I was disappointed we didn't get to celebrate the holiday, but one of the benefits of having a one-year-old is that Trevor didn't have a clue what he was missing!
And aside from that, Trevor had a pretty great October.
We went to Mickey's Not-So-Scary-Halloween Party when we did Trevor's first trip to Disney World in early October. So he did get that chance to go out and be seen in a Halloween costume! He wore a Tigger outfit. He loves to say "tiggy" (i.e. "tiger"), so we thought he would like it. And we was happy with the costume, aside from pulling the hat off his head and throwing it within the first 10 minutes of entering the Magic Kingdom.
Back home in Massachusetts, we went to a pumpkin patch.
Tru got to pick out his very first pumpkin for the porch at home.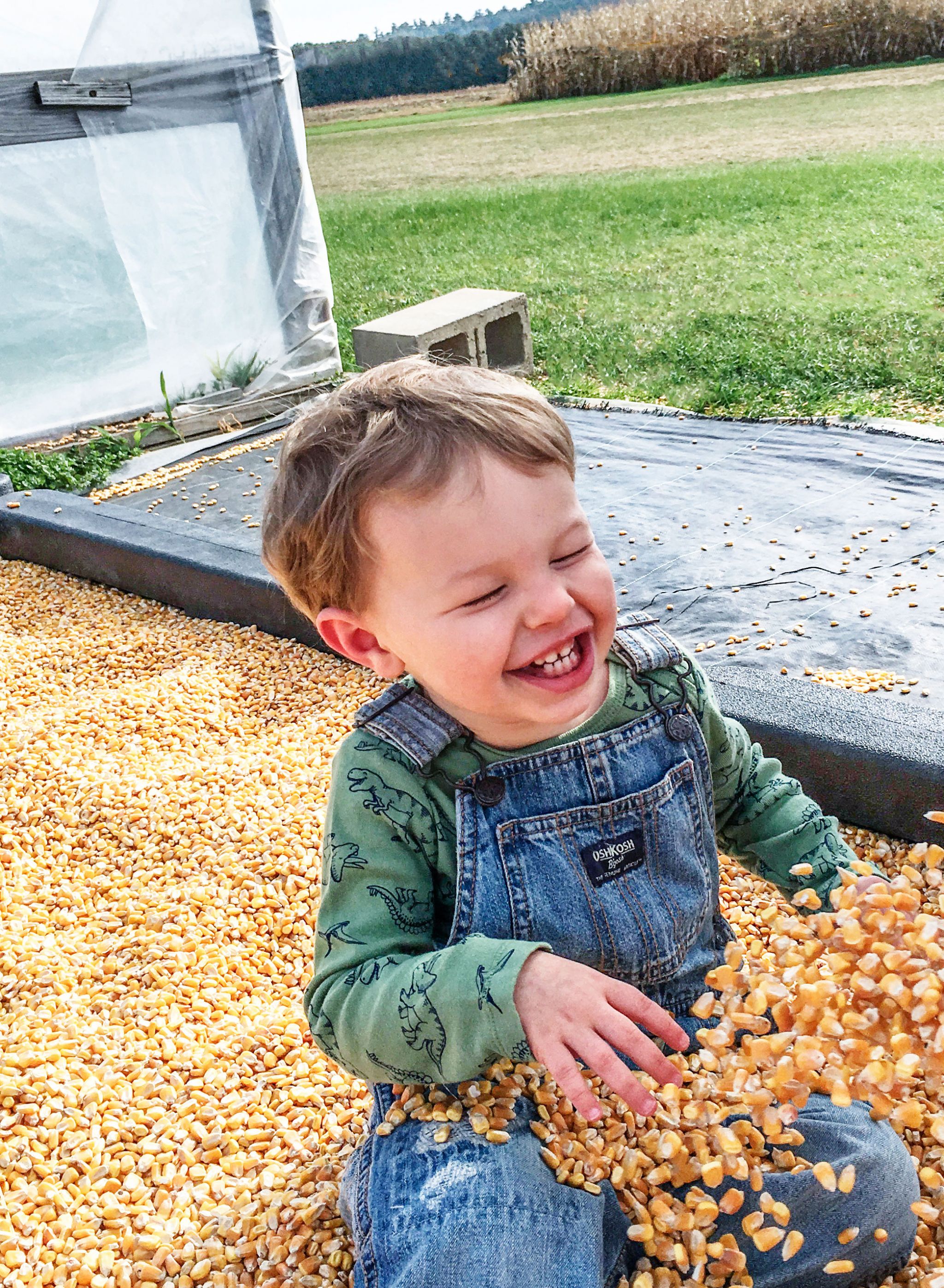 And we went to a corn maze where Trevor got to play in a sandbox full of corn kernels (he laughed the whole time).
And meet some farm animals.
(Including some real ones!)
And he got to ride a tractor and walk with us through the maze.
This face, by the way, is the one Tru makes when we tell him, "smile!"
He's definitely trying to mimic the smiles on our faces … it cracks me up every time.
We also returned to Castle in the Clouds in the White Mountains of New Hampshire.
Trevor has been to Castle in the Clouds for three autumns in a row, and I'm hoping to make it an annual tradition.
The first year, he didn't technically see anything, since he was in my tummy at the time!
The second time, he crawled across the gardens.
And this year, he ran everywhere and wanted to touch everything!
I think this is the one moment I caught him sitting down.
(Please let me always remember how very tiny his first pair of Converse were!)
For whatever reason I can't explain, Trevor loves crabs. This is the face he makes when the thought of "crab" floats across his mind. He can't really say the word, but we know exactly what he's thinking about, just by that face!
And here's Trevor doing the hand motions for "twinkle, twinkle, little star." He loves reaching up as high into the sky as his little arms will stretch.
All in all, fall 2017 was filled with a lot of sweet (and crazy and unique!) moments.
It's so much more of a challenge to get out and do things with a toddler.
And yet, we did so much more that ever before this fall, just because it's so much fun to soak up all of these memories with Trevor.
My biggest fear is to take any of it for granted, or miss out on these moments we'll never get back!
SaveSave
SaveSave
SaveSave
SaveSave
SaveSave
SaveSave
SaveSave