The sun has just set as we make our way toward WaterFire in Providence, Rhode Island.
Trevor's first sight is of a man selling multicolored glow toys with flashing LED lights.
The man stops to take our ten-dollar bill, then uses his teeth to rip open the clear plastic packaging. He turns on Trevor's new light-up toy, hands it to Trevor, then continues pushing his small cart down the street.
As darkness descends over the city, we weave through the crowds, which are intense and flowing from every direction.
But we easily find a small patch of soft, trodden grass on a hill overlooking the river.
Beautiful, upbeat orchestral music floats through the air.
Also floating through the air: the light scent of firewood burning bright.
The sun has melted into the horizon and Providence is dark, but for the lights of the city buildings. Amidst the crowd, a glow toy like Trevor's lights up here and there, along with a cell phone or camera flash.
But their glow is dwarfed by the vividly bright, golden bonfires that form a long line, lighting up the surface of the river.
As we continue taking in the spectacle of WaterFire, we catch sight of boats peacefully weaving their way amidst the amber flames.
What Is WaterFire?
WaterFire is actually an art installation that has been an annual summer tradition in Providence since the 1990's.
WaterFire is held on weekends about twice per month during the warm months of the year (from late May through early November).
Here's the complete WaterFire schedule for the 2018 season.
On the days it's held, WaterFire begins at sundown and festivities last until midnight.
The main spectacle involves close to one hundred incredible amber bonfires that float on the surface of the rivers of Providence, setting the water aglow in blazing flames.
Crowds can wander along the rivers, taking in the spectacle, listening to the instrumental music that blasts from speakers located all along the route, all while enjoying local shops and restaurants.
Where Is WaterFire?
Waterplace Park, Providence, RI 02903
Memorial Park, S Main St, Providence, RI 02903
The main hub for WaterFire is Waterplace Park in Providence, which is located just across from the Providence Place Mall. Visitors can stop and sit here on the open lawn, taking in the spectacle of the sunset lighting of the bonfires.
Then wander the pathways beside the river, and onto Canal Walk.
The flames stretch for about half a mile, to Memorial Park and the Providence River Greenway.
Here's everything we learned during our weekend in Providence for WaterFire, including all of the tips we picked up along the way:

Tip #1: Book A WaterFire Boat Tour
As we took in all that WaterFire had to offer, there were two main things Chris and I really wished we had known before we attended. The first important thing to know is that it's possible to book boat tours that wind along the river among the WaterFire flames.
There were two options for WaterFire boat tours that we observed:
1.) La Gondola
One option is a 30-minute ride on an authentic Venetian gondola! As we watched the gondolas weave peacefully through the bonfire flames, Chris and I couldn't stop exclaiming about what a unique and incredible experience it must be. You can book a reservation ahead of time (highly recommended) at La Gondola.
2.) Providence River Boat Company
The second option is Providence River Boat Company. They offer 30-minute boat rides, with boats holding about 20 passengers each, during WaterFire. Reservations are required.
Tip #2: Book A Dinner Reservation For A Table With a View of WaterFire
One other thing we observed as we wandered through the WaterFire route: There were several restaurants located along the river, with people enjoying their dinners al fresco while taking in the spectacle of WaterFire.
Aside from a boat ride on the river, the experience of enjoying an outdoor dinner while taking in the sights, sounds and smells of the festival seemed the best way to appreciate the WaterFire experience.
We would recommend choosing your restaurant and booking your reservation a couple of weeks in advance, as every restaurant we saw was bursting at the seams with animated crowds.
Here are the restaurants that offer excellent views of the Providence rivers and WaterFire bonfires:
Cafe Nuovo, One Citizens Plaza, Providence, RI 02903
Casually elegant dining with lots of outdoor seating.
The Capital Grille, 10 Memorial Blvd, Providence, RI 02903
A fine dining steakhouse.
Hemenway's, 121 S Main St, Providence, RI 02903
A fine dining seafood restaurant.
4.) Jacky's Waterplace & Sushi Bar
Jacky's Waterplace & Sushi Bar, 200 Exchange St, Providence, RI 02903
Casual Asian dining and sushi.
Tip #3: Best Places to Eat While In Providence For WaterFire
If you plan to spend a weekend in Providence to enjoy WaterFire, like we did, we have a few recommendations for incredible places to eat:
Knead Doughnuts
Knead Doughnuts, 32 Custom House St, Providence, RI 02903
We have to start with Knead Doughnuts since all three of us fell completely head-over-heels in love with this place. We happened to stumble across Knead one morning for breakfast.
We couldn't believe the rich, heavenly flavor of the dark chocolate "cake" glazed doughnut and the unique, elevated taste of the blueberry lemon basil doughnut.
Chris and I both agreed that the "cinnamon bun"doughnut, created with a homemade brioche dough that ferments for 24 hours, was the best doughnut we'd ever tasted.
And, to be completely honest, we've tried a lot of doughnuts!
Massimo
Massimo Ristorante, 134 Atwells Ave, Providence, RI 02903
Massimo is a casual trattoria that serves traditional Italian dishes, located in the famous Federal Hill section of Providence.
They import many of their meats and cheeses from Italy, while at the same time offering a lot of locally sourced and organic produce.
On the night we ate there, Massimo was very crowded, with a lively and energetic atmosphere (which was perfect for us, with a toddler in tow!)
And we loved everything we ordered, from the fresh salads to the richly flavored sauces to the handmade pastas.
Tip #4: Best Things to Do While In Providence For WaterFire
Of the different spots we explored during our weekend at Providence, two sites stood out as our favorites:
Rhode Island State House
Rhode Island State House, 82 Smith St, Providence, RI 02903
The Rhode Island State House was the most beautiful building we saw in Providence.
Conveniently, it's located about a half mile from the main hub for WaterFire, Waterplace Park.
I spent time photographing the State House while Trevor had fun running through the open fields, before we made our way to WaterFire.
RISD Museum
RISD Museum, 20 N Main St, Providence, RI 02903
We loved checking out the beautiful art museum called the RISD Museum, located at the Rhode Island School of Design.
The museum has a small but varied collection, with lots of interesting artwork on display.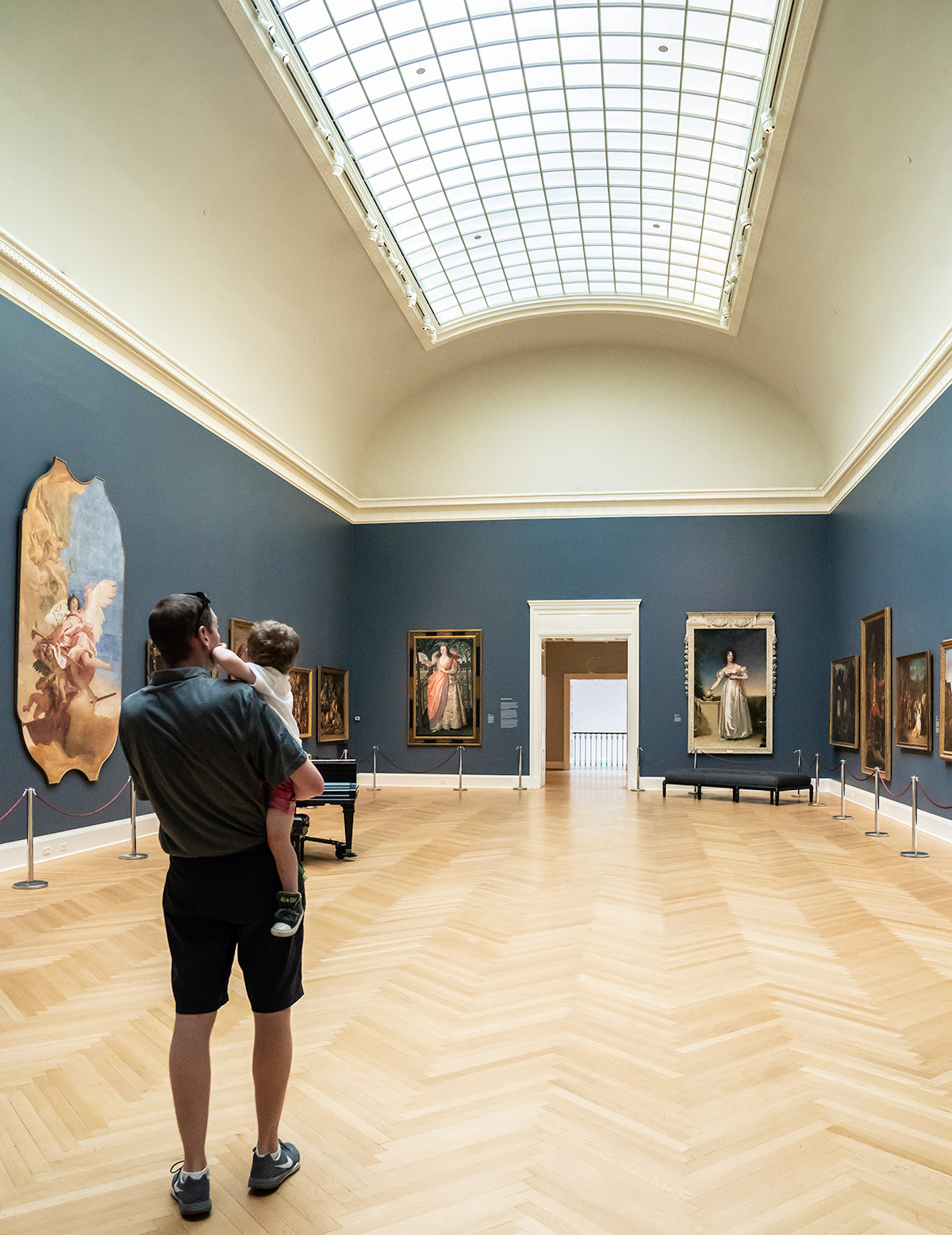 There was a lot to explore here, from ancient to contemporary art, Asian to European to American art, costumes and textiles, paintings and sculptures, from the 5th century to the 21st century. Visitors could spend a couple of hours at this museum.
The museum offers free admission on Sundays, so we loved stopping in on Sunday morning, before heading home after our weekend in Providence!
For More On Traveling to Rhode Island, Check Out:
Trip #4: Travel Confessions From Rhode Island
Traveling to Newport? Here Are the Top 5 Sites You Can't Miss
Pin on Pinterest: