The ultimate family guide to must-see Kancamagus sites in the New Hampshire White Mountains: covered bridges, waterfalls & scenic overlooks!
One moment, I'm snapping photos of Chris and Trevor in front of a roaring waterfall surrounded by towering trees.
The next, Trevor is dipping his little toes into icy cold, pristine waters that flow over rocky riverbeds, with the White Mountains as a backdrop.
A short drive later, we're strolling through an antique wooden covered bridge from the 1850's.
And then, we're taking in a breathtaking panoramic mountain vista.
With just one day on the Kancamagus Highway (located in the White Mountains National Forest), it's possible to see and do it all…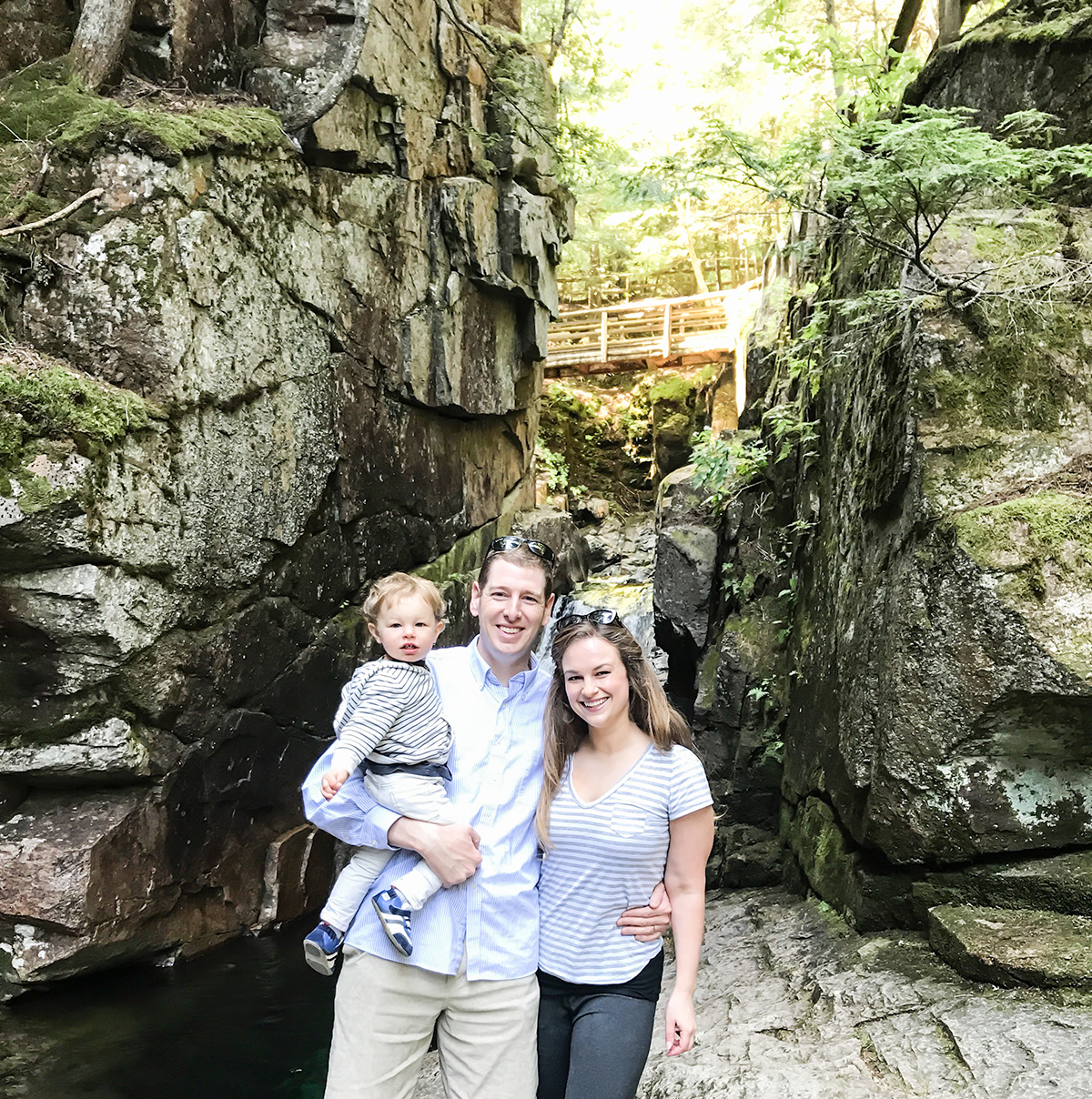 Chris and I loved exploring the Kancamagus many times before we had kids, and it's become one of my favorite spots in New England.
And now that we have Trevor, we're enjoying new Kancamagus adventures as a family of three!
The Kancamagus is a 35-mile drive through the very scenic White Mountains National Forest, located on Route 112 in Northern New Hampshire.
It's possible to complete the drive in about one hour. But there are so many stunning nature walks, overlooks, and hikes available along the way, a family could spend a full week exploring the area!
Along the Kancamagus, there are many options for camping and long hikes.
But for this post, we've focused on short, easy, and well-maintained nature walks. Plus spots for wading and splashing in the water. In other words, we're featuring all of the sites along the Kancamagus that young kids are likely to enjoy!
Our list of sites for one day on the Kancamagus begins in Conway, New Hampshire, and ends in Lincoln, New Hampshire. The list is in the correct order as you'll encounter each site along your drive.
Both Conway and Lincoln are popular tourist towns with handfuls of options for restaurants and hotels.
So your family can begin in Conway, working in order down the list, as you follow the Kancamagus toward Lincoln. Or, begin your Kancamagus drive in Lincoln, starting at the bottom of the list and working your way up!
Here's our One-Day Guide to the Kancamagus for Families: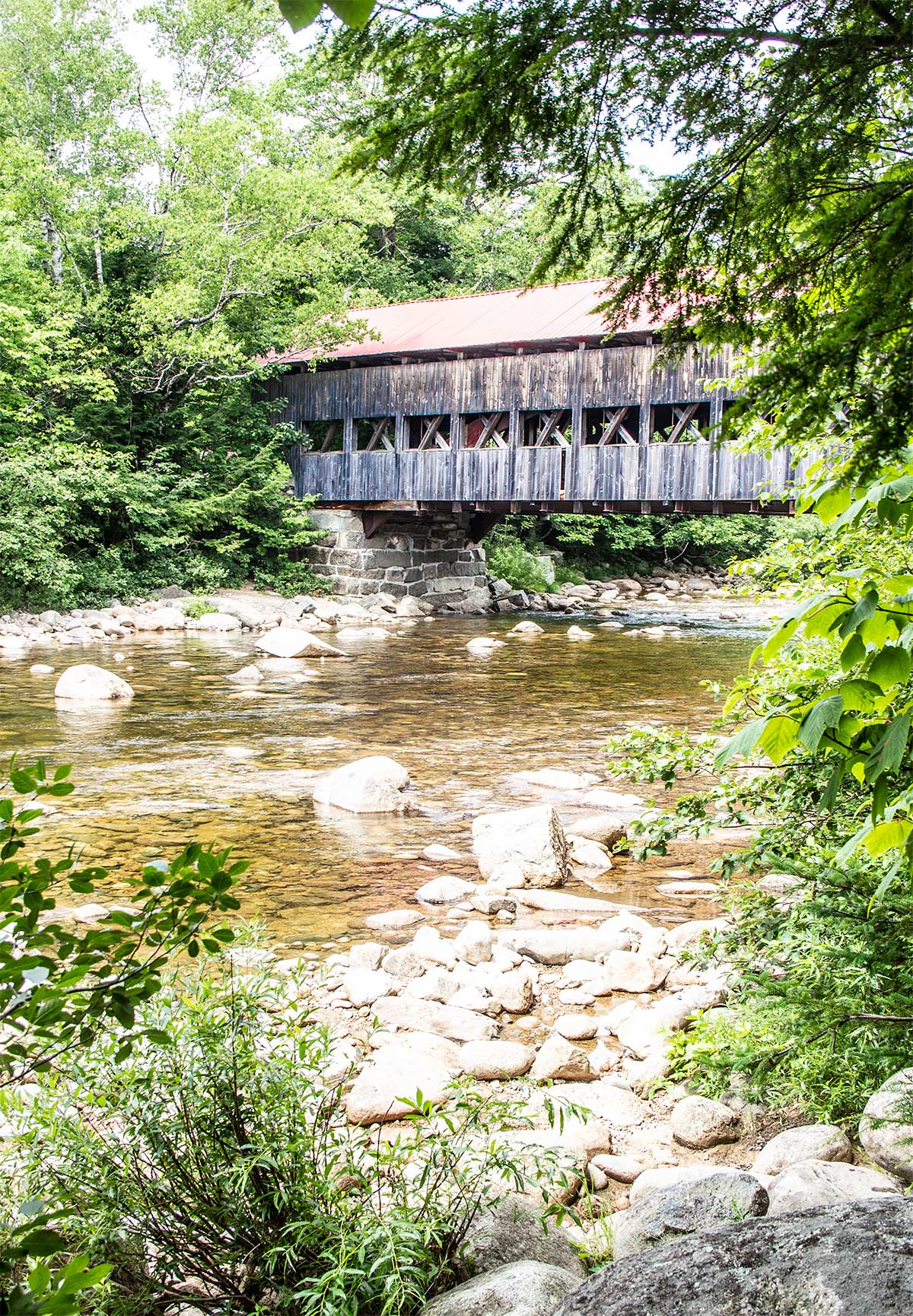 1.) Albany Covered Bridge
Albany Covered Bridge, Passaconaway Rd, Albany, NH 03818
Amenities: parking lot
One of the most iconic landmarks of the White Mountains region of New Hampshire is the covered bridge.
These antique bridges from the 1800's are scattered throughout the state, and most are still in use today.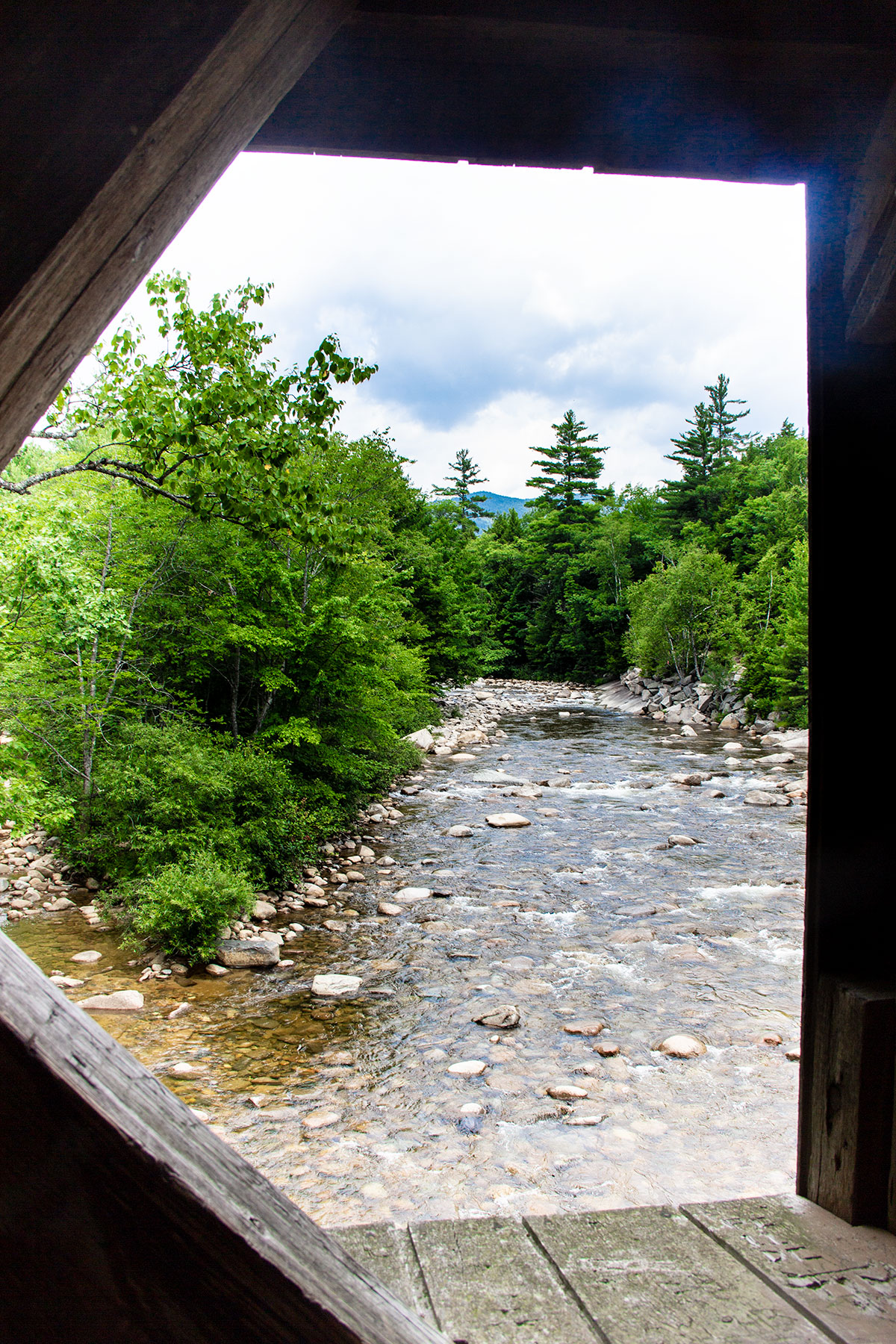 The weathered wooden structure, running over a pristine rocky river, is surrounded in every direction by pure Mother Nature.
After strolling through the bridge (built in the 1850's and still in use!), take in the scenic views of the river, and snap photos.
On hot summer days, families can also cool off by dipping their toes into the cold (and rocky!) river, and relaxing in the shade under the bridge.
And for families with older kids, there's an optional 3-mile hiking trail with scenic river and mountain views.

2.) Swift River Lower Falls Scenic Area
Lower Falls, Kancamagus Hwy, Albany, NH 03818
Amenities: parking lot, porta-potties, shaded picnic tables, charcoal grills
The Swift River Lower Falls is a really popular spot on the Kancamagus, and for good reason!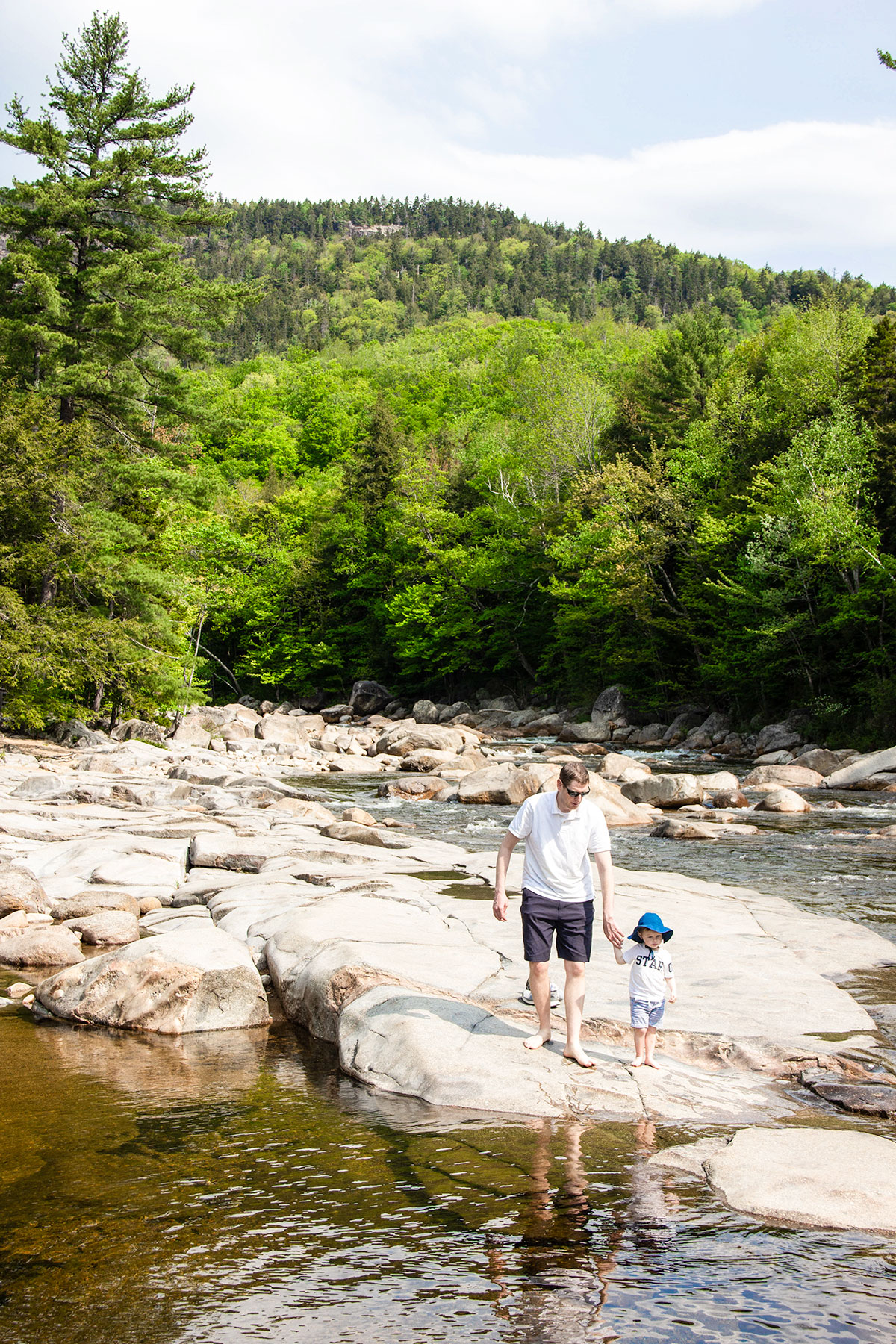 Surrounded by towering trees, with the White Mountains as a backdrop, the Swift River is powerful and stunningly beautiful.
It's very picturesque, with shaded tables for picnics and smooth, gray granite rocks along the riverbeds for sunbathing.
In summer, when the river rapids are not too strong, it's possible to dip your feet into the water (warning: it's cold!) or even wade in.
Trevor was so excited about collecting the smooth pebbles that line the riverbeds here, and we loved giving him a chance to dip his little feet into the water! This is a can't-miss spot, and very scenic spot for photos.
3.) Rocky Gorge Scenic Area
Rocky Gorge Scenic Area, Kancamagus Hwy, Albany, NH 03818
Amenities: parking lot, picnic tables, porta-potties
This spot is very similar to the Swift River Lower Falls.
It offers pristine river rapids flowing over rocky riverbeds, with panoramic mountain views beyond.
There's also a beautiful 10-foot waterfall to check out.
Rocky Gorge is a very popular picnic spot, and many families love to sit out on the river rocks to sunbathe and take in the stunning views.
4.) Sabbaday Falls
Sabbaday Falls, Waterville Valley, NH 03259
Amenities: parking lot, picnic tables, porta-potties
This stop is my favorite on the Kancamagus Highway.
The powerful and pristine Sabbaday waterfall is simply breathtaking.
The rock formations where the waterfalls flow were formed thousands of years ago during the last Ice Age!
Sabbaday Falls is an excellent option for families too, because the easy round-trip hike (to view the falls and back) is less than half a mile.
The beginning of the trail allows families to check out the falls near the river below.
Next, stroll the built-in wooden stairs and platforms that allow visitors to get up-close to the falls and view them from the top too!
This is another can't-miss spot that's very scenic for photos.
5.) Sugar Hill Scenic Vista
Sugar Hill Scenic Vista, Conway, NH 03818
Amenities: parking lot
After exploring the rivers, waterfalls, and covered bridges of the White Mountains at the last several stops, move onward to Sugar Hill for truly breathtaking panoramic mountain views.
If your kids are tired at this stage of the game, rest assured: there aren't any hiking trails involved here. Simply park your car, step outside, and take in the incredible views!
6.) Pemigewasset Overlook
Pemigewasset Overlook, Kancamagus Hwy, Albany, NH 03818
Amenities: parking lot, porta-potties
This is another stunning spot for a sweeping vista of the White Mountains from all around.
There are lots of benches and seating at this very scenic and very breathtaking spot.
So this is a great place for families to sit down for a moment, relax, enjoy some water and a snack, and just take in all of the beauty of the White Mountains.
Here Are All of The Questions Chris and I had before driving the Kancamagus, plus all of the answers we found:
Where Is The Kancamagus Highway Located?
The Kancamagus begins in Conway, New Hampshire and winds through the White Mountain National Forest, ending in Lincoln, New Hampshire (or vice versa).
How Long Will Our Drive Along the Kancamagus Take?
The Kancamagus Highway is 35 miles long, but the amount of time you spend is entirely up to you! It will depend upon if you decide to sunbathe or swim in the rivers, and if you decide to attempt any longer hikes. Following the day trip we've outlined above, we filled a full morning, leaving from Conway at about 8:00 am, and arriving in Lincoln for lunch at about 1:00 pm.
Where Can We Get Food On The Kancamagus?
Important Note: There aren't any restaurants or convenience stores located along the 35-mile Kancamagus Highway!
So we recommend packing snacks and bottled water for your day trip. There are picnic tables at most of the stops along the Kancamagus, so you can also pack a picnic lunch. In addition, there are a wide variety of restaurant options located at both ends of the Kancamagus, in Lincoln and North Conway.
Where Can We Get Gas Along the Kancamagus?
Just like there aren't any convenience stores or restaurants along the Kancamagus, there also aren't any gas stations. Nor is there any cell phone reception along the route. Be prepared for pure Mother Nature during your drive! And make sure to have a full tank of gas before beginning your road trip.
How About Parking?
Parking lots are located at each of the sites along the Kancamagus. Visitors are required to purchase a $5.00 parking pass at their first stop. Parking passes may be purchased at any of the sites along the way, but cash is required. The parking pass is good for all Kancamagus sites, for the full day.
What Does It Cost To Drive the Kancamagus?
Aside from the $5.00 parking pass, all of the sites along the Kancamagus Highway are completely free!
What Are the Crowds Like At The Kancamagus Sites?
Most sites along the Kancamagus get very crowded, especially on weekends. And parking lots can sometimes overflow. To avoid crowds, try visiting early in the morning, late in the afternoon, or on a weekday during the school year (even weekdays can become quite crowded during the summer months).
Is The Kancamagus For Kids?
The Kancamagus is an incredible spot for kids of every age! There are so many quick and easy nature walks that lead to stunning views, plus so many spots for kids to have fun splashing in the water. Families with older kids can choose to do longer and more challenging hikes as well.
For More On The New Hampshire and White Mountains Travel, Check Out:
Ultimate Weekend Guide for Families | Lincoln NH With Kids | White Mountains
20 Photos To Inspire You To Visit The White Mountains
Everything We Learned From Our Hike Up Mount Major
Pin on Pinterest: