Our vote for the #1 most kid- and family-friendly beach destination offers stress-free convenience and pristine beaches…
Through our travels, we've visited many beaches up and down the east coast of the United States.
The truth for our family: nearly every beach is kid-friendly! If there are waves to wade through and sands to roll around in (or, on rocky beaches, pebbles to throw!), Trevor is one happy little guy.
Even so, we do have a vote for the ultimate beach destination for families with young kids:
The Outer Banks in North Carolina!
Why?
Parents of young children know that convenience is key for a low-stress family trip.
And the Outer Banks region is beyond convenient for families in so many ways.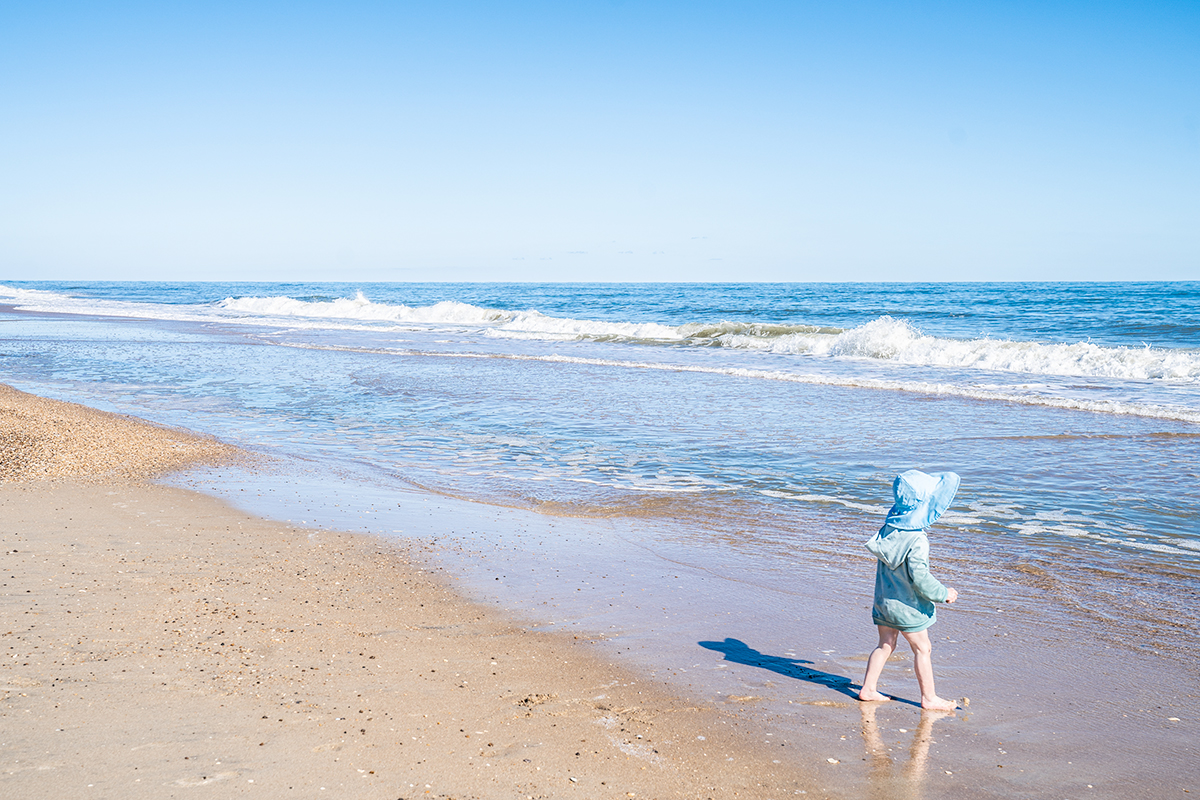 More importantly though, the beaches of the Outer Banks are a paradise of pristine white sands and ocean waves that seem to stretch for miles in every direction.
Here are the three reasons why the Outer Banks region of North Carolina is our vote for the ultimate kid-friendly beach destination on the east coast of the United States:
Reason #1 Why the Outer Banks is Perfect for Families: Family Friendly Accommodations
When we travel as a family, come 2pm, Chris and I typically find ourselves squinting over glowing laptops in the dark while Trevor naps the afternoon away.
And any time after 8:30pm (Trevor's typical bedtime), you'll find us tiptoeing around and whispering (and calling it a night pretty early).
What we found unique about the Outer Banks is that there are endless options for family friendly beach house and condo rentals.
Yes, there are hotels on the Outer Banks.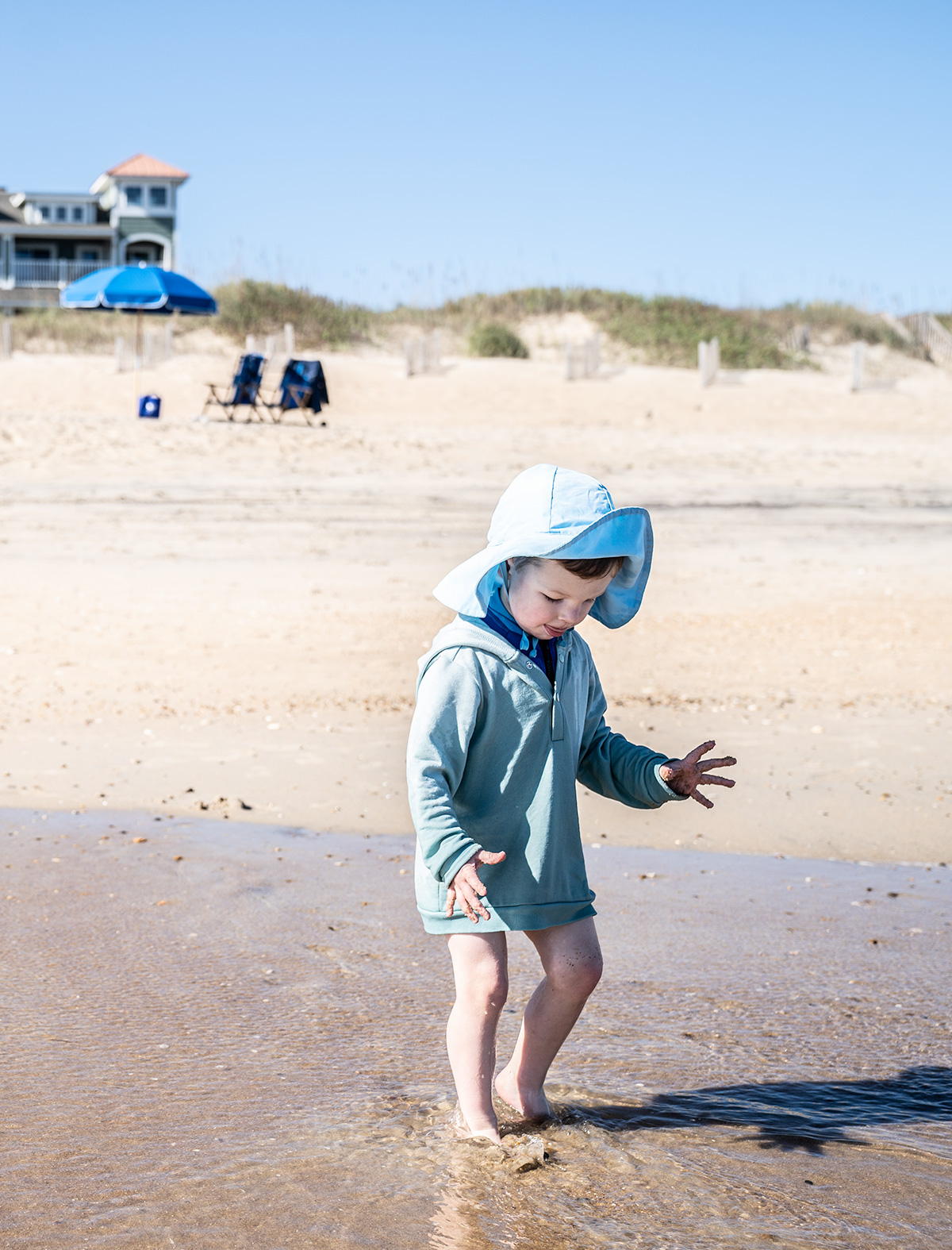 But mostly, as you walk the beaches, you'll see beach houses lining the shores.
For our stay at the Outer Banks, we found a spacious two-bedroom condo for less than we normally pay for a small standard hotel room.
The condo was such a convenient change of pace!
Trevor slept soundly in his own bedroom with the door shut, while Chris and I worked on our laptops (with full daylight!) at the dining room table.
Then we brought our computers out on the balcony and worked while enjoying an incredible view of the ocean!
For evenings, our condo was stocked with a selection of DVD's, board games, and books.
When Trevor got his sweatshirt soaked and covered in muddy sand at the beach, we were grateful to have a washing machine and dryer too.
We also loved having a full kitchen.
Trevor goes from cranky to full meltdown mode when he's hungry. So it was a relief to have a stocked kitchen at the ready.
We loved having a large fridge for some of Trevor's favorites: hummus, milk, and smoothies. (Plus leftover pizza!)
It was great to enjoy relaxing meals right on our own balcony.
For breakfast, we loved these fresh, homemade donuts from a local store down the road called Duck Donuts.
And the views from our condo!
We were just steps from the beach.
The location was beyond convenient for us while juggling beach toys, towels, blankets, chairs and umbrellas for a family!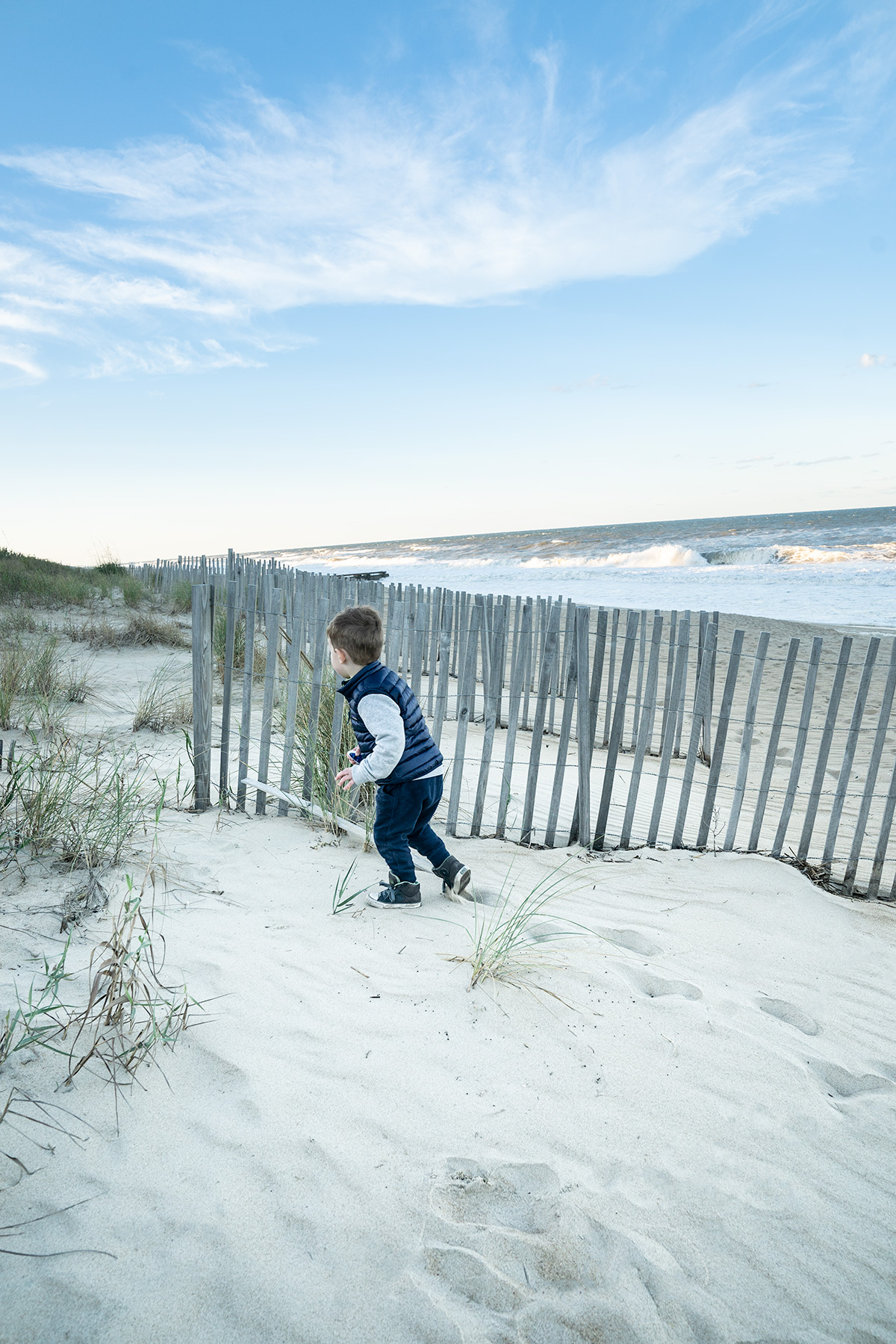 Reason #2 Why The Outer Banks is Perfect for Families: Restaurants and Shopping Galore
Here's another really convenient thing about the beaches of the Outer Banks: there's a main strip, just a couple of blocks from the beaches, with every imaginable store and restaurant.
When we needed to find a grocery store to stock our kitchen, it was just a five-minute minute drive from our condo.
The drugstore I stopped in to purchase some toiletries we forgot at home: also five minutes away.
And the night that Trevor was overtired and cranky and just wanted "Old McDonalds" (i.e. a McDonald's Happy Meal): we found one about seven minutes from our condo.
But aside from all of the chain stores and restaurants, there are also lots of unique and local places as well.
We found some incredible, local, fresh seafood spots for dinner. We loved one place in particular called Trio. And we found a really cute, local toy store for Trevor called Pirates and Pixies.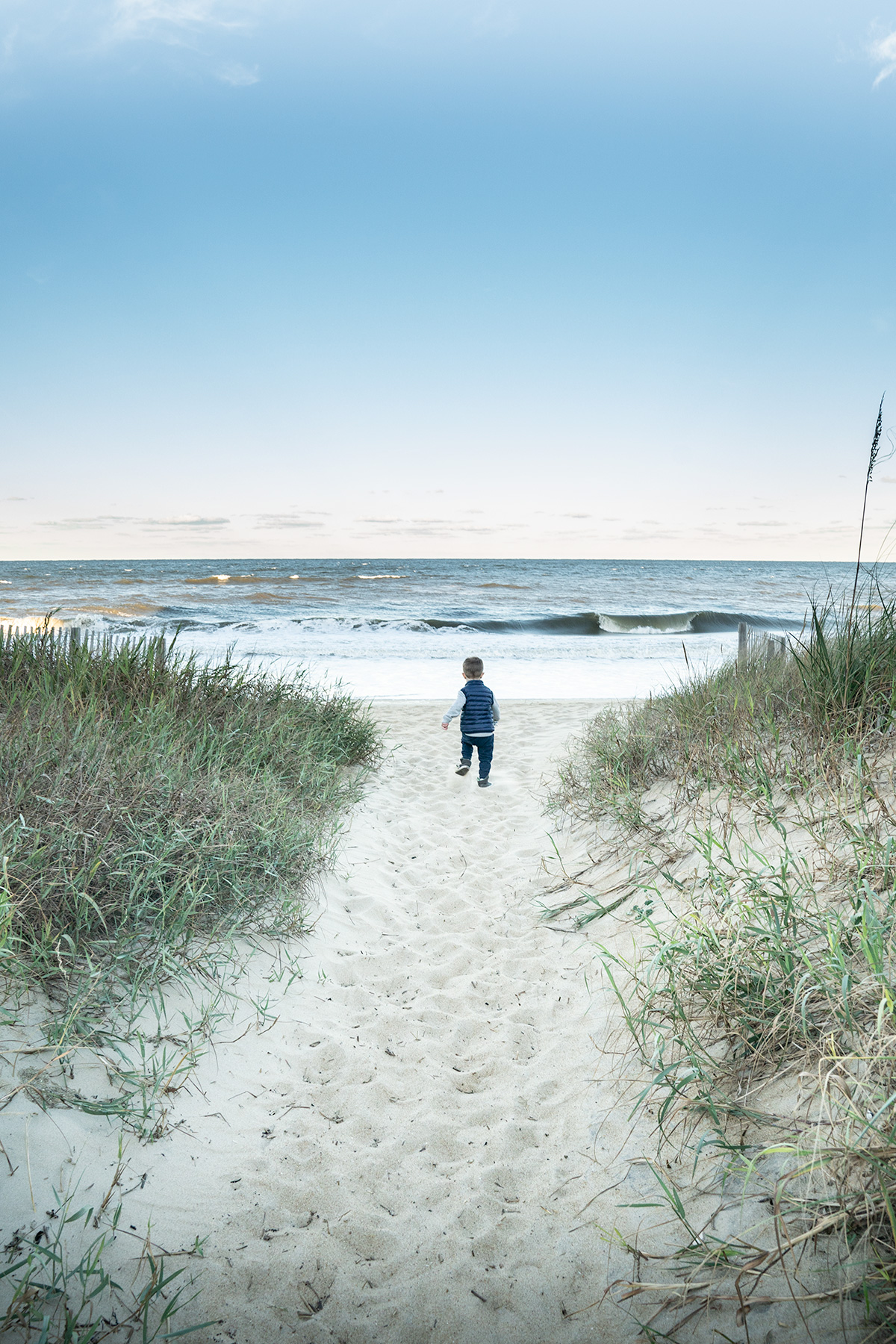 Reason #3 Why The Outer Banks is Perfect for Families: Breathtaking Beaches
If everything we've described above sounds a little too commercial for you, rest assured.
Once you step onto the beaches of the Outer Banks, you'll feel transported to another world that's pure Mother Nature.
Imagine grassy sand dunes, powdery soft white sand beaches overflowing with colorful shells, gulls soaring overhead, and an ocean so vast it appears to stretch into eternity.
The beaches of the Outer Banks are pristine and beautiful. And they seem to stretch for miles and miles on end.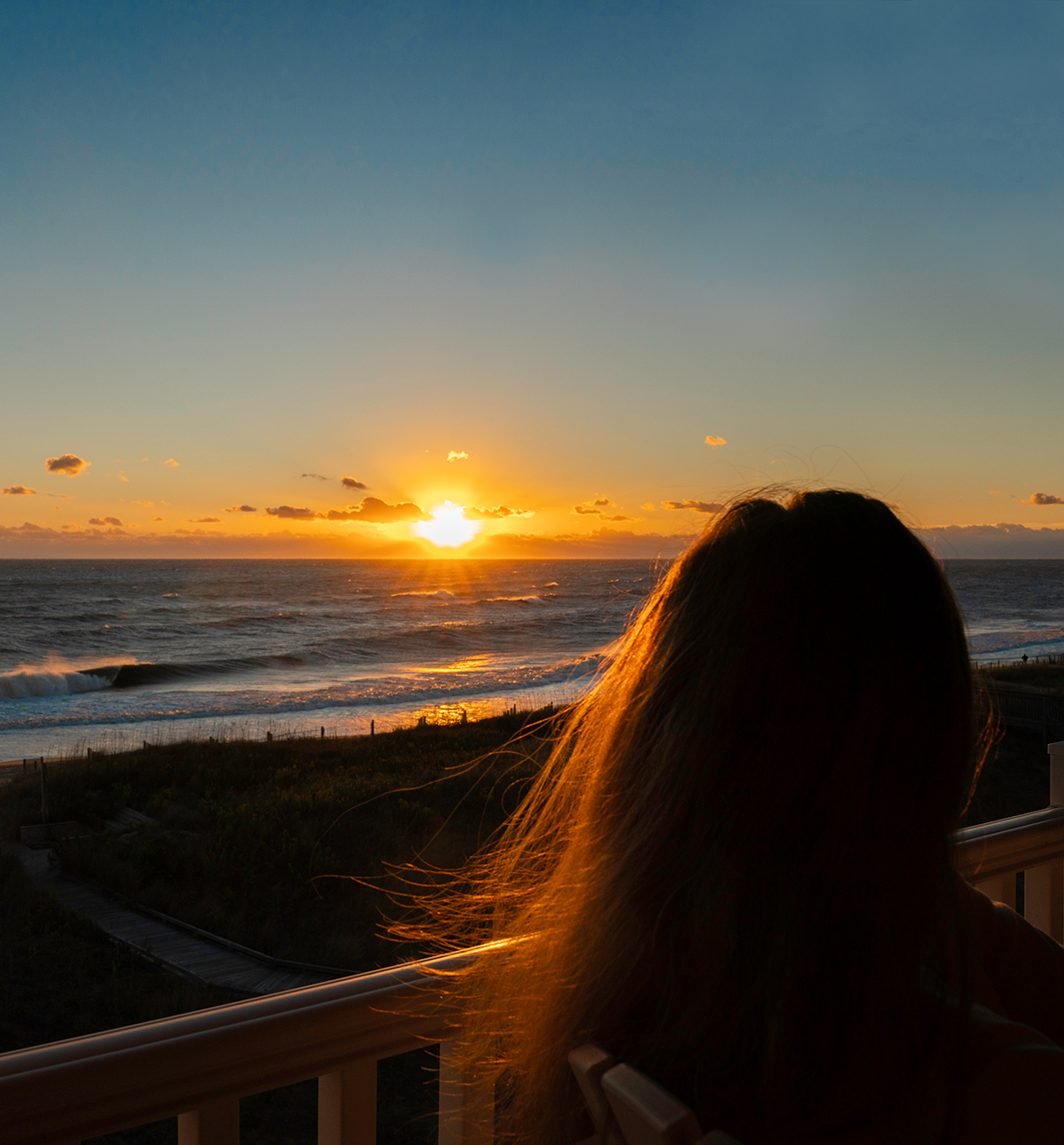 Another pleasant surprise from our location: a beautiful beach sunrise, directly over the ocean, every morning.
The Outer Banks is also home to many state parks and wildlife refuges. There are a wealth of natural wonders here, including:
Pea Island National Wildlife Refuge – habitat for snow geese and sea turtles
Jockey's Ridge State Park – the tallest living sand dune on the Atlantic, with incredible sunsets
Currituck National Wildlife Refuge – habitat for eagles, blue herons, and sea turtles
Corolla Wild Horses – Banker Spanish Mustangs roam wild and free on the northern beaches of the Outer Banks!
Here are all of the questions we had while planning our trip to the Outer Banks of North Carolina, plus all the answers we found after visiting:
How Should We Find a Place to Stay in the Outer Banks?
If you're interested in a beach house or condo rental, search Airbnb and HomeAway. You'll find everything from small condos to enormous 20-bedroom beach mansions. We found our two-bedroom condo on HomeAway, from a company called First Flight Rentals. First Flight has lots of good options for families with one-, two-, and three-bedroom oceanfront condos in the Outer Banks region.
What Time of the Year Should We Visit the Outer Banks?
June through August is peak season for the Outer Banks. During the summer months, you'll need to book accommodations a few months in advance. Expect hot weather, crowded beaches, and high prices for accommodations. We visited the Outer Banks in mid-October and loved it! For the handful of days we visited, we had some chilly but sunny weather (perfect for beach walks in jeans and light jackets), one rainy day, and some beautiful sunny weather that was warm enough for Trevor to wade into the ocean. The beaches weren't crowded, just a handful of other visitors. And prices for accommodations were less than half of what's charged during peak season. So we'd recommend avoiding peak season and visiting in the April-May or September-October timeframe.
Where Should We Stay in the Outer Banks?
We stayed in Kill Devil Hills and highly recommend staying in this general area. Here's why: you'll have a wealth of options for accommodations. Plus you'll enjoy the convenience of the main strip (with every store and restaurant imaginable). Kill Devil Hills is also a central location in the Outer Banks, so it's possible to do day trips to some of the more preserved and secluded spots. Corolla, where you'll find the Outer Banks wild horses, is about 45 minutes north of Kill Devil Hills. And the Pea Island Wildlife Refuge, where you'll find sea turtle hatchlings in spring, is about 45 minutes to the south.
What Should We Pack On Our Trip to the Outer Banks?
First we should mention that since you'll have access to the main strip, there aren't any worries if you forget something! Should you realize you're out of sunscreen, for example, you'll find a drugstore five minutes down the road! One thing we loved about our condo rental from First Flight is that they offered packages and add-ons (for additional fees) for everything we needed. We were able to rent a crib for Trevor, plus a beach umbrella and canvas chairs. They also offered rentals for coolers, paddle boards, kayaks, and jet skis.
The things we packed that we got a lot of use out of:
Beach towels (our condo didn't provide beach towels)
Sunscreen
Sunhats
Sunglasses
Sweatshirts (evenings were chilly)
Jeans
Windbreakers/Raincoat
Swimsuits
Flip Flops
Backpack/Beach Tote
Pin on Pinterest: