It was only a matter of time before we found our way back to Disney World. The two boys of the family love this place too much for us to ever stay away for long…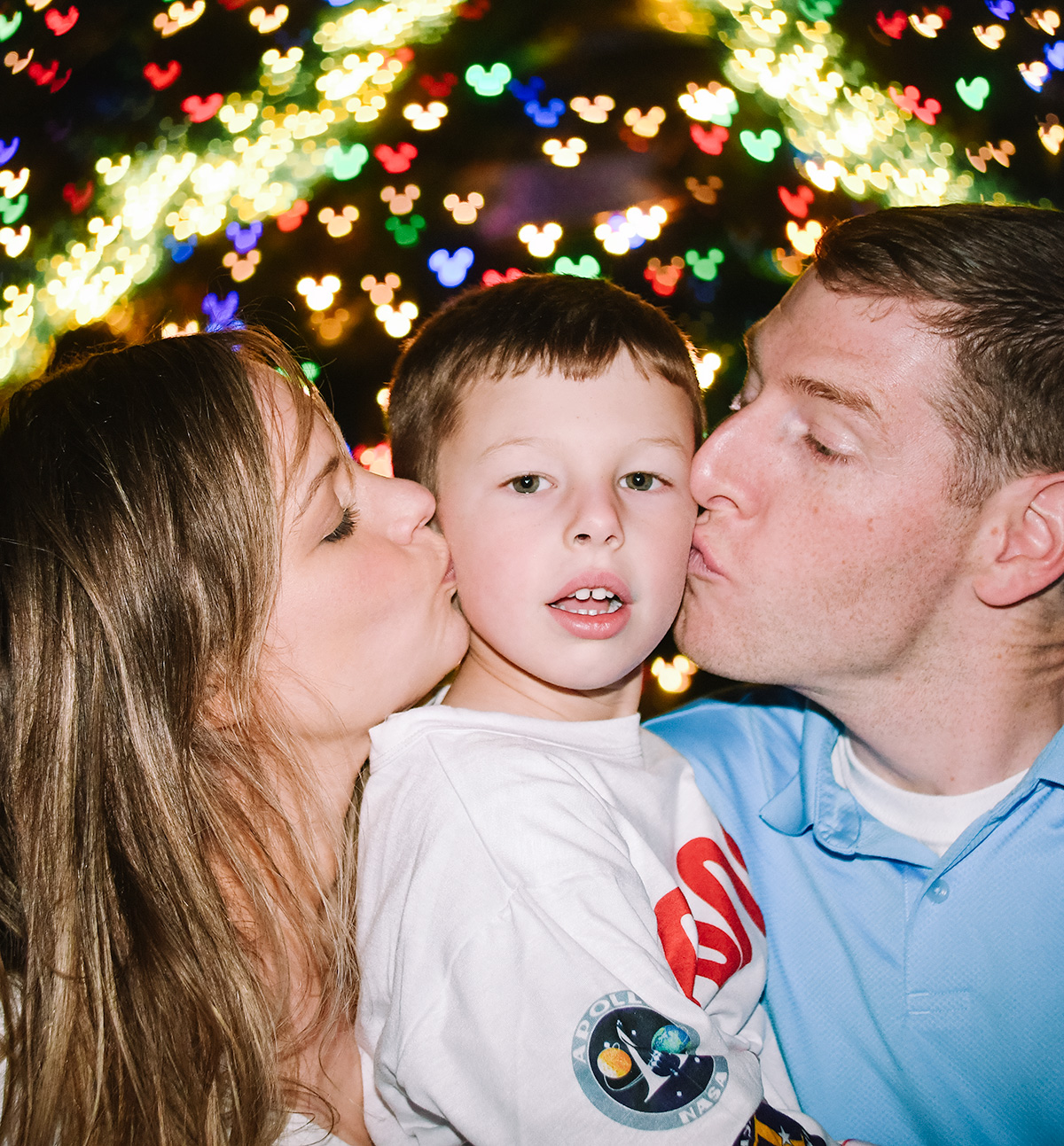 We visited Disney from the very end of November to the beginning of December. It's absolutely my favorite time of year to go to Florida. The heat and humidity in Orlando is way too intense for me for most of the year; but around the holidays, the weather is my idea of "perfect." The humidity goes away, the skies are mostly clear (without those daily thunderstorms), and temperatures rarely reach above the mid-70's. It's not unbearably hot, but still warm enough for Trevor to splash in the pool. And as long as you're there after Thanksgiving break and before Christmas break, the crowds aren't too overwhelming.
So yes, we had really amazing weather. Not-too-intense crowds. Wonderful hotel accommodations. We've had those stressful trips where everything seems to be working against us, and this wasn't one of those trips. Everything seemed to unfold perfectly. The stars were aligned for some Disney Magic, I guess!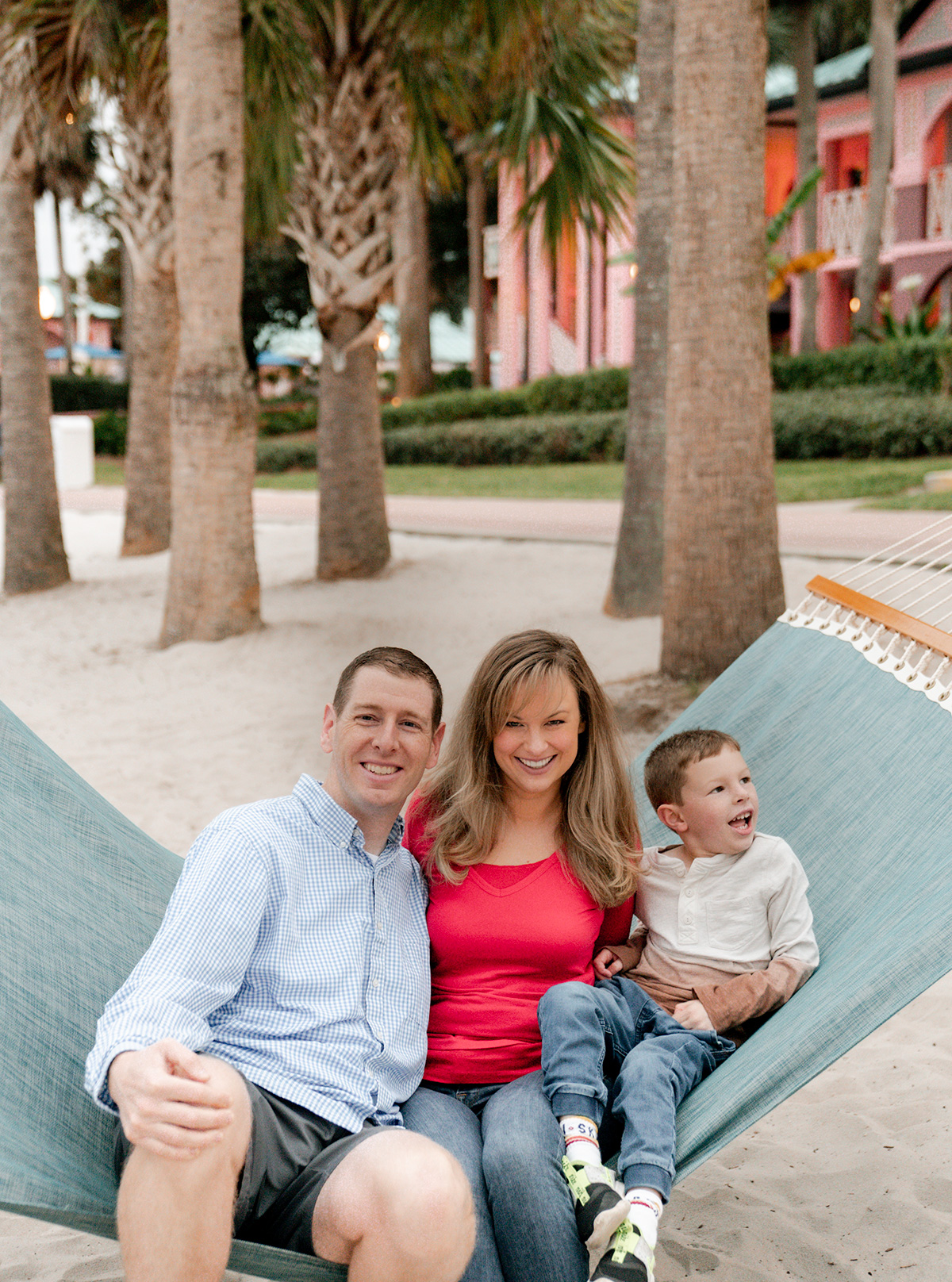 For the first half of our Disney trip, we stayed at the Riviera Resort. I mentioned in my last Disney World post that the Riviera is probably my favorite Disney hotel. The room decor is beautiful and new and the food there is far superior to other hotels (the food is delicious!). And we love the easy convenience of riding the Disney Skyliner to Epcot and Hollywood Studios. Tru is always excited to ride the Skyliner. We had a repeat of our last trip where we had a quiet corner room that overlooked the lake. Each night, Chris and I would tuck Tru into the living room Murphy bed under the Peter Pan mural. And then we'd sit out on the balcony. There's a new nighttime show at Epcot called Harmonious. It was performed at 9:30 each night, which is way too late for Tru. But our room happened to have a view of Spaceship Earth, so Chris and I were able to sit on the balcony and watch the show each night. Chris even thought to play the show on YouTube on his phone so we could hear all of the music perfectly. So that was a really memorable and special way to end each night.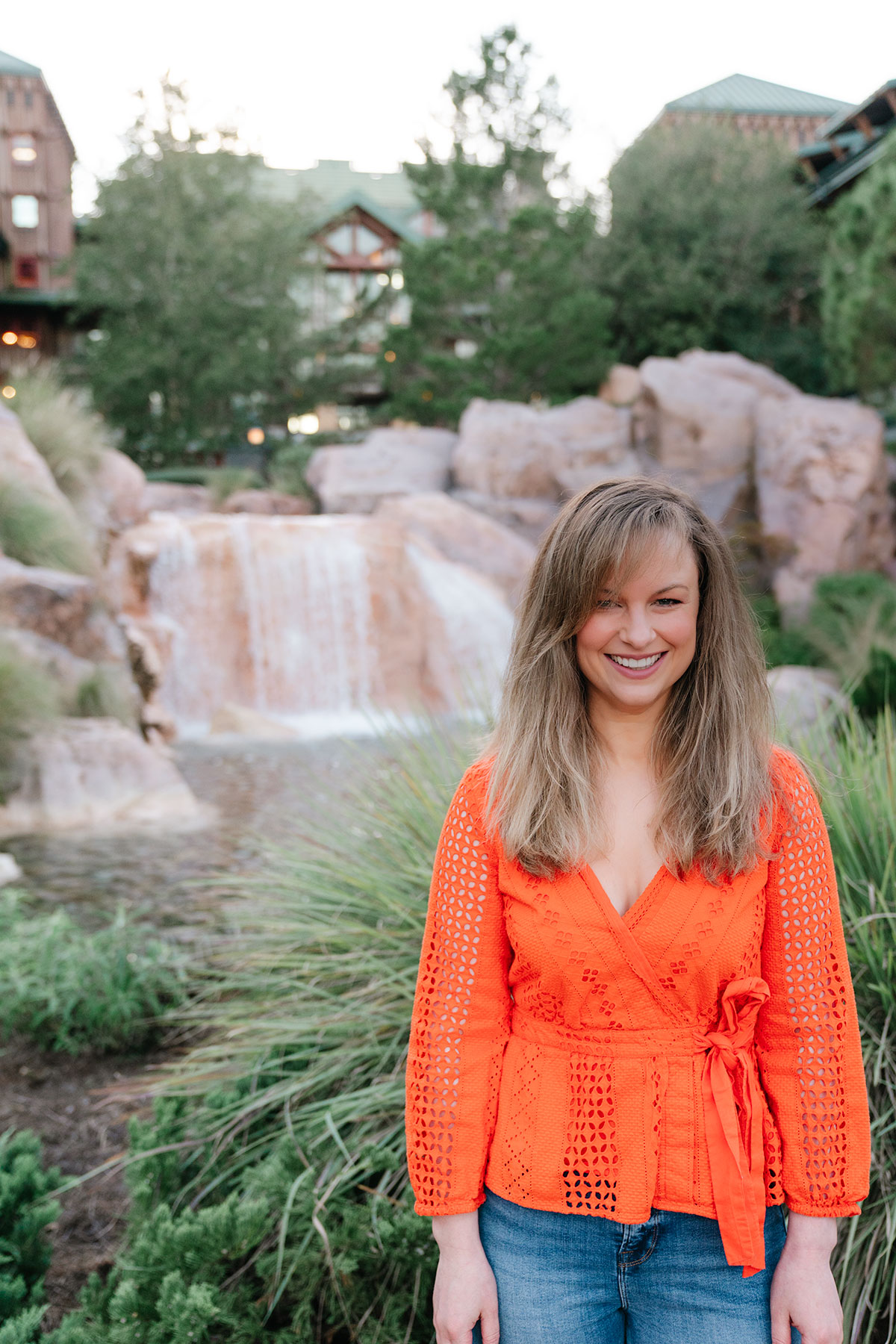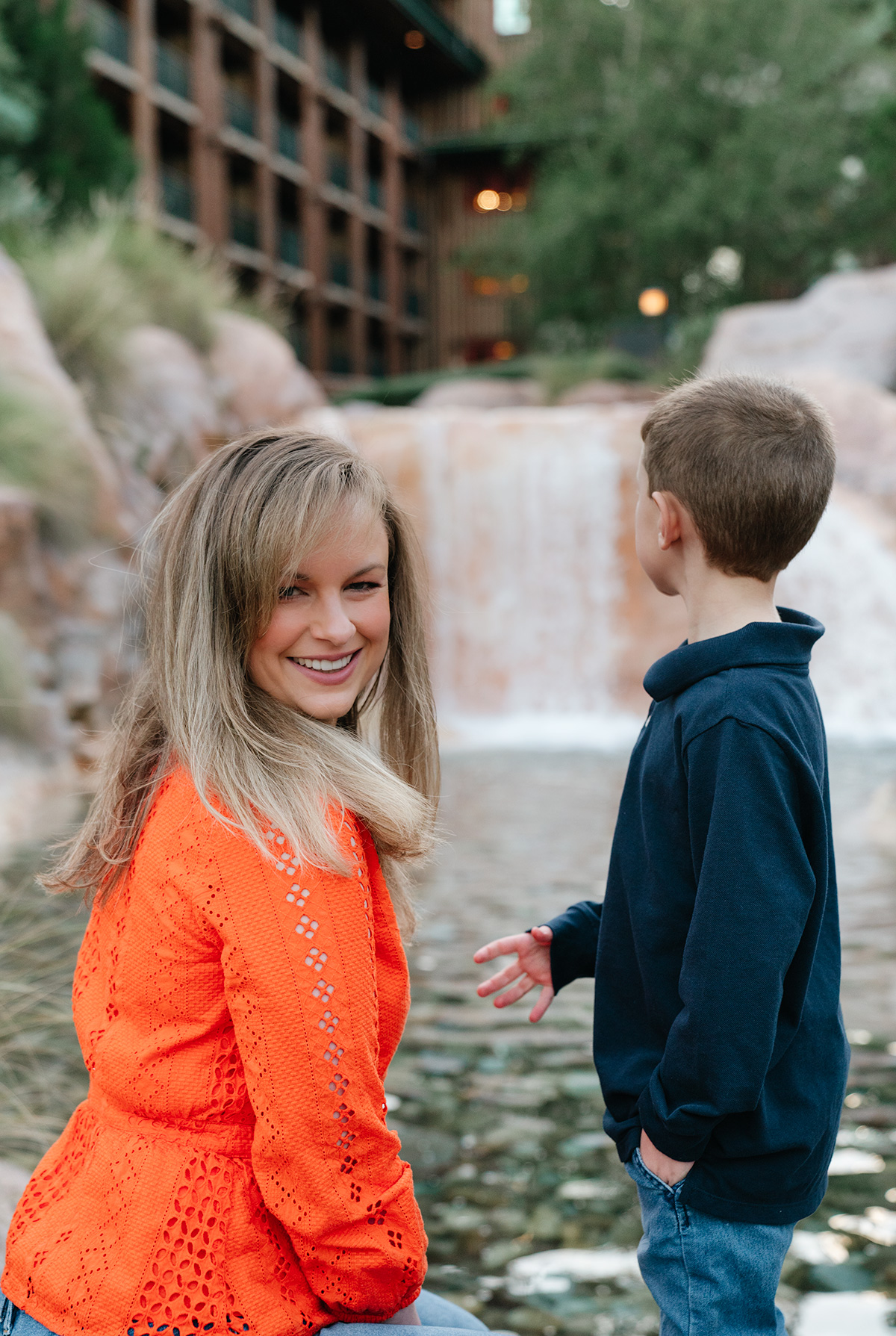 For the second half of our Disney trip, we stayed at the Wilderness Lodge. Since we're members of the Disney Vacation Club, we were able to stay at a Copper Creek Cabin at the Wilderness Lodge. I told Chris it was my favorite hotel room of all time. I just loved so many little details about that room. If I ever build my dream home in this lifetime, it'll be similar to the Copper Creek Cabin. I loved the frosted glass windows in the stunning master suite bathroom. I loved the wood beams on the cathedral ceilings and the stone fireplace. I think Disney called it "rustic yet elegant," and it truly was the perfect balance of the two. The open kitchen/dining room/living room had sweeping cathedral floor-to-ceiling windows that opened onto the most incredible porch. The porch had a hot tub, a fireplace with rocking chairs, and a gorgeous giant wooden picnic table. Overlooking the lake, it was completely screened to keep the bugs away. It even came complete with a sound system so we could play holiday music when we were out there. We ate most of our meals on that porch. And I'd bring my laptop out there to work through my classes while Tru and Chris went to the pool. At night before bed we'd go out and we could see the Magic Kingdom fireworks right from our porch. The speakers were automatically set to play the musical soundtrack that went along with the show. One night we grabbed ice cream sandwiches and brought them back to the room. Tru curled up in my lap on the picnic table to "say warm" while eating his ice cream, and we watched the fireworks show. It was really special and memorable. We could also see the Electrical Water Pageant light show on the lake each night. I seriously loved that porch (can you tell?!). I would have been happy with that trip just from my time spent out there.
I think we figured out the best way to do Disney, which is to only spend a few hours at a park; just enough time to go on a few key rides. In the past, Chris and I have rushed – practically sprinted, really – around each park trying to squeeze in every last ride. This time we slowed down, took our time, and just went on those few rides Tru really wanted to do. It was so much more enjoyable and relaxing for me. I highly recommend this method! For other activities, we did mini golf, Disney Springs, and the new Cirque du Soleil Drawn to Life show at Disney Springs. Drawn to Life was a very cool show but (surprisingly for Disney) not really made for kids. Tru and Chris also went to a couple of the Disney golf courses, and that was definitely a highlight for Tru.
And what were Tru's favorites? He's all about the thrill rides! He really loves roller coasters. One of his favorite rides was Expedition Everest at the Animal Kingdom. He said the Everest ride "stopped his breath" for a minute the first time he rode it, but then he rode it four times! He also loved Splash Mountain at the Magic Kingdom and the Slinky Dog Dash Coaster at Hollywood Studios.
Another highlight for Tru was when we went to the brand new Space 220 restaurant at Epcot. It was a really unique restaurant with giant floor-to-ceiling windows that appeared to overlook outer space as seen from the moon. Comets and astronauts would float across the windows. It was very sweet because there's an elevator experience when visitors first arrive, to make it seem as though you're on a rocket ship blasting into outer space. Tru was pretty certain we really had gone to outer space. He kept saying, "Is this real? Are we really going into outer space?" In his mind, absolutely anything is possible.
When we asked Tru about his best memory from the trip, he said his favorite thing was ordering a giant Mickey-shaped soft pretzel and eating it on Chris's shoulders as we walked through Epcot. The simple things are the best things, right?
One sweet memory from the trip: Tru was given homework to complete by his kindergarten teachers. I was surprised by that. He had 92 pages of reading and writing work, photocopied and staple, from Explode the Code! Tru was determined to complete all of his work. He worked diligently on the plane rides to and from Florida. And he worked during our car ride to Palm Beach after we left Disney World. He seems to be a determined and hard-working student. He completed all 92 pages of work, and he was so proud!
One really special event for both Chris and I was the new Disney Enchantment fireworks show at the Magic Kingdom. Of course, the Disney fireworks shows are always incredible. But we did the Dessert Party, which offers excellent seating right in front of Cinderella Castle. Chris put Tru up on his shoulders. Tru and I sang along to the music. It was a special end to the night.
After Disney, we drove to Palm Beach and spent a couple nights at the Four Seasons Palm Beach. We'd never been to Palm Beach, and it was wonderful.
The beaches were dreamy: gentle warm waves, soft white sand, and sparkling turquoise waters. We spent a lot of time just relaxing on the beach. Tru loves to splash in the water and run on the sand.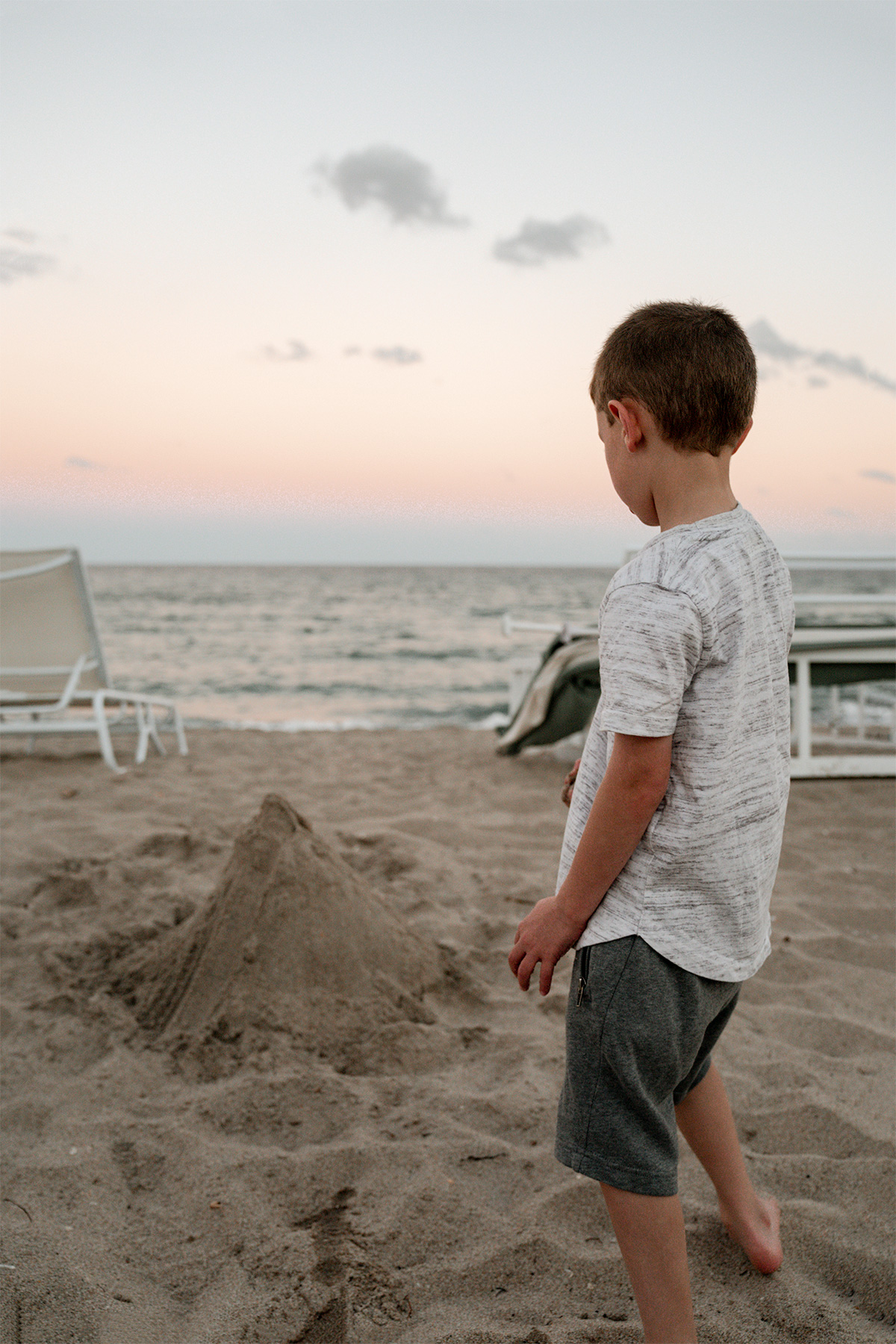 He also struck up a conversation with a beach attendant who had built a cool pyramid out of sand. He set right to work trying to build a similar pyramid that was bigger than hers. So that was his main focus during our time in Palm Beach!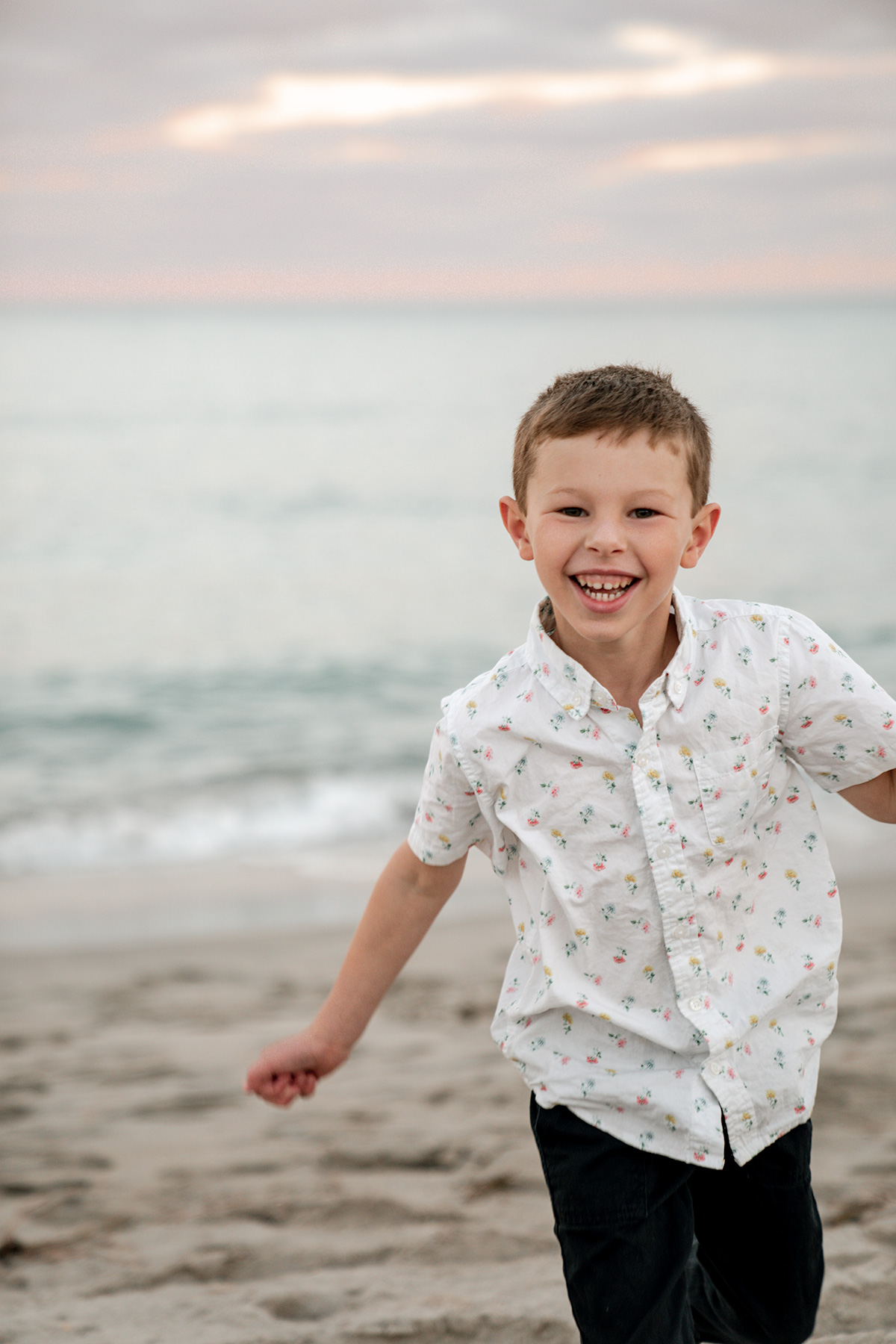 In my eyes, this boy shines brighter than the sun. A big, genuine smile always comes out when we get Tru running on the beach!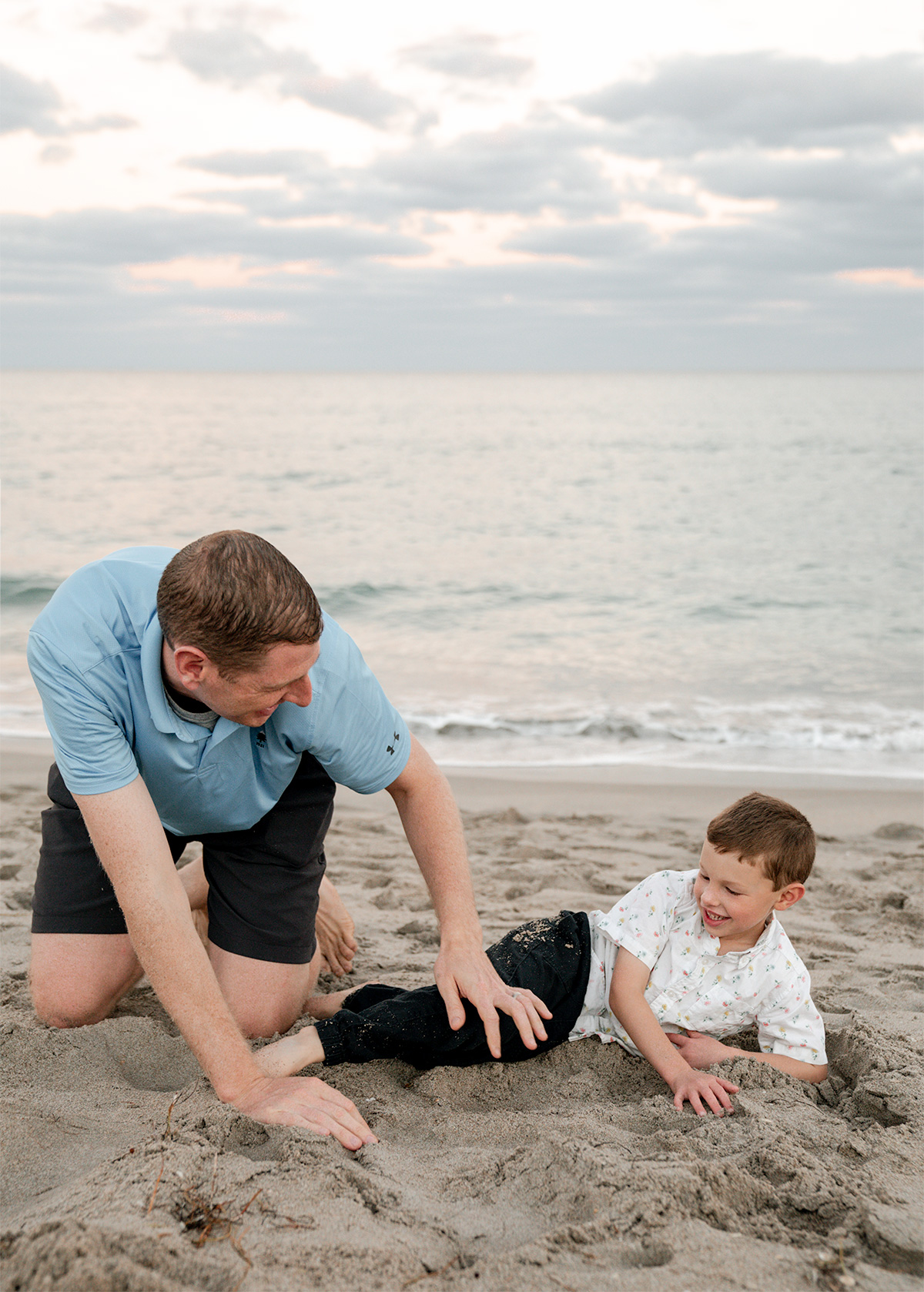 The boys who hold my heart.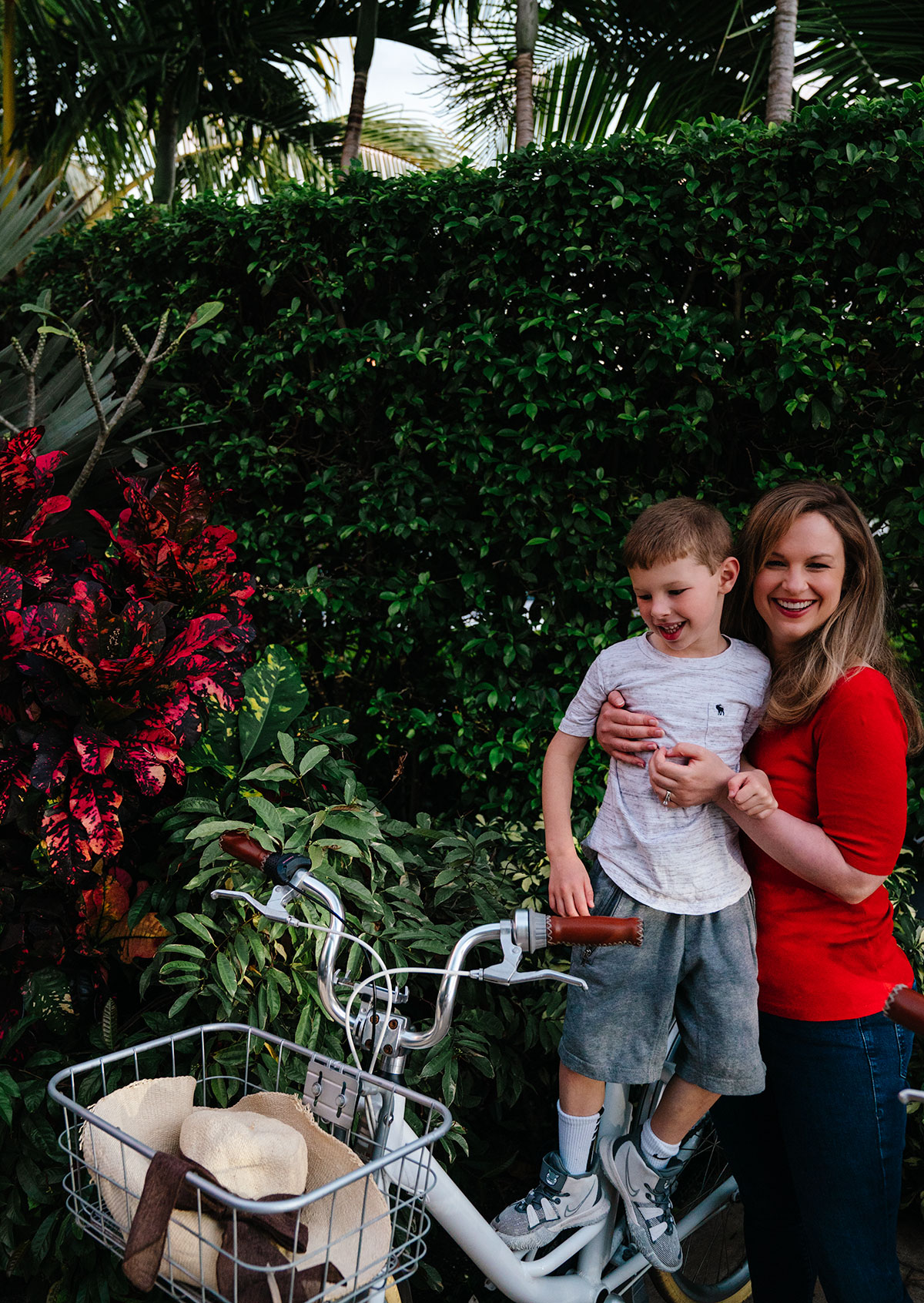 Palm Beach has an opulent vibe. We saw so many elaborate mansions overlooking the water as we drove through town. And there's a gorgeous downtown area with expensive restaurants and luxury designer shops.
We decided to check out a botanical garden that was highly rated on TripAdvisor. We got so confused as we approached the gardens because it was located on a highly trafficked industrial road right next to a small airport.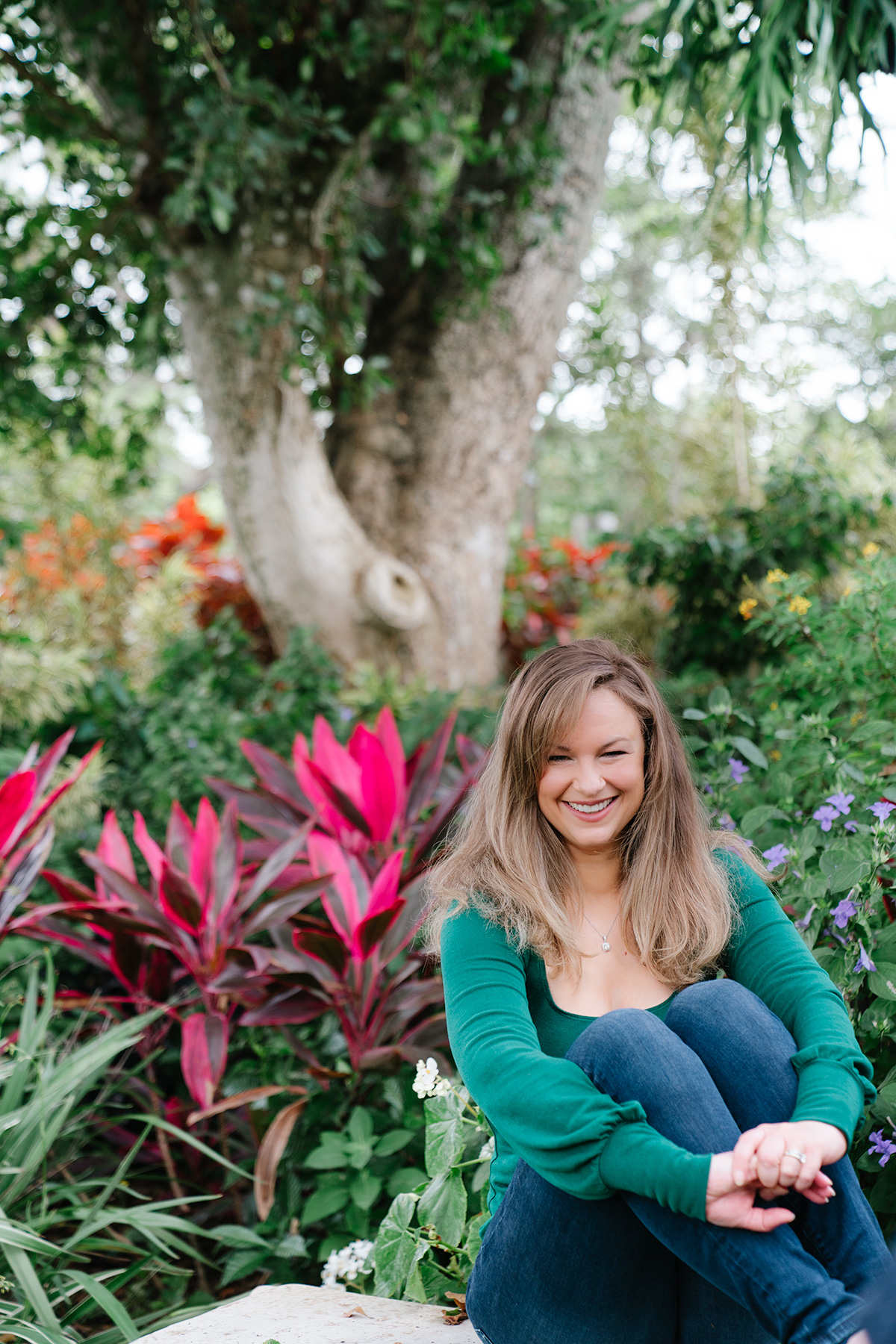 We'd feel like we slipped into a tropical oasis … then a plane would zoom directly over our heads! It was lovely though, and a nice place for Tru to run free.
I love this photo. This is Tru's mad face. He will make this face at me anytime he's feeling annoyed or frustrated. He angles his face down then rolls his eyes up and to one corner. He made this face at me because I wanted to take some cute pictures of him sitting on a garden bench. But you can tell by the little grin that he was faking the mad face!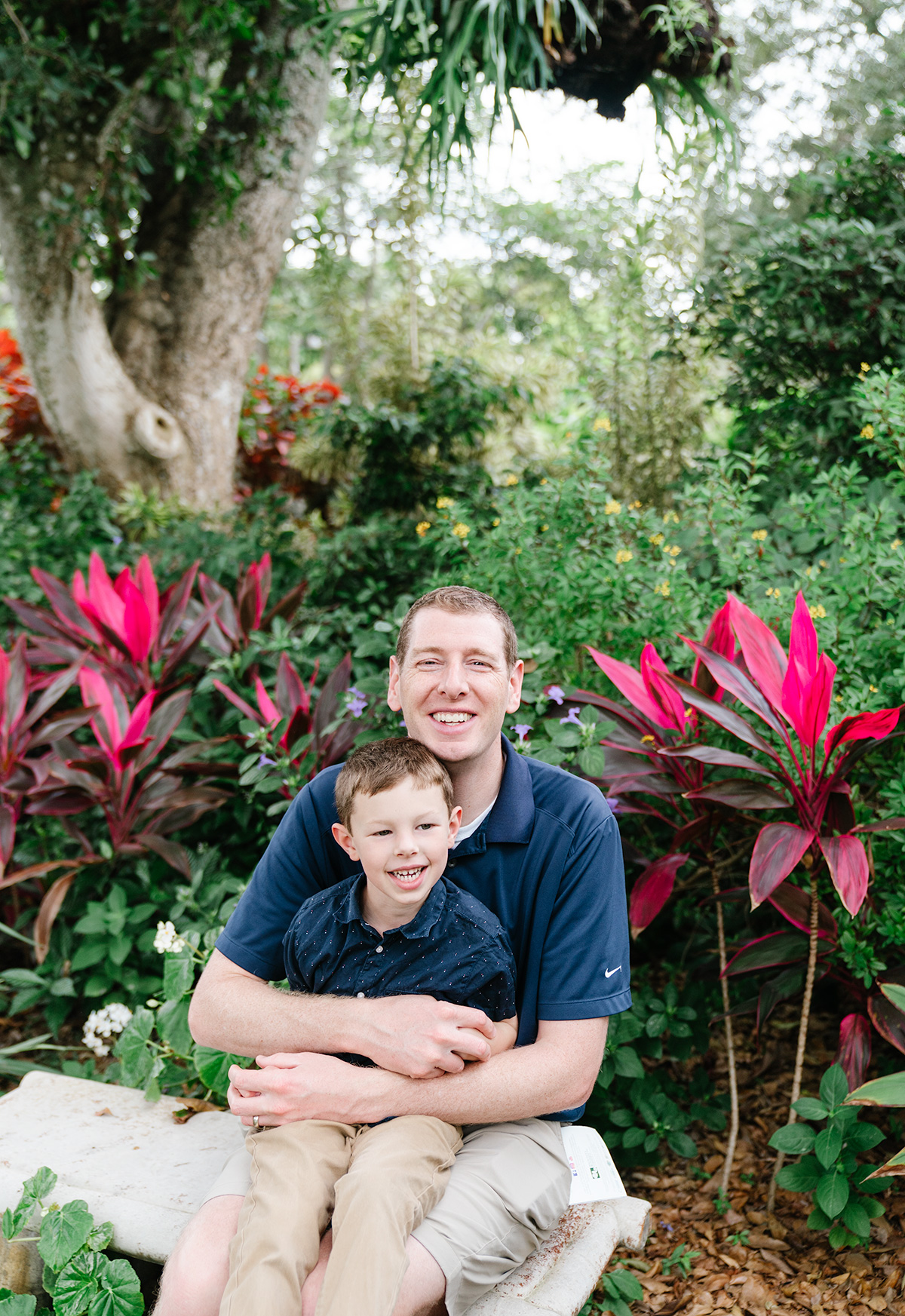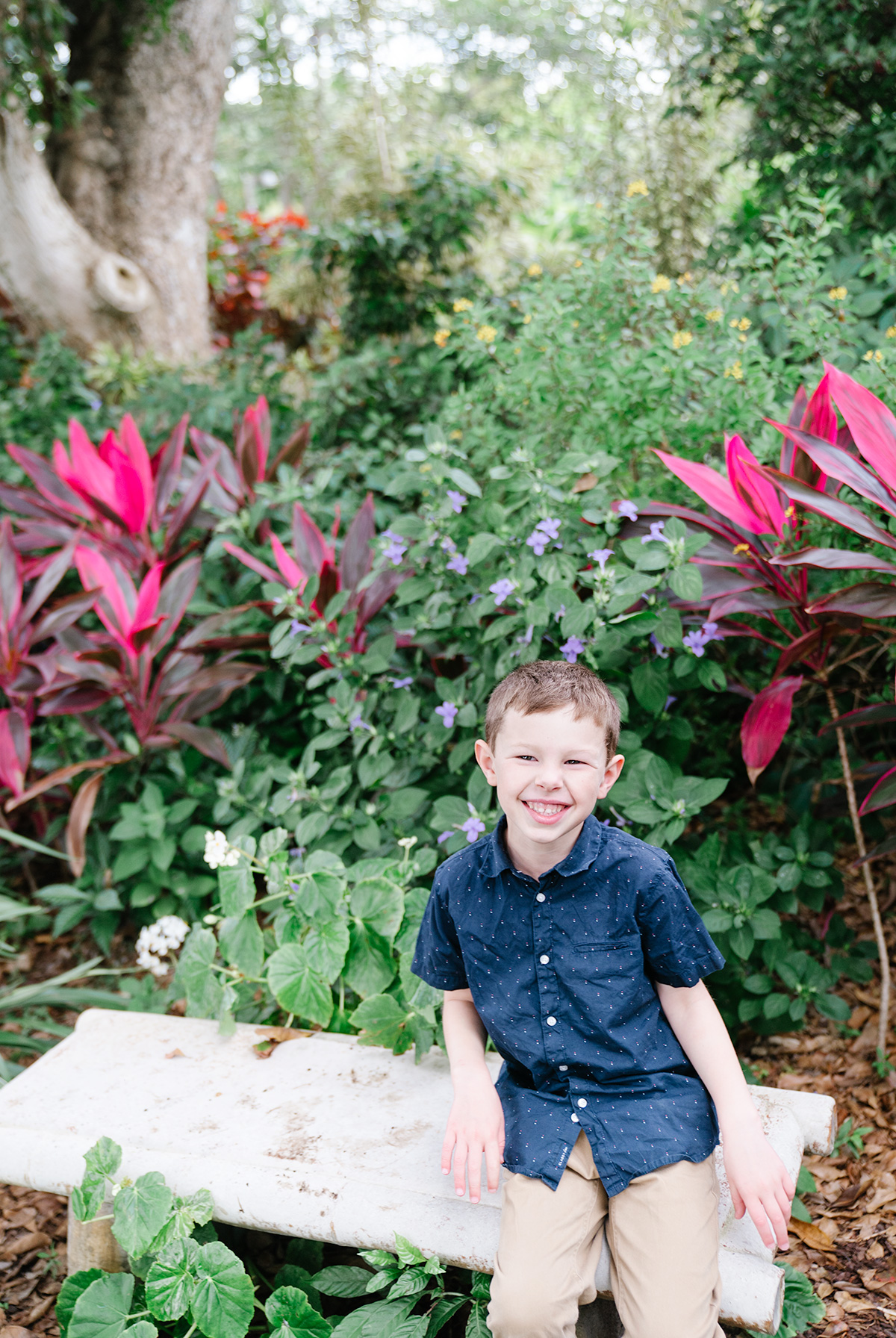 Chris must have bribed him with something to get these smiles.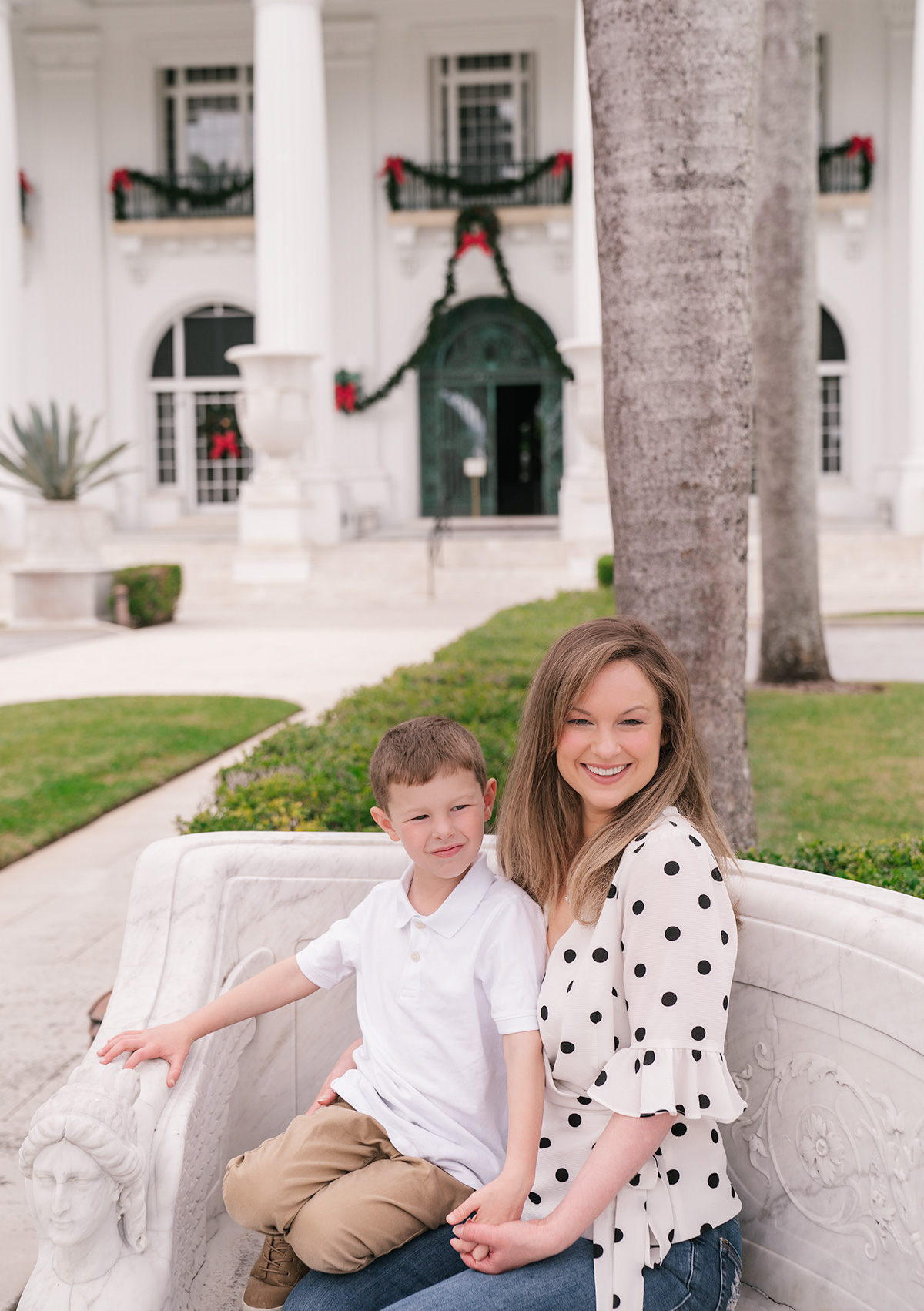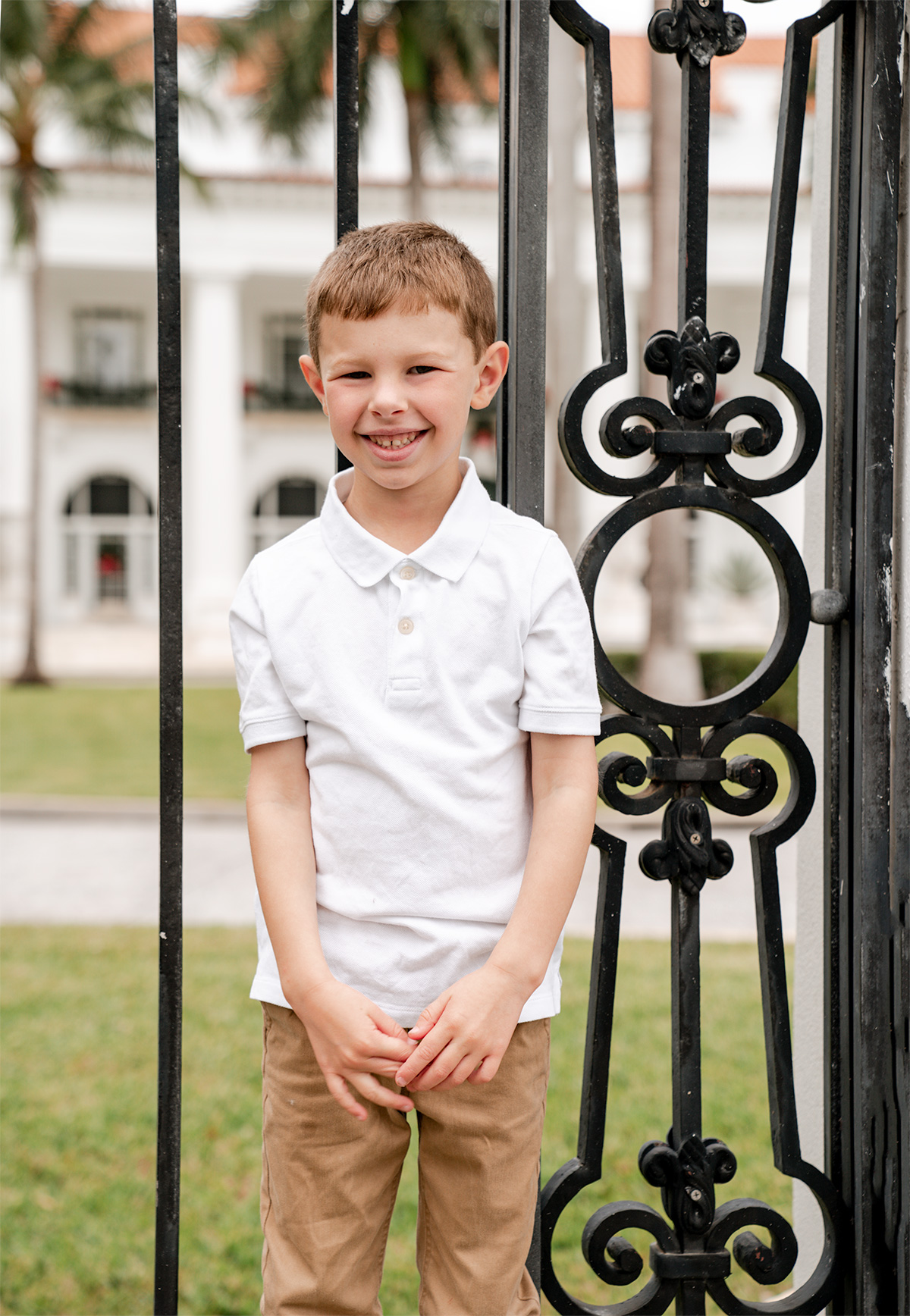 Next, we tried to keep Tru's rambunctious high energy contained as we wandered the rooms of the Henry Morrison Flagler Museum. It's a stunning mansion from the 1800s that's been preserved for visitors to explore. I loved it.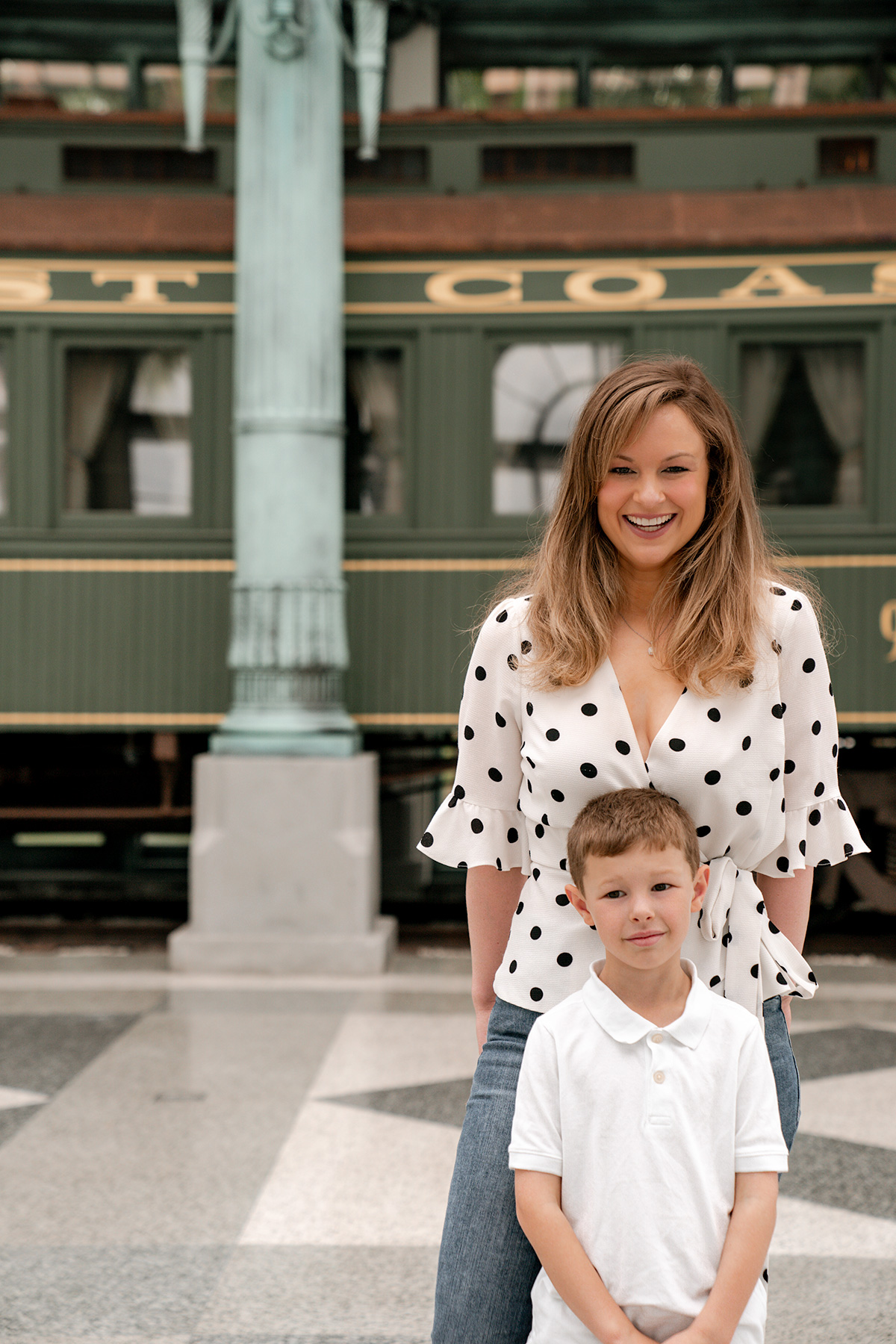 This photo sums up the photo-taking process when it happens every once in a great while:
Jen: "Let's get dressed in fun outfits and take cute photos!"
Tru: "Let's do anything else but that."
Chris: (carries the camera).
Maybe someday Tru will look over these family journals and understand why these photos are special to me.
Trevor's laughter in these photos is for real. he caught sight of a couple of heavier-set, older men riding around on bicycles with no shirts on, and he thought it was the funniest thing ever. "Those guys forgot their shirts," he laughed. I guess we don't see that as often, living in six-months-of-winter New England. He brings so much fun and humor into my life!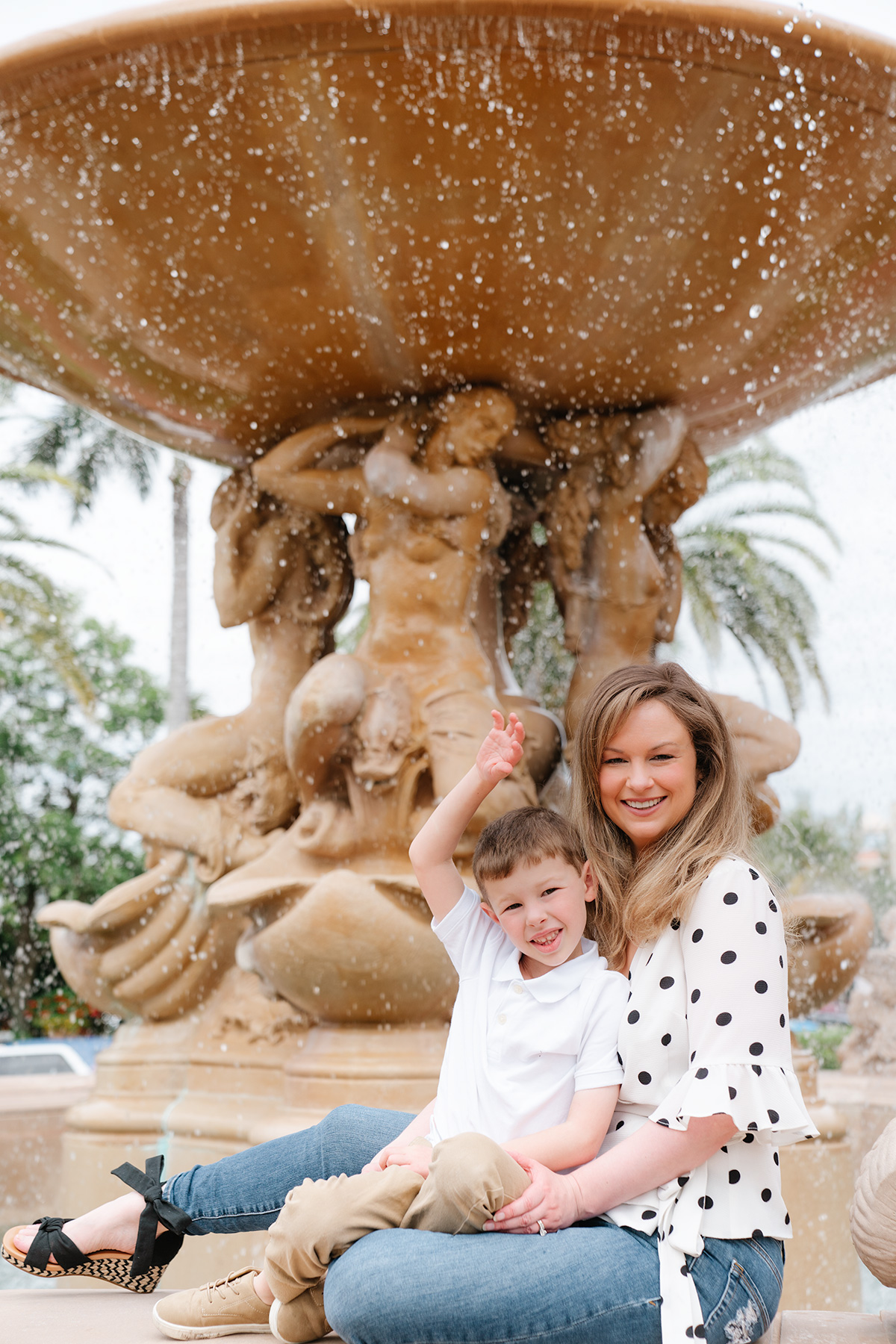 We also drove over to The Breakers, which is a famous historic resort built in the 1890s. It was fun to explore all of these elegant and stunningly beautiful destinations.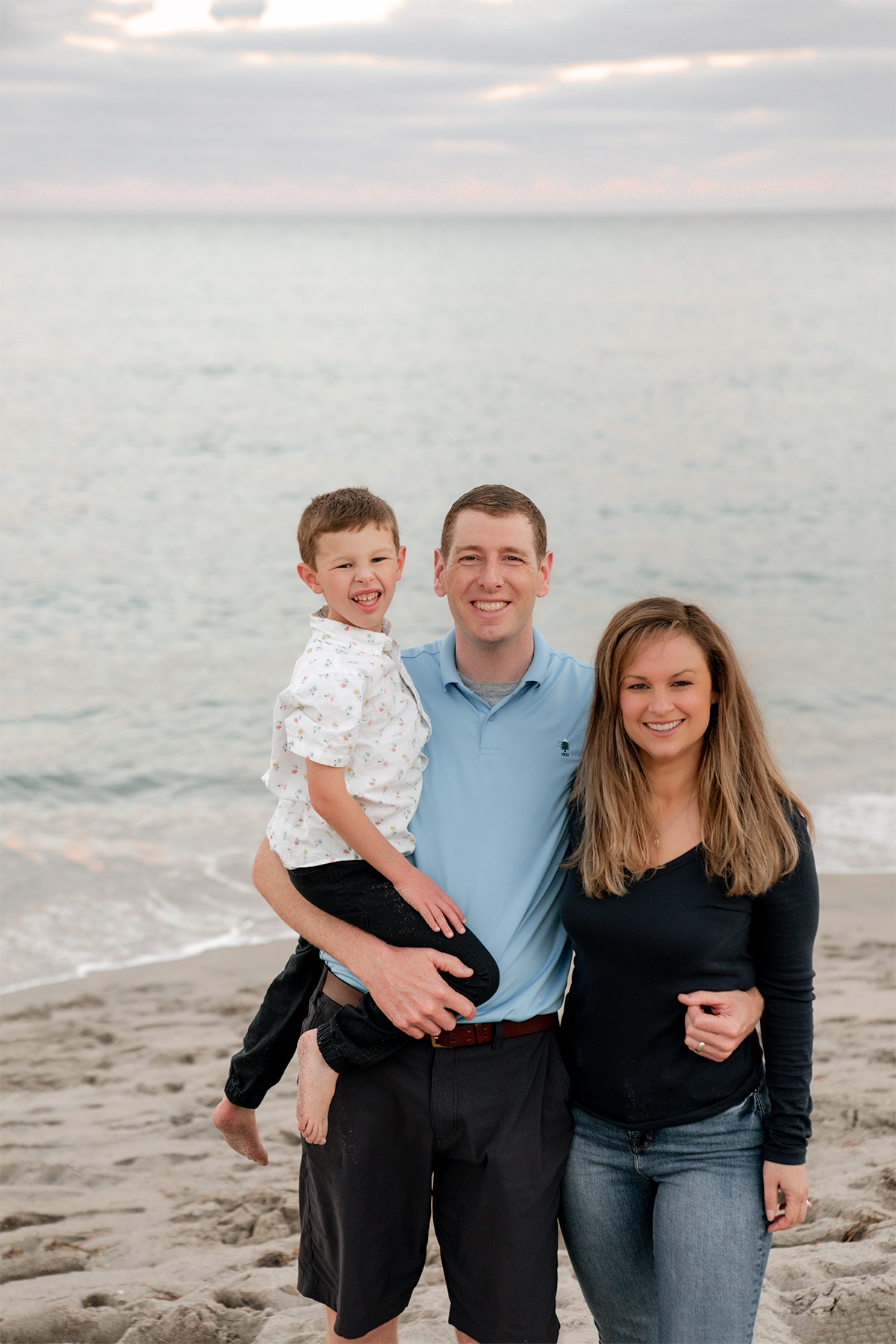 This was such a fun and special trip for us, one I'll always remember with love.