What causes a seemingly ordinary, commonplace experience to live on and become legend – told and then repeated again and again, slightly altered, lightly exaggerated – when family gathers?
Here is one from my family: When we were young, my cousin Kristin and I were invited on 4-day vacation to Canada with our grandparents. Our parents gave each of us a small stipend of cash to spend on souvenirs and other treats for the trip. Strolling through beautiful Old Quebec City during our trip, we saw carriage rides, face-painting stations, lines of souvenir carts. Endless options for spending that money!
We stopped for dinner and after eating, a dessert tray was wheeled out, overflowing with decadent deserts. My cousin and I both wanted the cheesecake. My grandfather encouraged us to order one slice to share. Kristin and I, young and enticed by the tempting variety of sweets on that cart, were both sure we could each finish our own piece.
My grandfather proposed a wager: Kristin and I would both get our own slice of cheesecake. If we could each finish the whole piece of cheesecake – not a crumb left – my grandfather would pay for the dessert. If we were not able to finish, we would have to dip into our souvenir fund to pay for the dessert ourselves. Unwilling to part with the promise of the charm bracelets and face-painting awaiting us outside, we both finished our cheesecake slices.
We won the wager and yet – stuffed uncomfortably to the brim and slightly regretful and humbled – did we really win?
Maybe my family finds so much humor in that story because it reveals something of the brilliant contradictions at work in the soul of our much-loved grandfather. One of the generation that lived WWII and the Great Depression, he was diligently frugal – he refused to purchase anything new for himself if he hadn't fully worn out the old item. Yet, every Christmas, he bestowed extravagant gifts to each member of the family. And he believed in tough love. Indeed, useful life lessons – about appreciating the value of a dollar and using reason and experience to overcome feelings of greed – were learned by both my cousin and I that evening.
Sadly, my family lost my grandfather, 'Pepere,' this week after a battle with cancer. But that story, along with many others, will undoubtedly live on indefinitely, told always with laughter.
This cheesecake recipe is in honor of my grandfather.
Here are all the ingredients you'll need.
I love this recipe because it's so much faster and easier to prepare than a traditional cheesecake (I should mention that there are about 1 1/2 hours of inactive time to allow the cheesecake to set).
It also cuts out all of the butter, nearly all of the white flour, and more than half the sugar of a traditional cheesecake. And it adds in healthy greek yogurt, canola oil, and whole wheat flour.
Begin by preparing the raspberries. Combine the raspberries and agave nectar in a small bowl. Place in the fridge to allow the berries to macerate (soften and release their juices).
Substitutions: you may substitute sugar or honey for the agave.
Even better: if you love the tart flavor of raspberries, just leave them unsweetened.
Preheat the oven to 350 degrees F.
Separate the egg whites and discard the yolks.
Prepare the dough by combining the following in a food processor: all-purpose flour, whole wheat flour, the egg whites, almond butter, cocoa powder, sugar, and canola oil.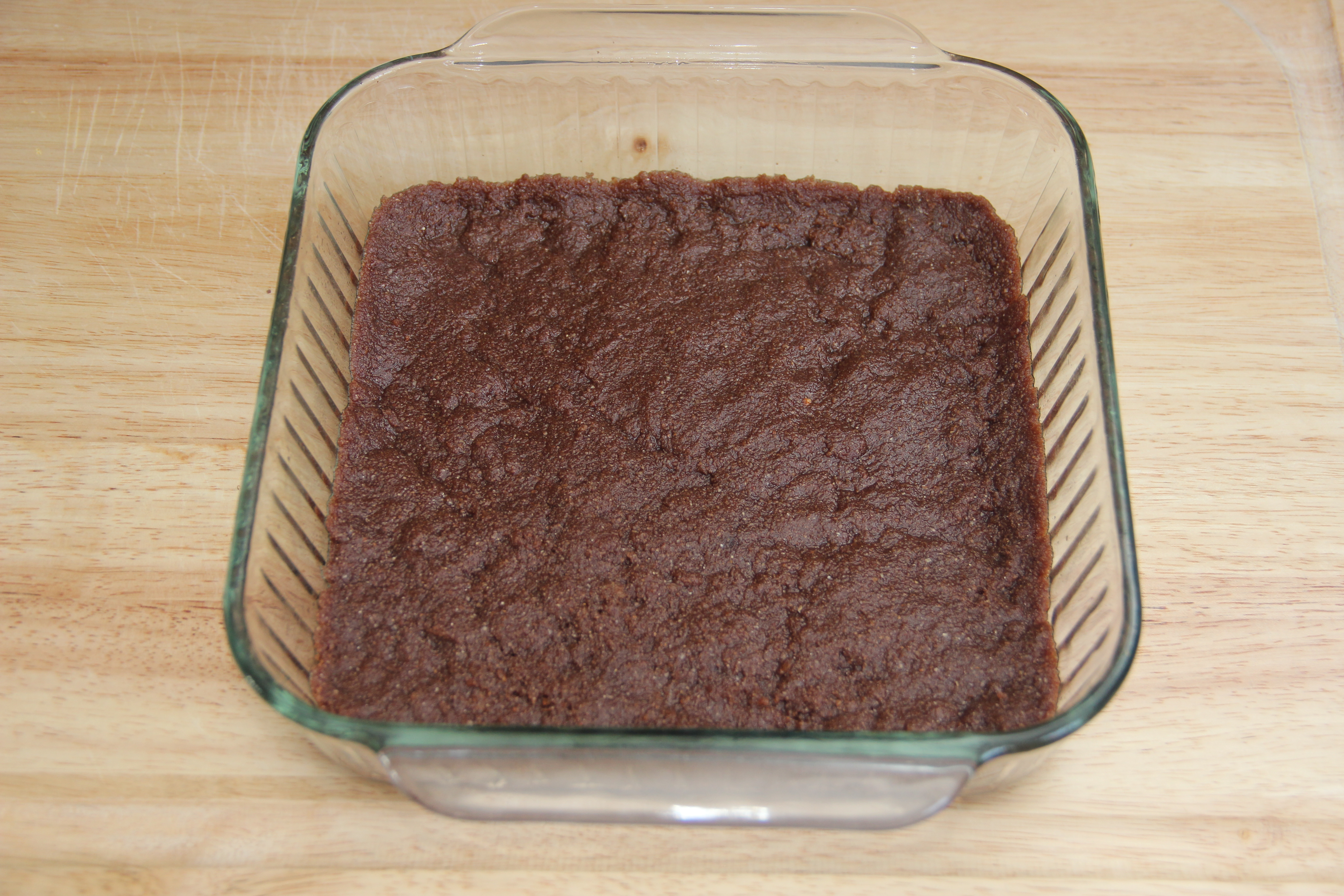 After the dough is well-combined, press it along the bottom of an 8 X 8-inch casserole dish.
Bake in the oven for 15 minutes.
Set on the counter to cool for about 15 minutes.
In the meantime, prepare the filling.
Reduce the oven heat to 325 degrees F.
Quickly strain some nonfat plain Greek yogurt, just to get rid of any excess liquid.
I love replacing some of the cream cheese and eggs found in a traditional cheesecake with Greek yogurt. It's so low in calories with no fat. And it sneaks healthy protein, calcium, and probiotics into your dessert. It's so rich and creamy, you can't taste any difference at all in the final cheesecake.
Combine the following in a large bowl: Neufchatel, the strained greek yogurt, sugar, cocoa powder, and an egg.
Beat until the mixture is smooth and creamy using a hand mixer.
Carefully fold in some dark chocolate chips.
Adding cocoa powder and dark chocolate chips adds such a rich chocolatey flavor that you're able to get away with using less than half the sugar used in a traditional cheesecake.
Spoon the filling over the baked crust.
Bake in the oven until the top becomes firm, about 20 minutes.
Set the cheesecake on the counter to cool to room temperature for at least half an hour.
Then place the cheesecake in the fridge for at least an hour to allow it to set completely.
Cut the cheesecake into 9 squares and serve, topping each one with the raspberries.
When my husband Chris tried these for the first time, I believe his words were, "There is no way that these can be healthy" because they taste extremely rich and decadent.
The contrast of sweet flavors – from the crisp and crumbly crust, to the rich and creamy filling, to the slightly melted dark chocolate chips, to the fresh and tart raspberries – is heavenly.
The subtle hint of chocolatey deliciousness mixed into the tangy cream cheese filling is my favorite part.
These triple chocolate cheesecake squares place right up there among my favorite recipes.
Here is the complete recipe:
Guiltless Triple Chocolate Cheesecake Squares with Raspberries
Total Time: 2 hours 20 minutes
Prep: 15 minutes
Cook: 35 minutes
Inactive: 1 hour 30 minutes
Crust
1/2 cup all-purpose flour
1 cup whole wheat flour
2 egg whites
1/2 cup canola oil
1 tablespoon almond butter
2 tablespoons unsweetened cocoa powder
2 tablespoons sugar
Filling
1/2 cup strained plain nonfat Greek yogurt
12 ounces (1 1/2 packages) Neufchâtel low-fat cream cheese
1/2 cup sugar
1 egg
1 tablespoon unsweetened cocoa powder
1/3 cup dark chocolate chips
Fruit Topping
6 ounces raspberries
2 teaspoons agave nectar
Preheat oven to 350 degrees F.
Combine raspberries and agave nectar in a small bowl. Store in the fridge, allowing the berries to macerate (release their juices).
Combine the all-purpose flour, whole wheat flour, egg whites, canola oil, almond butter, cocoa powder, and sugar in a food processor. Pulse until the dough is well combined. Carefully press the dough along the bottom of an 8 X 8-inch pan. Bake in the oven for 15 minutes. Set on the counter to cool for about 15 minutes.
In the meantime, prepare the filling.
Reduce the oven heat to 325 degrees F.
In a large bowl, combine strained Greek yogurt, Neufchâtel, sugar, egg, and cocoa powder. Mix with a hand blender until filling is smooth and creamy. Using a spoon, carefully fold in dark chocolate chips. Spoon filling over cooled crust. Bake in the oven for 20 minutes. Set on the counter to cool for at least 1/2 hour.
When the cheesecake has cooled and reached room temperature, refrigerate for at least one hour to allow the cheesecake to set.
Cut cheesecake into 9 squares. Top each square with several of the sweetened raspberries.
In loving memory of my Pepere.