So, when I made the homemade fish sticks for my last post, my meat-and-potatoes-loving husband was way more excited about the side dish: baked french fries.
So I decided I should do a separate post for the fries.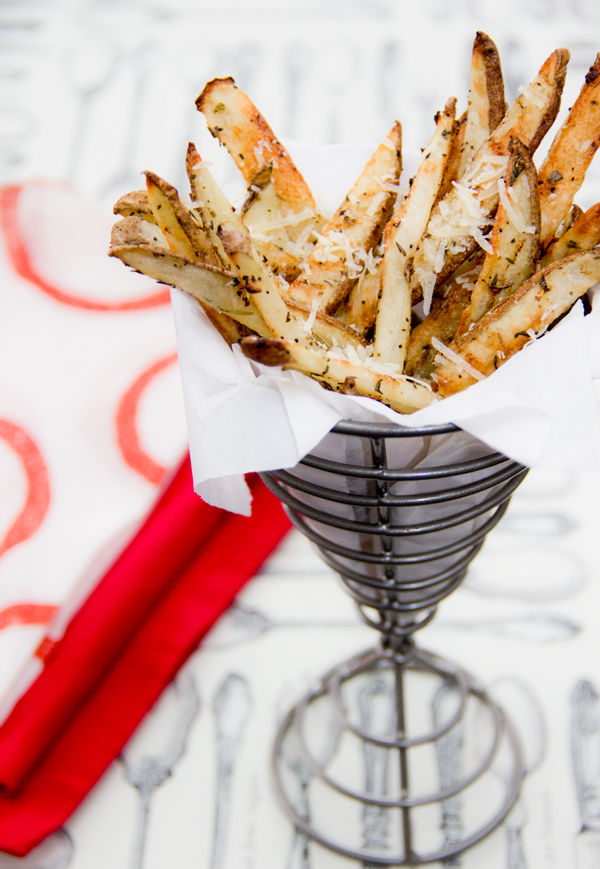 I actually make these baked fries all the time and here are the four reasons why:
1) they're really easy
2) they require only four main ingredients, and they're all things I almost always have on hand
3) they're a fresh, healthy way to silence any fast-food french fry craving
4) they're crispy, full of flavor, and absolutely delicious!
The best part is grating some fresh parmesan all over the top of the baked fries when they're still hot and fresh from the oven.
The heat from the fries will melt the parmesan ever so slightly. Yum!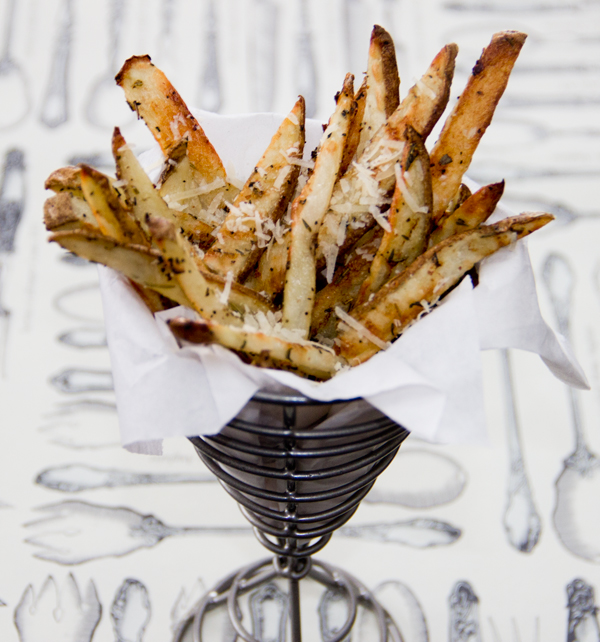 This is one unbelievably tasty dish.
The fries are really crispy and crunchy outside, with scrumptious, soft baked potato on the inside. So flavorful!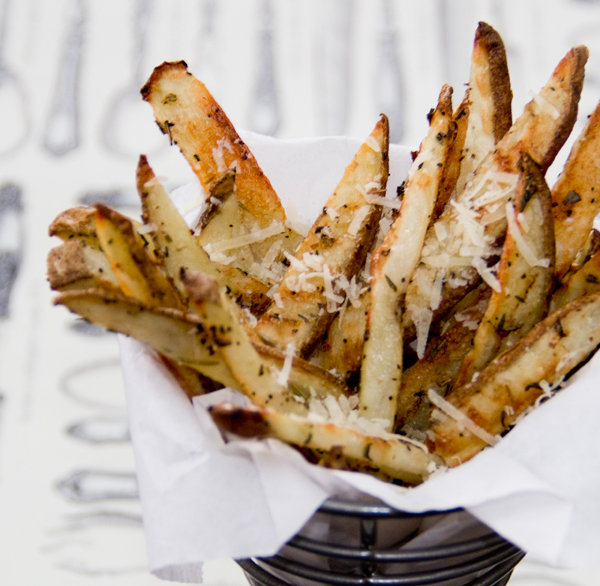 And the fresh, lightly melted parmesan takes things over the top!
These are so, so good, you'll never feel the need to make a fast food pit-stop again!
Here's the recipe for Healthy Baked Parmesan Fries:
Healthy Baked Parmesan Fries
Author:
The Scrumptious Pumpkin
Total Time:  35 minutes
Prep: 15 minutes
Cook: 20 minutes
Yield: 4 servings
Ingredients
2 large russet potatoes
3 cloves garlic
1 tablespoon Herbes de Provence
2 tablespoons extra virgin olive oil
2 tablespoons freshly grated parmesan
Salt and freshly ground black pepper
Instructions
Preheat the oven to 550 degrees F.
Cut the potatoes in half, lengthwise, then cut into equally-sized, quarter-inch-thick slices.
Place potatoes on a parchment-lined baking sheet. Season well with salt and pepper. Add garlic, Herbes de Provence, and olive oil.
Mix with hands until all fries are well-coated with oil and seasoning. Arrange potatoes on baking sheet so they all lie flat.
Bake in the oven for about 15 minutes.
Using tongs or a spatula, flip fries and then place back in the oven for about 5 minutes more.
Transfer to a serving platter and grate fresh parmesan over the fries while they are still hot from the oven. Serve.
Other Recipes You May Love:
https://jenelizabethsjournals.com/2014/10/06/garlic-and-herb-baked-fries/
https://jenelizabethsjournals.com/2013/10/22/skinny-cheddar-chive-smashed-potatoes/
https://jenelizabethsjournals.com/2012/11/16/skinny-sweet-potato-home-fries/
https://jenelizabethsjournals.com/2013/10/25/parmesan-herb-carrot-fries/
SaveSave
SaveSaveSaveSaveSaveSave