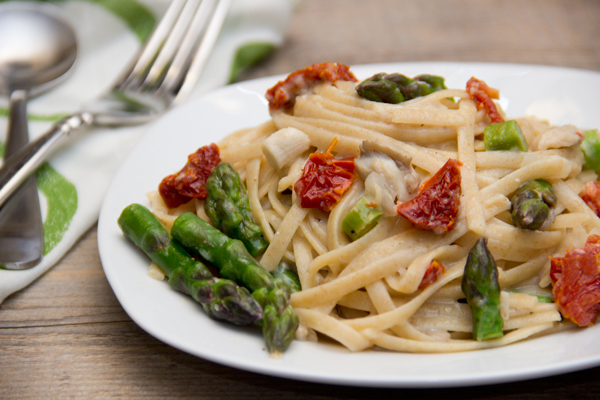 One of the first signs of spring around my household: baseball is back on tv! I'm not the baseball fan (that would be my husband) but that nostalgic reminder of impending warm weather is always a relief.
My favorite sign of spring: it's no longer dark at 4 pm! We had daylight until 7pm last weekend and, yes, I definitely noted the time when the sun set. There is nothing like the first long, sunny day to instantly transform your mood.
That's what winter is for, right? Helps you appreciate the little things.
Another right-up-there-at-the-top sign of spring? Fresh asparagus and wild mushrooms in abundance at the local grocery!
When I saw the big sale on asparagus, I knew I wanted to welcome spring with a delicious Primavera pasta dish.
The creamy parmesan sauce in this dish is amazingly delicious.
It's so good, I wasn't sure whether to list the 'Servings' count as '2' or '4'.
It should serve four, but then my meat-and-potatoes-guy and I finished nearly the whole dish in one sitting.
Because you have to go back for seconds – it's just too much creamy, cheesy deliciousness not to.
Here are all the key ingredients you'll need to get started.
Begin by boiling a big pot of water and adding plenty of salt.
Then cook up some linguine until it's al dente (just barely cooked through).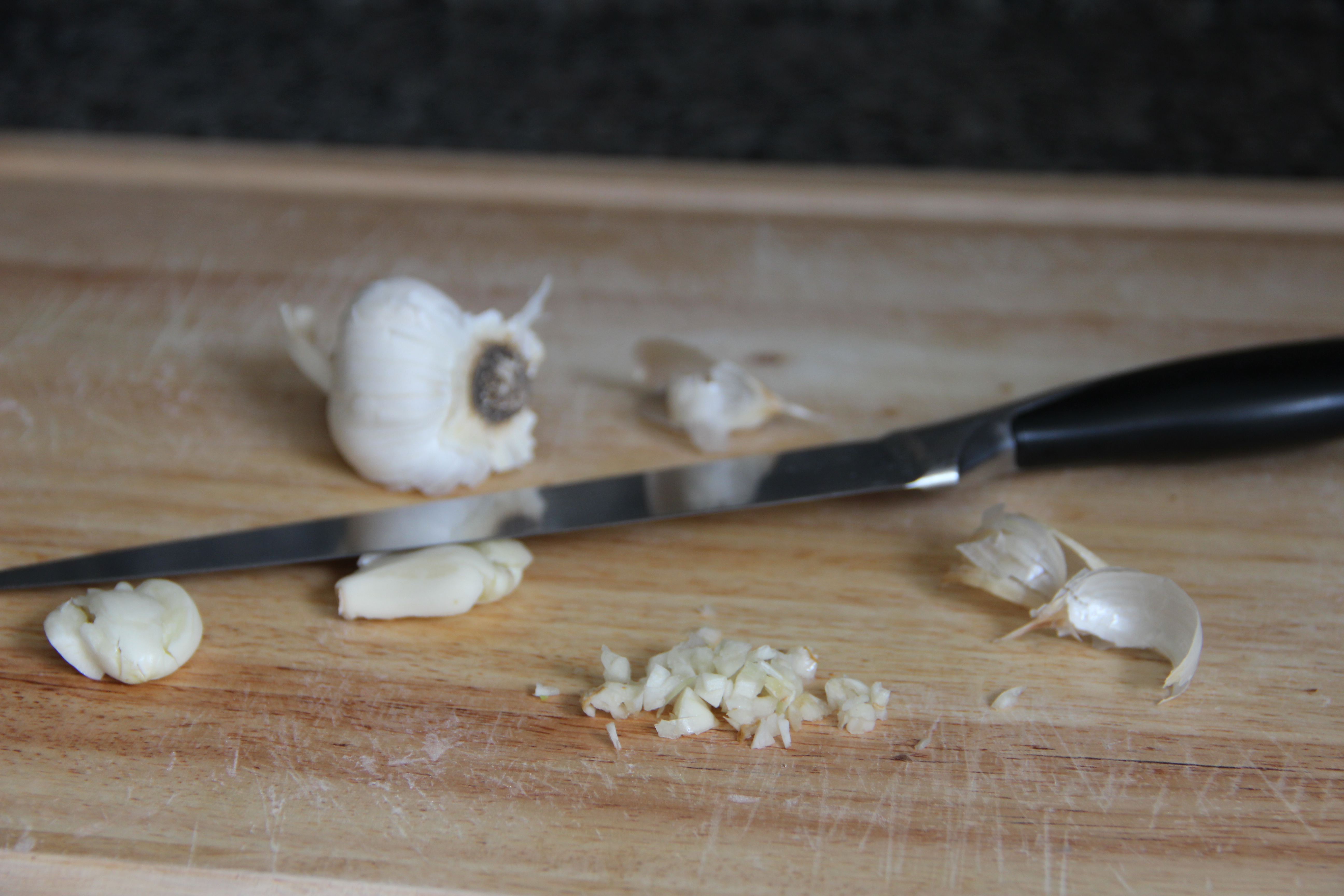 In the meantime, mince some garlic.
Place a knife over a clove of garlic so it lies flat.
And then press down hard with the palm of your hand to break open the clove.
Then mince up the garlic.
Cut the ends off a shallot and cut it in half.
Peel off the skins.
Place the halves flat-side-down on the cutting board.
And cut thin slices of shallot.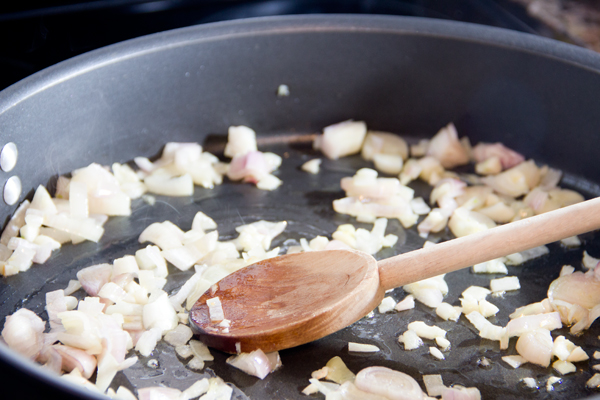 Saute the garlic and shallots in a bit of extra virgin olive oil.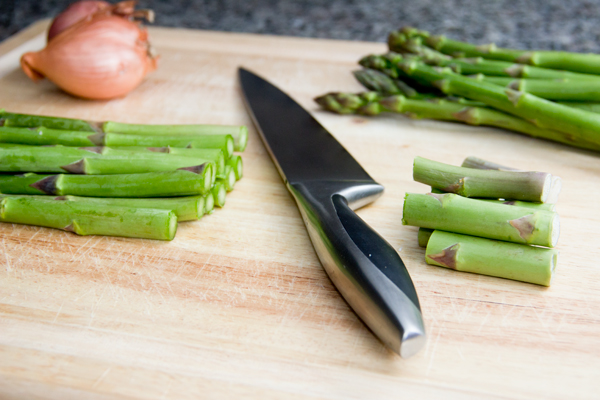 Next, prepare the asparagus.
I think asparagus, with its crisp, peppery flavor, tastes amazing with creamy pasta dishes.
And it's extremely healthy too. Asparagus has a lot of Vitamin C (for a healthy immune system and smooth, clear skin), tons of fiber (to keep you feeling full with very few calories), and tons of folate (may protect against Alzheimer's).
Asparagus is so easy to prepare too.
Just grab several stocks, hold them together, and chop off the ends. You should cut off about the bottom third of the stalks. The ends are too tough to eat.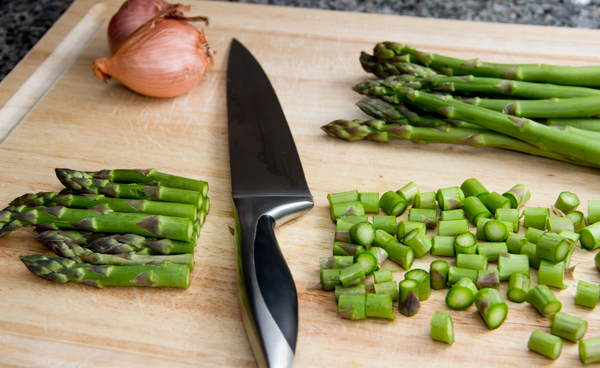 Then just cut the stalks into quarter-inch slices. Done!
Add the asparagus to the sauté pan and season with salt and pepper.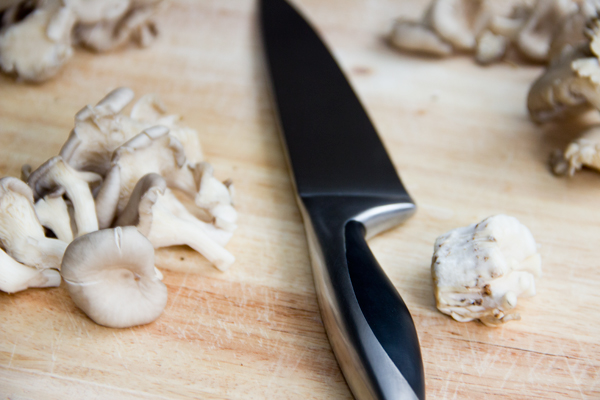 Next, chop up some mushrooms.
My husband thought the oyster mushrooms looked great at the grocery, so he chose those.
But substitute your favorite kind!
To prepare oyster mushrooms, just chop off the base and then rinse the mushrooms well.
Then chop them up and add to the sauté pan.
Add some sun-dried tomatoes to introduce some concentrated tomato flavor to the dish.
Just rinse off any excess oil (the extra oil isn't necessary in this dish and just adds calories), and chop up the tomato halves.
Add those to the pan as well and season well with salt and pepper.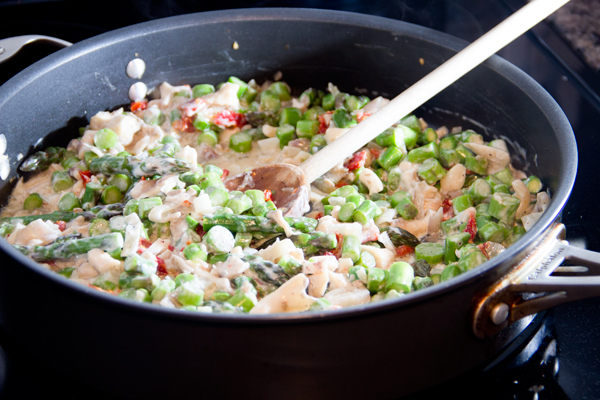 Turn off the heat and add a bit of low-fat sour cream and some nutmeg.
I like using low-fat sour cream as a substitute to cream and butter in creamy pasta dishes. It adds a lot of rich flavor with less than half the saturated fat and calories.
Grate some fresh Parmigiano Reggiano.
And add the parmesan and the cooked pasta to the pan.
Stir everything together…
…and serve!
With the creamy, cheesy sauce, the crisp, bright asparagus and the rich, earthy mushrooms, this dish is really satisfying and flavorful.
It tastes very, very indulgent.
And yet the whole wheat pasta and all the veggies make it healthy!
This recipe may serve four.
Or it may serve two, depending upon how much you're able to resist seconds.
And thirds…
Enjoy welcoming spring!
Here is the complete printable recipe:

Creamy Parmesan Primavera Pasta
Author:
The Scrumptious Pumpkin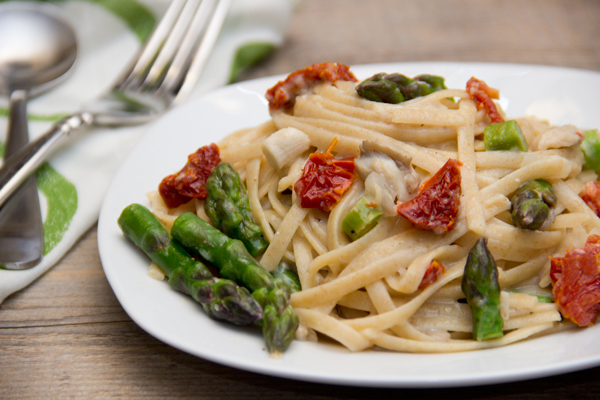 Total Time: 35 minutes
Prep: 20 minutes
Cook: 15 minutes
Yield: 4 servings
Ingredients
2 tablespoons extra virgin olive oil
2 cloves garlic, minced
3 shallots, thinly sliced
1 pound asparagus, chopped
8 ounces mushrooms, chopped
2 ounces sun-dried tomato halves, chopped
½ cup low-fat sour cream
¼ teaspoon nutmeg
1¼ cup freshly grated parmesan
6 ounces whole wheat linguine
Salt and freshly ground black pepper
Instructions
Boil a large pot of water. Salt the water and add the linguine. Cook until al dente, about 10 minutes.
In the meantime, heat the olive oil in a large sauté pan over medium heat. Saute the garlic and shallots until softened, about 5 minutes. Add the chopped asparagus, season with salt and pepper, and cook for about 5 minutes more. Add the chopped mushrooms and sun-dried tomatoes and cook for about 2 minutes. Season well with salt and pepper.
Turn off the heat and stir in the sour cream and nutmeg. Add the cooked pasta and the grated parmesan. Stir everything to combine. Serve.