Do you have a food you've loved since preschool?
That you've never grown tired of and think you never possibly could get tired of?
I absolutely do.
That food for me is peanut butter.
I loved it when I was three, and I love it still.
I'm incredibly loyal to peanut butter. Looking back on my life, I can't think of a home pantry, apartment cabinet, or college dorm shelf that wasn't faithfully stocked with it.
Me and peanut butter are best friends forever. And we go way back. When I was really little, I had a very particular method for eating my peanut-butter-and-jelly sandwiches:
Begin by eating all the crusts.
Next, pull the sandwich apart and eat the jelly side.
And last: enjoy the peanut butter side. Because it was very important to save the very best, most peanut buttery, bites for last.
When I want a special treat, most likely it will involve peanut butter.
And what pairs better with peanut butter than chocolate?
So my latest concoction honors this unbelievably heavenly pairing: chocolate oatmeal cookies stuffed with a peanut butter frozen yogurt filling.
These cookie sandwiches are delicious, creamy, sweet, and decadent.
And best of all – they're a smarter, healthier dessert as well!
Here are all the ingredients you'll need to begin.
A few of these ingredients are the keys to making this a healthier recipe. These include:
Heart-healthy canola oil. I cut out about three-quarters of the butter (full of saturated fat) used in a traditional cookie by substituting canola oil.
Whole wheat flour – this adds so much healthy (and filling!) fiber to your cookies and replaces most of the processed all-purpose flour.
Ground flaxseed – this is really something worth adding to baked treats. Ground flaxseed has high levels of lignans (strong antioxidants that can help prevent cancer) and omega-3 fatty acids (prevents inflammation that can lead to diabetes, heart disease, and cancer).
Bonus: you won't actually taste the flaxseed, but it also has a lot of protein and fiber to make your cookies really filling and satisfying (unlike most processed peanut butter and chocolate candies, this offers instant portion control!)
Start by placing some butter (at room temperature), some granulated sugar, and some brown sugar in a food processor or electric mixer.
Pulse until the butter and sugar are combined.
Next add some canola oil, a couple of eggs, some low-fat milk, and some vanilla extract.
Pulse until the ingredients are combined.
Add some all-purpose flour, some whole wheat flour, some flaxseed, some unsweetened cocoa powder, a bit of cinnamon, and a bit of salt.
Pulse again to combine.
Lastly, add some rolled oats and pulse quickly one last time, just until the oats are mixed in.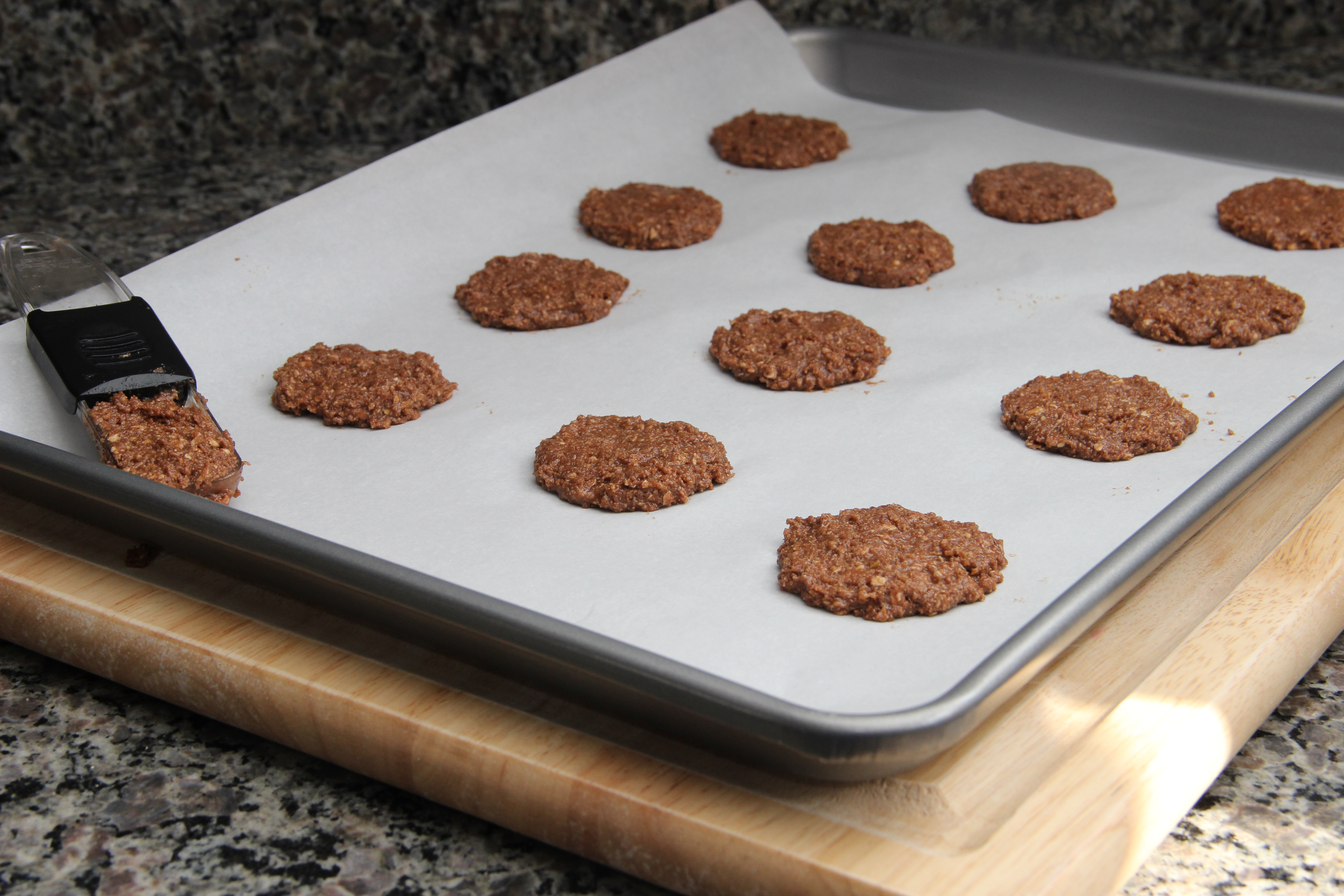 Use a tablespoon to measure out exact tablespoons of dough.
Using a tablespoon really helps keep your cookies 1) evenly sized for perfectly baked cookies and 2) portion-controlled as well!
Place on a parchment-lined baking sheet and press the dough down into flat, cookie-shaped rounds.
This dough has very little butter, so it doesn't flatten out much while baking.
You just have to help it along a little.
Bake the cookies and allow them to cool to room temperature.
Meanwhile, place some vanilla nonfat Greek frozen yogurt on the counter for a few minutes to allow it to begin to thaw and soften.
As much as I love it, peanut butter is very high in calories and fat. So I keep the peanut butter filling 'skinny' by adding an equal amount of nonfat frozen yogurt.
Have you noticed the new Greek frozen yogurt in stores lately?
With only 100 calories in a half-cup serving, Greek frozen yogurt really lightens up the filling. And it's so healthy: a serving provides 15 percent of your daily value of calcium, no saturated fat, 6 grams of protein (to keep you feeling full and satisfied), and probiotics (to keep your digestive system healthy).
If you're having trouble finding Greek frozen yogurt, regular vanilla frozen yogurt works just as well.
Combine both the peanut butter and frozen yogurt in a food processor or blender until they're well combined.
Spoon tablespoons of the peanut butter filling on half of the cookies.
Then place a second cookie on top, creating sandwiches.
These cookie sandwiches are so unbelievably delicious.
The creamy peanut butter filling is complimented perfectly by the rich chocolate and the soft, chewy oatmeal cookies.
And so full of healthy fiber and protein, they're a dessert that's actually filling, satisfying, and healthy too!
Oh, peanut butter.
Our love continues on.
Here is the complete recipe:
Skinny Chocolate Oatmeal and Peanut Butter Cookie Sandwiches
Prep: 20 minutes
Cook: 25 minutes
Yield: 18 cookie sandwiches
Chocolate Oatmeal Cookies:
1/4 cup unsalted butter, at room temperature
1/2 cup brown sugar, lightly packed
1/2 cup granulated sugar
1/4 cup canola oil
2 eggs, at room temperature
1/4 cup 1 percent milk
2 teaspoons vanilla extract
1/2 cup all-purpose flour
1 cup whole wheat flour
1/4 cup ground flaxseed
3 tablespoons unsweetened cocoa powder
1 teaspoon salt
1 teaspoon cinnamon
1 cup rolled oats
Peanut Butter Filling:
1 cup peanut butter
1 cup vanilla nonfat Greek frozen yogurt (or any vanilla frozen yogurt)
Preheat the oven to 350 degrees F.
In a food processor or electric mixer, cream together the butter, brown sugar, and granulated sugar. Add the canola oil, eggs, milk, and vanilla and pulse until combined. Add the all-purpose flour, whole wheat flour, flaxseed, cocoa powder, salt, and cinnamon and pulse until combined. Add the oats and pulse quickly, just until oats are fully mixed in.
Measure exact tablespoons of dough and place on a parchment-lined baking sheet. Press dough flat, into cookie-shaped rounds (cookies will not flatten on their own in the oven). Bake for 7-9 minutes. Allow cookies to cool to room temperature, about 5 minutes.
Meanwhile, set frozen yogurt on counter and allow it to begin to thaw and soften, about 15 minutes. Place softened frozen yogurt and peanut butter in a food processor or blender and pulse until just combined.
Spoon heaping teaspoons of the peanut butter filling on half of the chocolate oatmeal cookies. Top each with a second cookie, forming sandwiches. Serve immediately.