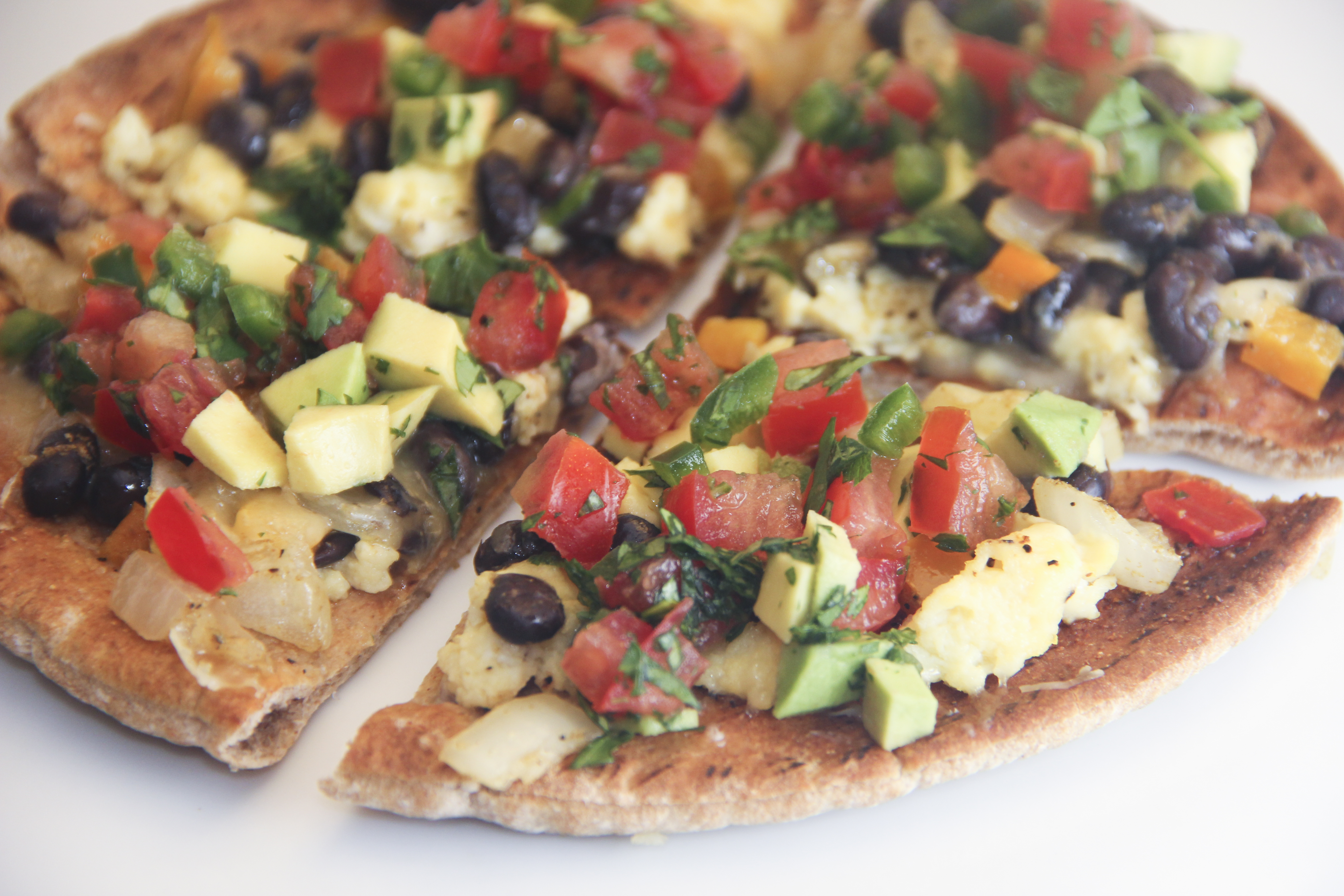 Cheers to it finally being (almost) the weekend.
And cheers to the fact that Cinco do Mayo can be fully and properly celebrated this year because it just so happens to fall on a Saturday!
I started the celebration early at our house by making this healthy, hearty, and delicious huevos rancheros pizza earlier this week.
And I plan to continue the celebration through Saturday too, with a nice margarita.
Or any drink really.
It's been a long week, and I'm so ready to let my hair down.
This super-flavorful huevos rancheros pizza is perfect for:
a lazy weekend brunch at home,
a hearty and satisfying meatless dinner,
or a perfect Cinco do Mayo party appetizer!
Bonus: the crust – made with whole wheat pita bread – is really easy, quick, and foolproof.
So here's the full lineup of ingredients for today.
Although this meal is meatless, it's full of really filling, satisfying ingredients. No one will miss the meat, guaranteed. The proof: my meat-and-potatoes-guy, who's a big fan of pepperoni pizza, loved this dish and hardly noticed it was meat-free.
Begin by prepping your pizza toppings.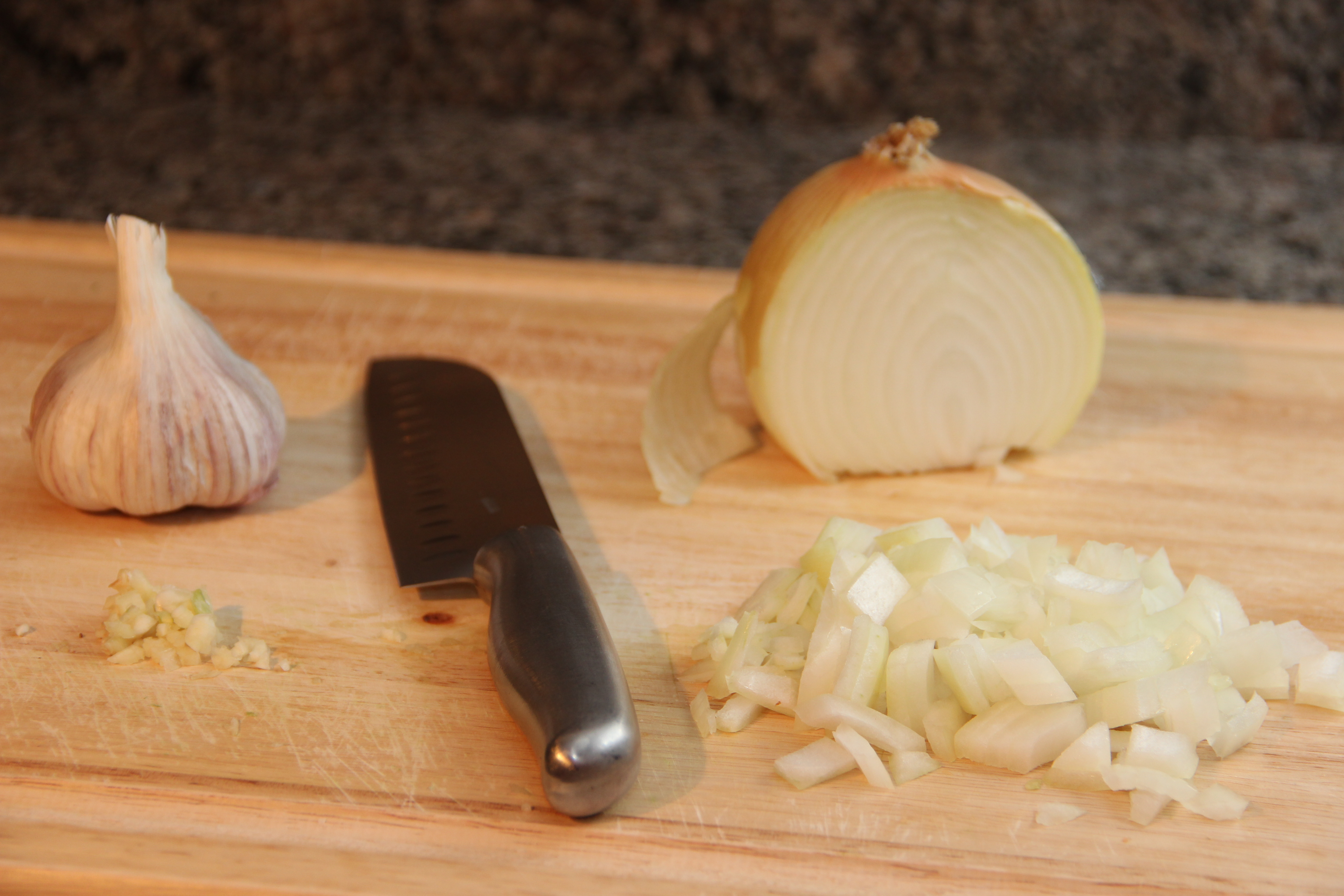 Mince up some garlic and half a medium onion.
Chop up half a bell pepper.
I love adding some vivid orange to the dish with an orange bell pepper, but any color will work.
Dice up half of a tomato.
Then grab a jalapeño pepper to add a nice kick to your pizza.
Slice off the ends, cut it in half lengthwise, and scrape out the inner membrane and seeds.
Then dice up the jalapeño.
Add the full pepper (and – if you're daring – some seeds) if you like your dishes spicy.
Add just half a pepper to start if you like to keep things mild.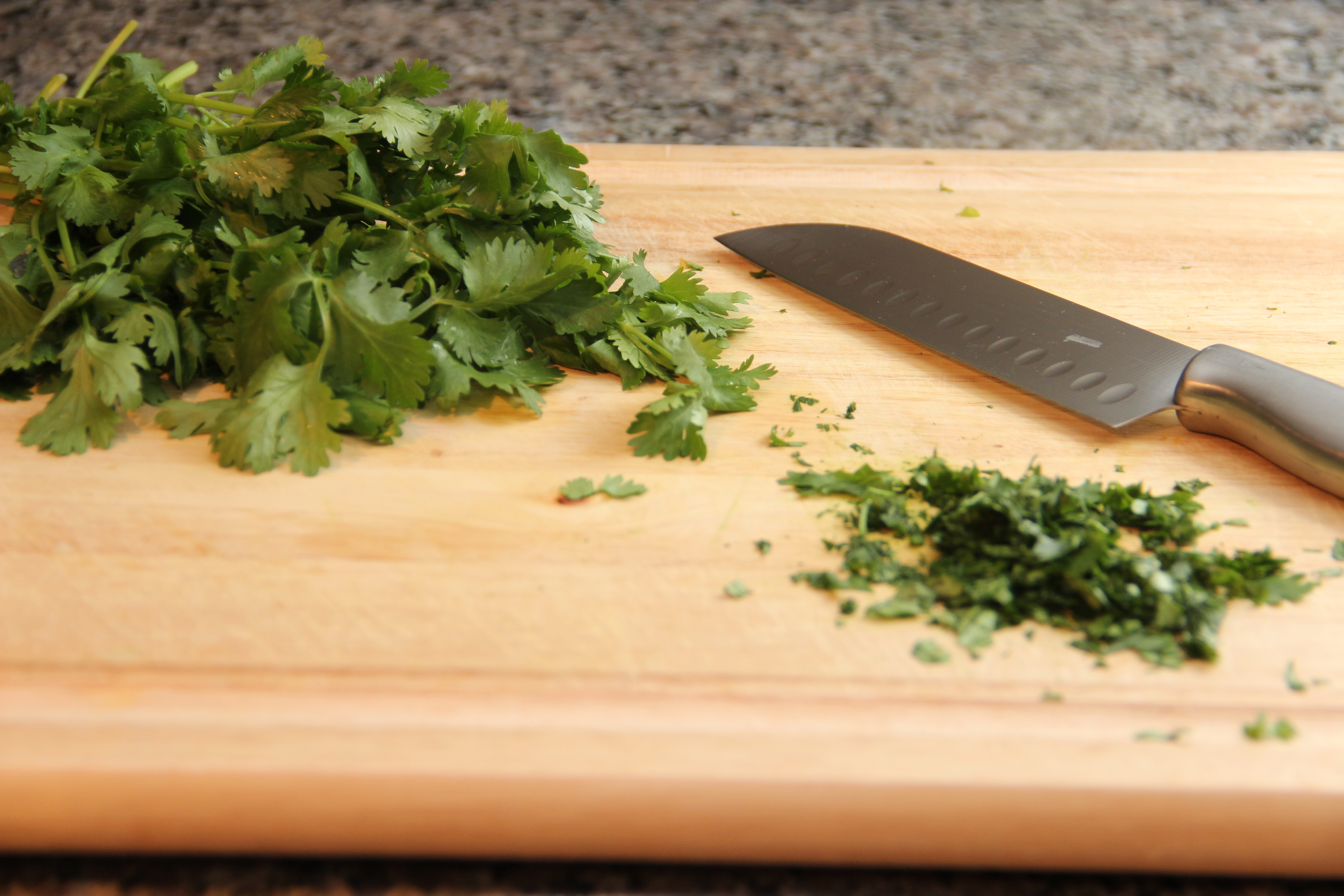 Grab some fresh cilantro and chop up the leaves.
Then dice an avocado (check out my Chicken Tortilla Casserole for the step-by-step on how to do this).
Immediately squeeze lime juice all over the avocado to keep it from turning brown.
Grate some fresh Monterey Jack cheese.
Next, prepare some scrambled eggs.
A note on the eggs: egg yolks are a bit high in saturated fat and cholesterol, but they're also full of Vitamins A and D, protein, and iron. So one a day is a healthy choice.
My recipe calls for four whole eggs for four servings (to add all those vitamins and protein to the dish) along with three egg whites (to keep the dish light).
Whisk together four eggs and three egg whites in a large mixing bowl.
Add a bit of lowfat milk and some salt and pepper and whisk again.
Add some canola oil to a sauté pan over medium-low heat.
Pour the egg mixture into the pan.
When the eggs begin to solidify, use a spatula to mix up and break apart the eggs.
When the eggs are just cooked through and no longer liquid, transfer them to a bowl and set aside.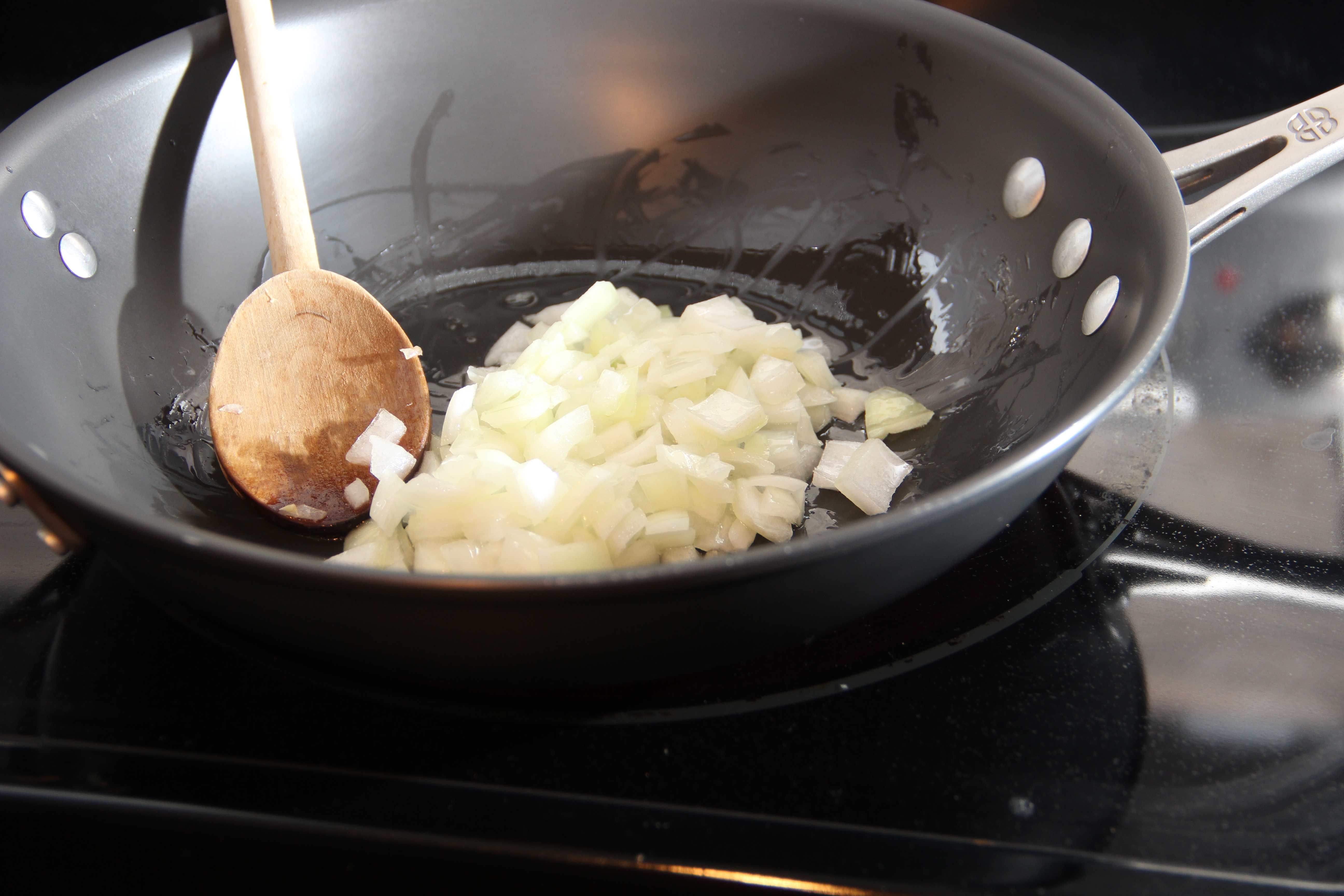 Grab a clean pan and add some canola oil.
Over medium heat, sauté that minced garlic and chopped onion you prepared earlier.
When they're nice and soft, add the diced bell pepper and cook for a few minutes more.
Drain and thoroughly rinse some canned black beans.
I love using black beans when I'm making a meatless meal for a ton of reasons.
First – they're very cheap. Compare them to the price of poultry, steak, or seafood and you won't believe the cost savings in preparing a meatless meal once in a while.
Second – they're really healthy too. Black beans have a ton of fiber and protein, so they'll keep you feeling as full and satisfied as a meat dish. But they're also packed with antioxidants, folate, Vitamin B, and iron.
Cook the beans up with garlic, onions, and peppers (as in this recipe) and they taste delicious too!
Add the black beans to the pan along with some cumin and coriander.
Season with salt and pepper and cook until the beans are heated through.
Remove from the heat and set aside.
Next up: the crust.
Since there are a lot of steps in this huevos rancheros pizza, I like to make the crust as easy as possible by using whole wheat pita bread.
The key to making whole wheat pita taste delicious: be sure season it.
Brush each pita with some canola oil to keep it from tasting too dry.
And season each pita with salt and pepper.
Finally, sprinkle on a little garlic powder for added flavor.
Then place the pitas on baking sheets and place in the oven.
Turn the broiler on and toast until they're crisp and golden.
Watch them carefully – it's a universal truth that they're guaranteed to burn the second you turn away from the oven.
Tasty! This crust is healthy, it tastes great, and it couldn't be any easier.
Turn the oven heat down to 350 degrees F.
Now, assemble your pizzas:
Portion out some of the scrambled eggs over each pita.
Then portion out the black bean mixture.
Finally, top with the grated Monterey Jack cheese.
Place the pizzas back in the oven for a few minutes more, just until the cheese is nicely melted and gooey.
Meanwhile, grab a small bowl and mix the diced tomato, diced avocado, diced jalapeno, and the chopped cilantro.
When you've removed the pizzas from the oven, top each one with some of the fresh avocado salsa.
Next, shed a few tears over the disaster zone that's now your kitchen.
Those countertops aren't about to clean and clear themselves.
Why hasn't anybody invented self-cleaning pots yet, by the way?
But then …
…take a seat, pour a glass of wine, and relax, because it's time to dig in!
These pizzas are really savory and cheesy. The black beans are so rich and flavorful. The crisp crust is a perfect complement to the creamy avocado. And there's a lot of freshness too, from the tomato, lime, and cilantro.
Flavorful, yummy, and so hearty and filling, no one will ever notice the lack of meat!
Cheers to this Cinco de Mayo weekend. Let's drink (and eat!) to that.
Here is the complete recipe:
Huevos Rancheros Easy-Crust Pizza
Prep: 20 minutes
Cook: 25 minutes
Yield: 4 individually sized pizzas
Scrambled Eggs:
4 eggs
3 egg whites
2 tablespoons 1 percent milk
1 tablespoon canola oil
1 cup freshly grated Monterey Jack cheese
Black Bean Mixture:
1 tablespoon canola oil
1 clove garlic, minced
1/2 small onion, chopped
1/2 orange bell pepper (or any color), chopped
1 16-ounce container black beans, drained and rinsed
2 teaspoons cumin
2 teaspoons coriander
Avocado Salsa:
1 avocado, peeled, cored, and diced
1 tablespoon fresh lime juice, squeezed from 1 lime
1/2 tomato, diced
1 jalapeno, diced
2 tablespoons fresh cilantro, chopped
Easy Crust:
4 whole wheat pitas
1 tablespoon canola oil
2 teaspoons garlic powder
Salt and freshly ground pepper
Add the whole eggs, egg whites, and milk to a large mixing bowl. Season with salt and pepper and whisk until well-combined. Heat a tablespoon of canola oil in saute pan over medium-low heat. Pour the egg mixture into the pan and allow eggs to cook through, breaking them apart with a spatula as they begin to solidify. When eggs have solidified and are just cooked through, set them aside.
Using a clean sauté pan, heat a tablespoon of oil over medium heat and cook the garlic and onion until softened, about 3 minutes. Add the bell pepper and cook until softened, a few minutes more. Add the black beans, cumin, and coriander. Season with salt and pepper. Cook for a few more minutes, until beans are warmed through.
Pour a tablespoon of canola oil into a small bowl. Brush the oil over four whole wheat pitas. Season pitas with salt and pepper. Sprinkle garlic powder over each. Arrange pitas on a baking sheet and place in the oven. Turn on the oven broiler and toast pitas until they turn crisp and golden, about 3-5 minutes. Watch carefully – they will burn quickly!
After removing pitas from the oven, reduce oven heat to 350 degrees F.
Portion some of the scrambled eggs over each pita. Portion some of the black bean mixture over each. Grate some monterey jack cheese and arrange over each pizza.
Place back into the oven and cook just until cheese has melted, about 3-5 minutes.
Meanwhile, combine the avocado, lime juice, tomato, jalapeño, and cilantro in a small bowl. Portion the avocado salsa over each pizza and serve.