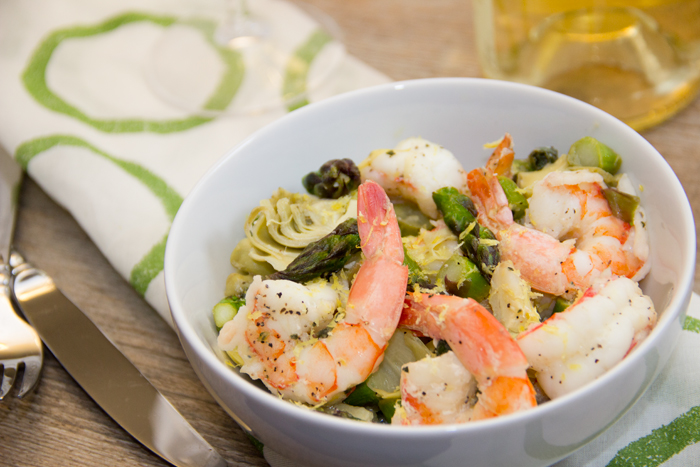 After a few weeks of mostly cold, dreary, nonstop rainy weather, the sun has finally decided to make an appearance.
And temps should be in the 70's this week.
Looks like we might just be getting a spring season in New England after all!
When the weather gets warmer, I always think about cooking more seafood.
Seafood is generally light, low in calories, and quick and easy to prepare (who wants to leave the oven on in 80 percent humidity?) so it makes sense for warm weather (and for fitting into warm weather clothes!).
So this week I made a richly flavorful lemon and sage shrimp dish.
I added a bit of garlic, some white wine, and lots of asparagus and artichokes. It's light, simple, and perfect for warmer weather.
This is the first dinner of the season my husband and I were able to enjoy outside, on our porch.
Here are all the ingredients you need to get started.
If you've never actually prepared shrimp on your own and feel a little intimidated by the whole process, I'm here to tell you: I was too, but it's actually pretty easy.
Other great things about shrimp:
It's very low in calories and fat.
And it's packed full of healthy nutrients like iron and omega-3's (helps prevent cancer, arthritis, and heart disease).
Shrimp is also a healthy seafood choice because it's low in contaminants and mercury (the NRDC has a good guide to mercury levels in seafood) and many types of shrimp (such as US farmed shrimp or wild Northern US/Canada shrimp) are environmentally safe too.
To prepare, begin by placing some frozen shrimp in a bowl of cold water for about 20 minutes to allow it to thaw.
Another Option: you can also buy fresh shrimp and skip this step.
When the shrimp have thawed, fill a bowl with ice and place out on the counter beside the bowl of shrimp.
Grab your first shrimp and begin peeling off the hard outer shell.
Locate the legs and use them as a starting point for pulling apart and then peeling off the shell.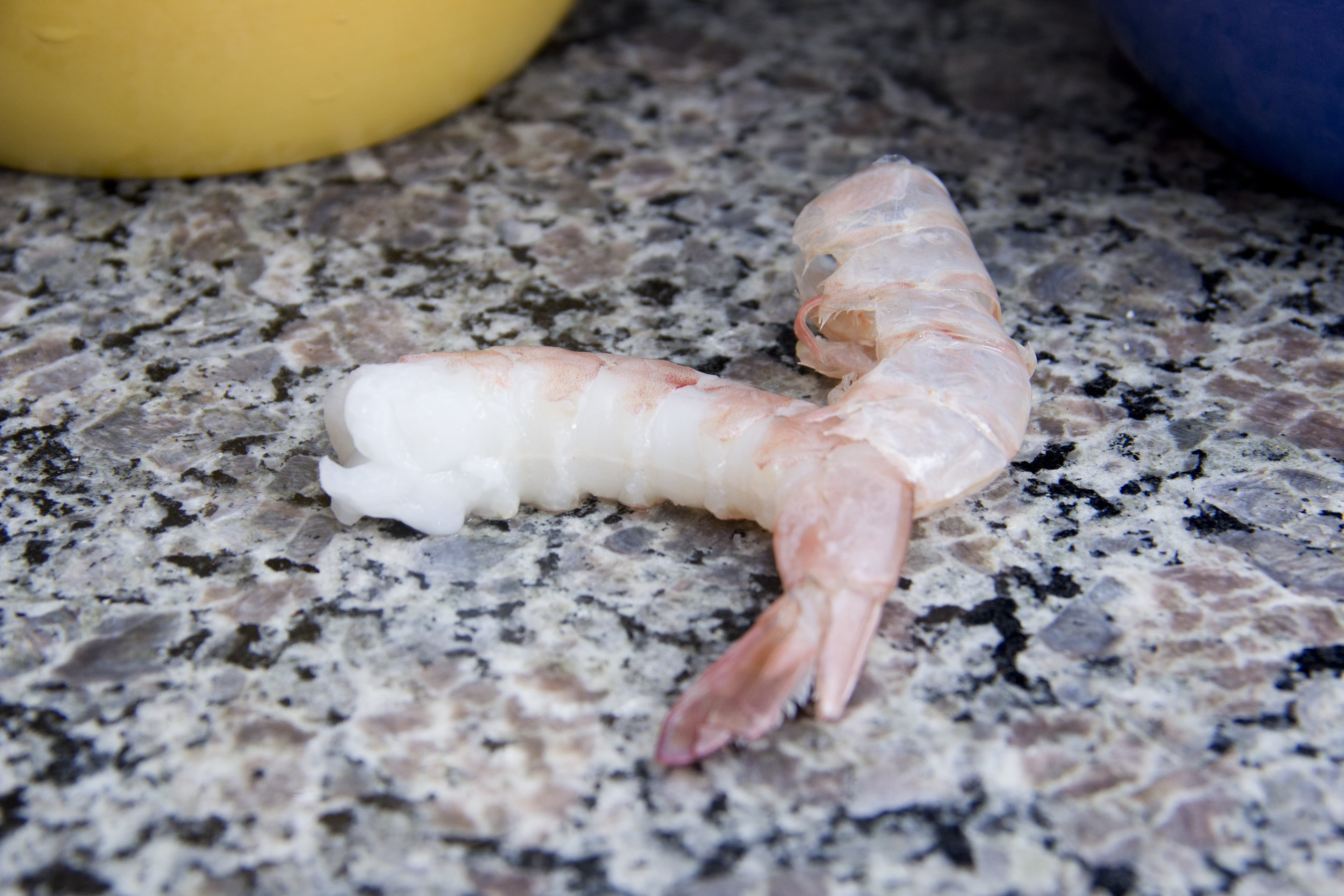 If the shrimp are fully thawed, you should find the shell comes off quite easily.
Two Choices:
1) You can leave just the tail on, as I did here, if you'd like your final dish to have a nice presentation.
2) Or, if you'd rather not deal with cutting off the tails while eating the dish later, you can pull off the tail, along with the rest of the shell, now.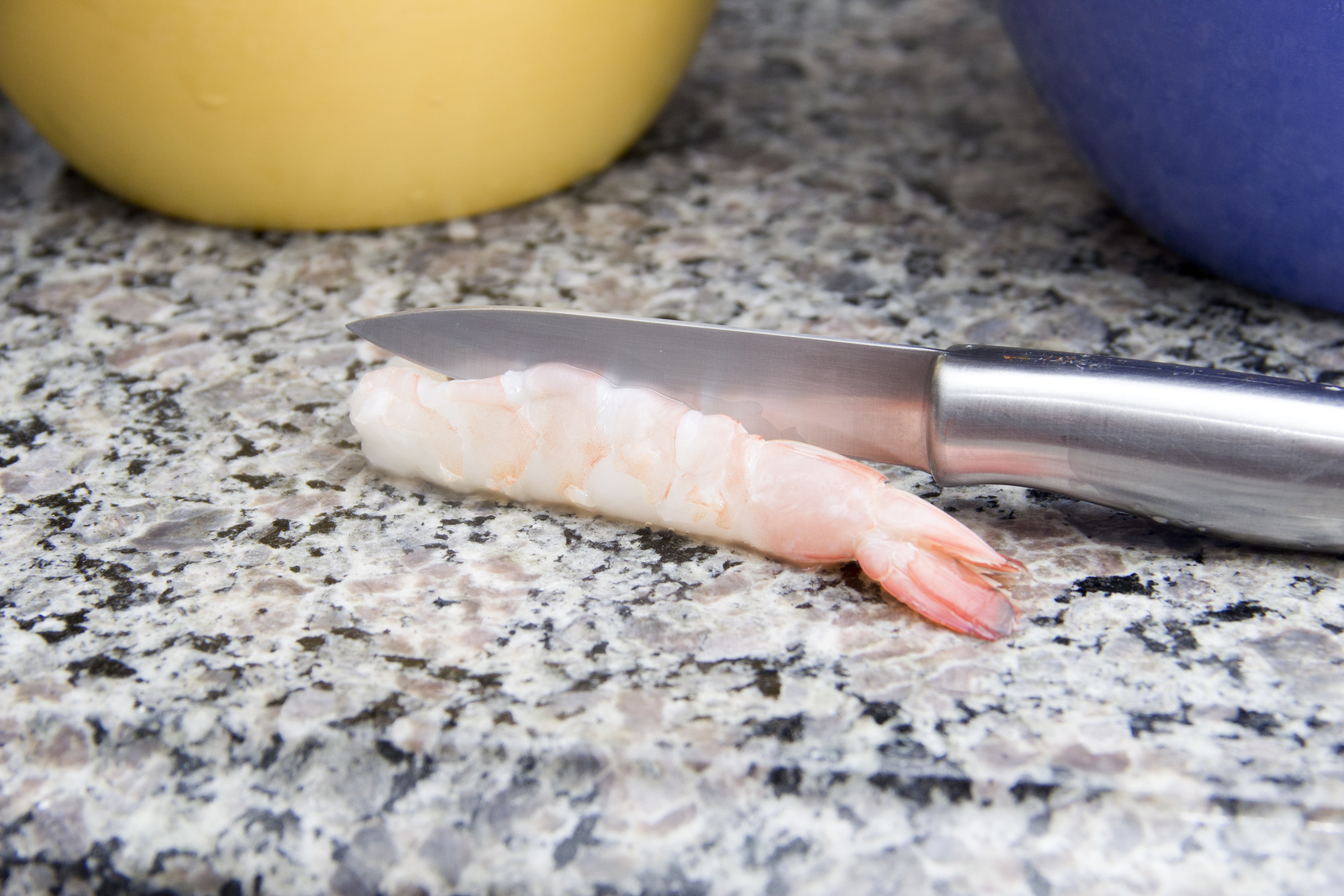 Place the shrimp so its back (the side of the shrimp opposite from the side where the legs were) is facing up.
Now grab a pairing knife and cut into its back, about halfway into the body of the shrimp.
You may or may not see a thin black strip in the shrimp: it's the shrimp's digestive tract and it can sometimes taste a little gritty, so it should be removed.
If you don't find one, you're done!
If you do see one, use your knife or your fingers to peel it out and discard.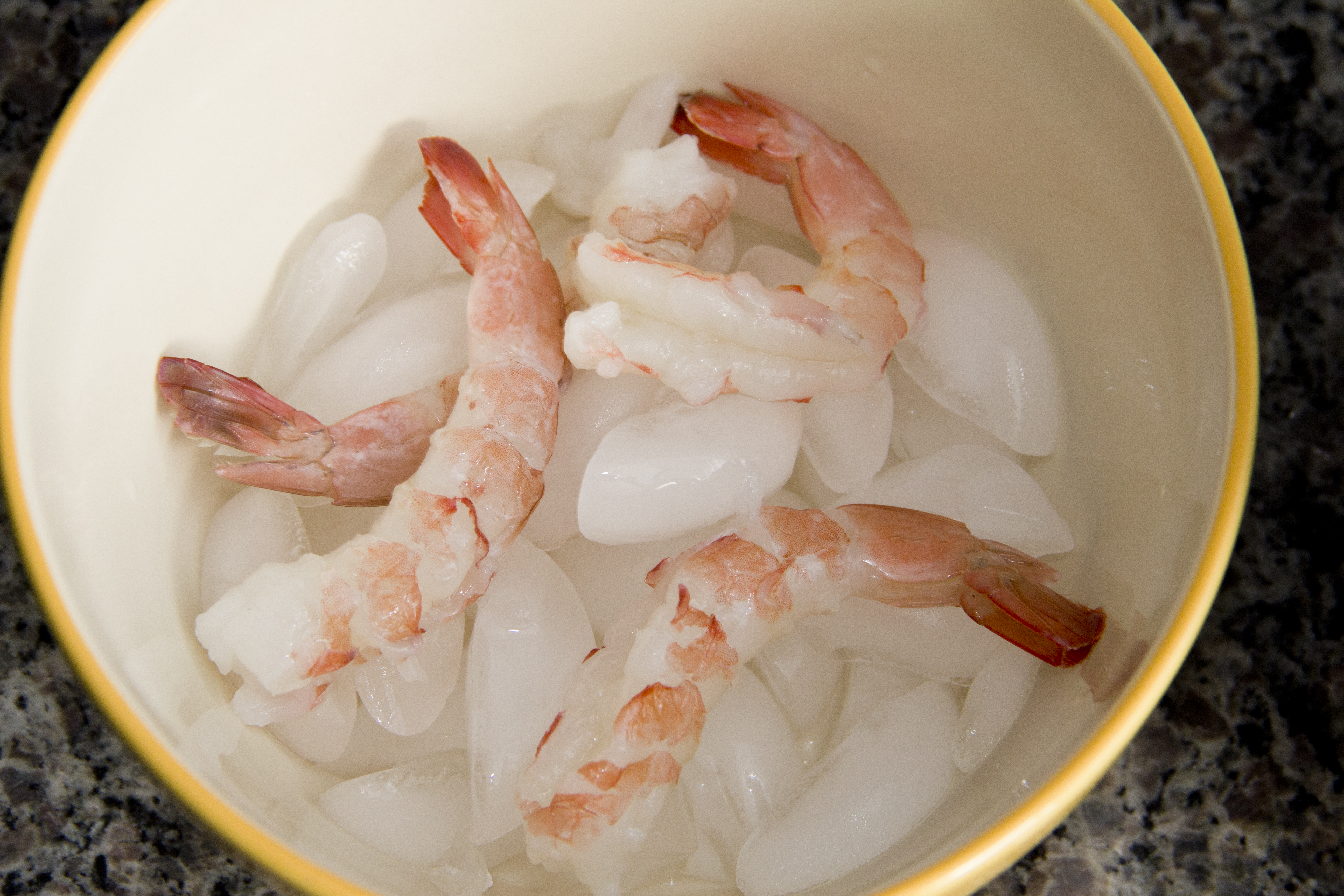 Your shrimp is now peeled and deveined. Look at you, you kitchen pro!
Place the shrimp immediately in the bowl of ice you set out earlier (shrimp should be kept cold at all times).
Another Option: If you don't want to spend the time preparing shrimp (or if you're feeling a little squeamish about the whole process) here's the quick and easy way out: when you're at the fish counter buying your shrimp, just ask the fish monger to peel and devein the shrimp for you.
After you've peeled and deveined all the shrimp and placed them on ice, prepare the rest of the ingredients.
Mince up some garlic.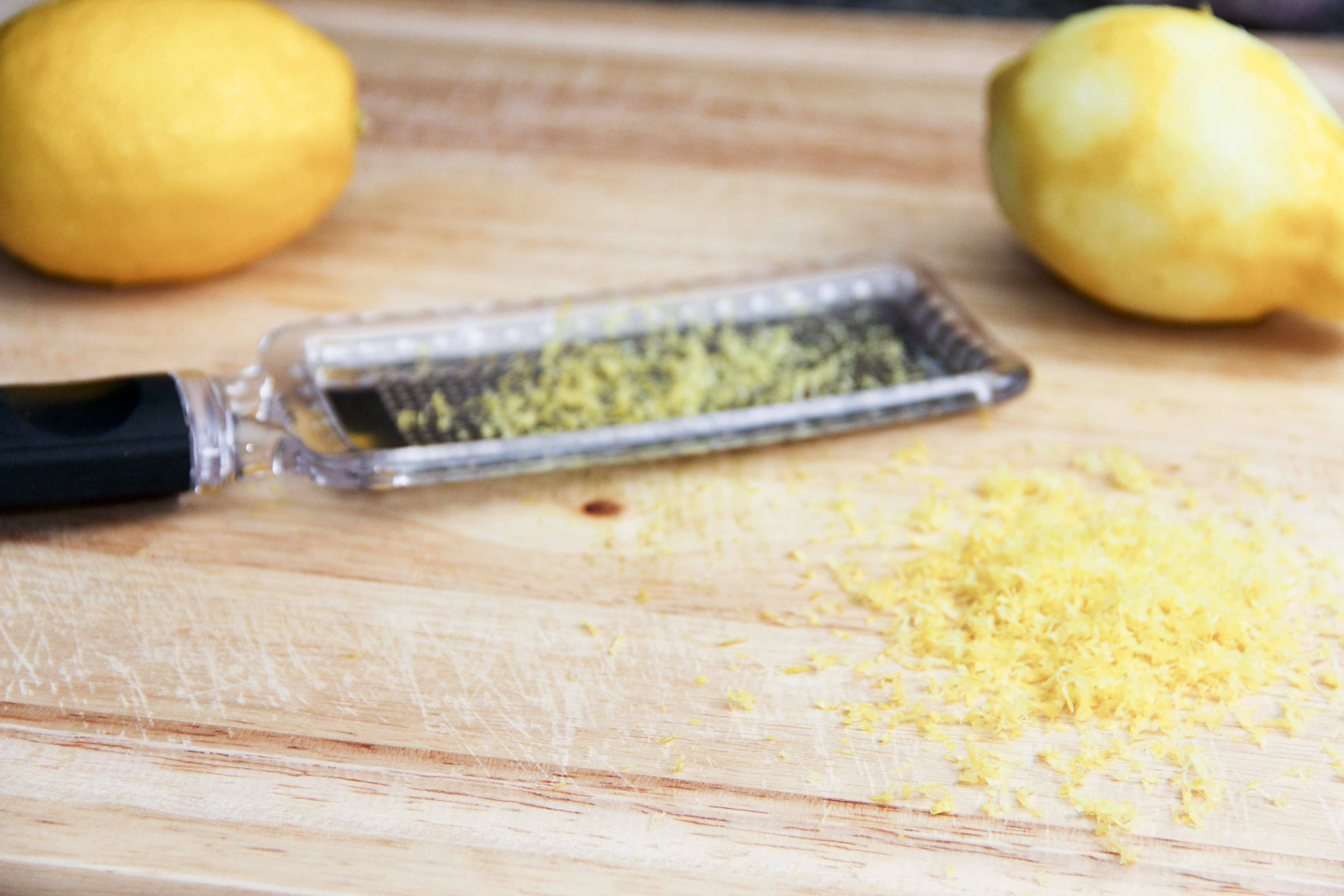 Use a fine grater to zest a lemon.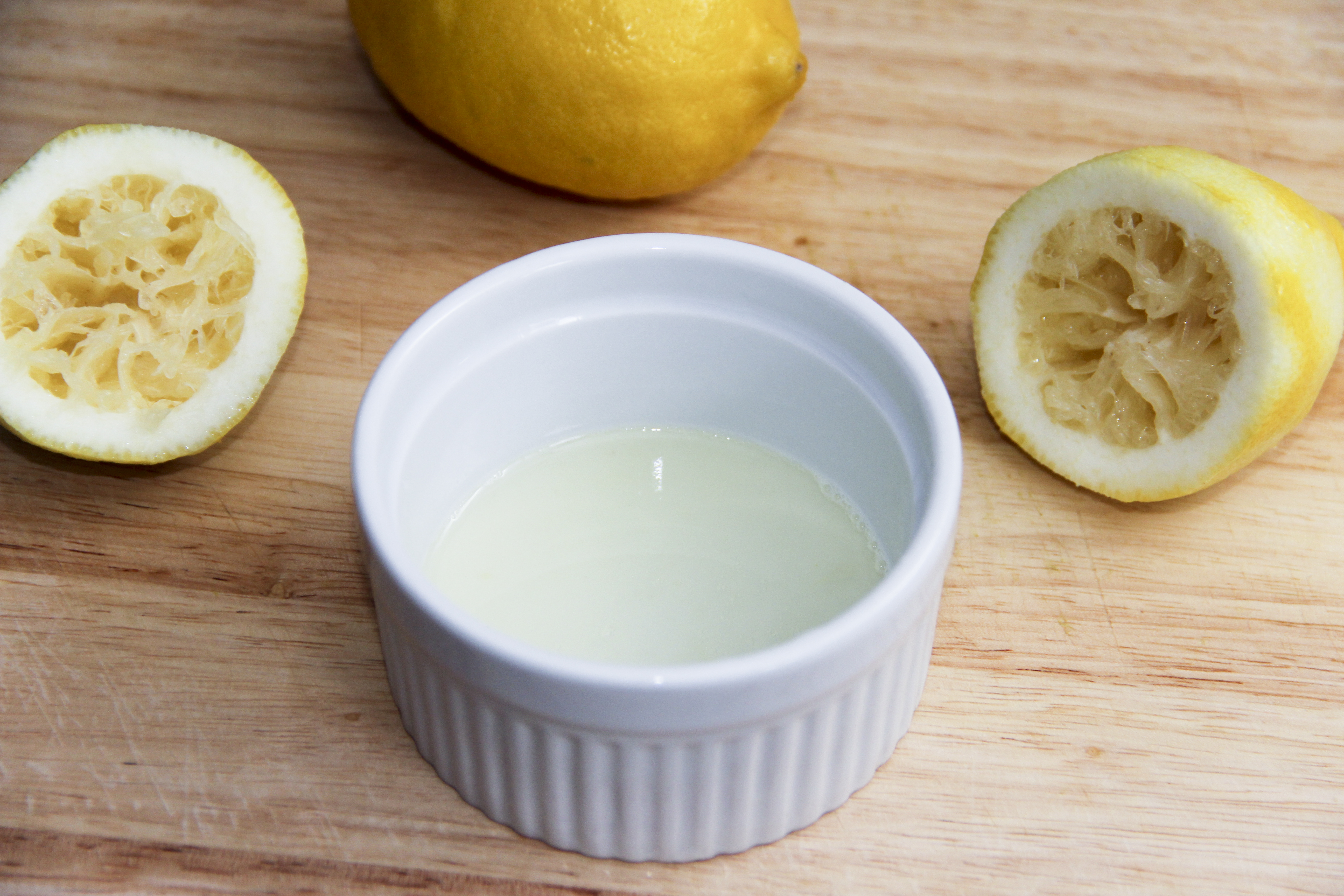 Then squeeze the juice from it too (we're getting all the use out of this lemon that we possibly can!)
Grab some fresh sage leaves. They taste delicious with lemon and garlic …
… and chop them up.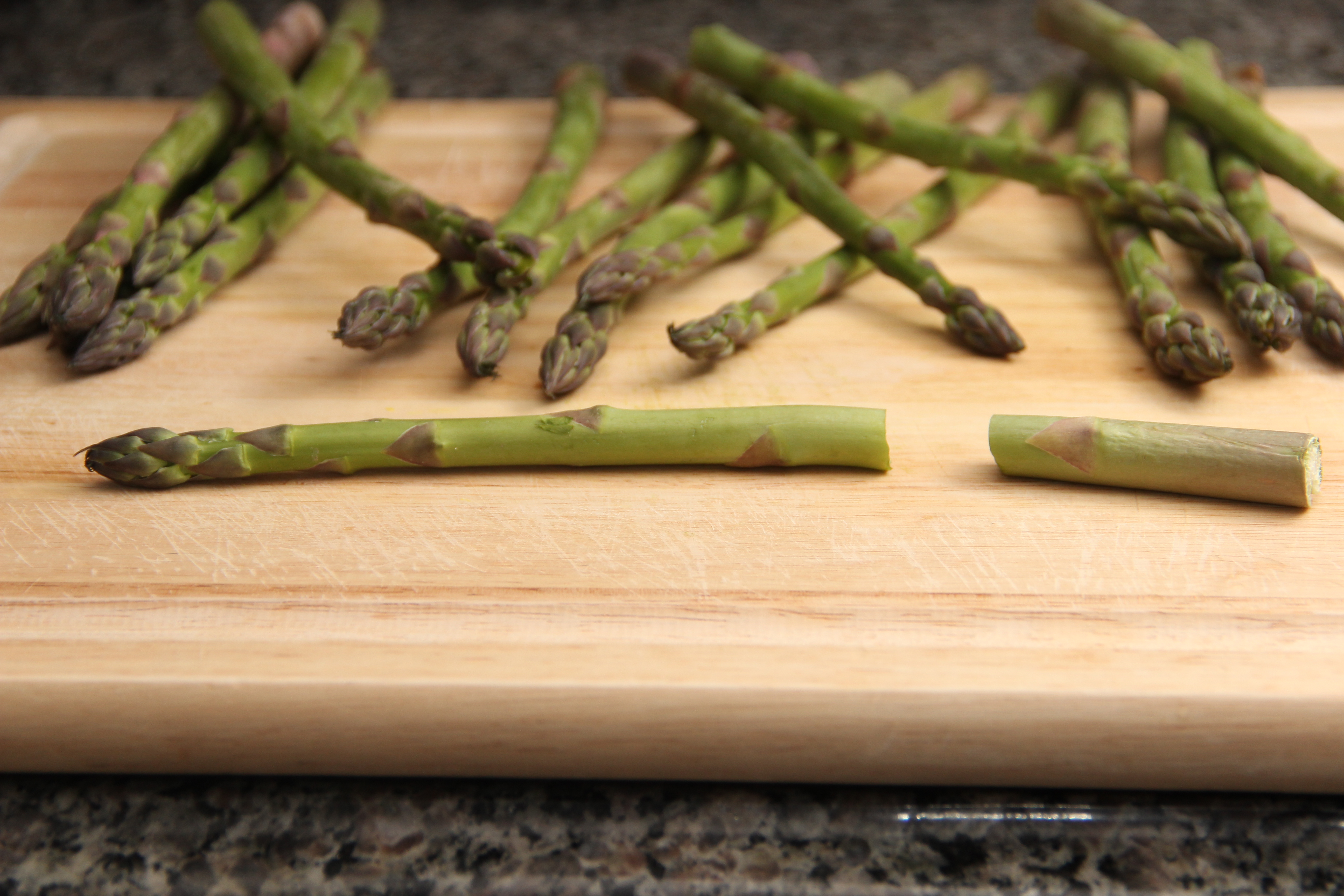 Next, prepare the asparagus.
Hold one end on an asparagus spear in each hand and pull down until the spear snaps.
The end that breaks off is the tough part of the stalk that should be discarded.
Big Time Saver: When you've snapped a few spears and have a good idea of how much of the stalk should be removed, you can grab a small bunch of asparagus spears and just chop off the ends all at once.
Lastly, chop the asparagus into bite-sized pieces.
Grab a large sauté pan and add about 1/4 cup of extra virgin olive oil.
You can use less if you're really watching calories, but the oil really adds to the flavor of the dish. And since all the other ingredients are so healthy, the dish is still very light even with the olive oil.
When the oil heats up over medium heat, add the minced garlic to the pan.
Allow it to cook and soften for a couple of minutes.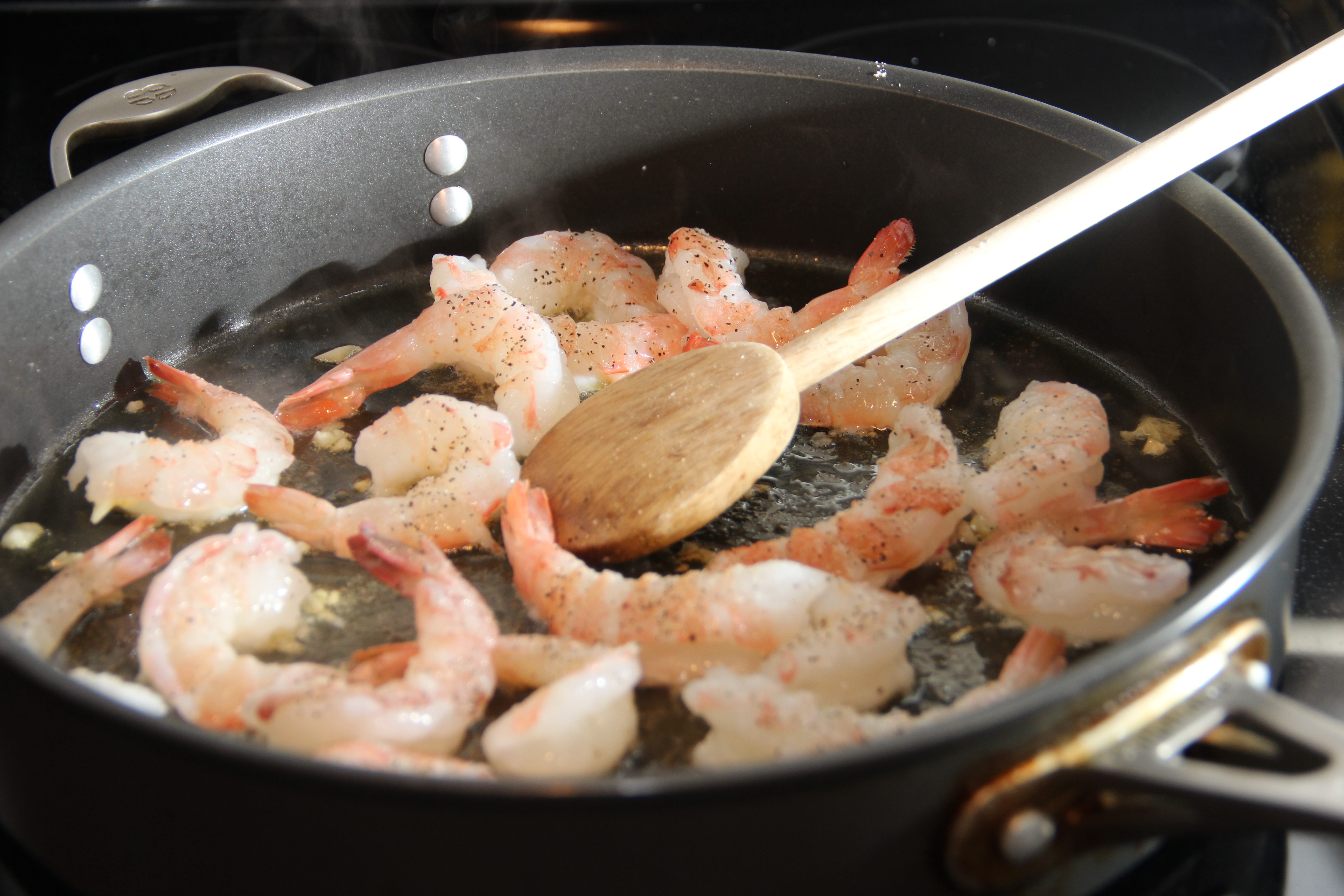 Add the shrimp and season well with salt and pepper.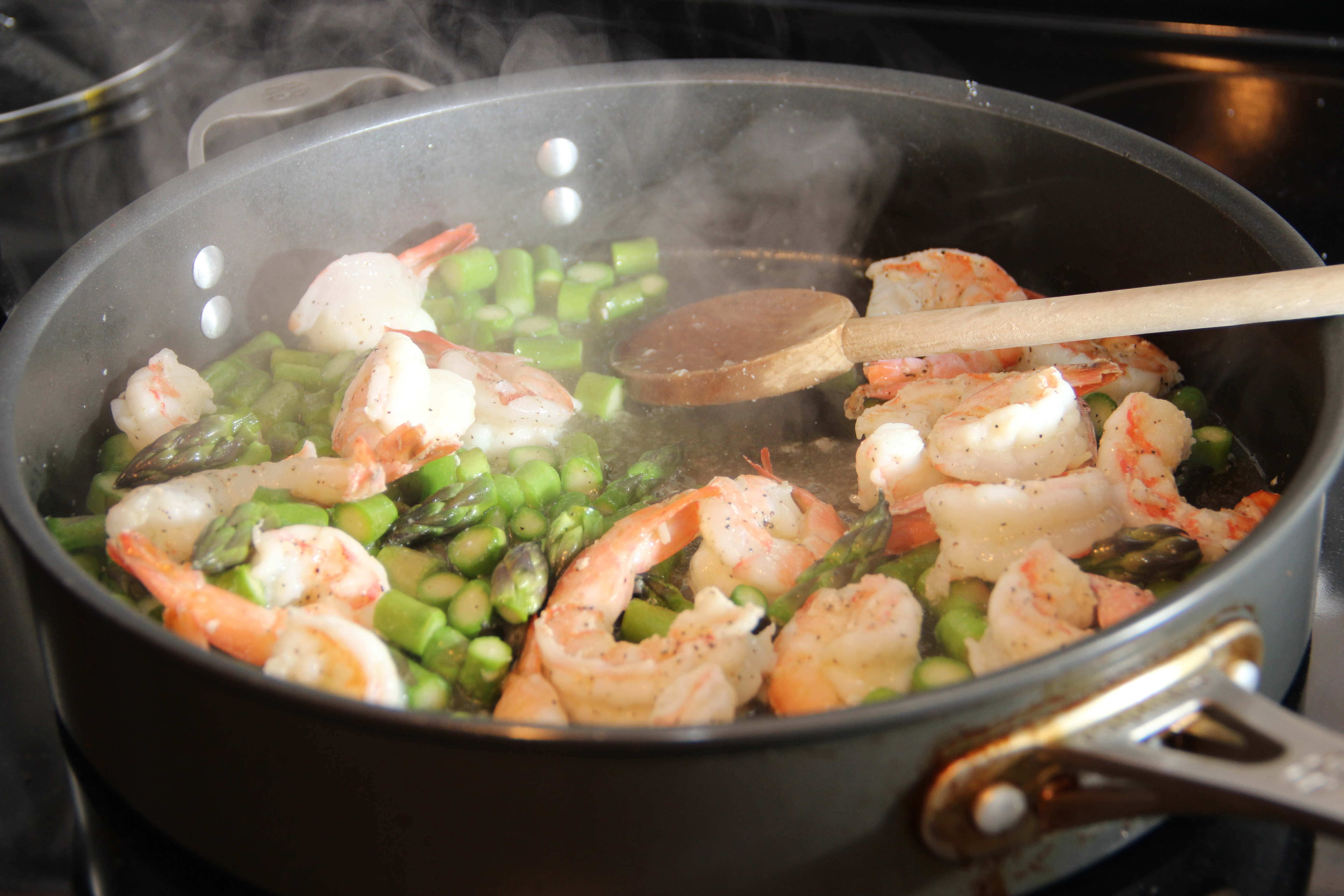 After just a minute, add the asparagus.
Allow the shrimp and asparagus to cook for a few minutes, and then add the artichokes.
Just be sure to drain and rinse the artichokes before adding them in. They'll add an overpowering vinegar-like flavor to the dish if they're not rinsed well.
Add the lemon zest and the sage.
Season everything well with salt and pepper.
Next, add some white wine and allow that to cook down and reduce for a couple of minutes.
Finally, add some lemon juice.
Optional: I love to add about 3 ounces of cooked whole wheat farfalle (bow-tie pasta) to this dish. I think the fresh, citrus and white wine sauce tastes amazing with pasta.
But, with or without pasta, the dish tastes delicious either way.
There are so many bright, fresh flavors in this dish.
The white wine and garlic give the shrimp such rich flavor.
And the citrus and fresh sage really brighten up the asparagus and artichokes.
Perfect with a nice glass of white wine, outside, on a warm evening.
Here is the complete printable recipe:

Lemon-Sage Shrimp with Asparagus and Artichokes
Author:
The Scrumptious Pumpkin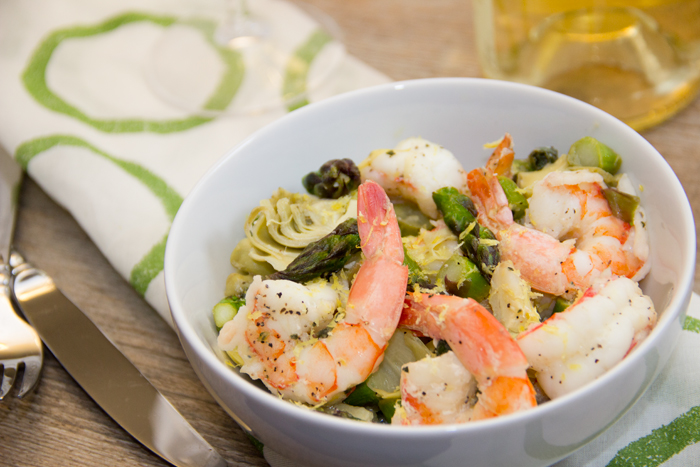 Total Time:  30 minutes
Prep: 15 minutes
Cook: 15 minutes
Yield: 4 servings
Ingredients
¼ cup extra virgin olive oil
2 cloves garlic, minced
1 pound fresh or frozen shrimp, peeled and deveined
1 pound asparagus, chopped
1 10-ounce jar quartered artichoke hearts, drained and thoroughly rinsed
1 tablespoon fresh lemon zest grated from 1 lemon
3 tablespoons sage, chopped
½ cup white wine
⅓ cup fresh lemon juice, squeezed from 1 lemon
3 ounces whole wheat farfalle pasta (optional)
Salt and freshly ground black pepper
Instructions
Boil a large pot of water and season with salt.  Add the farfalle and cook the pasta until it's al dente.
Meanwhile, in a large sauté pan, heat the olive oil over medium heat. Add the garlic and cook until softened, about 2-3 minutes. Add the shrimp and season with salt and pepper. Cook a few minutes more, then add the asparagus. Cook about 3 minutes more and add the artichokes, lemon zest, and sage. Season well with salt and pepper.
Add the white wine and allow the wine to cook and reduce for about 3 minutes. Stir in the cooked farfalle and serve.