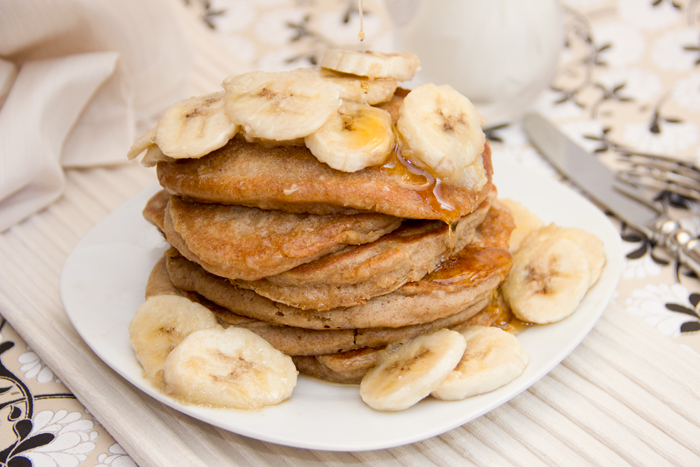 I had these pancakes three times this week.
Because they're so quick and easy (with so few dishes to wash), that they've been my go-to while I've spent my days training (and, so far, mostly being trained by) my eight-week old puppy. Plus, they are so, so good. (was that a Yoplait commercial?)
Then I realized they'd be perfect for Mother's Day (or the perfect treat for Moms to make for themselves any day!) so I decided to post the recipe.
The coconut milk in these pancakes makes them so thick and sweet and decadent-tasting, I had to add an extra "Cake" to the title of this post.
They have a lot of good-for-you ingredients and they're very filling too, so, honestly, my husband and I like to eat them as a quick and easy weekday dinner.
Here's everything you'll need to make these pancakes. Mostly pantry items you may already have on hand.
First, put just enough canola oil in a large frying pan to cover the bottom of the pan.
Turn the burner to medium heat and allow the pan to heat up for a minute or two.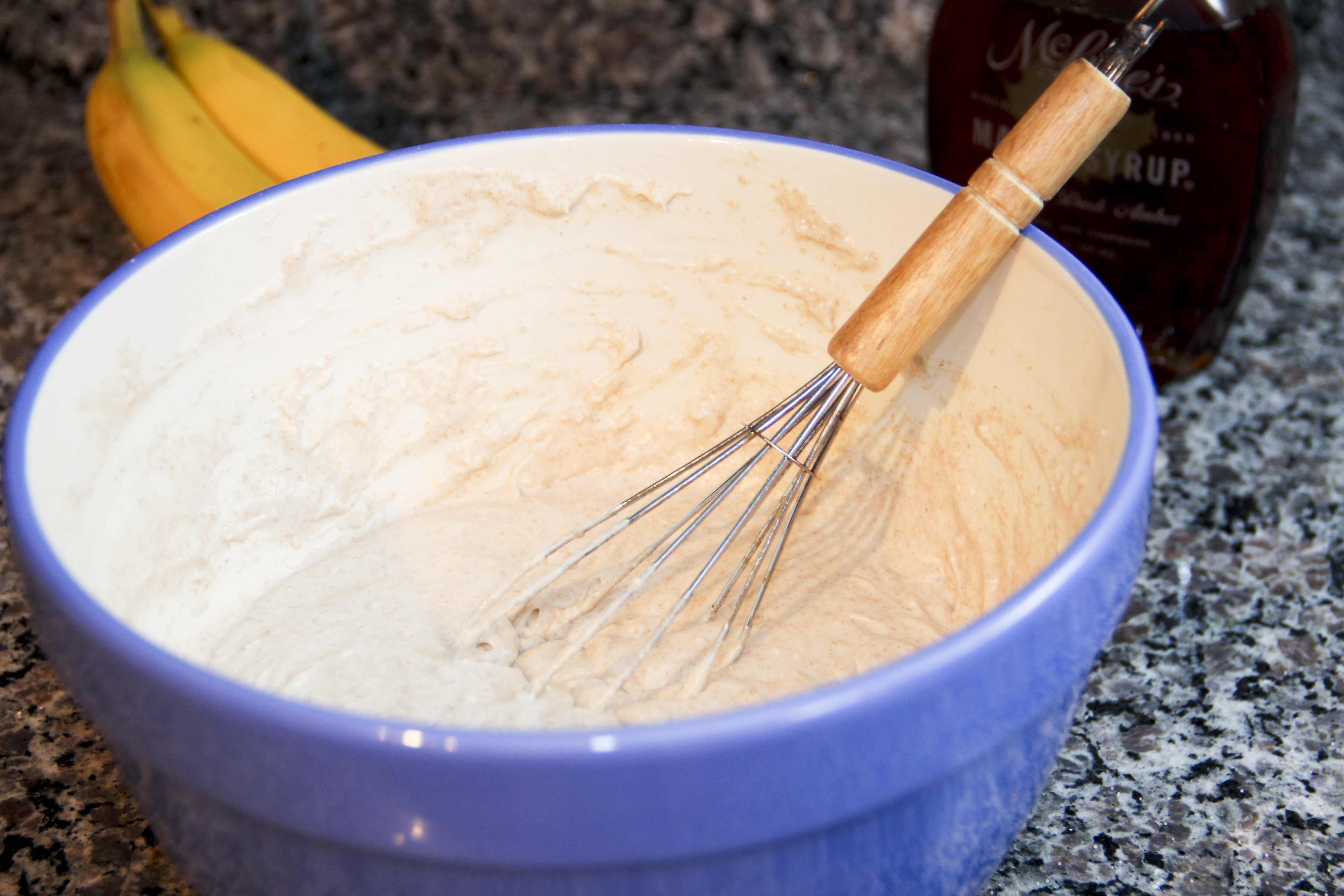 Meanwhile, grab a large mixing bowl and add all the following: whole wheat flour, a bit of all-purpose flour, baking soda and baking powder (to help these pancakes get extra thick and fluffy), an egg, an egg white, some coconut milk, a bit of sugar, a bit of salt, and some vanilla extract.
Whisk until everything is well combined.
At this point the frying pan should be hot.
Use a 1/3 measuring cup to ladle a scoop of the batter onto the pan. You may have enough room on your pan to cook two pancakes at once.
When you notice lots of bubbles forming throughout the pancake, both around the sides as well as in the center, it's ready to flip.
Flip the pancakes with a spatula.
They should be lightly golden.
Allow the pancakes to cook for just a couple of minutes more on the second side.
Then transfer the pancakes to serving plates.
After you've finished cooking up all the pancakes, turn off the heat completely.
Then slice a few bananas and grab some pure maple syrup, some vanilla extract, and some almond extract.
The syrup should be 100 percent pure maple syrup.
Pure maple syrup (versus the processed kind that often has water and corn syrup and tons of other additives) tastes so good and it's actually a healthier natural sweetener.
Pure maple syrup has a lot of zinc (for a healthy immune system), antioxidants, and (surprisingly!) calcium. So it's a smarter, healthier choice to sweeten your pancakes.
And the rich, velvety flavor tastes so perfectly delicious with bananas. After a couple of minutes, the frying pan should have cooled down a bit.
Add the bananas and maple syrup to the pan.
The pan should still be slightly hot so that the syrup sizzles slightly when it hits the pan.
Add the vanilla extract and the almond extract and stir everything together.
Then top each plate of pancakes with the maple-glazed bananas.
Perfect! These pancakes are such an indulgent treat.
They're thick and fluffy and sweet with just a hint of coconut flavor.
And the maple-glazed bananas are richly flavored and the perfect complement.
Here is the complete recipe:
Coconut Cake Pancakes with Maple-Glazed Bananas
Prep: 5 minutes
Cook: 20 minutes
Yield: 4 servings (8 pancakes)
Coconut Cake Pancakes:
1/2 cup all-purpose flour
1 cup whole wheat flour
1/4 cup granulated sugar
2 teaspoons baking powder
1/2 teaspoon baking soda
1 1/2 teaspoons salt
1 egg
1 egg white
2 cups coconut milk
2 teaspoons vanilla extract
2 teaspoons canola oil
Maple-Glazed Bananas:
3 bananas
1/3 cup pure maple syrup
1/4 teaspoon almond extract
1/2 teaspoon vanilla extract
Add all ingredients for the Coconut Cake Pancakes in a large mixing bowl. Stir with a whisk just until well-combined. Heat the canola oil in a large frying pan over medium heat. When the skillet is hot, pour about 1/4 cup of the batter onto the skillet. When bubbles begin to form in the center, after about 5 minutes, use a spatula to flip the pancake. Cook for about 3 minutes more, until the second side is light golden. Repeat until all pancakes are cooked.
Turn off the heat and allow the skillet to cool for about one minute. Add the bananas and the maple syrup. The syrup should lightly sizzle when it hits the still-warm pan. Add the almond and vanilla extracts. Cook for about one minute, or until the bananas are well-coated with the maple glaze. Top each pancake with some maple-glazed bananas and serve.