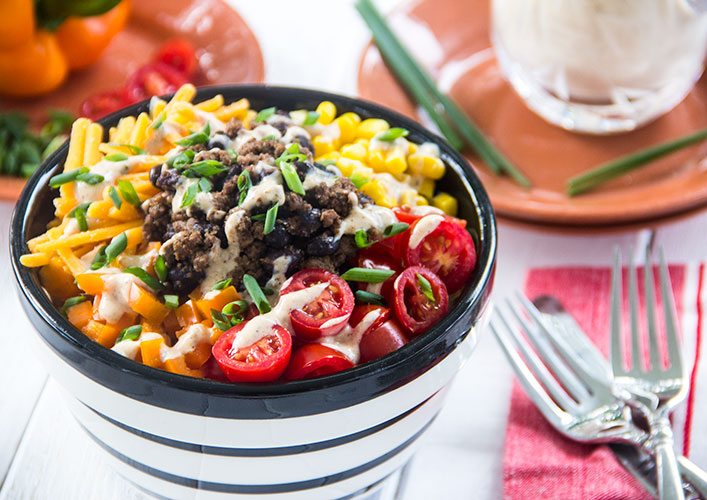 Taco salad must be the ultimate summertime comfort food.
It's got all the crisp, fresh veggies a person might crave on a hot and humid day.
Plus all the cheese and creamy dressing a person might crave any day they've worked up an appetite.
I like to make this version all the time in the summer because it's one of those no-fail dishes…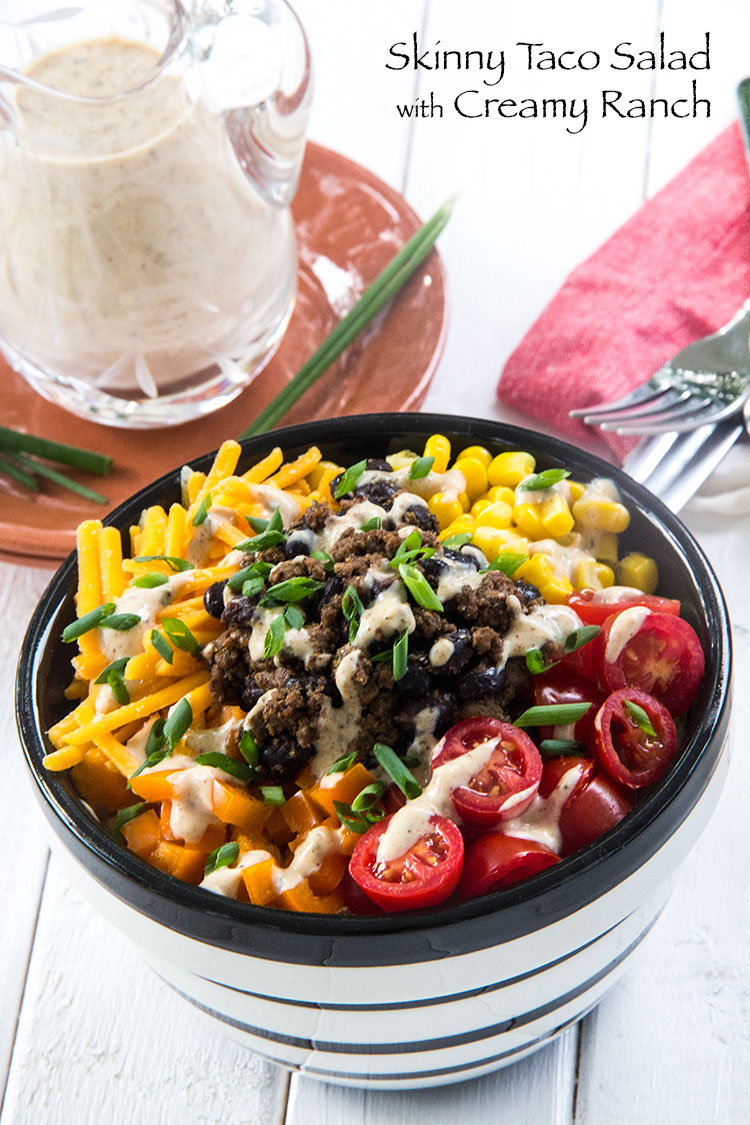 Meat-and-Potatoes-Guy loves it.
I love it.
It's ready in about 25 minutes.
With only about 5 minutes cooking time (because who wants to heat up the kitchen on a hot summer day?)
And it most definitely makes a complete (full-size entrée), very filling and satisfying meal.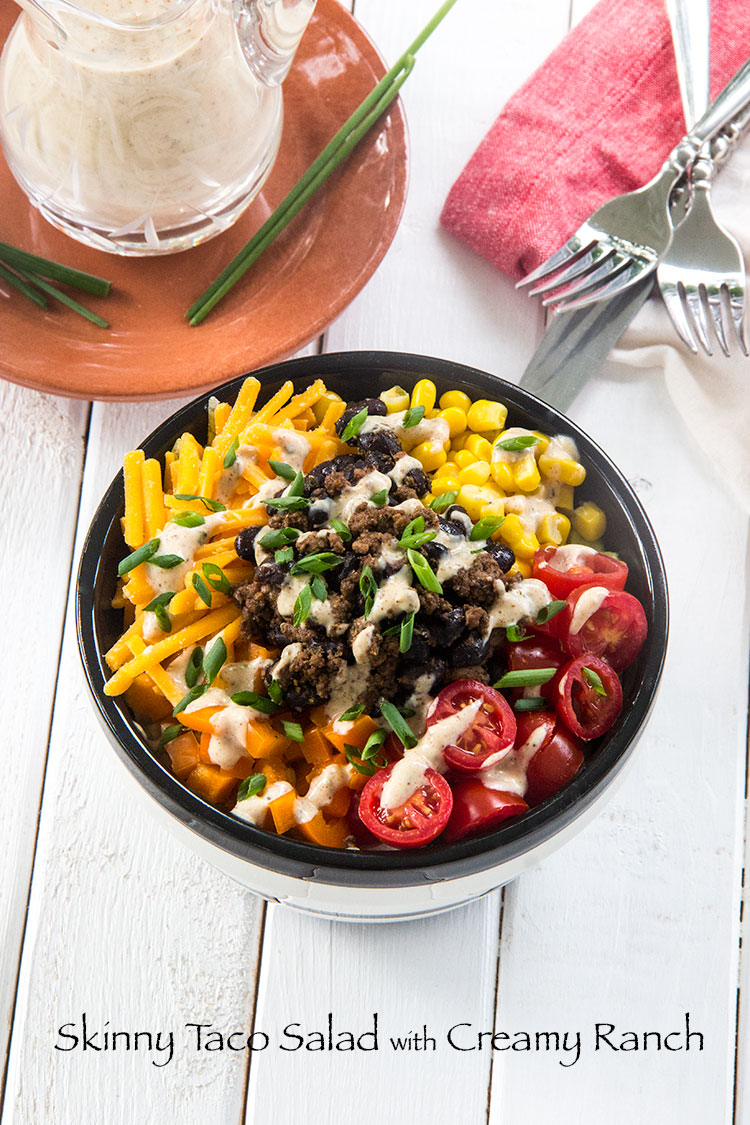 Anyone who's ever looked at the nutrition facts on a restaurant taco salad may tend to avoid them: they often approach 1,000 calories and 70g of fat per serving.
This fresh, homemade version looks very "skinny" by comparison, at a reasonable 400 calories and 19g of fat per serving.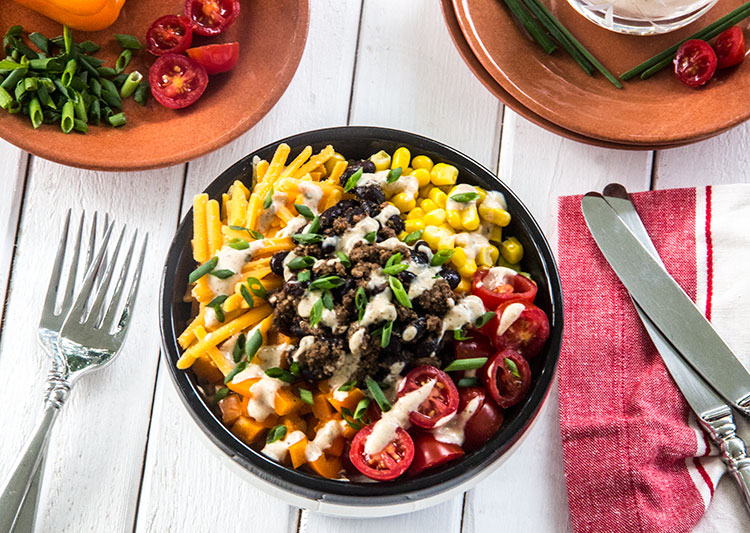 Plus, with the variety of tasty ingredients (lean ground beef, black beans, cheese, fresh tomatoes, crisp peppers, and sweet corn) this salad is packed with nutrients and vitamins.
This salad provides:
tons of fiber (30% of the daily requirement)
lots of filling protein
half the daily requirement of vitamin A and iron
lots of vitamin C
a quarter of the daily requirement of calcium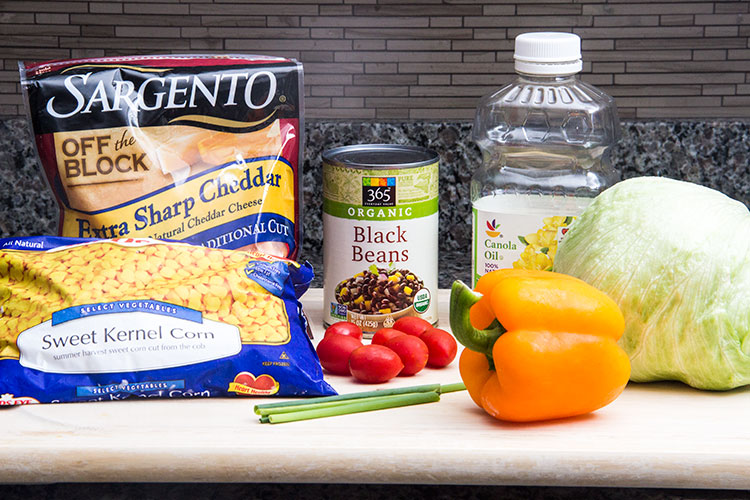 Here are the key ingredients you'll need to make this taco salad.
To make things quick and easy: I purchase shredded sharp cheddar cheese and frozen corn.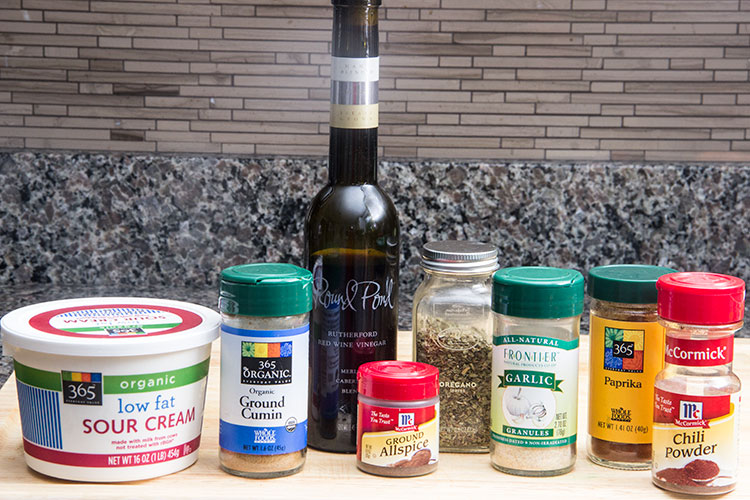 And here are the ingredients for the creamy ranch dressing (all the spices you see here are also used in the ground beef and black bean mixture).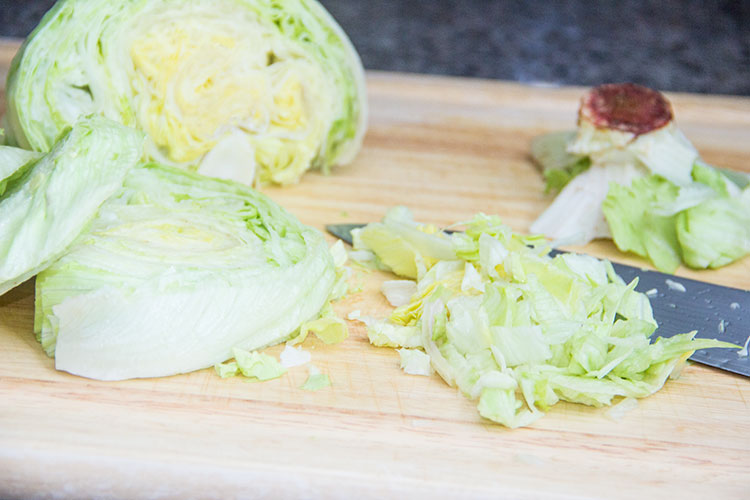 Begin by preparing the veggies.
Grab a head of lettuce and chop off the stem.
Cut it in half and place the first half flat-side-down on the cutting board for stability.
Cut thin strips, then run your knife in the opposite direction, chopping up the lettuce.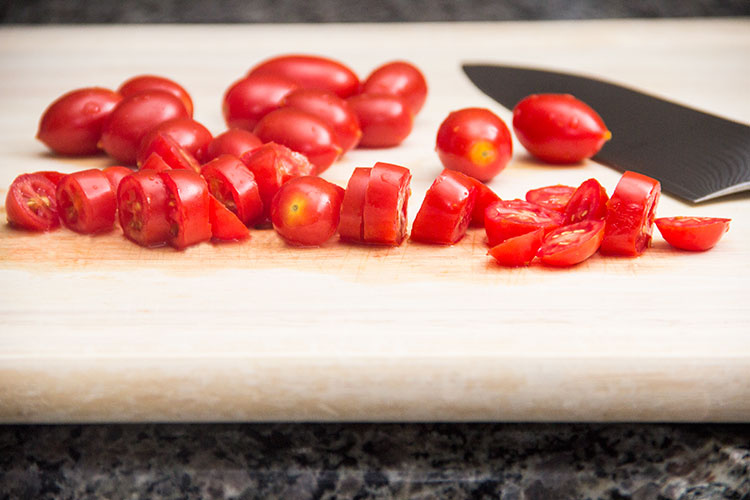 Then dice a couple of tomatoes. (I happened to have cherry tomatoes on hand).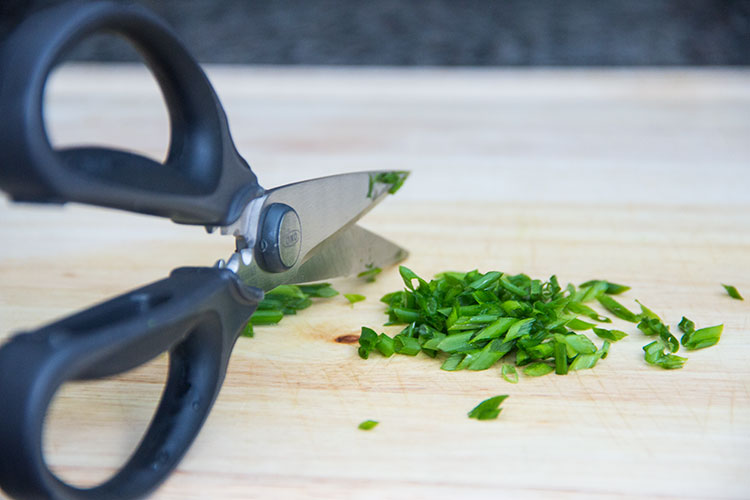 Also chop up some fresh chives using kitchen shears or a sharp knife.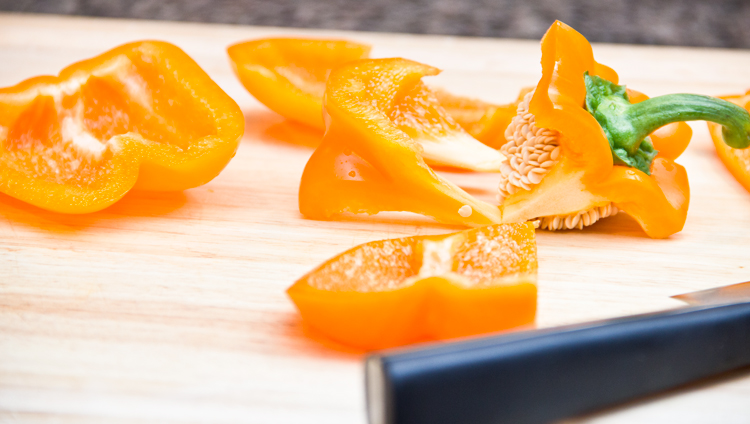 Next, grab an orange bell pepper and, holding it upright on the cutting board, slice down each side of the stem, creating four quarters.
This makes it easy to discard the stem and seeds.
Then dice up the bell pepper.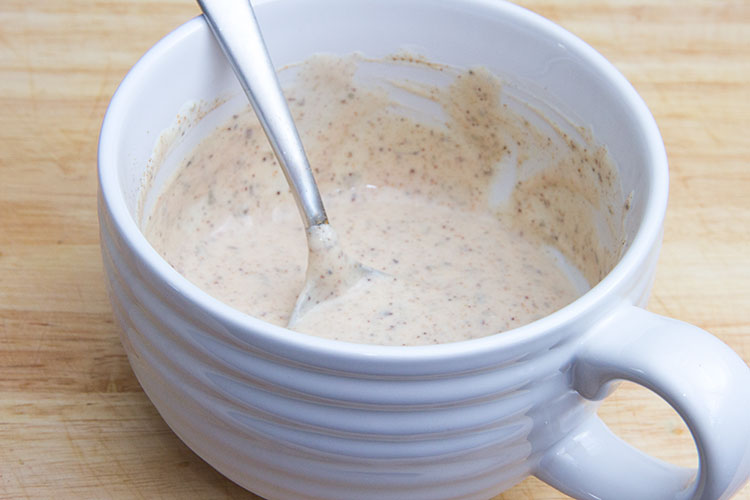 Next, prepare the Creamy Ranch dressing.
Add some low-fat sour cream, some non-fat plain yogurt, and some red wine vinegar to a bowl.
Then add the spices.
This dressing gets all its rich, zesty flavor from a variety of spices, but these are all common spices you probably already have in your kitchen spice rack:
dried oregano
cumin
garlic powder
paprika
chili powder
Season with a pinch of salt and pepper, then stir until the spices and vinegar are well combined.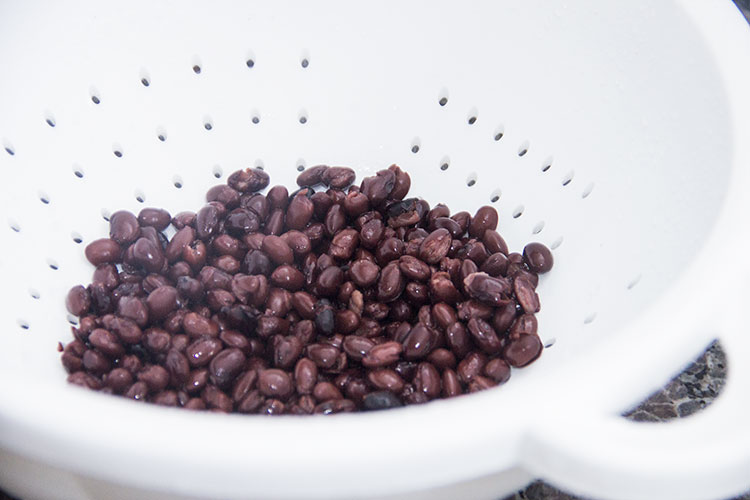 Next, prepare the ground beef mixture.
Drain and rinse a can of black beans.
I love to use black beans in this recipe because they're such a tasty, nutritious way to bulk up the ground beef mixture.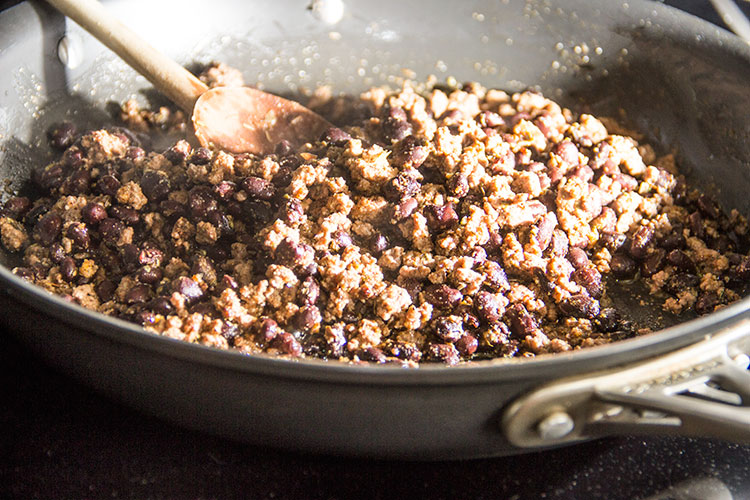 Next, heat a bit of canola oil in a sauté pan over medium-high heat.
Add some ground beef and cook, breaking apart with a wooden spoon, until it's browned.
I use 95% lean ground beef and don't miss the fat at all, because I add flavor with the heart-healthy canola oil and tons of tasty spices.
After the ground beef is cooked through, add the black beans and season with a bit of salt and pepper.
Then add all the same spices you used for the Creamy Ranch and stir until everything is well combined.
I use the same spices that are used in the Creamy Ranch to keep the flavors complementary and also to keep things simple, so there's no need to go searching through the cupboards again.
Next, serve up the salads:
Arrange the chopped lettuce on serving plates, then add the chopped tomato, bell pepper, and some thawed frozen sweet corn.
Top with plenty of the ground beef-black bean mixture, then add some shredded sharp cheddar cheese.
Drizzle some of the Creamy Ranch over everything, then top with some chopped chives.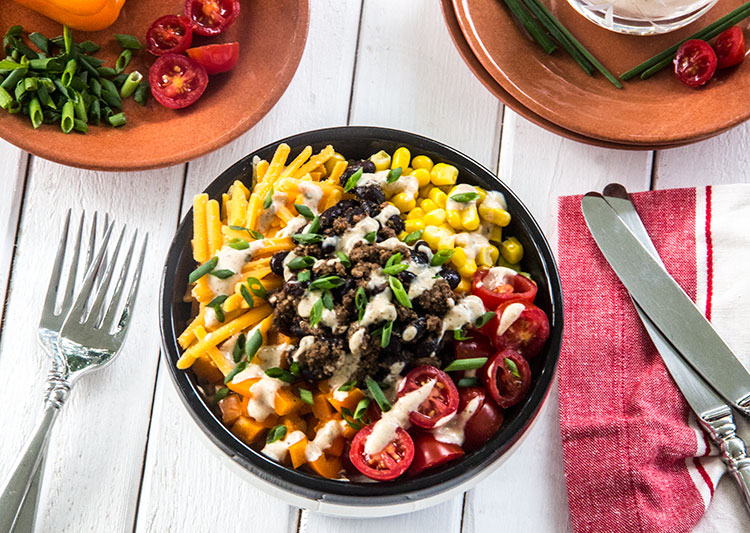 Aside from the super-sized fried tortilla shell (there was just no way that I was going to figure out how to fit that into a healthy recipe makeover!), this dish is everything you might want from a taco salad:
a crisp crunch from the bell pepper, plenty of salty cheesiness from the cheddar, spicy richness from the black bean mixture, and of course, tons of creamy flavor from the homemade ranch dressing.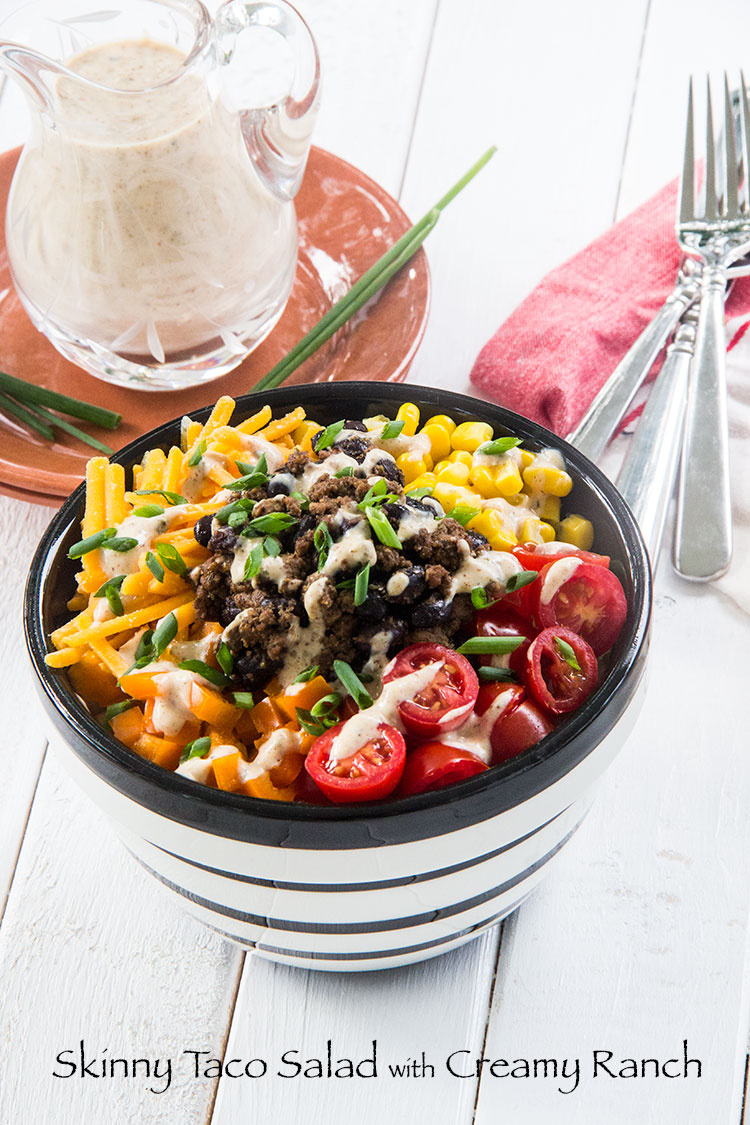 This is a filling, full-flavored comfort food dish that both Meat-and-Potatoes-Guy and I call a favorite.
It's crisp, it's fresh, it's creamy, it's cheesy, it's got lots of spicy richness.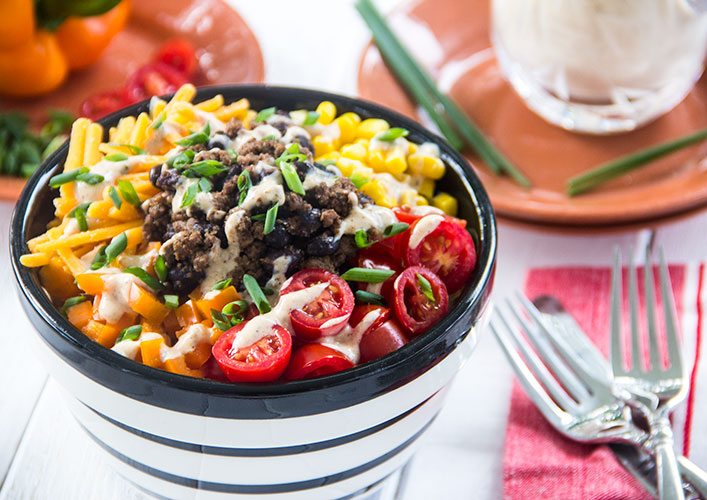 What's not to love?
Here is the complete, printable recipe:
Skinny Taco Salad with Creamy Ranch
Author:
The Scrumptious Pumpkin
Nutrition Information
Serving size:

6

Calories:

407
Fat:

19.1g

Saturated fat:

9.3g

Carbohydrates:

28.9g

Sugar:

5.8g

Sodium:

483mg

Fiber:

7.6g

Protein:

34.4g

Cholesterol:

95mg
Recipe type:
Healthy Soups, Salads and Sandwiches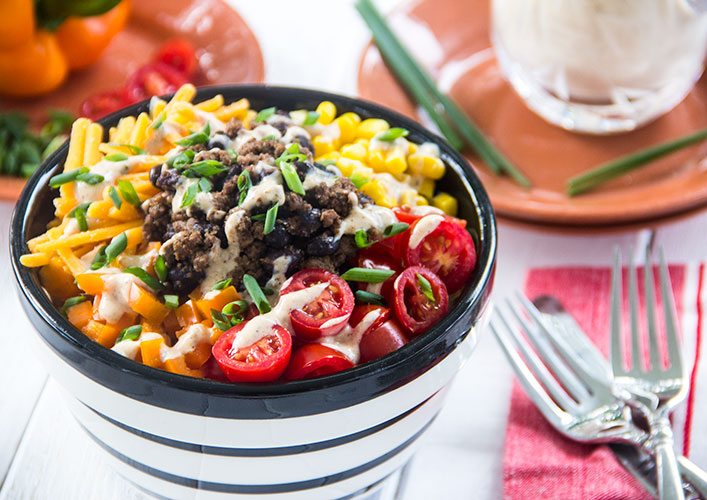 Total Time: 25 minutes
Prep: 20 minutes
Cook: 5 minutes
Yield: 6 full-size entrée servings
Ingredients
For the Creamy Ranch Dressing:
½ cup low-fat sour cream
¼ cup non-fat plain yogurt
1½ tablespoons red wine vinegar
1 teaspoon dried oregano
¼ teaspoon cumin
¼ teaspoon garlic powder
¼ teaspoon paprika
¼ teaspoon chili powder
Salt and freshly ground black pepper
For the Taco Meat and Black Beans:
2 teaspoons canola oil
1 pound 95% lean ground beef
1 15-ounce can black beans, drained and rinsed
2 tablespoons cumin
1½ tablespoons dried oregano
1½ tablespoons garlic powder
1 tablespoon paprika
1 teaspoon chili powder
½ teaspoon allspice
Salt and freshly ground black pepper
For the Taco Salad:
1 head lettuce, chopped
1 orange bell pepper, diced
2 large tomatoes, chopped
1 cup frozen sweet corn, thawed
Taco Meat and Black Beans (recipe below)
1 cup shredded sharp cheddar cheese
Creamy Ranch Dressing (recipe below)
3 tablespoons chives, chopped
Instructions
For the Creamy Ranch Dressing:
In a bowl, combine all ingredients listed above for the Creamy Ranch Dressing. Stir until vinegar and spices are well incorporated. Season to taste with salt and pepper.
For the Taco Meat and Black Beans:
In a large sauté pan, heat the canola oil over medium high heat. Add the ground beef, breaking apart with a wooden spoon, cooking until browned, about 5 minutes. Add the black beans and the spices listed above for the Taco Meat and Black Beans. Stir until well combined and cook until beans are heated through, about 2 minutes more. Season to taste with salt and pepper.
For the Taco Salad:
Arrange the lettuce, pepper, tomato, and corn on serving plates. Spoon on the Taco Meat and Black Beans and top with shredded cheddar. Drizzle on some of the Creamy Ranch Dressing and garnish with chopped chives.