I guess this 'peaches and coconut cream' treat was inevitable.
Considering how captivated I've been with peaches (all summer) and coconut milk (for as long as I've written this blog), these little frozen confections had to happen eventually.
I combined my two loves and now I have a new obsession: Peaches and Coconut Cream Frozen Pops.
"Peaches and Cream" is a well-loved classic combo for a reason.
But here was my thought: wouldn't ripe summer peaches be even better with richly flavored coconut milk?
And why not turn the whole thing into a frozen treat to make it even more perfect for summer?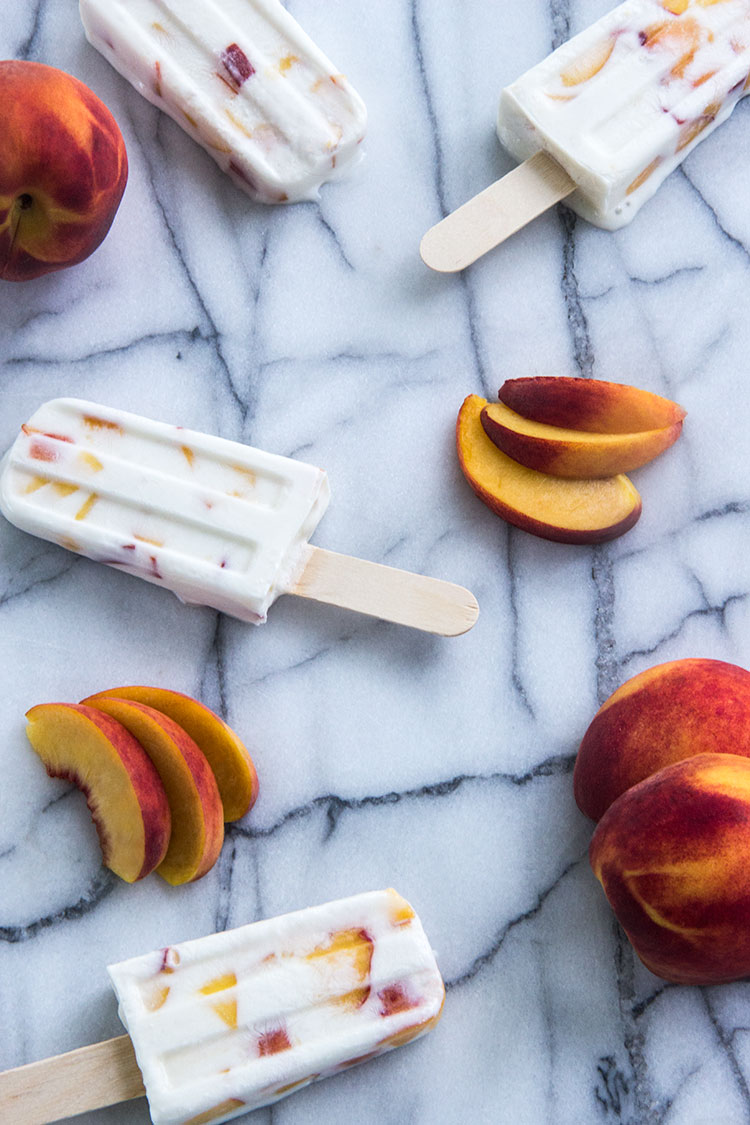 The result was so blissfully tasty.
Here are the step-by-step instructions for Peaches and Coconut Cream Pops:
Both regular coconut milk as well as light coconut milk are used in this recipe.
The regular coconut milk is to create a "cream" that will give the pops a rich, thick consistency.
The light coconut milk is to add more coconut flavor without adding lots of additional calories and fat.
The first step happens as soon as you purchase the ingredients:
Immediately place the regular coconut milk in the refrigerator.
Overnight, all of the coconut fruit – the thick cream – will rise to the top of the can. This coconut cream is key in this recipe!
The water that has been added to the coconut milk will sink to the bottom.
The light coconut milk, on the other hand, should be stored as normal in a cupboard at room temperature.
When you're ready to make the pops, open the refrigerated regular coconut milk and scoop out that top thick and creamy layer and measure out about half a cup.
Add it to a large mixing bowl.
Then grab the light coconut milk (stored at room temperature), shake it up, and add some of that to the mixing bowl as well.
Also add some plain non-fat yogurt and some agave.
Then grab some peaches.
Cut the first in half.
Your knife will hit a pit in the center, just keep rotating your knife around the peach, cutting around that pit.
Twist each of the two halves in opposite directions, pulling apart the two halves.
Use a small pairing knife to carefully cut under and around the pit, removing it.
Cut out any rough, tough spots surrounding the pit too.
Then place one half flat-side-down on the cutting board for stability, and dice the peach into quarter-inch bite-sized cubes.
They should be small enough to easily fit into a popsicle mold.
Add the diced peaches to the mixing bowl and stir until everything is well combined.
Then grab a popsicle mold and fill each one to the brim with the peaches and coconut cream mixture.
I don't even bother to place the tray on top of the mold.
The mixture is thick enough to hold the popsicle sticks upright without it.
Freeze the pops overnight, or for at least six hours.
When they're frozen, just run the mold under warm water for several seconds, loosening the pops until they're easy to pull out of the mold.
The contrast between fresh, ripe frozen peaches and rich, decadent coconut cream makes for such a deliciously sweet combo.
You'd never guess, but these frozen treats are only about 100 calories each.
Here's the recipe for Peaches and Coconut Cream Pops:
Peaches and Coconut Cream Pops
Author:
The Scrumptious Pumpkin
Nutrition Information
Serving size:

8

Calories:

108
Fat:

6.2g

Saturated fat:

5.4g

Carbohydrates:

12.5g

Sugar:

11.4g

Sodium:

14mg

Fiber:

1.1g

Protein:

1.8g

Cholesterol:

1mg
Recipe type:
Healthy Snack
Total Time: 6 hours, 15 minutes
Inactive: 6 hours
Prep: 15 minutes
Cook: 0 minutes
Yield: 8 frozen pops
Ingredients
½ cup coconut cream from 1 14-ounce can regular coconut milk (the thick, top layer of cream that is formed when a can of coconut milk is refrigerated for several hours)
⅓ cup light coconut milk, at room temperature, shaken
½ cup plain nonfat Greek yogurt
⅓ cup agave nectar
2 large peaches, pitted and diced into quarter-inch cubes
Instructions
Note: the night before preparing this recipe, refrigerate the can of regular coconut milk. ½ cup of the thick, creamy layer that rises to the top of the can is required for this recipe.
In a large mixing bowl, stir and combine all ingredients listed above. Spoon mixture into popsicle molds, filling each mold to the brim. Add popsicle sticks and freeze overnight, or for at least 6 hours.
Remove popsicles by running mold under warm water for several seconds.