Everyone has been asking for an update on our beagle Calvin.
So I'm happy to report that Cal has been his usual (hilariously entertaining) self all summer long.
As always, he has kept Meat-and-Potatoes-Guy and I laughing.
For example, we learned this summer that he loves watermelon.
He observed Meat-and-Potatoes-Guy eating a slice, and begged and whimpered for a taste…
So we let him try it out, and he loved it.
And enjoys eating it just like a person would.
He continues to love Meat-and-Potatoes-Guy's hockey tape above all other things in this world.
Forget fame and fortune. In Cal's eyes, hockey tape is the Ultimate Prize To Be Won In This Lifetime.
When he finds the opportunity to sneak the tape out of Chris's hockey duffel, he parades around with his nose in the air like a true champion.
And he won't let go of the tape for anything.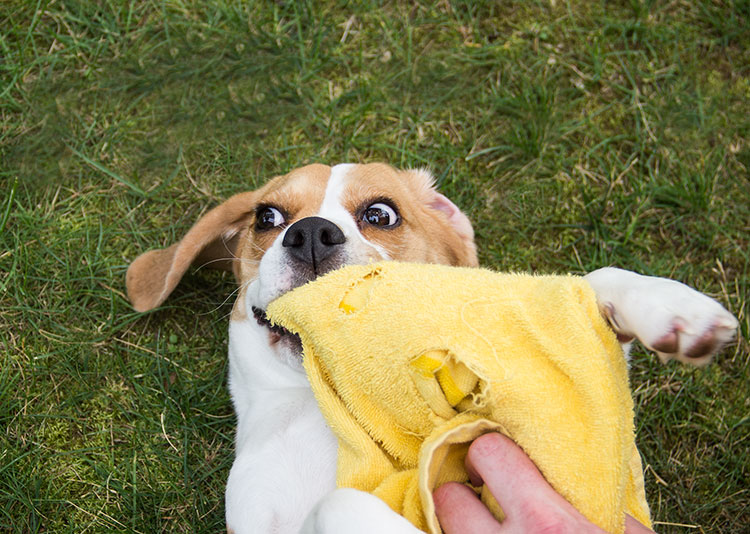 His other favorite: tug-of-war with an old yellow beach towel that has become Calvin's Towel.
This is another Ultimate Prize that Cal-Bean won't let go of for anything.
Here is my experience, take it or leave it:
If you need more laughter in your life, get a beagle.
These creatures pack such over-the-top, hugely entertaining, hilarious personalities into tiny, 23-pound packages.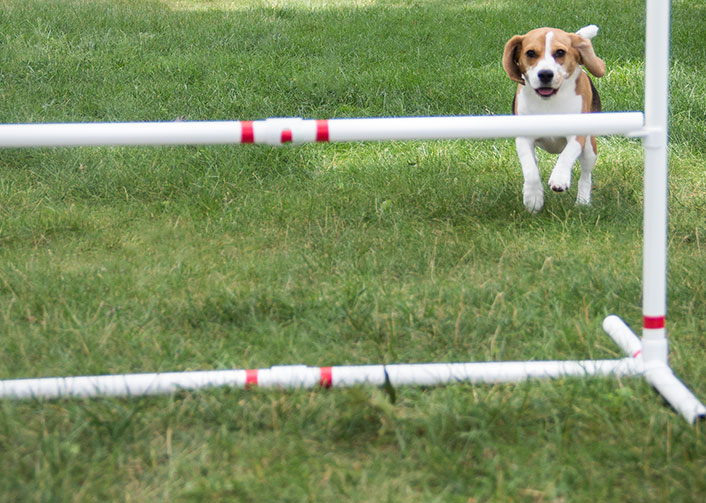 Now that he's over a year old, Cal-Bean has calmed down a lot. But he still has tons of energy to burn, so we got some dog agility equipment for Calvin to try out this summer.
We set up the equipment in our backyard, and here's Cal getting a running start…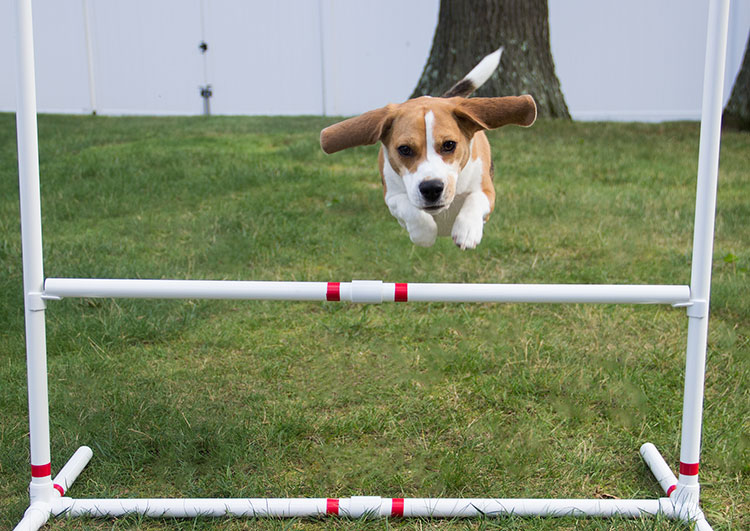 …so he can leap over his hurdle jump.
Check out this "super dog's" secret weapon for soaring so high: giant, flapping ears!
There's also a tunnel for Cal to make his way across…
..and a hoop to soar through.
This agility course is just the thing to tire out an energetic young dog.
And here are the treats we've been using to train Cal on his new agility equipment: Dynamo Dog functional treats from Cloud Star.
Calvin received a free variety package containing four different types of Dynamo Dog treats.
I love them because they're healthy "functional treats," meaning that they're more than just tasty rewards – – they're fortified with ingredients to help support hip and joint, tummy, and skin and coat health.
The treats are grain free and made with vitamins, minerals, fruits, and herbs (there are no artificial colors or flavors in these treats).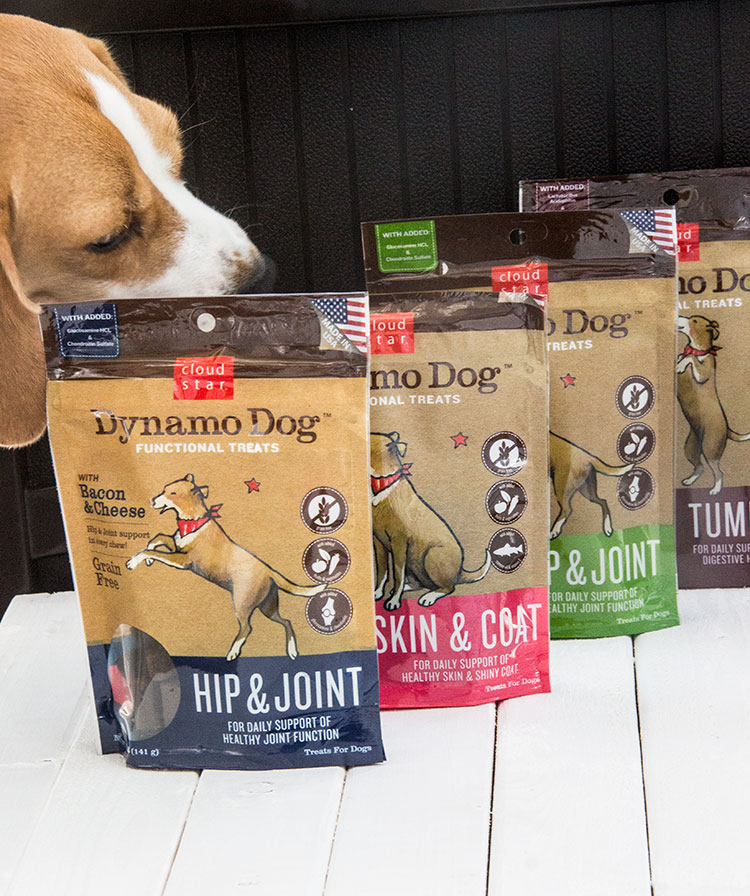 Cal loves these treats too, of course.
He did try to contain himself while I snapped some shots.
But that super-powered nose of his couldn't resist the delicious smells of his treats…
…so he managed to sneak his cute face into every shot.
And for the GIVEAWAY:
Cloud Star is giving away a complete variety package of Dynamo Dog Functional Treats to one winner!
The variety package will include everything shown here (it's the same package that Calvin received), including 4 five-ounce bags of treats (one in each of four types and flavors).
The giveaway will run from Monday, August 12, 2013 through Tuesday, August 20, 2013. (Limit to US residents).
Enter below for your chance to win!
There are options to increase your odds of winning by 'Pinning' or 'Tweeting' the giveaway and/or 'Liking' Cloud Star and The Scrumptious Pumpkin on Facebook.
.
.
.
.
.