So I've tried something new recently, and I'm so glad I did.
Here was my experiment, which led to unbelievably delicious results:
I added quinoa to zucchini fritters.
These parmesan zucchini quinoa fritters are very simple to make, as long as you follow a few key tips.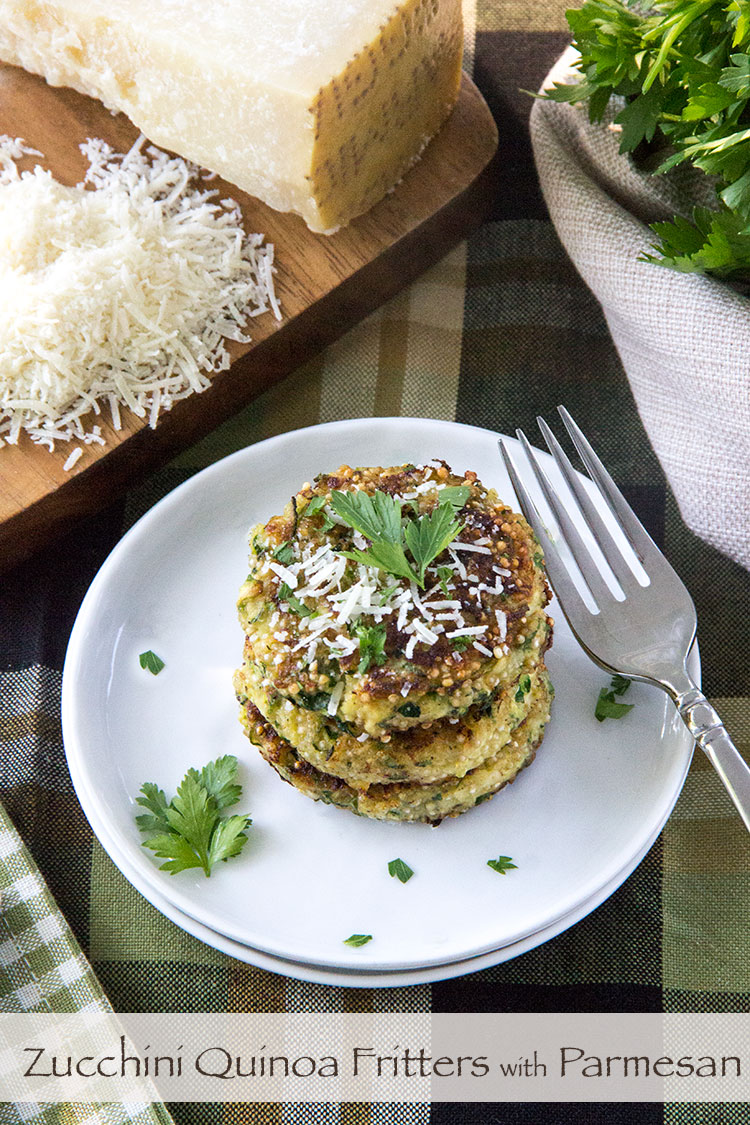 These zucchini fritters are most definitely a family friendly, craveable, satisfying dish.
They 100 percent satisfy any rich, cheesy food cravings.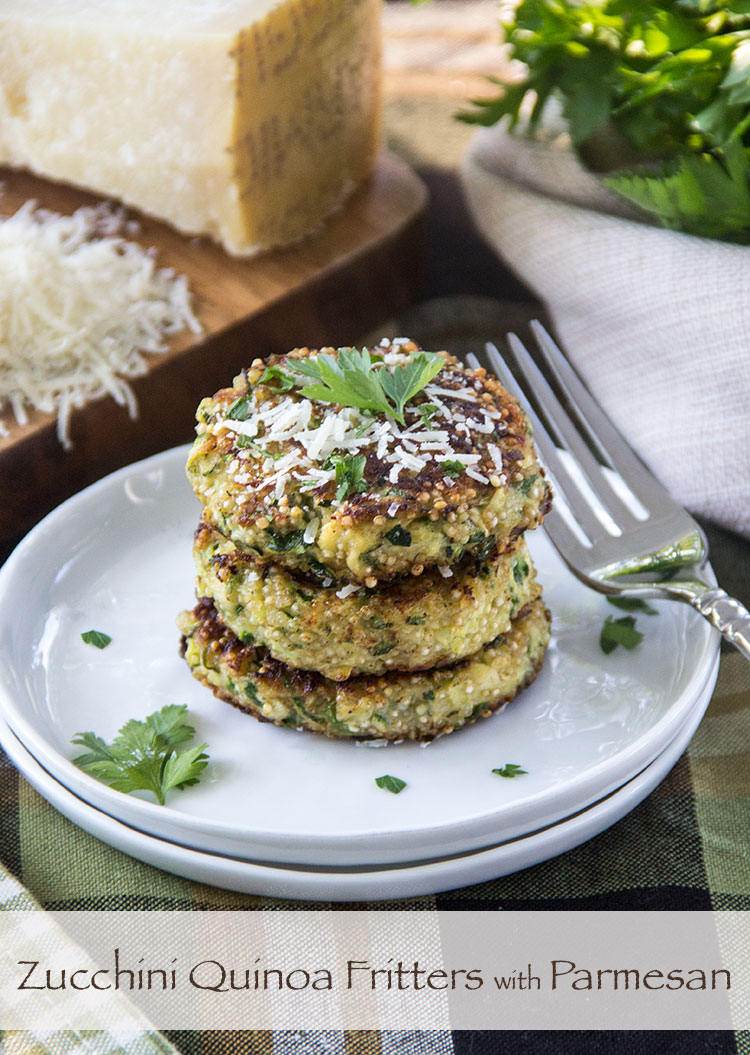 These little zucchini fritters are nothing but crispy, cheesy comfort.
I should mention that there are a couple of keys to success with this zucchini fritter recipe.
Begin by grating an organic zucchini using a box grater.
The next step is super important:
You must squeeze all the excess liquid from the zucchini!
Here's the method that I find easiest:
Place a fine mesh strainer over a large mixing bowl.
Toss the zucchini with about half a teaspoon of salt, and place it in the strainer.
Then just let it sit for about 12 minutes.
After that time is up, really press and squeeze the zucchini, squeezing every last bit of water out.
Then repeat the process, tossing in a little more salt, letting it sit for several minutes, and squeezing all the water out.
As you'll observe from the huge amount of (vivid green!) water in the bowl, this is a very critical step to keep your fritters from turning into a watery, soupy mess.
These quinoa fritters crispy on the outside with lots of tender (fresh and healthy!) zucchini in the center.
The quinoa adds a nutty crunch.
And of course, there's all that (very necessary!) savory parmesan goodness.
Fresh summer zucchini is wonderful, raw or grilled.
But add some quinoa and parmesan to the mix, and then you've really got something special!
Here's the recipe for Zucchini Quinoa Fritters with Parmesan:
Print
Zucchini Quinoa Fritters with Parmesan
Author:

Category:

Healthy Side Dish

Cuisine:

Vegetarian
---
Description
Total Time: 45 minutes (20 minutes inactive time)
Inactive: 20 minutes
Prep: 5 minutes
Cook: 20 minutes
Yield: 12 fritters, 4 servings (1 serving is 3 fritters)
---
3

medium organic zucchini, grated

1 teaspoon

sea salt

1/2 cup

quinoa

1/2 cup

parmesan, grated

1

organic, pasture raised egg

1/2 teaspoon

dried thyme

1/2 teaspoon

garlic powder

1/4 teaspoon

freshly ground black pepper

2 tablespoons

olive oil
---
Instructions
Place a fine mesh strainer over a large bowl. Toss the grated zucchini with 1/2 teaspoon salt and place in the strainer. Allow zucchini to sit about 12 minutes, then press and squeeze all water from zucchini. Repeat the process, tossing with an additional 1/2 teaspoon salt and allowing zucchini to sit an additional 10 minutes. Again press and squeeze all water from zucchini.
Meanwhile, bring 1 cup of water to a boil in a saucepan. Add the quinoa and reduce to a simmer. Cover and cook until the water is absorbed, about 6-9 minutes. The quinoa is cooked when the spiral germ becomes visible around the grains.
In a mixing bowl, stir and combine zucchini, quinoa, parmesan, egg, thyme, garlic powder, and black pepper. Scoop small handfuls of the zucchini mixture and form small, round 1/4-inch thick patties.
Heat the olive oil in a large sauté pan over medium heat. Arrange the fritters on the pan so that none are overlapping (working in batches if necessary). Allow fritters to cook until edges begin to turn golden, about 4-6 minutes. Flip with a spatula and cook about 4 minutes more. Serve.
---
For Related Recipes, Check Out:
Grilled Zucchini and Corn Pasta with Parmesan
Spring Quinoa with Asparagus and Parmesan
SaveSave
SaveSave
SaveSave
SaveSaveSaveSave