I was taking a look at the most popular recipes on my site since the start of fall, and (no shocking surprises here), from Drunken Pumpkin Chili to Coconut Curry Pumpkin Soup to 20-Minute Pumpkin Cheesecake Parfaits, everyone is all about the pumpkin recipes right now.
This was excellent news for me since my pumpkin recipes are some of my all-time favorites (no shocking surprises there either, considering the name of my website)!
So today I have a favorite snack of both Meat-and-Potatoes-Guy and myself: Pumpkin Chocolate Chunk Granola.
I make this recipe often, especially on weekends, mainly because it's so simple and quick to mix together in about 10 minutes (and then it bakes for about half an hour, leaving time to do other things).
This granola has actual pumpkin puree mixed in, so it's loaded with fiber and Vitamin A.
It's also got sweet spices and a hint of maple syrup for plenty of scrumptious, cinnamon-spiced, fall flavor.
And, in my mind, there's no better partner for fresh, sweet pumpkin than rich chocolate.
So of course I had to add some dark chocolate chunks to the mix too!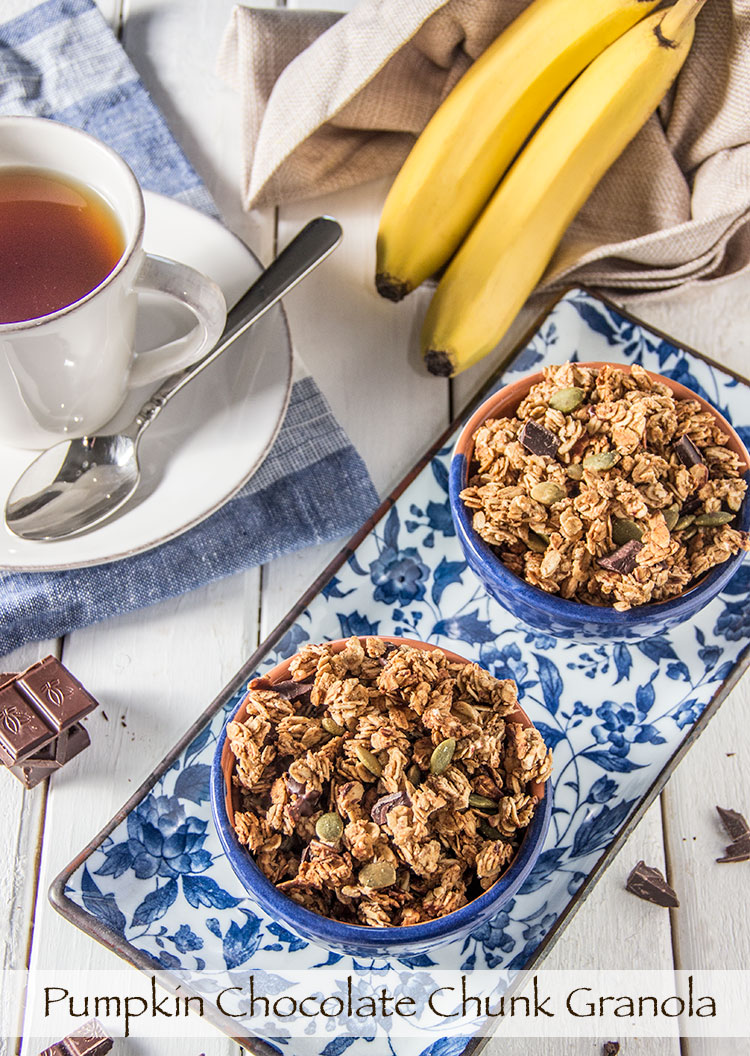 This is the perfect choice when you want a nutritious, high-fiber, filling snack, but you're craving a sweet treat too!
Here is the complete, printable recipe:

Pumpkin Chocolate Chip Granola
Author:
The Scrumptious Pumpkin
Nutrition Information
Serving size:

6

Calories:

245
Fat:

10.7g

Saturated fat:

2.5g

Carbohydrates:

31.5g

Sugar:

5.3g

Sodium:

99mg

Fiber:

4.6g

Protein:

6.9g

Cholesterol:

0mg
Recipe type:
Healthy Snack
RECIPE WELLNESS BENEFITS:
Flavonols (from dark chocolate) - builds a strong, healthy heart and immune system
Fiber (from pumpkin puree) - regulates and slows feelings of hunger, rids the body
of toxins
Iron - (from rolled oats) energizes the body and builds strong nails and thick,
healthy hair
Polyphenols (from dark chocolate) - an antioxidant that protects cells from damage
Protein - (from rolled oats) builds collagen for smooth and
youthful skin, helps body feel fuller for longer
Vitamin A (from pumpkin puree) - a powerful nutrient for clear, smooth, supple,
radiant-looking skin

Total Time: 50 minutes
Hands-On Time: 10 minutes
Cook: 25 minutes
Inactive: 15 minutes

Yield: 6 servings

Level: Easy
Ingredients
2 cups old-fashioned rolled oats
2 teaspoons cinnamon
¼ teaspoon ground ginger
¼ teaspoon salt
¼ cup pure pumpkin puree
2 tablespoons sunflower oil
2 tablespoons 100 percent pure maple syrup
¼ teaspoon almond extract
1½ ounces organic dark chocolate bar, chopped into quarter-inch chunks
¼ cup roasted and salted pumpkin seeds
Instructions
Preheat oven to 325 degrees F.
Add the oats, cinnamon, ginger, and salt to a mixing bowl and stir until well combined.
Add the pumpkin puree, oil, maple syrup, and almond extract and stir again, until all ingredients are well combined.
Arrange granola so that it is spread evenly across a parchment-lined baking sheet and bake until golden and toasted, about 23-27 minutes.
Turn off the oven and prop the oven door open. Allow granola to cool in the oven, about 15 minutes.
When granola is cool, transfer to a food storage container. Add the chocolate chunks and pumpkin seeds and stir until well combined.
Storage: granola will last for several days if stored in a covered, airtight container in a cool, dry, shaded location.
And here are the step-by-step photo instructions:
Begin with these key ingredients.
And preheat the oven to 325 degrees F.
Then grab a mixing bowl and toss in some old-fashioned rolled oats (old-fashioned rolled oats work best for baking), along with some cinnamon, ginger, and a pinch of salt.
Stir it all up thoroughly, to make sure the spices are evenly mixed.
Next, add some pure pumpkin puree (to add tons of nutritious fiber and Vitamin A to the granola).
Also add some sunflower oil, a bit of pure maple syrup (for a hint of sweetness), and a pinch of almond extract.
Stir it all up one more time, until all of the ingredients are well combined.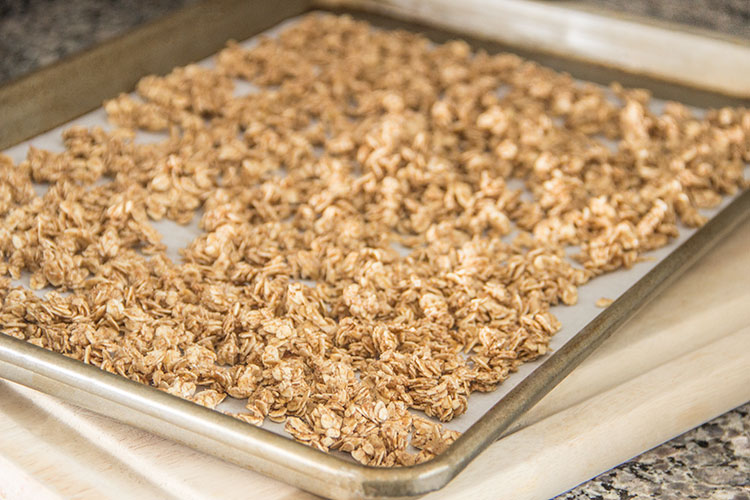 Then line a baking sheet with parchment paper and pour on the granola, spreading it out in one thin, even layer across the entire baking sheet.
Bake the granola until it turns a toasty golden brown.
Then turn off the oven, prop the oven door open, and allow a few minutes for the granola to cool while it's still in the oven (to help it crisp as much as possible).
Meanwhile, as the granola is baking away, grab about half of an organic dark chocolate bar and, using a sharp knife, chop it into bite-sized, quarter-inch chunks.
A good quality, certified organic, dark chocolate bar is best, both for rich flavor as well as healthy antioxidants.
When the granola is cool, pour it into a food storage container and toss in the chocolate chunks along with some roasted and salted pumpkin seeds.
Stir it all up and keep it stored in a covered, airtight container (keep it in a cool, dry, shady spot so the chocolate doesn't melt!), and you're set for several days' worth of snacks.
I love the combo of fall-flavored spices in this granola, with hints of tasty cinnamon, ginger, almond extract, and maple.
And the salted pumpkin seeds add a yummy contrast to the sweet toasted oats.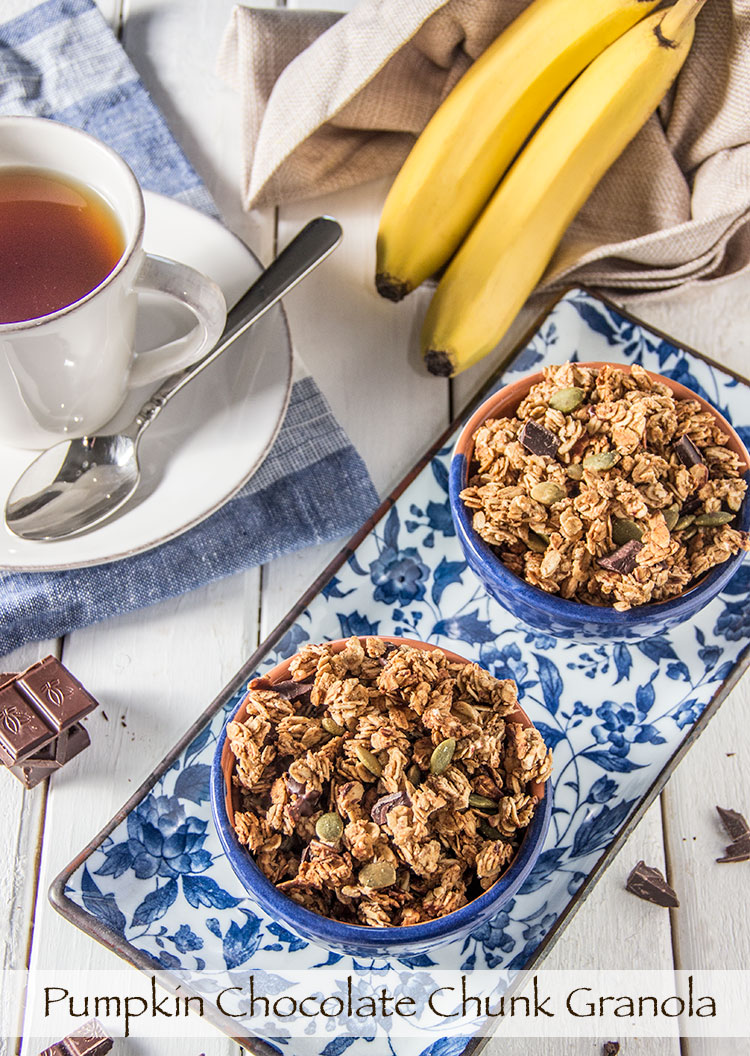 And, of course, the dark chocolate is just the thing to transform this healthy granola into a glorious sweet treat!