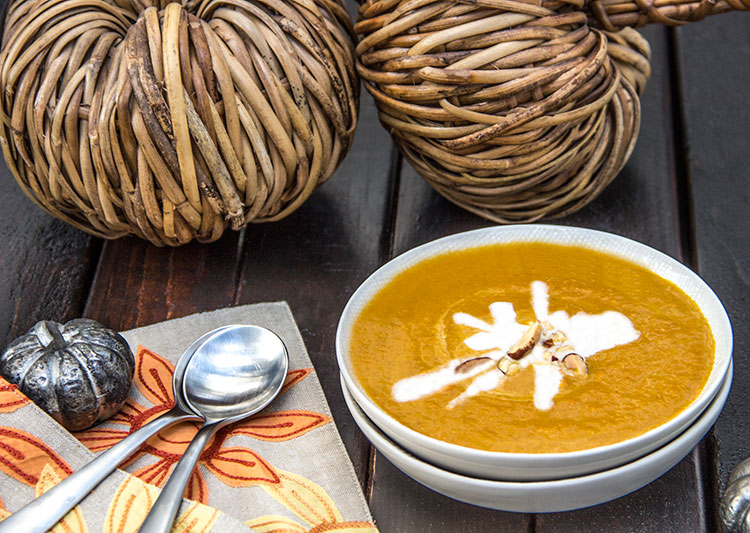 In honor of fall (my favorite season) and Halloween, I had hoped to post a couple of pumpkin recipes this week.
What would a site named The Scrumptious Pumpkin be without a healthy dose of pumpkin dishes?
So today I'm posting the most velvety rich pumpkin soup.
If you've never tried a pumpkin soup, I very highly recommend it and here's how I would sell it to you. This soup is:
creamy, filling, and decadent
full of fall flavors
lightly sweet with a bit of spice from curry powder (and the slightest hints of cinnamon, ginger, and creamy coconut)
Bonus: this soup happens to be vegan, it packs in a lot of healthy nutrients, and it's ready in about 30 minutes.
This filling pumpkin soup is the perfect comfort food remedy on a dark, chilly evening after a long day.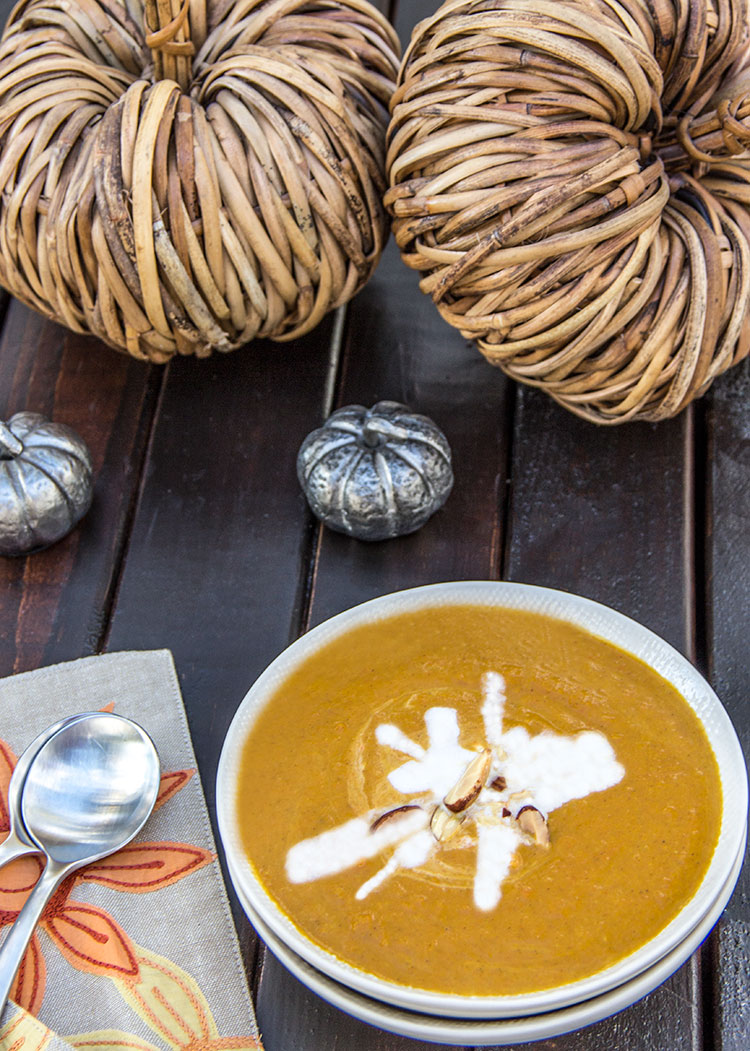 The richness from the coconut milk and the slight hint of heat from the curry powder will warm you through and through.
Here's the recipe for Creamy Curry Pumpkin Soup:
Creamy Curry Pumpkin Soup
Author:
The Scrumptious Pumpkin
Nutrition Information
Serving size:

4

Calories:

285
Fat:

18.2g

Saturated fat:

13.3g

Trans fat:

0g

Carbohydrates:

27.8g

Sugar:

16.3g

Sodium:

612mg

Fiber:

6g

Protein:

7g

Cholesterol:

0mg
Recipe type:
Healthy Soups, Salads and Sandwiches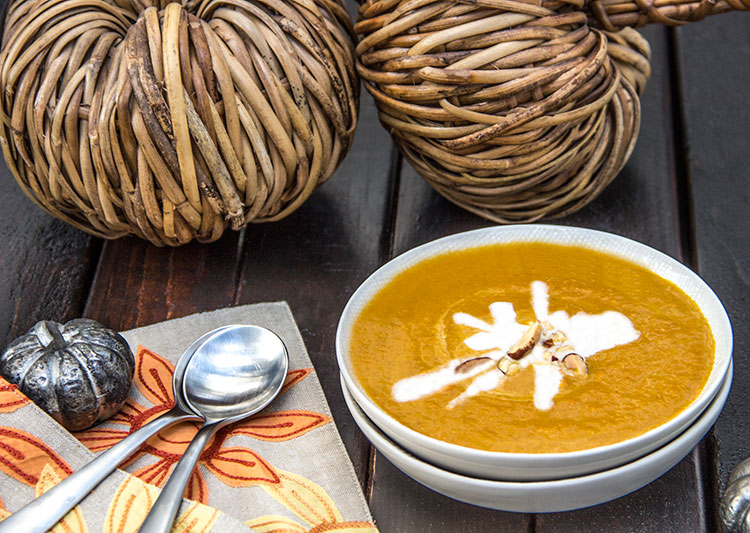 Total Time: 30 minutes
Prep: 15 minutes
Cook: 15 minutes
Yield: 4 servings
Ingredients
2 teaspoons olive oil
3 cloves garlic, minced
1 shallot, diced
2 medium carrots, diced
¼ cup organic brown sugar
2 teaspoons curry powder
1 teaspoon ginger
1 teaspoon cinnamon
15 ounces 100 percent pure pumpkin
3 cups organic vegetable broth
1 cup coconut milk
Salt and freshly ground black pepper
Instructions
Heat the canola oil in a large stockpot over medium-high heat. Add the garlic, shallot and carrots, and season with a pinch of salt and pepper. Cook for about 5 minutes, or until the carrots begin to soften but before the shallot and garlic begin to turn brown.
Add the brown sugar, curry powder, cinnamon, ginger, and pumpkin puree. Stir until spices are well combined.
Add the vegetable broth and bring to a simmer. Season to taste with salt and pepper.
Turn off the heat and stir and combine the coconut milk. Serve.
Or (optional) purée the soup to a velvety consistency using an immersion hand blender, food processor, or blender.
*I estimate approximate nutrition information using the
Verywell Recipe Nutrition Calculator
.

Other Recipes You May Love:
https://jenelizabethsjournals.com/2014/10/16/slow-cooker-pumpkin-spice-applesauce/
https://jenelizabethsjournals.com/2014/10/27/chocolate-chunk-pumpkin-oatmeal-bread/
https://jenelizabethsjournals.com/2016/10/06/chai-pumpkin-smoothie/
https://jenelizabethsjournals.com/2016/10/16/pumpkin-muffins/
https://jenelizabethsjournals.com/2016/10/26/easy-30-minute-pumpkin-lasagna/
SaveSaveSaveSave
SaveSave