My favorite kind of dishes to make are "healthier" comfort foods, and these oven fries are just that kind of recipe.
"Healthier" comfort foods, to me, are rich, craveable dishes that are made with nutritious ingredients.
And these potatoes are definitely comfort food: warm, golden and crisp after being brushed with olive oil and roasted in the oven.
The fries are tossed with zesty chives and fresh parsley immediately after they come out of the oven, and garlic is sautéed with olive oil to drizzle over the fries and add tons of rich flavor.
I know potatoes (and especially french fries) are rarely considered 'healthy', but I think this recipe challenges that whole idea too.
These fries are surprisingly packed with nutrition, with tons of fiber (18% daily value per serving) potassium (22% daily value per serving), and Vitamin C (68% daily value per serving)!
And, since they're vegan, these fries also have no cholesterol and very little saturated fat.
The best part: these fries are easy to make at home anytime that craving hits for something savory, rich, salty and crispy!
Get the complete, printable recipe for Garlic and Herb Baked Fries at Food Fanatic.
Here are the step-by-step photo instructions…
…Begin with all of these key items.
This one is easy, with only five ingredients!
Preheat the oven to 425 degrees F.
Then grab a couple of large russet potatoes and cut them in half. Place each half flat-side-down on the cutting board for stability, and chop them into quarter-inch thick sticks.
Toss the cut potatoes onto a parchment-lined baking sheet and drizzle on some olive oil.
Season the potatoes with a bit of salt and pepper. And use your hands to mix up the potatoes until they're all equally well-coated with the oil.
Then arrange the potatoes on the baking sheet so that they're not overlapping.
Next, toss the potatoes into the oven and allow them to roast away, until you see that they're golden and crispy.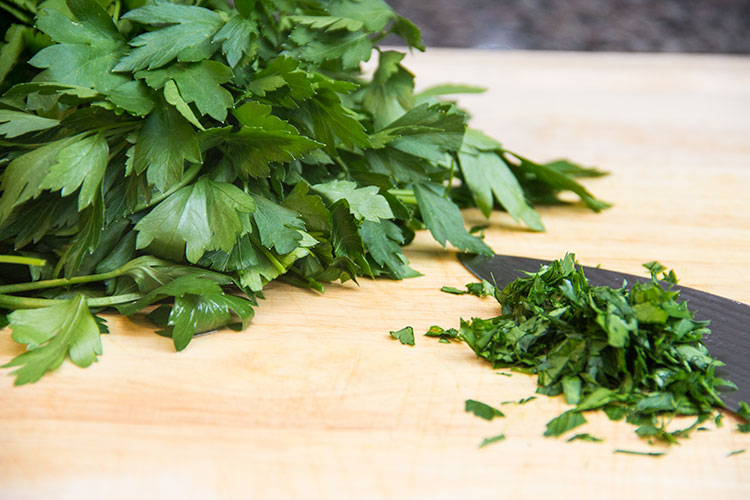 While the potatoes are cooking, chop up some fresh parsley.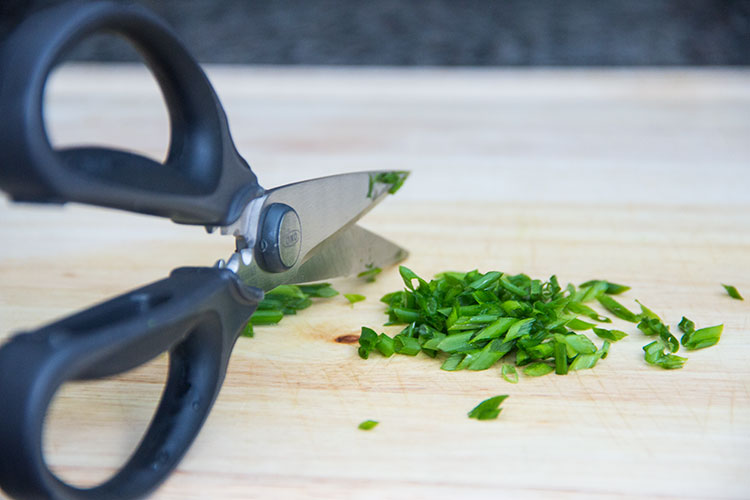 Also use some kitchen shears or a sharp knife to chop some chives.
Then set the freshly chopped herbs aside for now.
Next, prepare some garlic oil.
Grab a couple of cloves of garlic, and holding a knife over each clove, smash down, breaking off the skin.
Run your knife through the garlic in every direction, mincing it up.
Then heat some extra virgin olive oil in a small skillet over medium-low heat.
Cook the garlic just until it's softened, which will only take a couple of minutes.
The idea is to lightly cook the garlic, but not cook it so much that it begins to turn brown (which means that the garlic has burned and will taste burned).
Because the garlic will continue to cook in the hot pan, even after it's been removed from the heat, immediately pour the garlic oil into a small bowl and set it aside.
Next, the fun part: immediately after the potatoes come out of the oven, pour them into a large mixing bowl.
Then add the parsley, chives, and garlic oil, and season the fries thoroughly with salt and pepper.
And toss them around until everything is well combined and all of the fries are nicely coated with the garlic oil.
Last, the really fun part: serve and enjoy!
The richly flavored garlic oil is so yummy with the golden, crispy, savory fries.
And the chives and parsley add freshness.
There's no question in my mind: healthy food can be comfort food too!
Get the complete, printable recipe for Garlic and Herb Baked Fries at Food Fanatic.